*I was provided with product from Pet Wellbeing. All opinions are my own.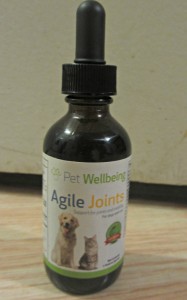 I keep my dogs on what I feel is a good quality dog food. Yet, like people, I think dogs can sometimes benefit from nutritional supplements of some kind or another. I never really considered supplements for pets until recently. I noticed that on occasion, Frank will not truly limp but will walk different than usual. It usually only lasts for 5-10 seconds after he gets up but I started researching dog arthritis. I think that is probably what he is experiencing, and I have been researching dog foods specifically designed for senior pets. A lot of senior dog foods contain  glucosamine and/or chondroitin which are good for joints. I plan to switch them over to a senior based dog food shortly, but I also started looking at joint supplements for dogs. Pet Wellbeing makes a supplement called Agile Joints that I thought would be interesting to try. It can be used in addition to glucosamine and chondroitin treatments. The lid screws off and a dropper is included, you are supposed to dispense it directly to your pet daily. They suggest 2 drops of liquid per 2oz of body weight. I wish there were an easier way to measure it because my 25lb dog would need 50 drops which is difficult to measure. I am eager to see if this helps Frank with his occasional joint pain.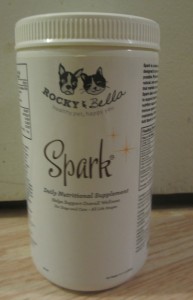 We were also sent Spark, which is a daily nutritional supplement available through Pet Wellbeing. The container says that it is a whole food supplement designed to give your pet the best nutrition possible. It's designed for use with both cats and dogs of all ages. It is intended to be sprinkled on your pets food or to be mixed with a bit of water to create a "gravy" to put over your pets food. It contains enzymes and probiotics designed to support digestion and absorption. It also contains antioxidants which are believed to help the body function well at a cellular level. For dogs of my pugs' size, they just take 1/2 teaspoon per day so the 14oz container will last us a LONG time.
I look forward to seeing how my pugs react to having these supplements added to their diet.


Hi there! I am Emily Evert, the owner of Emily Reviews. I am 28 and live in a small town in Michigan with my boyfriend Ryan and our two pugs. I have a large family and I adore my nieces and nephews. I love reading memoirs, and learning about child development and psychology. I love watching The Game of Thrones, Teen Mom, Sister Wives and Veep. I like listening to Jason Isbell, John Prine, and other alt-country or Americana music. I created Emily Reviews as a creative outlet to share my life and the products that I love with others.
This post currently has 2 responses.