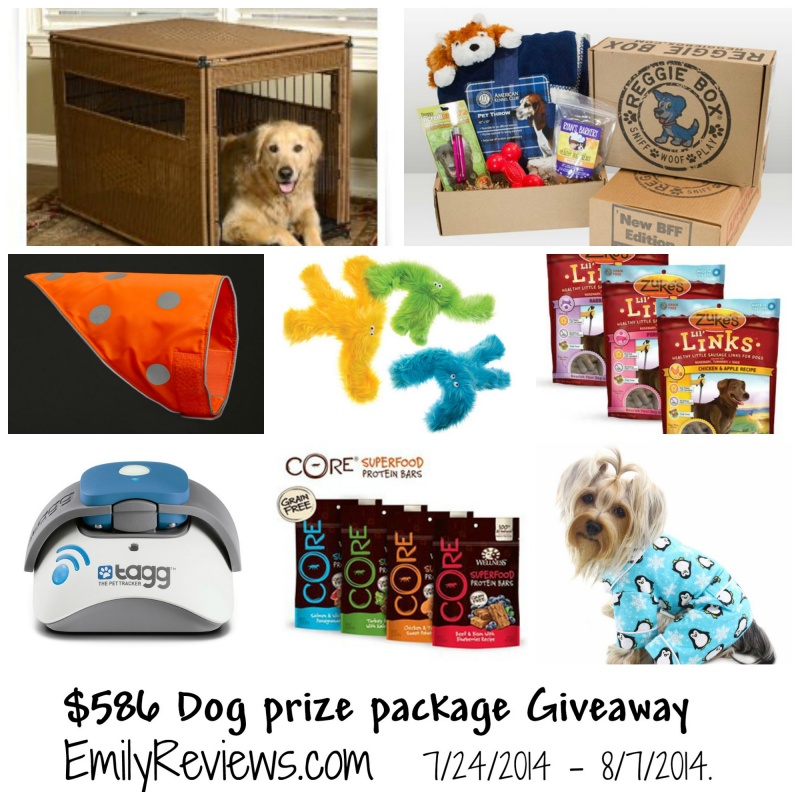 *I was not compensated for this post in any way. Prizes are provided by brand or retailer sponsors.
A week ago, I shared about how it had been a year since I bought my two pugs Frank & Beans home. Each day since then, I've shared a blog post or two discussing some of our favorite pet products. They are all linked below, so you can check to make sure that you didn't miss any.
Baylee Nasco handmade dog bed review (& dog bed OR dog blanket giveaway – ends 7/30)
Milo's Kitchen Dog Treats & $25 Visa gift card Giveaway (ends 7/31)
Wellness CORE protein bar dog treats review (& giveaway for 4 bags – ends 8/1)
iCool scarf cooling collar review & $50 Doggie Couture Shop Giveaway (Ends 8/2)
Solvit wicker dog kennel review
Pet travel products from minimus.biz
AKC GoodDog helpline & BFF box
This blog post is the final one in the series that celebrates our one year furever family day. To finish the event off, we are having a MASSIVE giveaway with one VERY lucky winner. The prize package includes: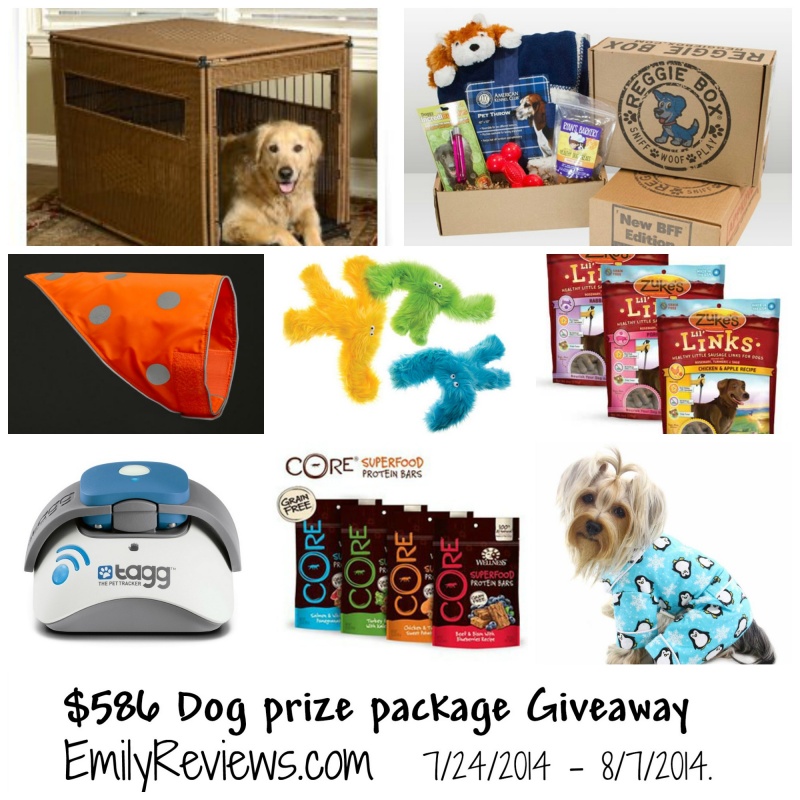 $25 gift card to Doggie Couture Shop
4 bags of Wellness CORE protein bars for dogs ($28 value)
$35 gift card to Bartleys
Solvit Wicker Residence/kennel. ($180+ value)
4 bags of Zukes Lil Links dog treats (Roughly $24 value)
Minimus.biz Traveling Pooch kit (includes dog towel, shampoo & more) ($29 value)
AKC GoodDog! training helpline service – ($80 value)
AKC BFF kit with personalized dog blanket ($45 value)
Hartz Oinkies & toy prize pack customized to your dogs size ($25 value)
Mudd & Wyeth Reflective dog bandana ($16.85 value)
Tagg Pet GPS activity tracker ($99.95 value)
All of these prizes combined makes for a $586 prize pack value!
To enter, fill out the Giveaway Tools form below. All entries are optional, you do not have to complete them all to be entered. However, the more you complete the higher your odds of winning. This giveaway is open to the US only and will end 8/7/2014 at 11:59pm EST.


Hi there! I am Emily Evert, the owner of Emily Reviews. I am 28 and live in a small town in Michigan with my boyfriend Ryan and our two pugs. I have a large family and I adore my nieces and nephews. I love reading memoirs, and learning about child development and psychology. I love watching The Game of Thrones, Teen Mom, Sister Wives and Veep. I like listening to Jason Isbell, John Prine, and other alt-country or Americana music. I created Emily Reviews as a creative outlet to share my life and the products that I love with others.
This post currently has 8 responses.