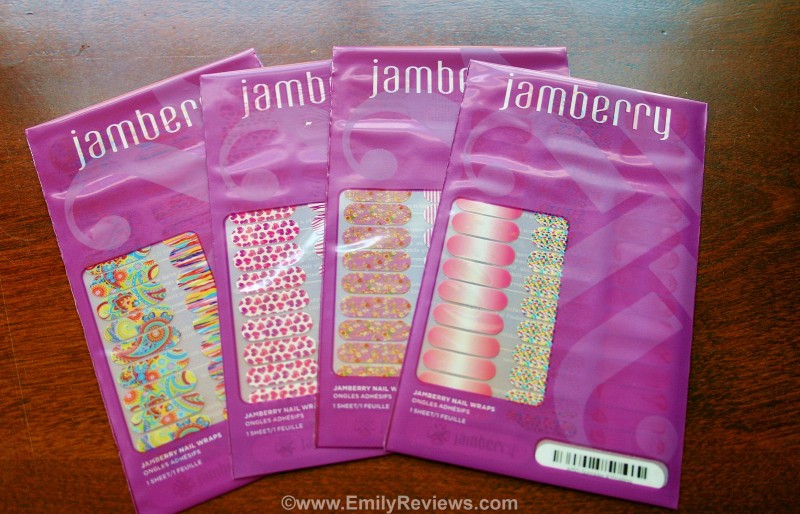 I received products from Amanda Shore, Jamberry Nails for my review. All opinions are my own.
I love Jamberry Nails.  If you aren't familiar with Jamberry Nails, let me tell you a bit about them. Jamberry Nails are the creation of three beautiful sisters. These sisters enjoyed spending time together while getting their nails done. Even though this time together was special, it was expensive and their manicures didn't last as long as they would have liked.  The three sisters set out to create a nail wrap that would not only allow them to continue spending time together while getting their nails done, but would also be less expensive, last longer and have more design options. After trial and error, Jamberry Nails were created and launched in 2010. Jamberry Nails are nail wraps created to give you a custom, long lasting manicure and/or pedicure. The wraps come in a variety of designs and sizes.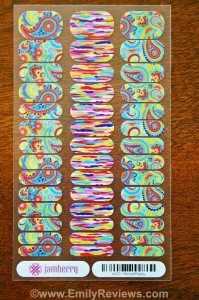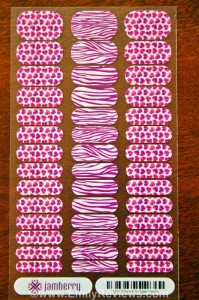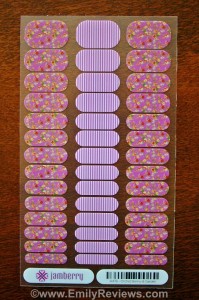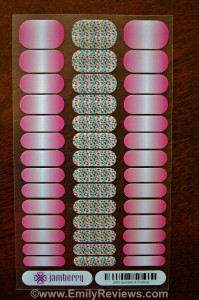 For our review, we received four sets of Junior Jamberry Nails in SPRINKLES & FROSTING, PAINTED PAISLEY, ZEBRA & SCRIBBLE HEARTS and ORCHID SKINNY & GARDEN. I chose the junior size because I wanted my daughters to be able to use them and because I have small nail beds.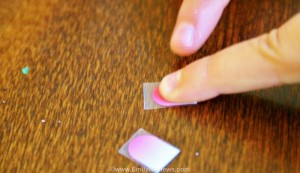 Applying Jamberry Nails is super easy. Before you start, clean your hands, remove polish, push back your cuticles and prep the nails with rubbing alcohol. Then match the size of the nail with your desired wrap. Chose a wrap that covers your nail but doesn't go over the sides or cuticle. Heat the wrap with a hair dryer for 3-5 seconds. Then place the wrap on your nail and press out all the air. This will help created a secure placement. Cut the tip with scissors and then file the rest of the wrap down to the end of the nail to remove the excess. Finally heat the wrap on your nails once more to make sure it is really on well. Manicures last on average 10 or more days.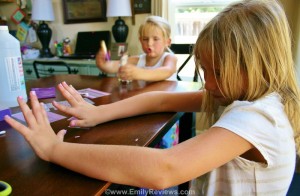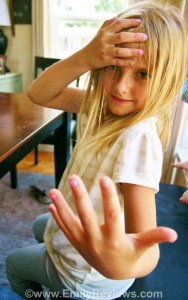 My daughters, ages 5 and 7, were so excited about the Junior Jamberry Nails. They wanted to go back to school with their hands and toes looking great. I scheduled a mani/pedi with both girls at our dining room table. I let them choose which design they wanted and where they wanted to place that wrap. We had a lot of fun. I love seeing their personal styles develop.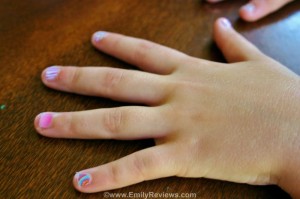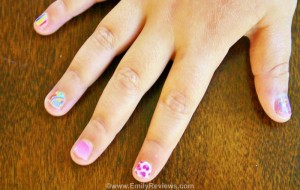 Once the girls had beautiful nails, it was my turn. I am a nail biter and have been most of my life. There have been a couple of times where I had an important event coming up and wanted my hands to look pretty so I was able to stop biting my nails for that. Then when the event was over, I went right back to biting. Agh.  I decided that when these Jamberry Nails arrived, I would use them to quit biting my nails for good! So as you can see in the photos, my hands are not model hands…but the Jamberry Nails make the growing process much easier to work through.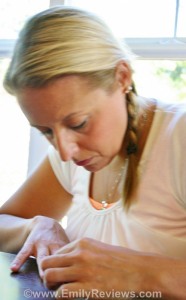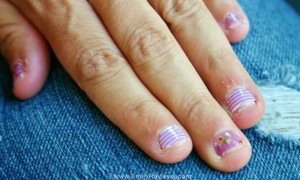 To learn more about Jamberry Nails, please visit Amanda's website. You may also join her group on facebook.
One lucky winner is going to receive a $25 GC to Amanda's Jamberry Nails. This is a US giveaway and it will end on 9/20/2014. Good luck!


Hello, my name is Laurie. My family and I live near the Oregon coast. When we aren't at work, in school, or on the volleyball court, we enjoy traveling, cheering for our favorite sports teams, playing outdoors, and checking off items on our bucket list. We are lucky in that both sets of our parents, as well as our siblings and their families, live within an hour of us. We get together often to help one another out, celebrate milestones, and go on adventures together.
This post currently has 9 responses.