Thank you Baby Brezza
for providing me with products to review, free of charge,
and for sponsoring this giveaway.
These are my own honest opinions.
We all know the benefits of making our own baby purees. But realistically, it's not always feasible because of time constraint. It can be time consuming to peel, core and chop fresh fruits and veggies, steam them, then transfer to a blender and blend carefully until you get that prefectly smooth puree texture.

I personally wanted to make all my baby's purees but in the end, I just couldn't keep up because it was too time consuming. I know I'm not the only busy mother out there so I wanted to tell you about the One Step Baby Food Maker from Baby Brezza. This compact appliance is all you need to make your own baby purees in no time!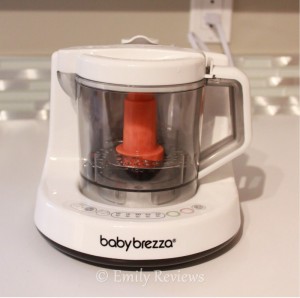 The One Step Baby Food Maker steams and blends foods for you. All you do is chop your ingredients, place them in the bowl, add water in the steam tank, select how long you want to steam the food and press 'start'. You can then proceed to do more important and fun tasks such as playing with your little one.
While you're busy, the food maker will steam and blend your baby's puree to perfection. Depending on the ingredients, it'll take a little between 10 and 30 minutes. The great thing is that you can cook absolutely anything you want. From a single ingredient puree to complete meals with meat or fish and veggies. You end up with about 1 cup of puree which you can use right away or freeze for later use. Since the bowl, its lid and blade are dishwasher safe,  even clean up is easy!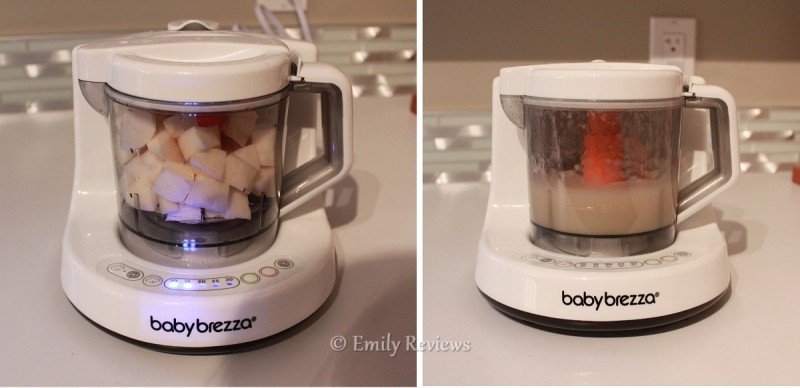 I like that I can use my own ingredients, choose organic produce whenever possible, and also make flavorful combinations. There's also a booklet with 20 yummy recipes including the zucchini, tomato, avocado and basil puree and the creamy quinoa and coconut cod puree. You can also control the chunkiness by controlling how long you want to blend your ingredients.
I also think it's a great way to make all kinds of sauces since my oldest loves apple sauce, pear sauce, etc. Great way to make healthy homemade snacks! I'm even considering using it to make small portions of soup such as cream of carrot soup, cream of broccoli soup, etc. Once pureed, I would only have to add cream and spices!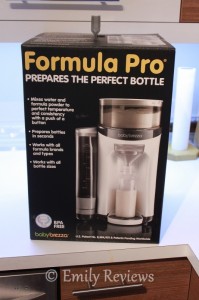 Baby Brezza also makes the Formula Pro. This small appliance is also designed to make the life of busy parents easier: it stores water and powder formula and can make a bottle at the perfect temperate with the push of a button. The whole process doesn't even take a minute!
I haven't tested it myself because I will be offering it to a friend but I can tell you why I think my friend will love it! No matter which powder formula she chooses and which bottles she prefers, this bottle maker will still make the perfect bottle. It can make 2-oz, 4-oz, 6-oz, 8-oz or 10-oz bottles. You can store enough powder formula (in an airtight compartment) to make 20 8-oz bottles so no need to measure and refill it constantly. I'm sure she'll be thankful when she has a screaming, hungry baby that the Formula Pro is ready to go!
Find Out More: Head over to Baby Brezza to see for yourself the products that will make mealtime easier for any parent.  Click here to know where to find Baby Brezza products.
Get new and fun recipes here: http://www.babybrezza.ca/common/media/BRZ9043%20Recipe%20Book%20EN_v2_OL_low.pdf
Thanks!
Connect: Baby Brezza is connected! Don't forget to like them on Facebook and subscribe to their YouTube channel for all the latest news and promotion.


This post currently has one response.