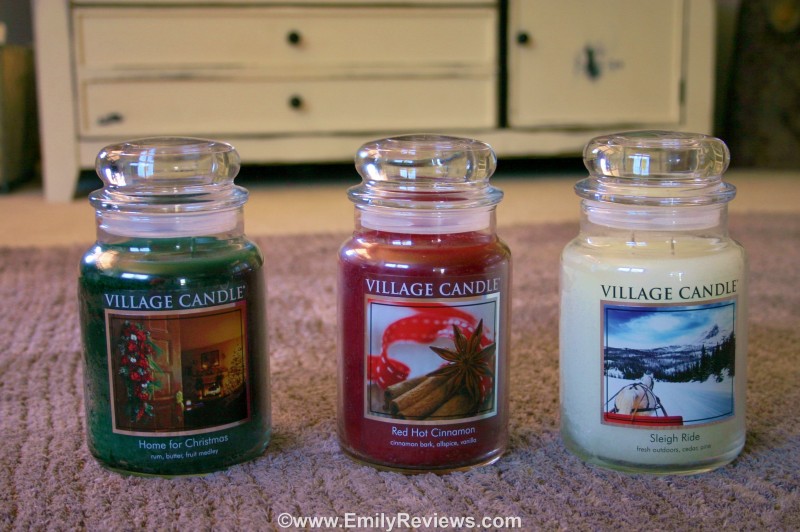 Thank you to Village Candle for providing me with product, free of charge, in exchange for this honest blog review.  All opinions are 100% my own.
I love scented candles. Nothing changes my mood faster than scent. As I look around my house I find one-three scented candles in each and every room. I love having the fragrances envelop my home. A majority of my scented candles come from Village Candle. I like Village Candles because they have a lot of fragrance to them. I want to be able to smell the burning candle…not just see it.
For over twenty years, Village Candle has been handcrafting scented Candles. They offer candles in a variety of fragrances from floral to, baked goods, outdoors and fruits.
For my review, I received eight 26 ounce scented candles: Hard Cider, Fall Fun, Red Hot Cinnamon, Home for Christmas, Sleigh Ride, Celebration, Rain and Rendezvous. Many of the fragrances I received are new and seasonal.
Hard Cider has a tart apple, clove, vanilla and light rum aroma. I smell a bit of a hop scent, but that isn't listed in the description.
Fall Fun smells of pine, fresh air and fallen leaves. It creates a real comfortable feeling.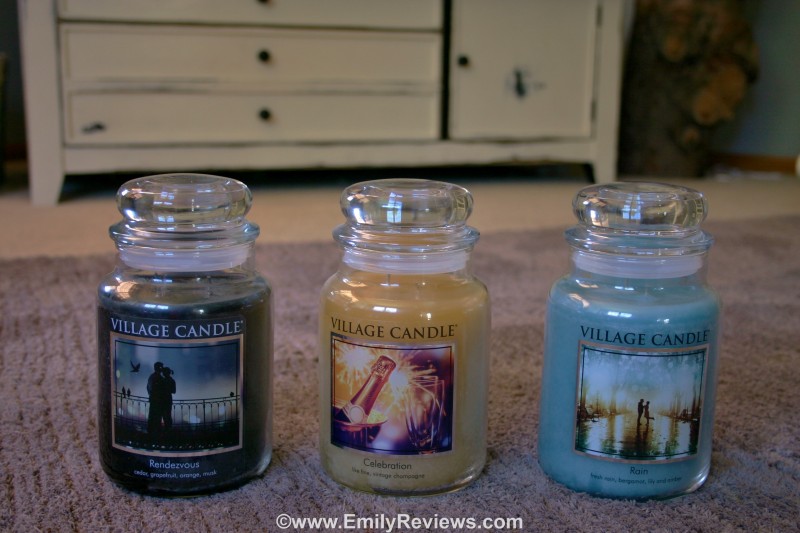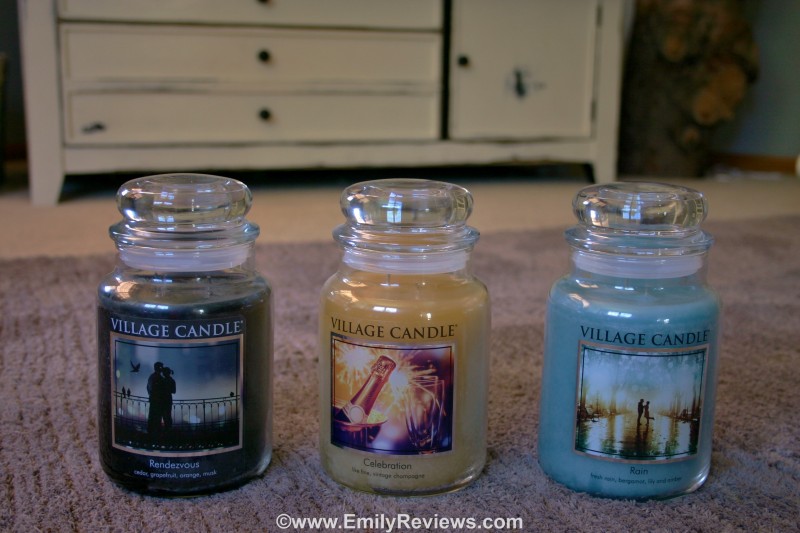 Red Hot Cinnamon smells just like the little candies. It has the smell of cinnamon, allspice, and vanilla.
Home for Christmas has the aroma of butter, fresh fruits and a hint of rum. It reminds me of the way the kitchen smells during our family get-togethers.
Sleigh Ride takes you out doors with fresh air, light florals and woodsy musk. This reminds me of a walk through the woods in the early fall.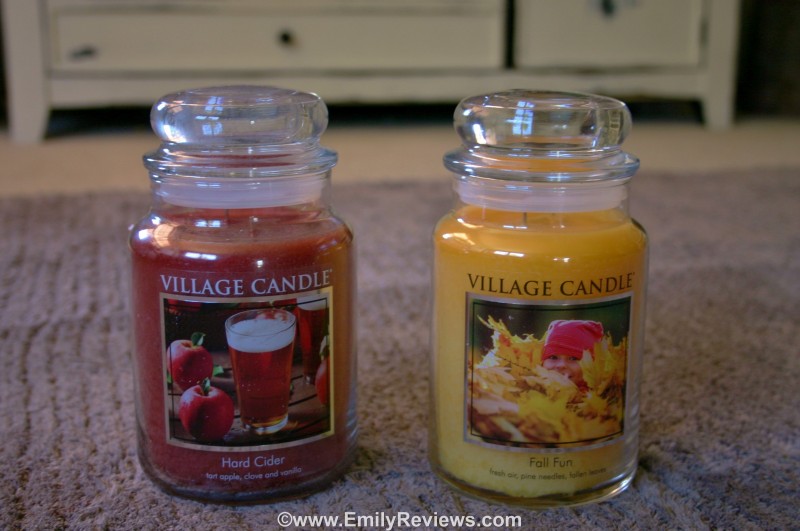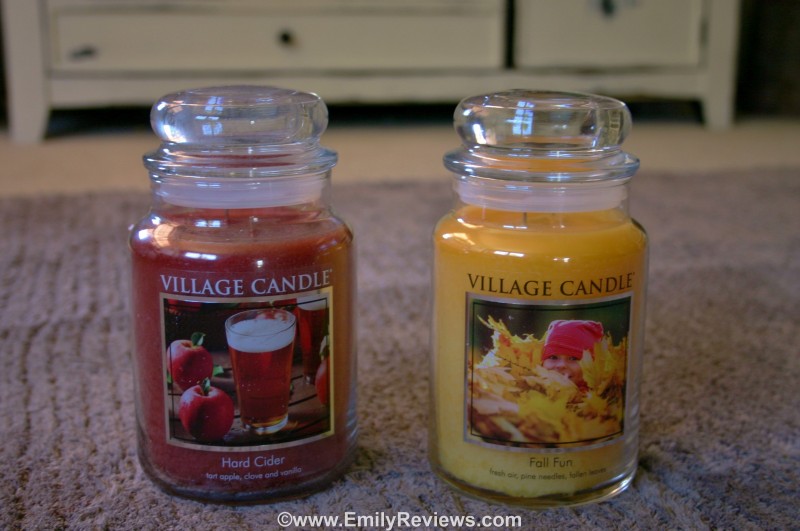 Celebration has the fragrance of citrus, ginger and vanilla. This candle is ready to party!
Rain has the aroma of a fresh spring rain shower, bergamot and lilies. This is what Oregon smells in the spring time!
Rendezvous scented candle has cedar, grapefruit, orange and musk fragrances. The mysterious masculine scent is captivating.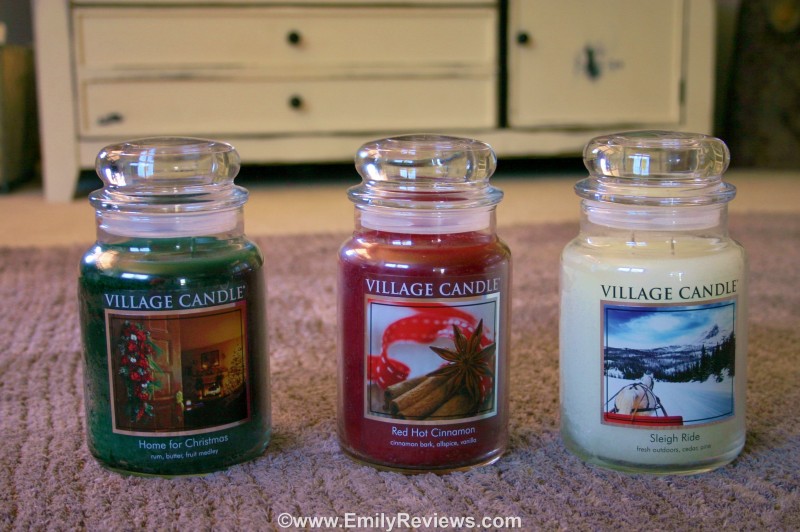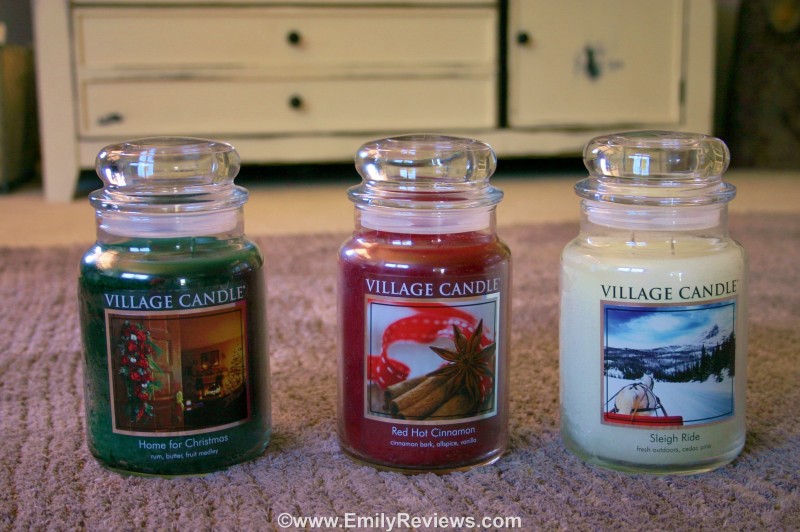 Village Candles are a wonderful gift for everyone on your holiday shopping list.
Buy It: Please visit Village Candle to see the great selection of products they offer.
Connect: Don't forget to follow Village Candle on facebook, twitter and pinterest for the latest product announcements and special offers.
Win It: Four winners will each get a set of two 26 ounce jar scented candles. The candle sets are: Hard Cider with Fall Fun, Red Hot Cinnamon with Home for Christmas, Sleigh Ride with Celebration and Rain with Rendezvous. This is a US giveaway and it will end on 12/17/2015.



Hello, my name is Laurie. I have been married to my husband for 14 years. We have two young daughters, ages 11 and 13 years old. My family and I live in Oregon so that means we are just minutes from the beach, mountains, and desert.  We love it here and try to spend as much time outdoors playing as we can. When we aren't outside playing, I enjoy reading, gardening, refinishing furniture, and other crafts.
This post currently has 7 responses.