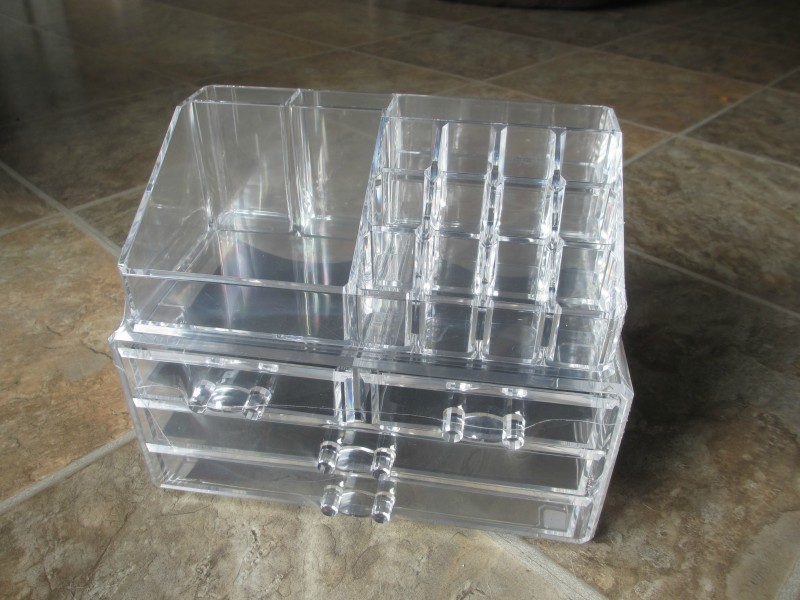 Oak Leaf LLC sent me products to review. All opinions are my own.
When it comes to buying products for my house, one of my favorite items to shop for is any sort of storage or organization product. It feels so nice to find a storage solution for any part of my home. Creating a unique space for each item to belong makes cleaning easier and just makes my house feel less chaotic to me.
I was recently sent two organizational products from Oak Leaf LLC. Oak Leaf is an amazon store that offers a variety of house and home products at low prices.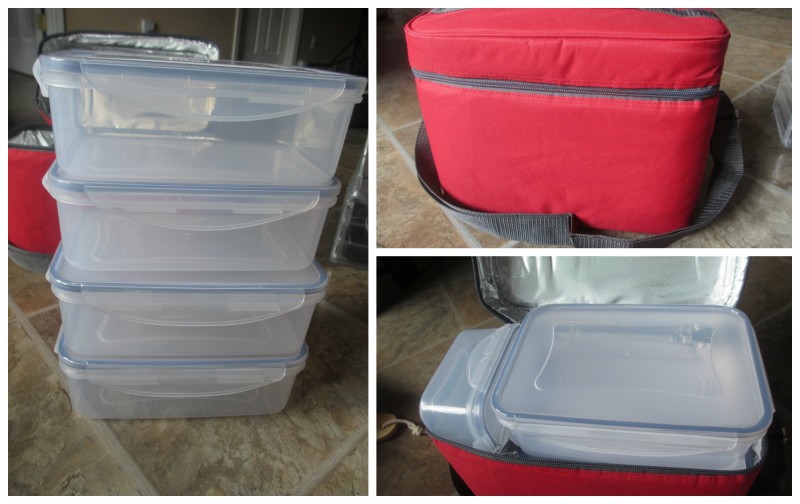 The first was a product titled "Food Storage Container, x chef lock and seal freezer storage container set of 4" on amazon. It's an adult-sized lunch bag in a gender neutral red tone. It comes with four plastic rectangular boxes, with snap-on lids. I primarily went with this because of the storage containers. I don't like wasting single-use plastic bags for food leftovers, so I use storage bins like this on a nearly daily basis. I had a set from several years ago but a few pieces broke leaving me with a mix-matched partial set. Each bin is pretty big, big enough for a sandwich and extras. All four bins can fit into the lunch bag at the same time. Three stack on top of each other, and the fourth can be stacked vertically next to the stack of 3. They are plastic but are rated to be microwave, dishwasher and freezer safe. I don't like to use any plastic in the microwave so I've only used these in the fridge so far but they are convenient. I use them for leftover tacos, stir-fry and similar foods. While I primarily like using the containers at home for leftover storage, I like that they fit perfectly into the lunch bag so we could take it to the beach or on a picnic if we plan an outing.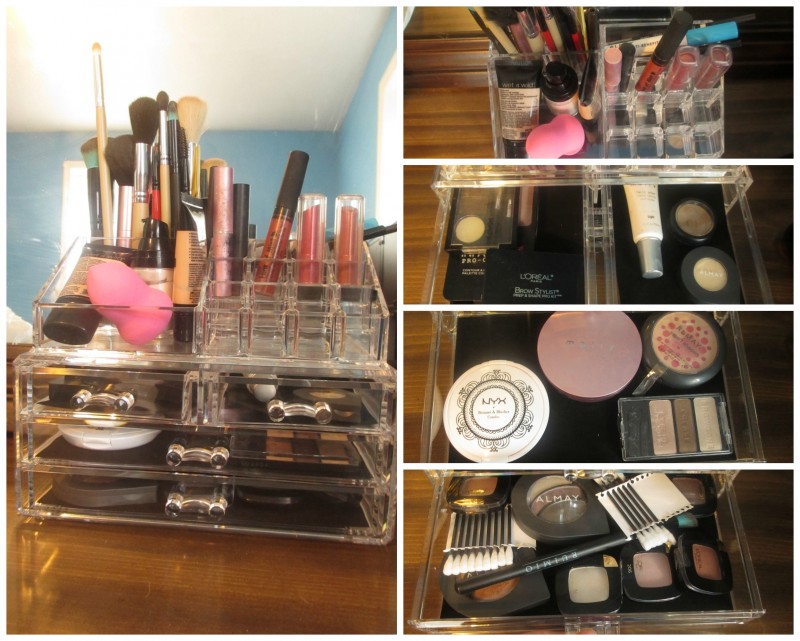 I was also sent the Oak Leaf Acrylic Cosmetic Makeup Organizer. I have a horizontal dresser with a large mirror attached to it. I tend to apply my makeup in the bedroom, because the mirror in our bathroom is too tall for me to access. It's bolted onto the wall (I am renting) so we can't lower it without risking damage to the walls. Anyway, my dresser had become overrun with bits and pieces of my makeup and accessories which just looked bad. I had a few makeup bags that I tried using, but when I was getting ready to go somewhere i'd dig through the bags to find what I wanted, and by the time I was done my makeup was all over. When I saw the acrylic makeup organizer I thought it would be perfect. I like how it can display a lot of makeup at once while still keeping everything in it's place.
The top of the organizer has several slots that seem to be intended for lipstick or lip gloss as they are too narrow for nail polish, and too short for makeup brushes or eyeliner, etc. I tend to stick to a few tried and true lipsticks, so that part of the organizer is slightly underused for me. The other side on top has long, skinny slots that are perfect for eyeliner, mascara, make-up brushes or any other long, skinny items you may have. In front of that area is a shallow open square space which can fit almost anything, really. I chose to use it for my cream foundations, primer and beauty blender. It also has four drawers. There are two narrow drawers on the top layer, then two wide drawers at the bottom. They aren't very tall so they're good for makeup that isn't very high like small eye shadow pallets, a brow kit, power foundations, etc. I put my brow kits and bronzer/highlighter kit in one side, and my concealers on the right side. The two lower drawers are generously sized and can fit a lot of smaller cosmetics. I use one for my powder foundations and eyebrow pallets, and the lower one for my individual eye shadow sets.
I have quite a bit of makeup, so it doesn't hold everything I own. However, it fits all of my go-to products in it, and I put the rest in a single makeup bag. Seems how I don't often use any of the makeup in the bag, having the organizer has cut back a lot on clutter.
Win it: An acrylic cosmetic organizer!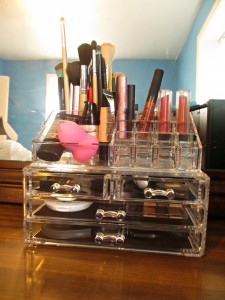 To enter: Fill out the GT form below by 11:59pm EST on 5/24/2016. Giveaway is open to the US.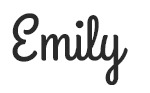 Hi there! I am Emily Evert, the owner of Emily Reviews. I am 25 and live in a small town in Michigan with my boyfriend Ryan and our two pugs. I have a large family and I adore my nieces and nephews. I am a calorie counter who loves soda. I budget to save money so I can spend it on my dogs. I love reading memoirs, and learning about child development and psychology. I love watching The Game of Thrones, Teen Mom, Sister Wives and Veep. I like listening to Jason Isbell, John Prine, Kris Kristofferson and Blue October. I created Emily Reviews as a creative outlet to share my life and the products that I love with others.
This post currently has 6 responses.