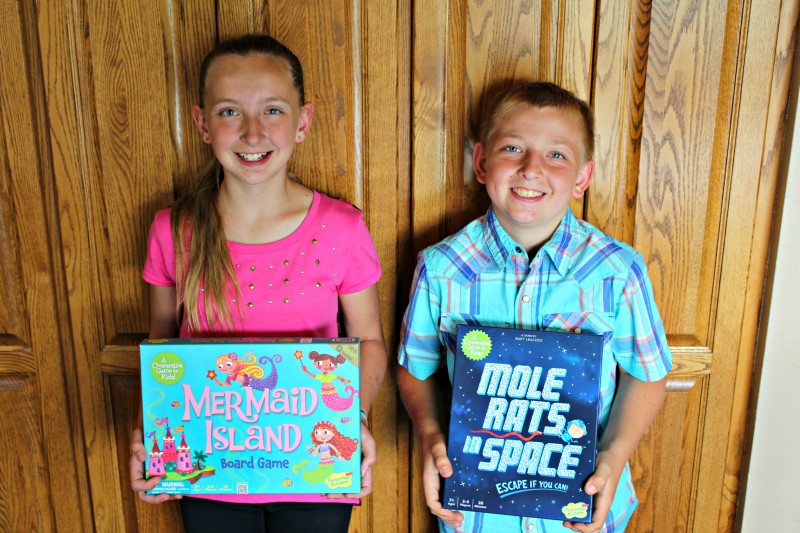 With Summer in full swing, it's easy to fall into the routine of letting kids sit in front of screens or spend hours sitting around mindlessly.  It's a known fact that kids tend to regress and have a "learning loss" during summer break but there are ways to be proactive and help prevent the brain drain.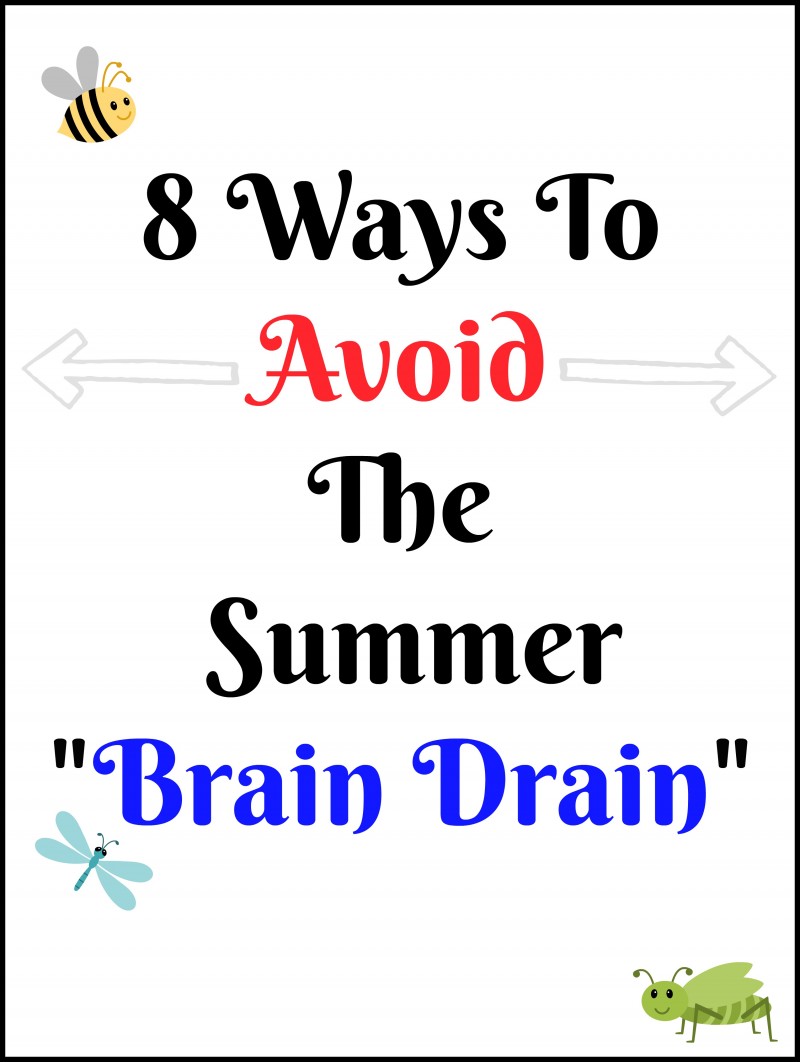 8 Ways To Avoid The Summer Brain Drain:
Limit Screen Time & Make The Approved Screen Time Educational – For many families, completely taking away screens would be a huge battle.  So instead, set limits.  And there are so many fun learning websites and educational games available.  Consider subscribing to a website that offers fun games that will helps kids brush up on learning.
Use Printable Worksheets – Simply googling for free printable worksheets will bring you a plethora of choices for all ages and is an easy way to polish up skills.
Practice Flashcards – Setting a 5 or 10 minute timer daily for kids to work on math and reading flash cards is a great way to keep kids' brains active!
Go On Scavenger Hunts – Once a week (or more), make a list of things and have kids hunt and check them off.  This can be as simple as things around the house on rainy days as well as a nature hunt on nice days.
Daily Journal Time – Have children start a journal and write a sentence (or more) daily about what they did, things they are looking forward to, or whatever theme you decide.  Don't forget to have them write the date and even draw a little picture to go with the daily sentence as this can become a really neat keepsake.
Visit The Local Library – Heading to the library and taking advantage of the programs, events, games, and books on site is always fun.
Assign Chores – Giving children age appropriate chores each day is not only a great way to encourage and teach responsibility, it's also great for their brains.
Play Games – Make a goal to play at least one game a day with your children.  Not only is this a great way to bond and create lasting memories, choosing a cooperative game helps keep kids engaged, excited, and aiming for a group goal all-the-while keeping their brain active!  Peaceable Kingdom offers a great variety of cooperative games for all ages!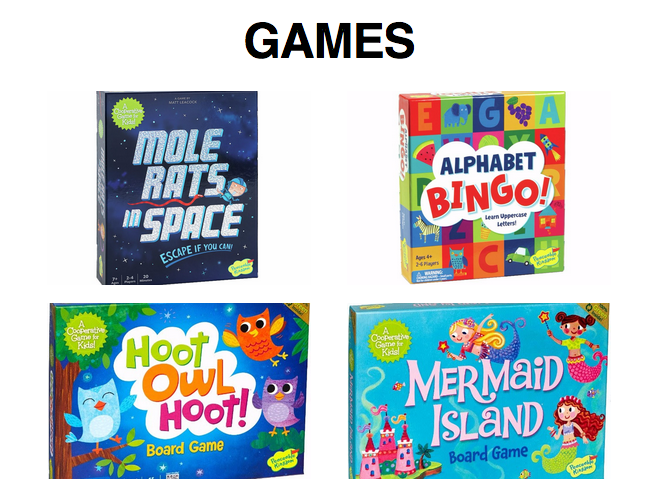 If you're looking for some really awesome cooperative games, look no further than Peaceable Kingdom. We have played many of their games as well as checked out some of their other great products such as journals, playing cards, tattoos, and stickers and their products have always been awesome. Most recently, we tried out two of their newer games, Mermaid Island and Mose Rats In Space.
Players take turns spinning the spinner.  If you get the sea witch, that's who you move otherwise you get to advance the mermaid by the number spun.  As players work together to help the mermaid get to Mermaid Island, the Sea Witch wants to get there first.  Don't forget to grab the magic wands along the way as they help move the Sea Witch backwards and buys the Mermaid more time!  Geared for ages 5 and up, it's a race and the kids love trying to get to the island first.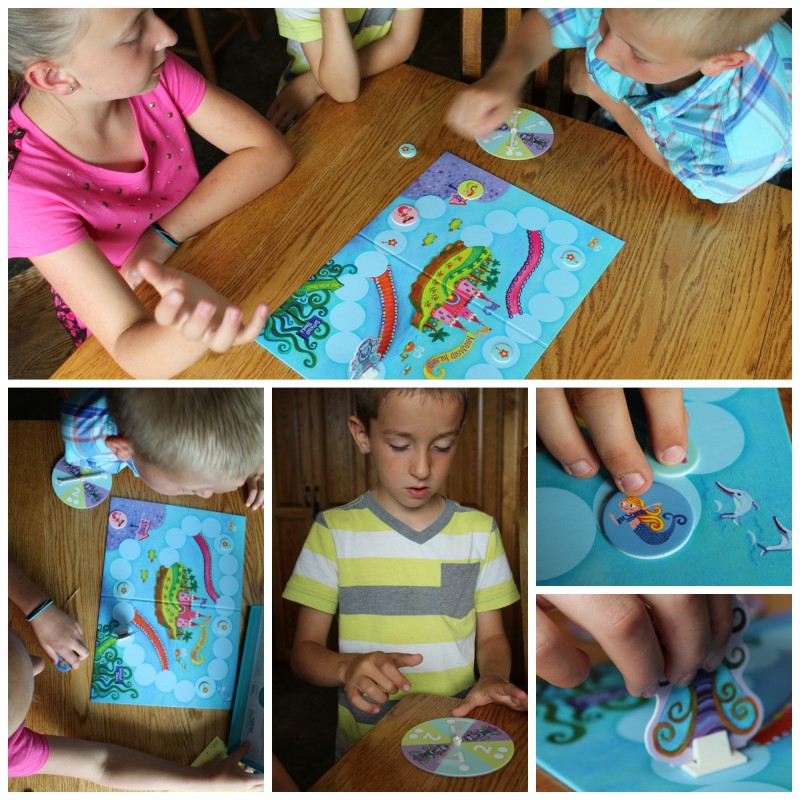 In a game similar to the popular ladders and slides, Mole Rats In Space is an advanced game geared for ages 7 and up.  Players take turns moving their Mole Rat and the Snakes according to the card they drew.  They are working together to gather equipment and make it down the escape pod before time runs out.  This game requires thinking skills as players decide which way to move as they need to avoid an air shaft that will send them floating into outer space while also watching out for those biting snakes!  Game play takes about 20 minutes and the kids are loving it.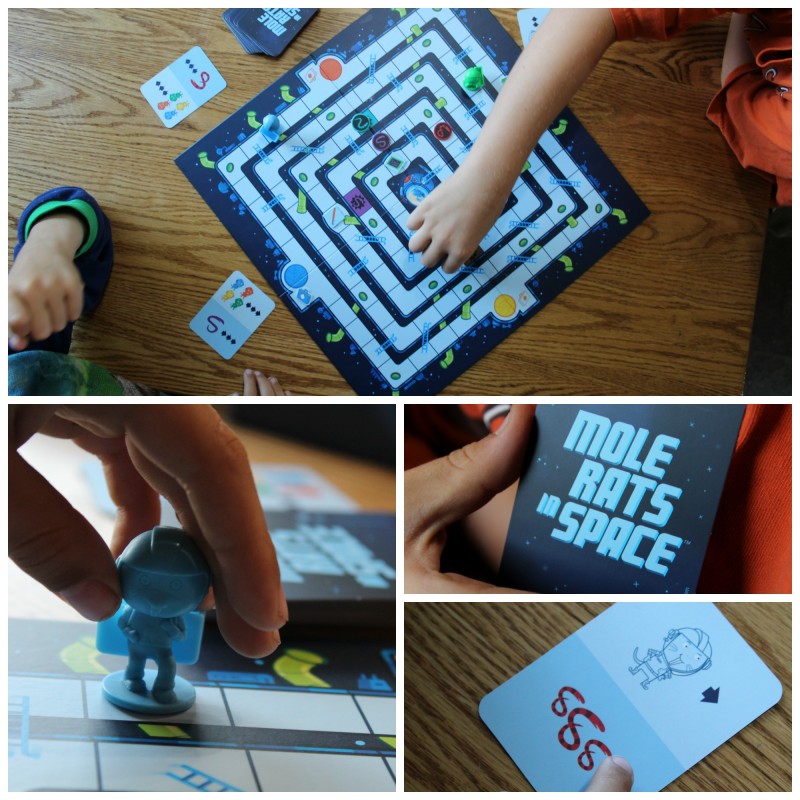 Learn More: Head over to Peaceable Kingdom to see for yourself the great selection of products they offer which includes Cooperative Games, Journals, Stickers, Tattoos, Card Games, and so much more!
Connect: Don't forget to like Peaceable Kingdom on Facebook, follow them on Twitter, Instagram, and Pinterest, and subscribe to their You Tube Channel for all the latest news and promotions.
Win It: Peaceable Kingdom is generously offering one of our lucky readers their very own cooperative game! This giveaway is open to the US only and will end July 27th, 2017. For your chance to win, enter the Giveaway Tools below. Good luck!
Entry Form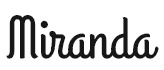 This post currently has 8 responses.