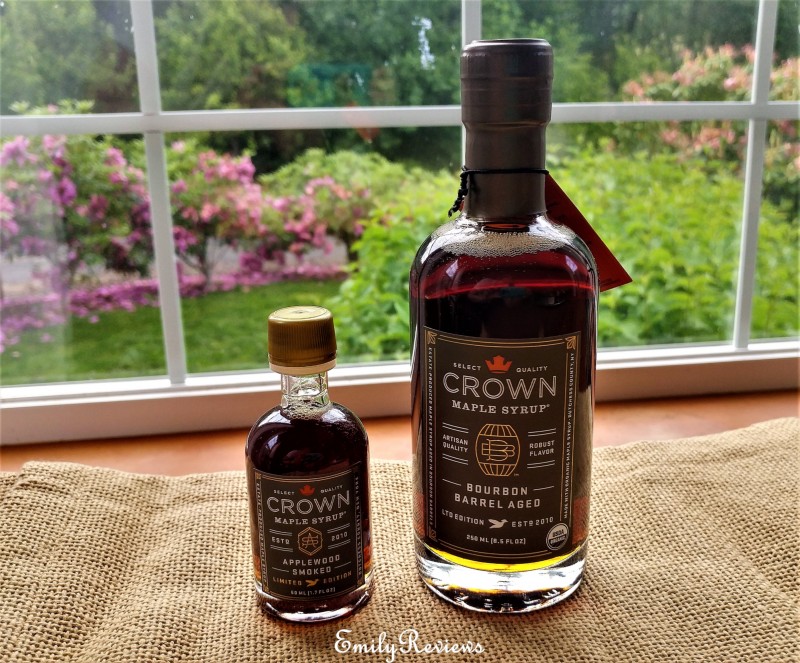 Thank you to Crown Maple for providing me with products in exchange for this honest blog review. All opinions are 100% my own.
My husband loves pure maple syrup. When I was asked to review Crown Maple's Bourbon Barrel Aged Maple Syrup, I knew it would be a hit with him!
Crown Maple's Bourbon Barrel Aged Maple Syrup is made with pure organic maple syrup. During the aging process, the maple syrup absorbs rich flavors of the bourbon from the barrels its stored in. Once it has reached perfection, it is sent off for bottling. Hurry to get your bottle of Crown Maple's Bourbon Barrel Aged Maple Syrup, this is a limited edition product!
Crown Maple's Bourbon Barrel Aged Maple Syrup is delicious over waffles and pancakes, they urge you to think outside of the bottle. Try adding Bourbon Barrel Aged Maple Syrup to ice cream, grilled stone fruit, oatmeal, or hot fruit cobbler.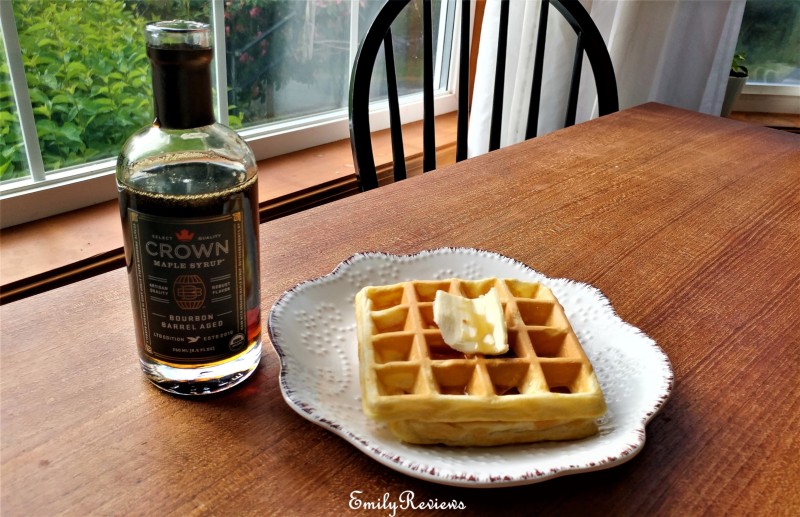 My husband was happy to try Crown Maple's Bourbon Barrel Aged Maple Syrup on a stack of homemade waffles. He said the syrup was absolutely delicious! We also shared Crown Maple's Bourbon Barrel Aged Maple Syrup with my father in law. He too loved it!
While on the Crown Maple website, I noticed they have a Recipe tab. While perusing through the recipes, the Smoky Maple Bourbon Ribs caught my attention. Every year, my family has a rib competition. None of us really know what we are doing, we just have a fun family rib-cookoff. I wish I had seen the Smoky Maple Bourbon Ribs recipe before this year's event. I would have won for sure! I am going to stash this recipe away for next year!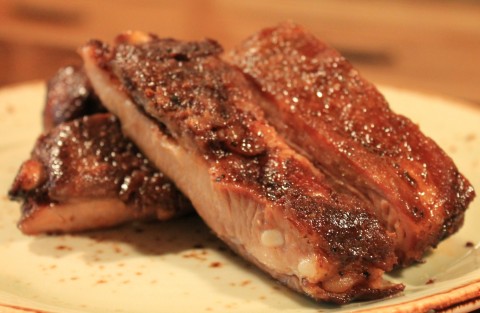 Ingredients-
3 # St. Louis Style Ribs
1/4 cup + 2 Tbl Crown Maple- Maple Sugar
2 Tbl Kosher Salt
1 1/2 tsp Chili Powder
1 1/2 tsp Smoked Paprika
1 1/2 tsp Garlic Powder
1 tsp Onion Powder
1 tsp Cumin
1 tsp Black Pepper
1/2 tsp Cayenne
1 1/2 cups Red Wine
1/2 cup Crown Maple- Bourbon Barrel Aged Maple Syrup
Directions-
STEP ONE
To prepare ribs, flip them over so that the back side is facing up and remove the thin membrane from the bones. Combine the maple sugar, kosher salt, chili powder, smoked paprika, garlic powder, onion powder, cumin, black pepper and cayenne
STEP TWO
Liberally rub the spice mixture all over the ribs. Wrap tightly with plastic wrap and allow to rest overnight
STEP THREE
Preheat oven to 350 degrees. Pour the wine into the bottom of the pan and place ribs in the pan; Cover with foil and roast 1-2 hours until the bones start to protrude from the rib meat and the meat is very tender
STEP FOUR
Preheat the broiler and transfer the ribs to a clean pan, preferably one with an elevated rack. Brush the syrup over the top of the ribs and broil until lightly browned. Flip over, brush with more syrup and brown the other side of the ribs
STEP FIVE
Remove ribs from the broiler and allow to rest for 15 minutes before serving
Doesn't that sound amazing?!
What Crown Maple product sounds the best to you? How would you enjoy it?
Buy It: Please visit the Crown Maple website to see the great selection of products they offer and convenient shopping locations.
Connect: Don't forget to follow Crown Maple on Facebook, Twitter, and Pinterest for the latest product announcements and special offers.



This post currently has one response.