PetSafe sent me their decorative pet steps for my pets gift guide. All opinions are my own.
My pugs are now 12 and 13 years old. They are still happy, relatively healthy and they still like to play. For the most part, they seem like the same two dogs I brought home over four years ago. However, one way that their older age is showing is in their physical agility. About a year ago, Beans essentially stopped being willing to jump at all. She jumped down off the bed one day and didn't catch herself so she landed on her hip. After that, she would not jump up or down except off the smallest of ledges. Frank can still jump and is happy to get on and off the couch and regular stairs pretty easily. However, he used to  jump from the floor up onto our bed and he started hesitating and waiting for us to assist him before jumping that high. It was at the maximum jump range anyway, he is slightly taller than Beans and she had never been willing to try jumping on the bed.
In the spring, I reviewed the Solvit Furniture Grade dog steps in the 3 step size. Our plan was to move these between the couch and our bed to use them for both purposes. They are rather heavy so we did not end up moving them back and forth. The 3 step set was a big too high for our couch, but perfect for our bed. Solvit products have now been acquired by PetSafe, and the stairs are now called PetSafe Decorative Pet Steps. We decided to get the two-step set to leave on the couch, so we could leave the 3 step set by the bed. The 2 step set is perfect for our couch. Frank is still comfortable jumping up onto the couch on his own so he doesn't use them, although he does use the set in the bedroom. Beans gladly uses the steps in both locations.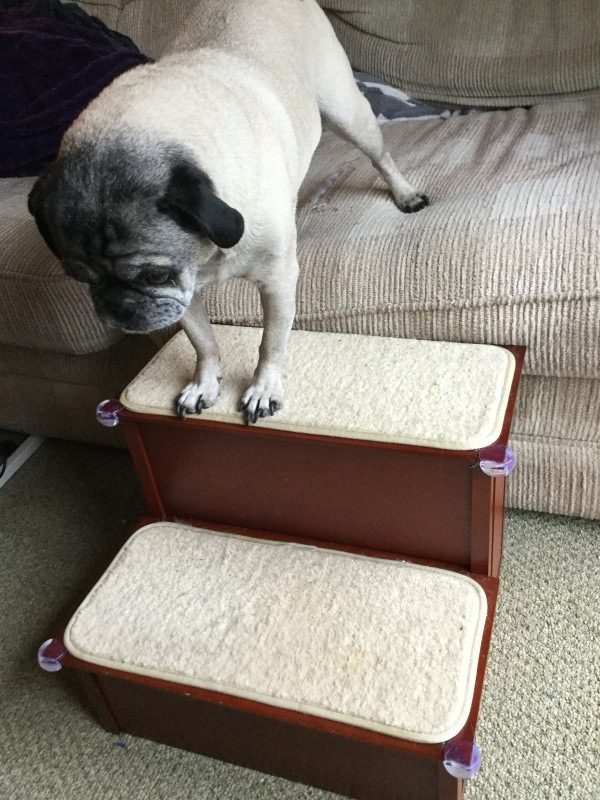 These steps are hardwood and incredibly well made. In fact, they are so sturdy that we put corner caps on the sides of the steps because I kept bumping into them and bruising my shins! These did not come with the stairs, but we had them on hand from when we bought a pack to add to our old set of stairs. I didn't think to get photos before applying the corner protectors, sorry about that.
While it is not something I would recommend because that is not the intended purpose, my nieces and nephews LOVE to sit on these steps and they support dogs of any size so they are sturdy enough to support children. I do try to discourage them from doing it, but I do think it speaks to how sturdy these really are.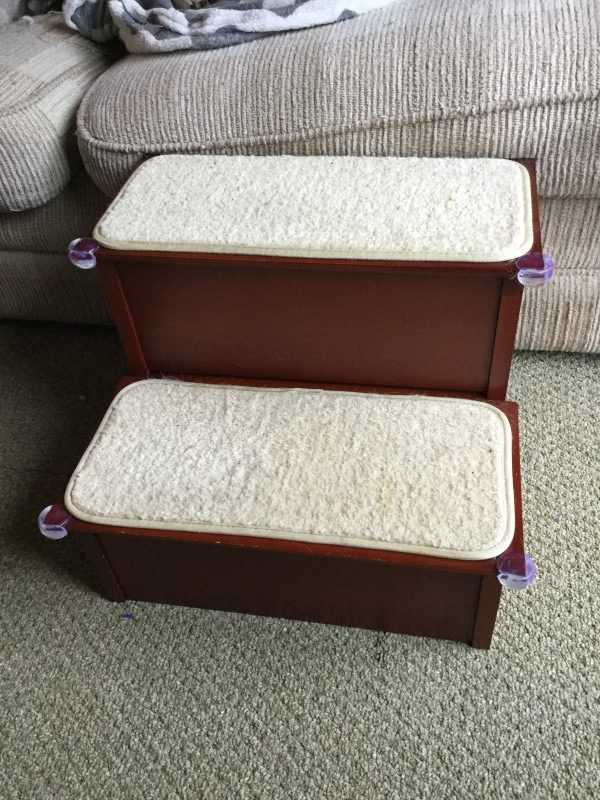 The steps come with pads you can attach to the bottom of the stairs to prevent them from skidding. Our bedroom has hardwood floors and it holds the steps in place nicely as our dogs go up and down them. The larger of our dogs is only about 25-pound dogs, but they both get very excited when we wake up and when we go to bed, so they run and up down the steps pretty quickly and they stay firmly in place.
We bought some cheap dog steps shortly after beans lost her ability to jump. They would wobble under her weight (she's only about 22 pounds!) so she was too afraid to use them at all. The fact that these steps are so sturdy is what allows both of my dogs to use them without fear. Of course, the fact that they really use them is what makes them worth purchasing. I highly recommend the PetSafe Decorative Pet Step.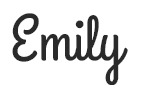 Hi there! I am Emily Evert, the owner of Emily Reviews. I am 28 and live in a small town in Michigan with my boyfriend Ryan and our two pugs. I have a large family and I adore my nieces and nephews. I love reading memoirs, and learning about child development and psychology. I love watching The Game of Thrones, Teen Mom, Sister Wives and Veep. I like listening to Jason Isbell, John Prine, and other alt-country or Americana music. I created Emily Reviews as a creative outlet to share my life and the products that I love with others.
This post currently has 17 responses.