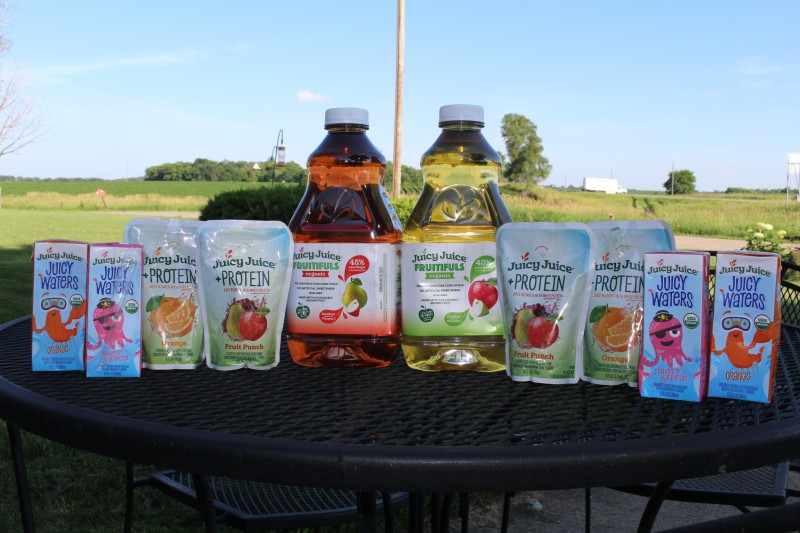 Thank you to Juicy Juice for sending product in exchange for my (and my three-year-old's) honest opinion in this review.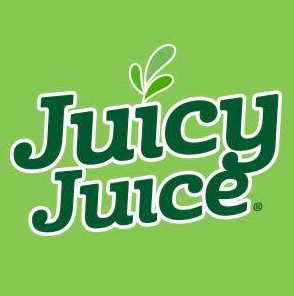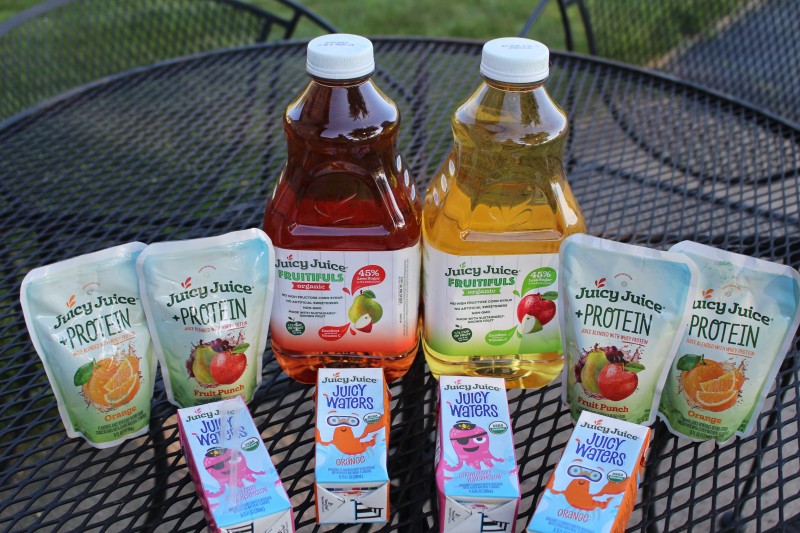 My daughter loves juice. I try not to let her have too much juice, because I know that it can be quite sugary and not always very good for you. I have been a fan of Juicy Juice 100% juice since I was a kid, so when I got the chance, I was happy to partner with Juicy Juice to try some of their newest products with my daughter.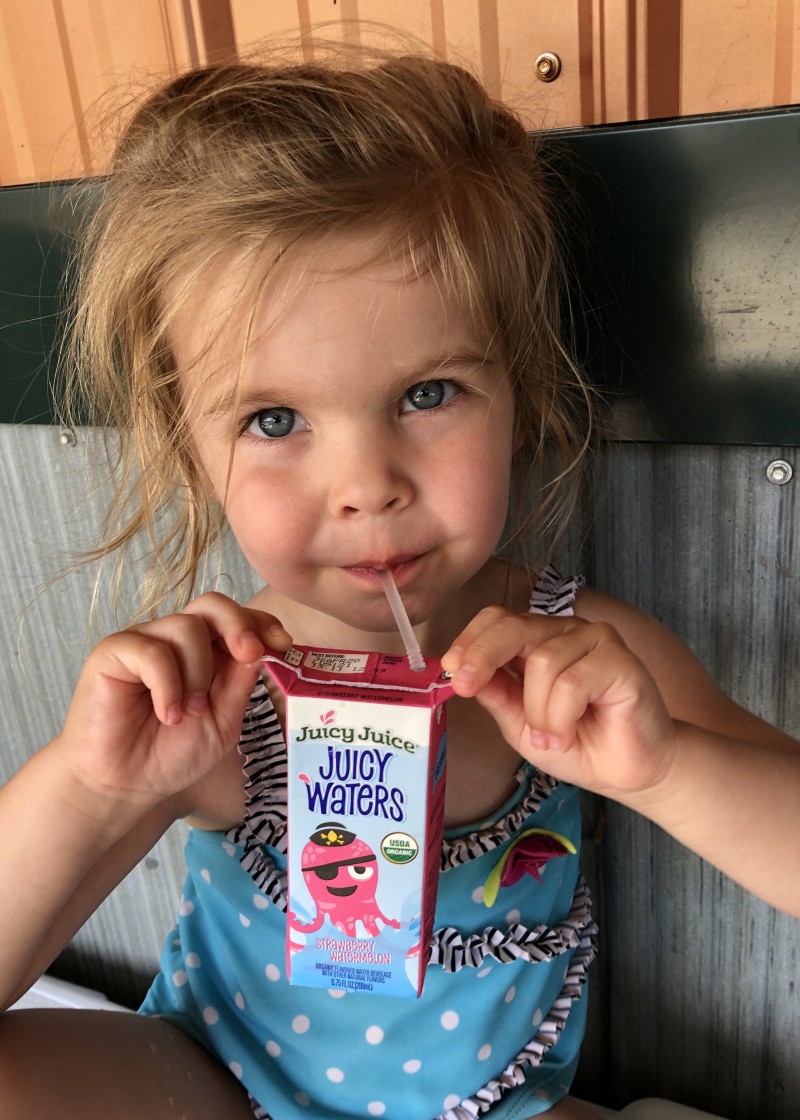 First up, Juicy Juice's new Juicy Waters. These are a flavored-water beverage. A great way to get your little one who doesn't love plain water to drink more water! These are made with filtered water and a hint of organic juice. Hint is definitely the key word here. My daughter was expecting a little more juice flavor, but it was about what I expected. Juicy Juice Waters contain zero calories, zero sugar and are available in an eight-pack of 6.75 oz. single-serve boxes. Juicy Waters come in Fruit Punch, Orange and Strawberry Watermelon flavors. 
Next we got to try Juicy Juice Fruitifuls Organic. Although not pictured, we got to try the Apple and Fruit Punch flavors in the multi-serving bottle. They are also available in single-serve juice boxes, and are also available in Grape. Fruitifuls Organic feature 45% less sugar than the leading juice and in each eight ounce serving there is a half a cup of fruit. Both Apple and Fruit Punch were a hit in our home.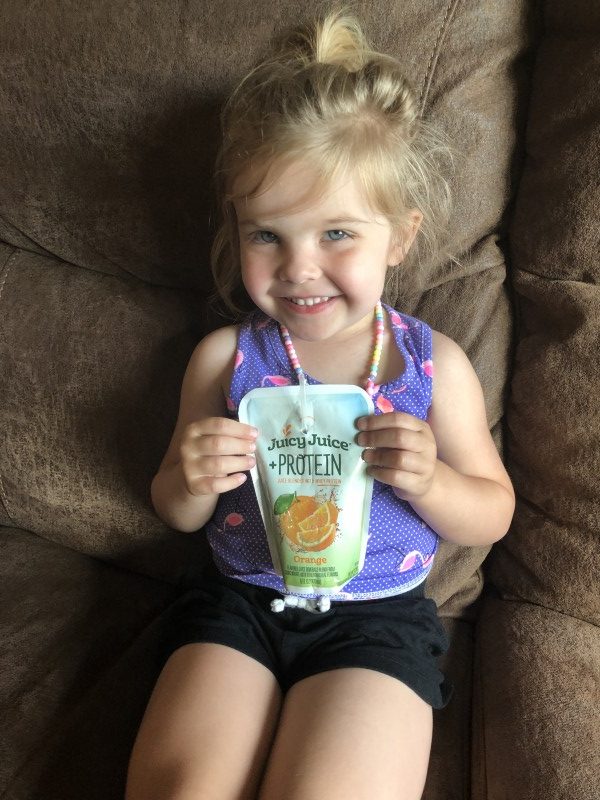 Finally we got to try Juicy Juice Protein. These are one of the first juice-protein blends on the market. They are packed with whey protein and are shelf-stable. Each serving has five grams of protein and is great as a snack in between meals. Juicy Juice Protein is available in an eight-pack of six ounce pouches in Fruit Punch and Orange. One note on these was that we started two of the juices and then let the packs sit for a bit at room temp while she played and then went back to them and both times she complained of "something on her tongue" and wiped her tongue on a kitchen towel, and it appeared that the whey protein had clumped a bit. She did not have issues when she drank the entire juice pouch right away within a few minutes. So my recommendation would be to shake the pouch a little before opening and then to consume right away, not to leave them sit out like you might do with other juice pouches.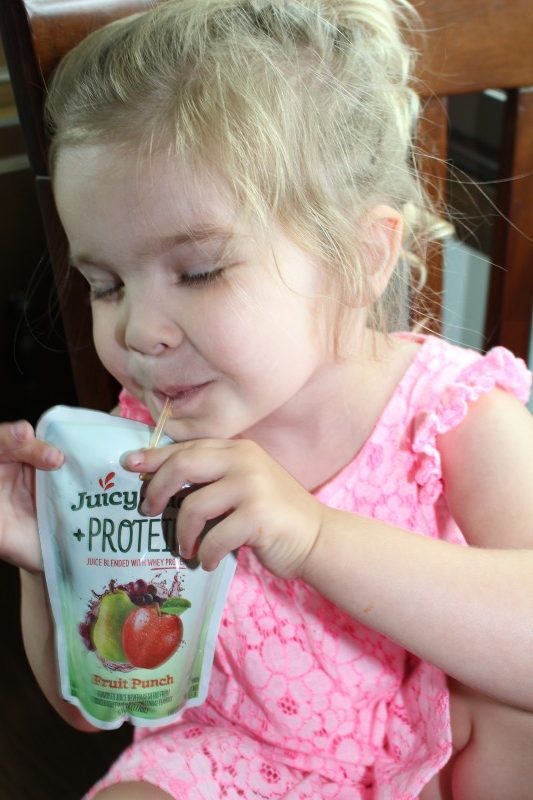 Overall we were pleased with the new Juicy Juice products with the Organic Fruitifuls being our overall favorite.
Tell me in the comments: Are you a Juicy Juice fan? Have you tried any of the new Juicy Juice varieties yet?
Buy It: Head over to Juicy Juice to see for yourself the great selection of products they offer.
Connect: Don't forget to like them on Facebook, follow them on Twitter, Instagram and Pinterest for all the latest news and promotions.


Hi, my name is Asha. I am 30 years old and am a nurse by profession. My husband and I have been married for over five years and together we have a sweet three-year-old daughter, an infant son, and a lovable bunny named Caramel. I enjoy spending time with family, taking photographs, scrapbooking, hunting, fishing, cooking and gardening.
This post currently has 8 responses.