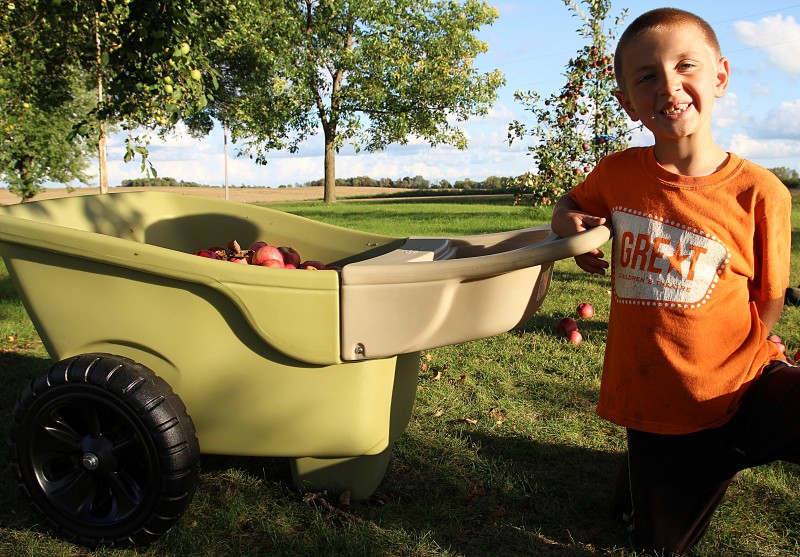 I received product from Simplay3 to facilitate this post.  As always, all opinions are my own.
Here in Minnesota, Fall can mean so many things.  Cooler temps, beautiful leaves, and trees full of produce.  But it also means something else… FALL YARD WORK!  So I've teamed up with Simplay 3 to share a great tool they offer which helps make yard work a breeze.  Their Easy Haul Wheelbarrow!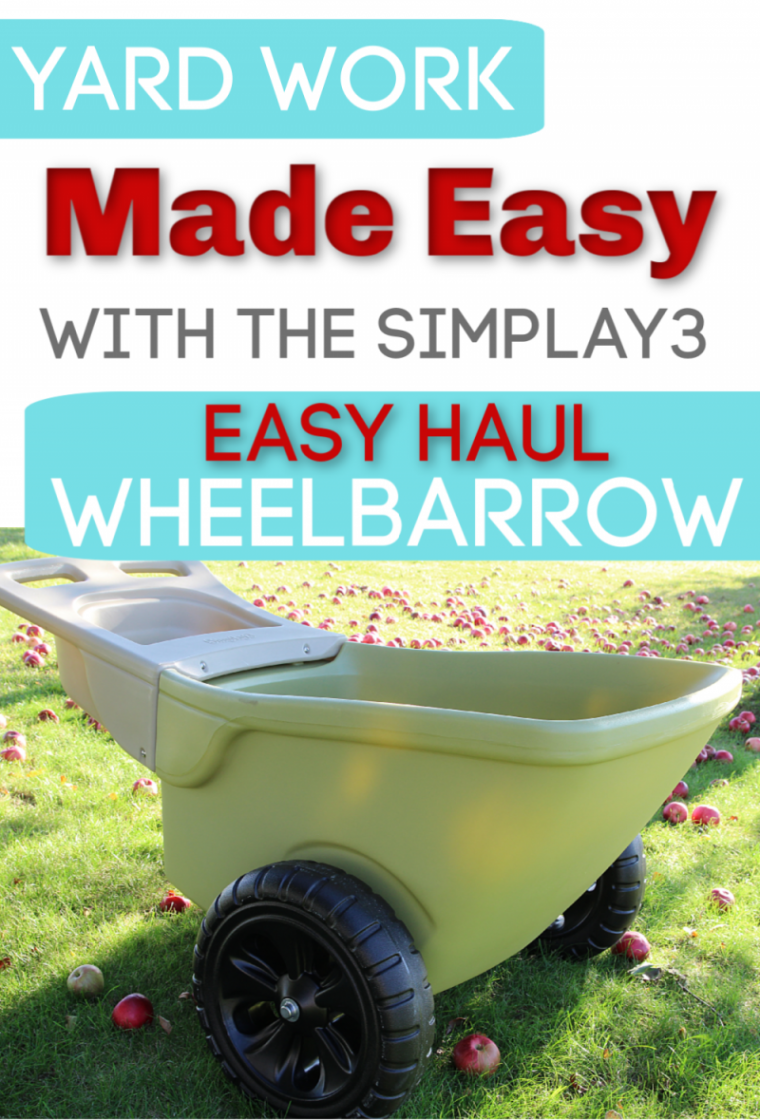 Simplay3 Easy Haul Wheelbarrow
Now, the first thing I want to say is that this wheelbarrow will actually be a great tool all year round!  In the spring, it's perfect for hauling flowers and other gardening tools and gear.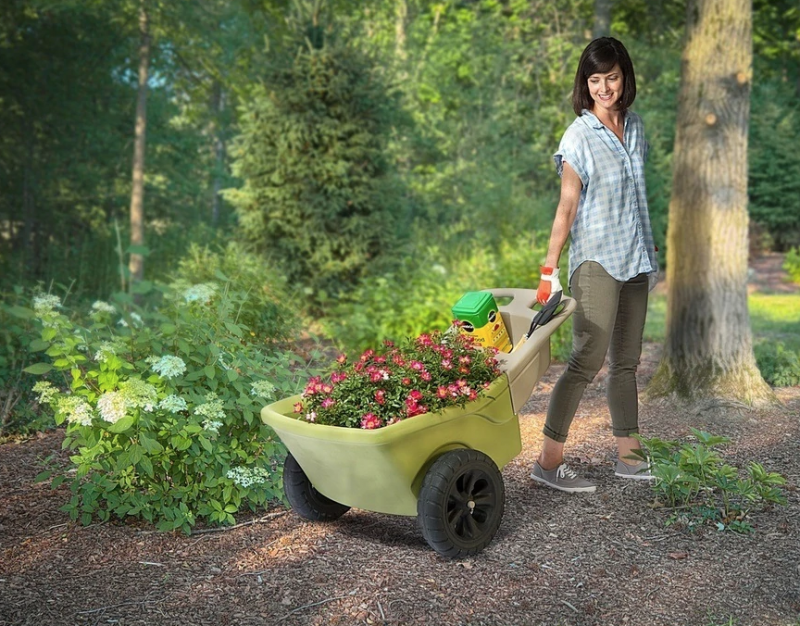 And throughout the entire summer, as you work to beautify your yard, this Wheelbarrow will make loads easier to haul.  Tasks quicker to accomplish.  And results quicker to be seen.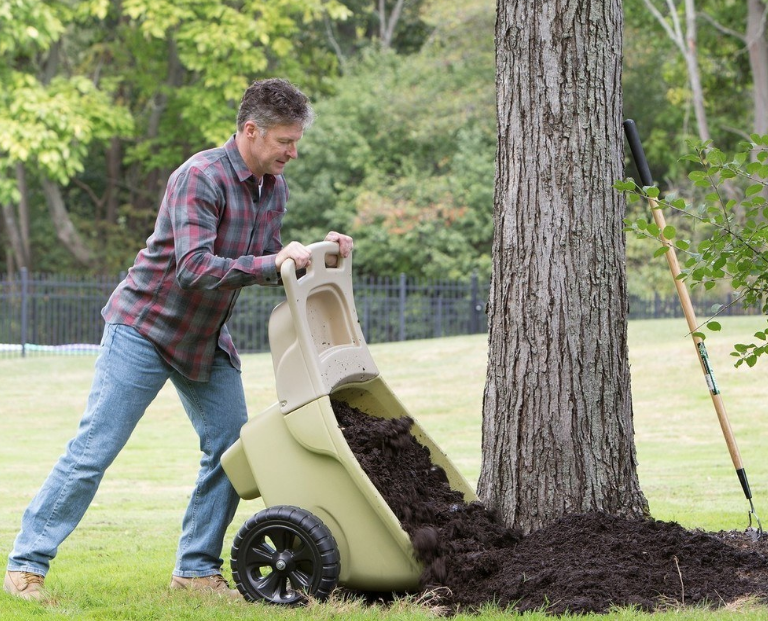 But for us, swinging into Fall brings about a few dreaded chores.  In our yard, there's fallen apples to clean up, leaves to be raked and hauled away, and sticks to be picked up.  This week, it was time to pick up a bunch of apples that had fallen in a storm.  And I was so happy to have our Simplay3 Easy Hall Wheelbarrow to help!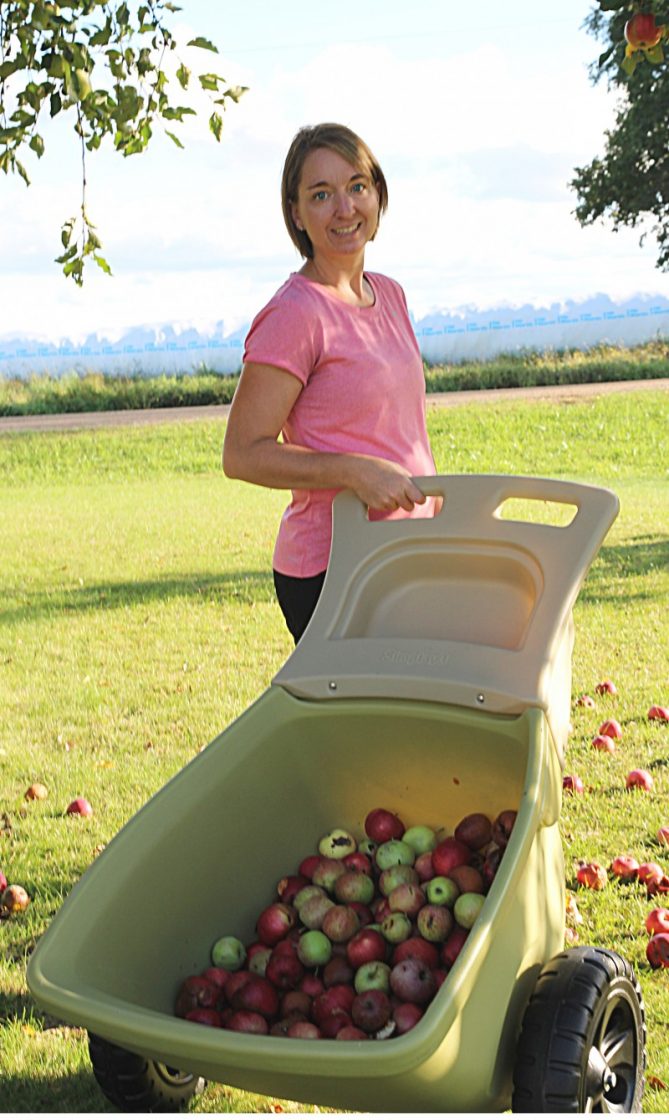 Easy Hall Wheelbarrow Features:
Lightweight – At just under 24 pounds, this wheelbarrow is fairly lightweight and I am able to easily lift when needed.
Easy Tip Design – Perfect for ground level loading and unloading, this wheelbarrow is easy to tip exactly where you want.
4 Cubic Foot Capacity – Allows you to haul good sized loads.
Durable Design – This wheelbarrow is made from a thick, heavy duty plastic and features 13.5" roto plastic wheels.
Includes Storage Tray – Perfectly integrated into the design of this wheelbarrow, the built in storage tray is perfect for holding garden tools, drinks and more.
Easy To Clean – The plastic can be hosed off or scrubbed down if it gets dirty.
Will Not Rust Or Fade 
Easy To Maneuver – Designed for easy push, pull, turn, and dumping.
All-Weather Construction – Not only can you use the Simplay3 Easy Haul Wheelbarrow all year round, it can actually be stored outdoors too.
And did you know that Simplay3 products are American made and this company is Veteran owned!?!
My Simplay3 Easy Hall Wheelbarrow Review
Assembly-
So when we received this wheelbarrow, I was happy to see there wasn't a lot of assembly required.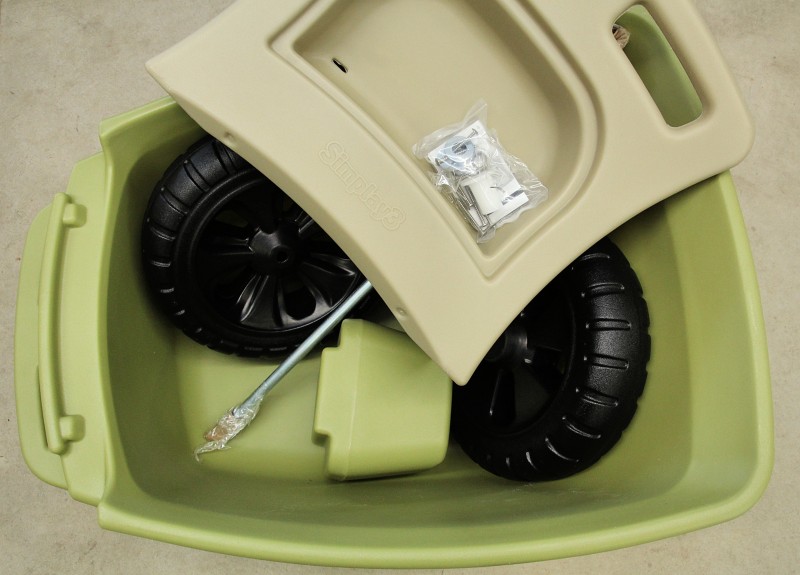 In just a few minutes, we were all ready to roll…literally!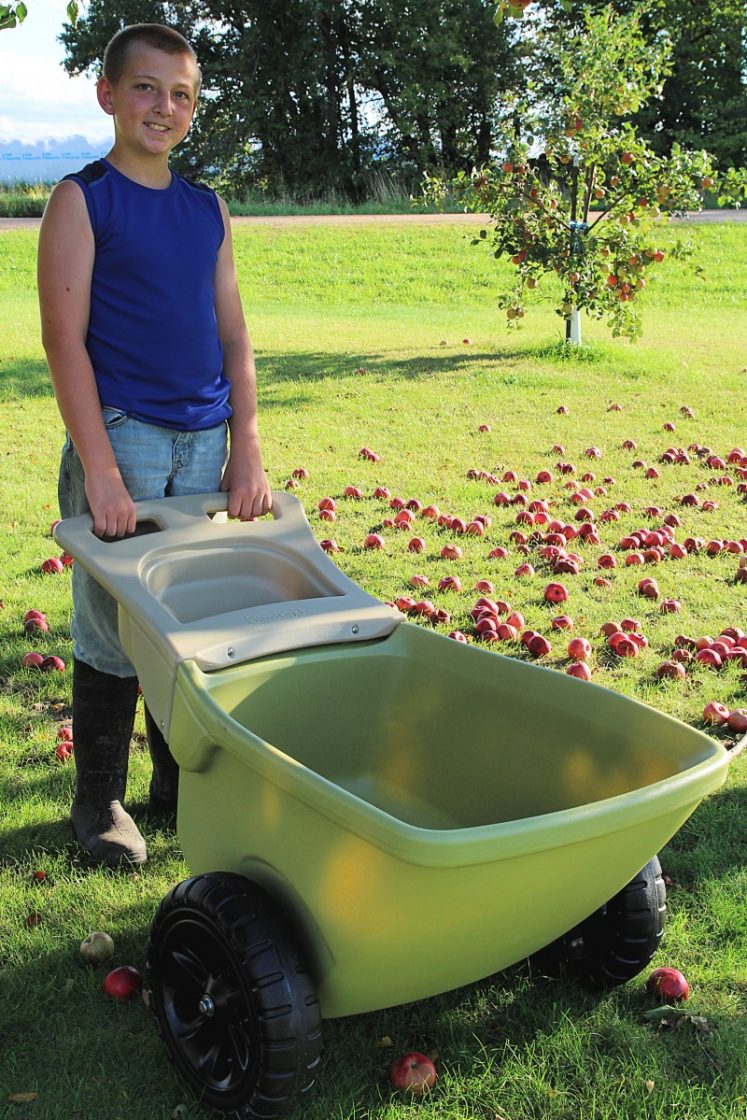 Performance-
I loved how the integrated handles are easy to grip as well as push and pull with.  It's truly easy to maneuver any direction you want to go.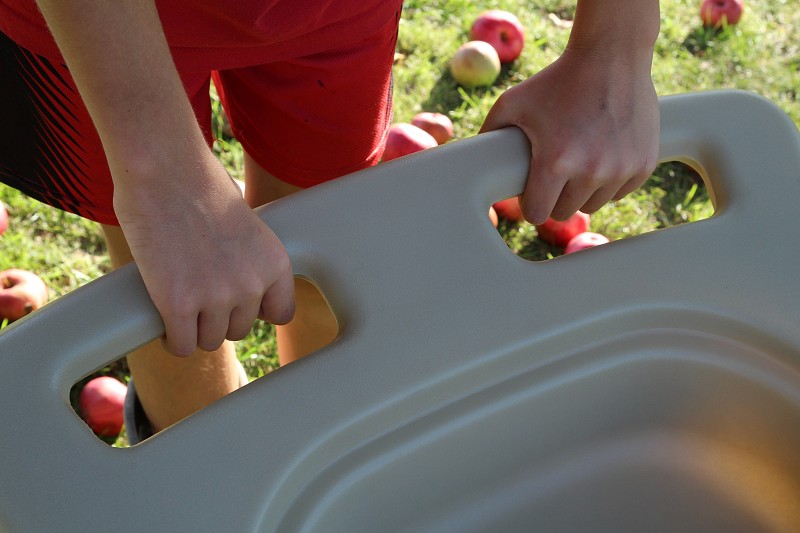 We were able to put quite a few apples into the wheelbarrow.  And because some had started to go bad already, I loved that we were able to just hose the wheelbarrow off when we were finished for easy cleaning.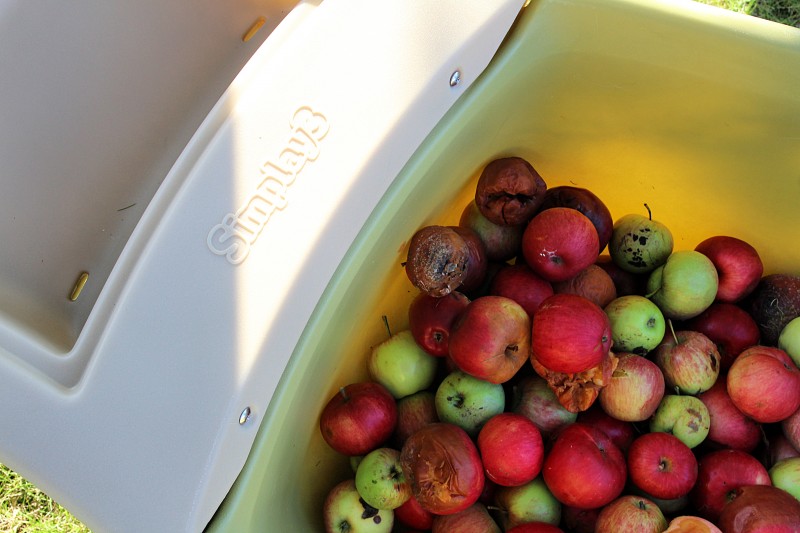 We pulled the wheelbarrow, both full and empty, across a variety of terrains including: grass, cement, and gravel.  The wheels worked well on all!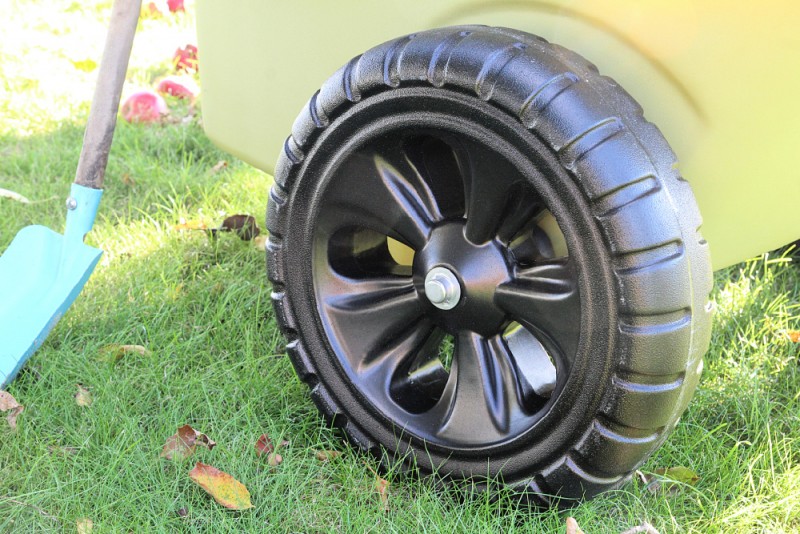 One perk I've found with the Simplay3 Easy Haul Wheelbarrow is that it's easy to use.  All of our kids, including the youngest who just turned 5, is able to push and pull it.  Even when filled pretty full, the design makes it easy to move.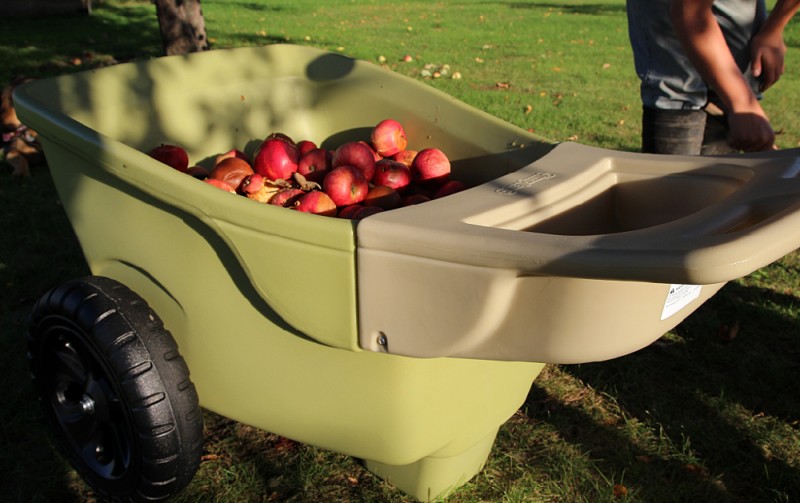 Overall, the Simplay3 Easy Haul Wheelbarrow is awesome and we give it two enthusiastic thumbs up!  I love how heavy-duty and durable, yet lightweight it is.  It allows the kids and I to accomplish yard work by ourselves as my husband isn't always around to help with lifting and moving things.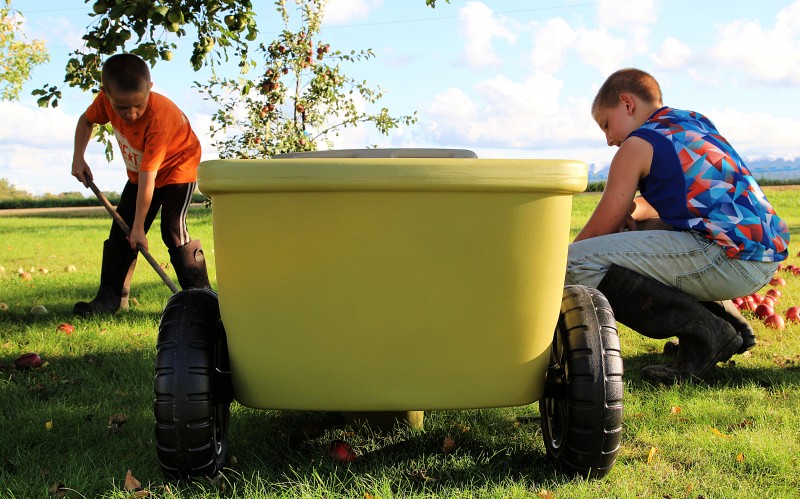 Simplay3 offers a variety of awesome products and toys for all ages.  So be sure to visit their website to see their climbers, ride-ons, creative play and more for the kids as well as their adult lineup such as home and garden products, mailboxes, and storage options.
Connect With Simplay3
Facebook / Twitter / Instagram / Pinterest / You Tube

Simplay3 Easy Haul Wheelbarrow Giveaway
One lucky Emily Reviews reader will win their very own Simplay3 Easy Haul Wheelbarrow, valued at $100!  Open to the Continental US only, just enter the widget below for your chance.  (*Simplay3 will receive emails of all entrants for their email newsletters.)  Good luck!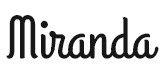 This post currently has 111 responses.