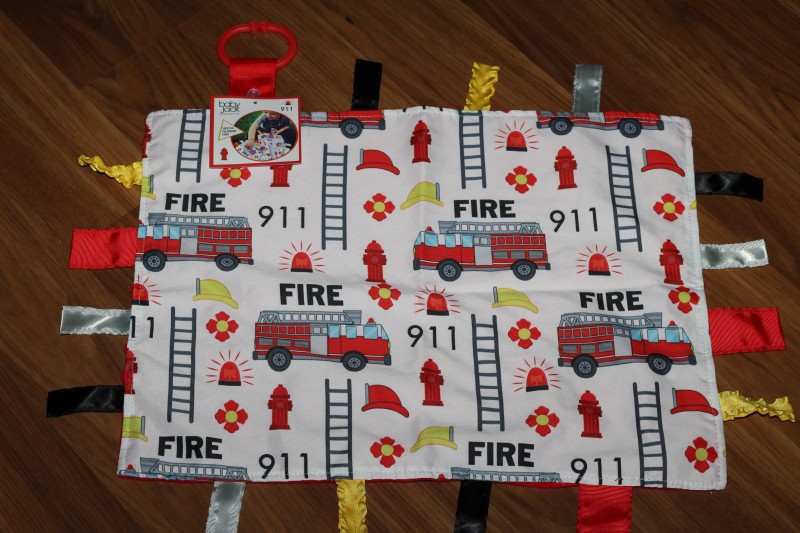 Thank you to Baby Jack & Company for sending product in exchange for my honest opinion.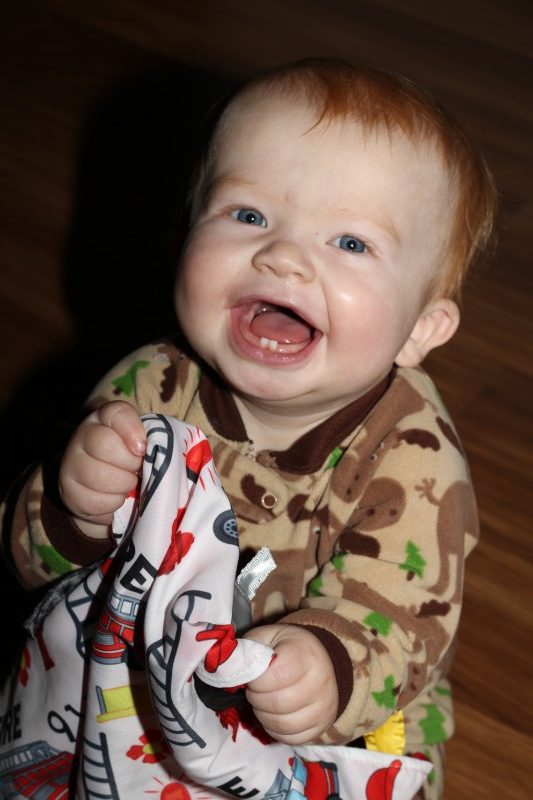 I've been a big fan of Baby Jack and Company since my daughter was a baby. Now, my little guy is a Learning Lovey fan too! In fact, as I sit here in the chair working on this review, he's sitting on the living room floor in front of me, sucking on his pacifier and stroking the tags of one of his Learning Loveys (looking much like the photo below).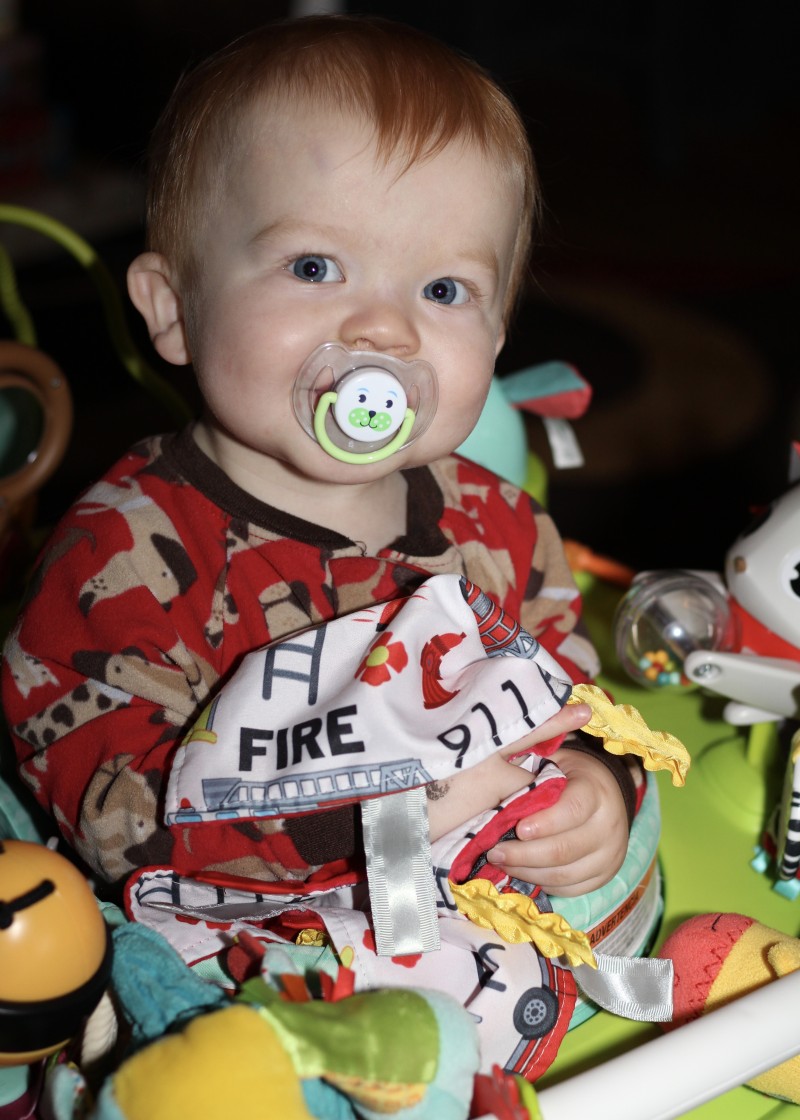 The Learning Lovey is a sensory tag blanket. Baby Jack & Company Learning Loveys were inspired by Baby Jack who had an obsession for playing with ribbon tags. One night, Jack got his finger intertwined in a looped ribbon while trying to fall asleep and his mom vowed to make a safer product for kids that brought comfort, safety and education. Baby Jack & Company was born, and now, she and her two children design all of their own fabrics to be educational, using shapes, letters and numbers to build the pictures. What started as a "baby" product turned into a comfort object for babies, toddlers and kids of all ages. There are tons of cute designs to choose from, including jungle animals, unicorns, forest creatures, mermaids, ocean animals, outerspace, wizards and more.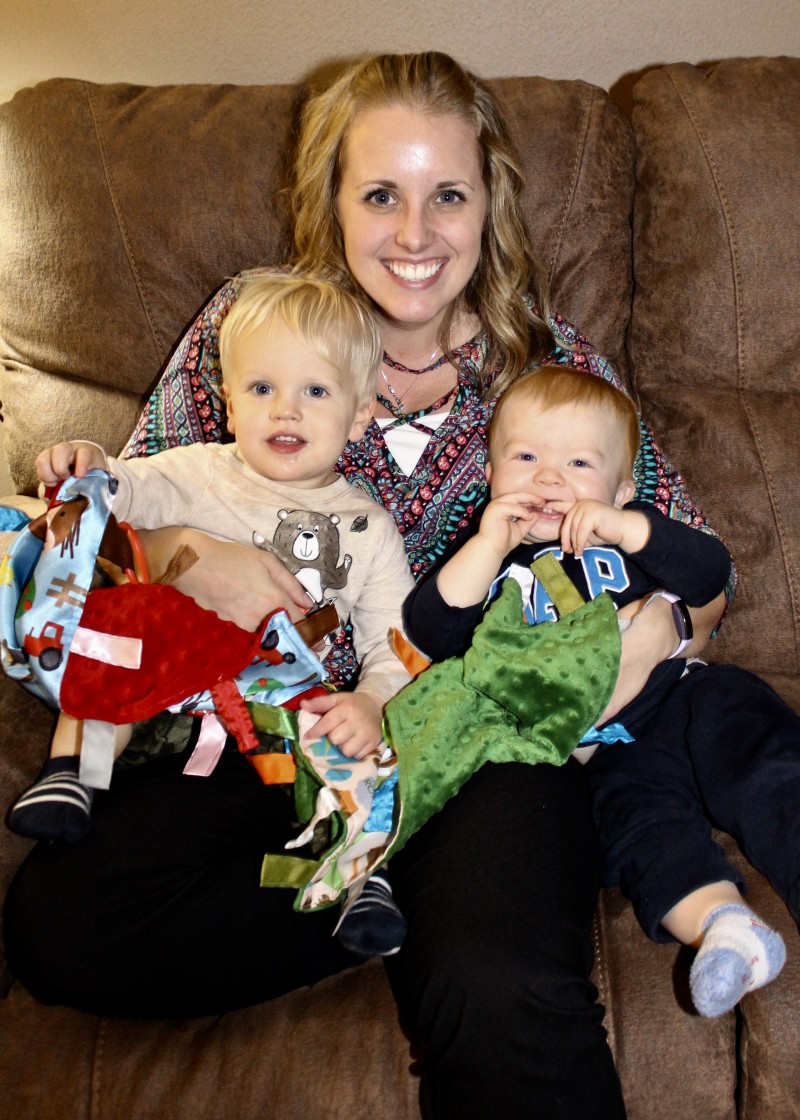 We own the farm, dinosaur and most recently the firetruck themed Learning Loveys. My son loves them all equally. Recently when a friend of mine and her son were visiting, her son found one of my son's Learning Loveys and he was loving it too (see photo above). Recently I walked into the living room to find my son IN his toy bin. He thought it was pretty great. Can you find the two Learning Loveys in the picture below?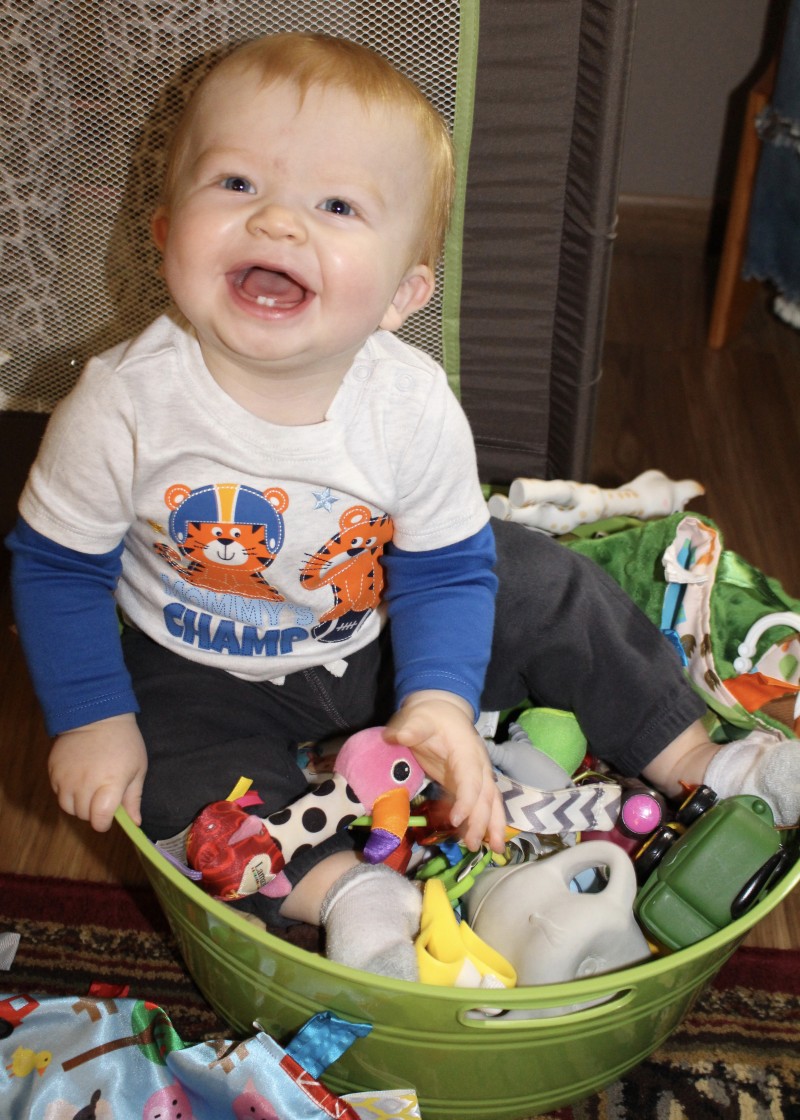 Baby Jack & Company Learning Loveys are the only product available that sews the ribbon tags shut for added safety.
In the photo below, my little guy had a fever from teething, so I put one of his Loveys in his hands helped him relax and take a nap – and it worked!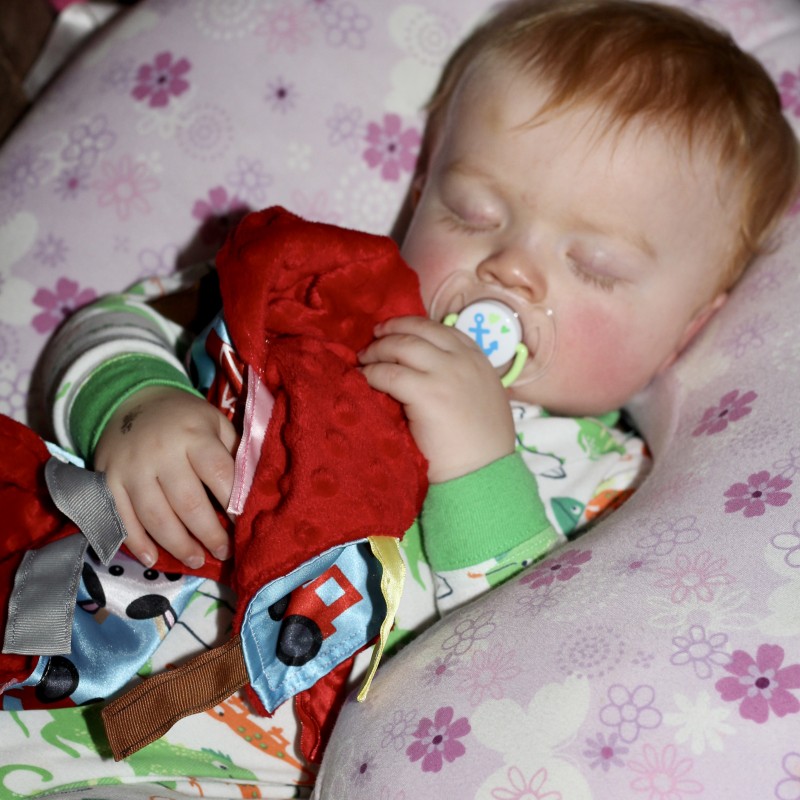 My favorite thing about Baby Jack & Company is that they are committed to giving back to the community. Baby Jack & Co. sent me a bunch of extra Loveys as a part of their Kindness Project (this is the second time they have partnered with me to do this). I will be donating them to the Pediatric Department at my local hospital. I can't wait to deliver them! I am sure the little ones who receive these Loveys in the hospital will enjoy being able to cuddle them while they are sick or injured.
Buy It: Head over to Baby Jack & Company to see for yourself the great selection of products they offer.
Connect: Don't forget to like them on Facebook, follow them on Twitter and Pinterest for all the latest news and promotions.
Win It: Baby Jack & Company is generously offering one of our lucky readers a Learning Lovey of their choice. The giveaway is open to US only. The giveaway will end December 21st, 2019. For your chance to win, enter the Giveaway Tools below. Good luck!


This post currently has 4 responses.