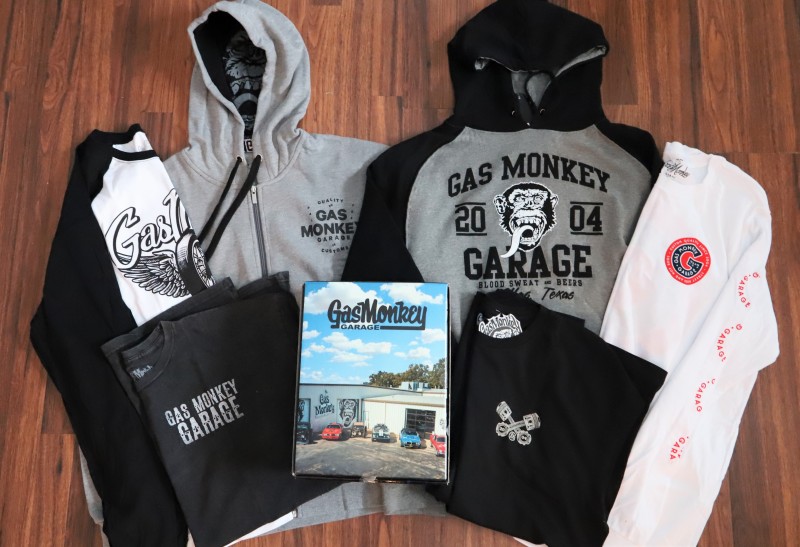 Thanks to Gas Monkey Garage for sending me all of this great merchandise. As always, all opinions are my own.
Is there someone on your holiday shopping list who is almost impossible to shop for? For me, that person is my dad. Throughout the year, he buys whatever he needs or wants, so when it comes to Christmas, it's difficult to find him something he'll love and really use. About a year ago he discovered the show Fast N' Loud on Discovery, and since then I find him watching it almost every time we're at their house. He loves seeing Richard Rawlings and the Gas Monkey crew find old cars from all over the country to bring back to their shop and flip! The 'Monkeys' revitalize these vehicles at the garage in Dallas, Texas. With the slogan "blood, sweat, and beers", it's right up my dad's alley and I knew he'd be thrilled to receive some of their merchandise for Christmas this year. Check out some of my favorite Gas Monkey Garage gear, and enter to win a t-shirt to gift this holiday season, too!
T-Shirts from Gas Monkey Garage
Gas Monkey Garage offers a variety of men's t-shirts, including the Piston Tee. I know my dad's going to love seeing the classic Gas Monkey Garage logo on the back of this tee, long with the "blood, sweat, and beers" slogan. The t-shirts are made of 100% cotton and are great quality. There are quite a few t-shirt options on the Gas Monkey Garage merchandise page, so you can find something for everyone on your shopping list this year!
Gas Monkey Garage Long Sleeve Tees
Long sleeve tees are a great option if you live somewhere cooler, especially this time of the year. Gas Monkey Garage has a few long sleeve tees on their site, and I picked out the Winged Tire Raglan and Medallion Logo Long Sleeve Tee for my dad. I think he'll really like the raglan style of the Winged Tire tee, and both shirts are 100% cotton. The Medallion Logo tee has a large circular logo on the back as well, shown below.
Gas Monkey Garage Hoodies
This time of year the average temps here in Minnesota are, well, really stinking cold! I think our high today is 7°F. We usually dress in layers when going outside, so I know my dad will love these two Gas Monkey Garage Hoodies at Christmas. Since he likes raglan shirts, I'm sure he'll wear the Monkey Raglan Hoodie frequently. It's 55% cotton, 45% polyester, and SO soft!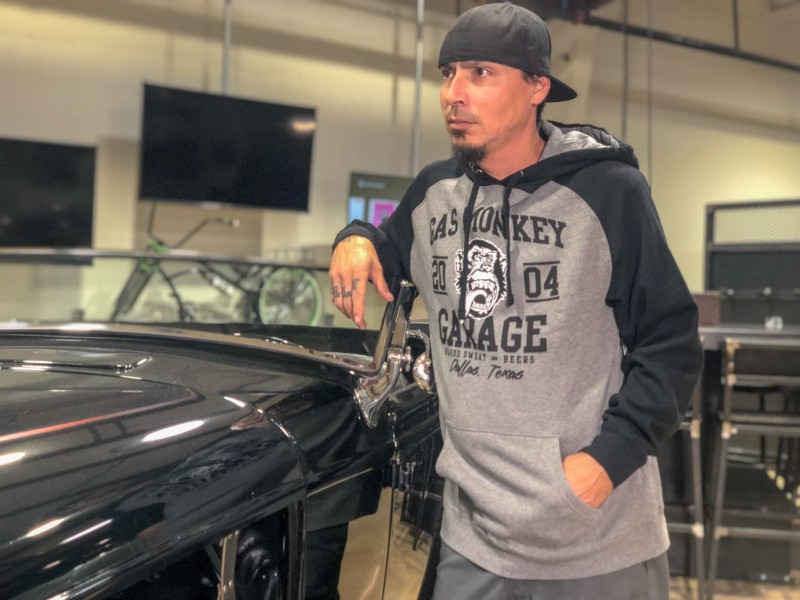 If someone on your shopping list prefers zip-up hoodies, the Monkey Head Grey Zip Hoodie is another great option. You'll find the Gas Monkey Garage monkey head inside the hood, and classic font logos on the front and back of the shirt. My dad can be found in his shop when he's not watching Gas Monkey Garage, and I can see him wearing both of these hoodies while working on his latest project!
2019 Gas Monkey Garage Holiday Box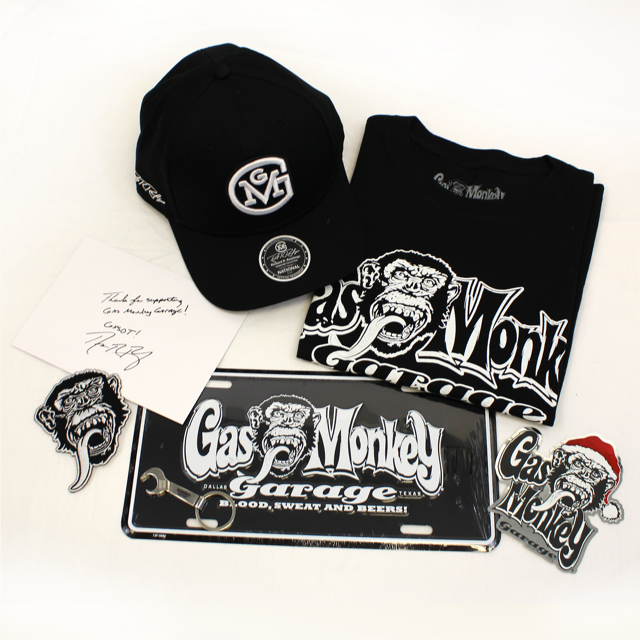 If you're looking for a variety of items including clothing and accessories, the 2019 Gas Monkey Garage Holiday Box is a great option, and fantastic value too! It comes packed with exclusive items only available through the purchase of this limited edition box. Here's what you'll find inside:
Adjustable black hat with Richard Rawling's signature embroidered on the side
Black GYSOT (Get You Some of That) T-shirt
Famous Gas Monkey Garage license plate
Monkey Face Patch
Christmas Monkey Sticker
Wrench Key Chain
Signed card from Richard Rawlings
With a retail value of $95 and currently on sale for $49.95, this will be the perfect gift for a super-fan like my dad. He always wears hats, so I think the adjustable black hat and signed card from Richard Rawlings are going to be his favorite items. I'm sure he'll love all of it, though, and I cannot wait to give it to him at Christmas!
My dad actually does the majority of vehicle maintenance for our whole family and he's come to the rescue more than once when I've had car issues. While most of the time his jobs are changing the oil and replacing parts like alternators or transmissions (thanks, dad!), I'm sure he's dreamed about flipping cars like they do in Fast N' Loud. Sporting the Gas Monkey Merchandise will be one way for him to feel a little closer to that dream.
Buy it: You can purchase all of this merchandise from Gas Monkey Garage.
Win: One winner will take home a short sleeve t-shirt from Gas Monkey Garage! This is a US giveaway ending 12/28. Enter using the form below, and good luck!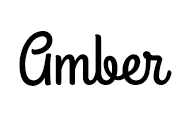 This post currently has 18 responses.