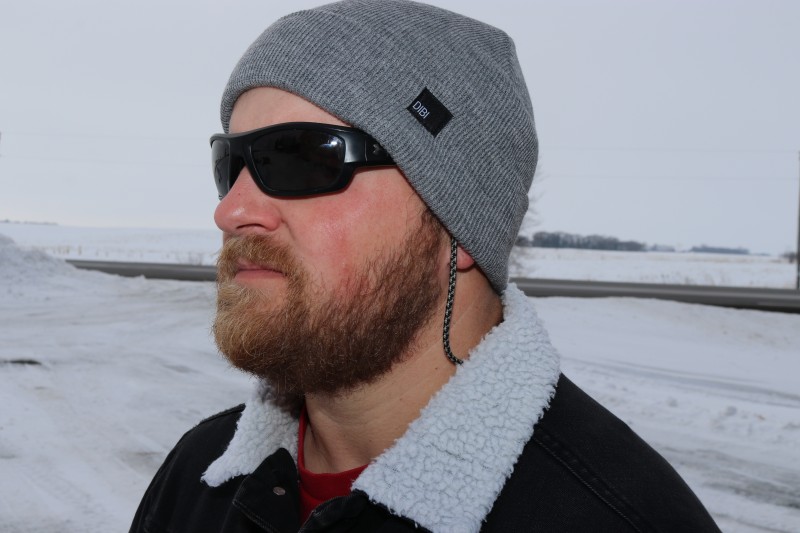 Thank you to SprezzaBox for sending product for review in exchange for my honest opinion.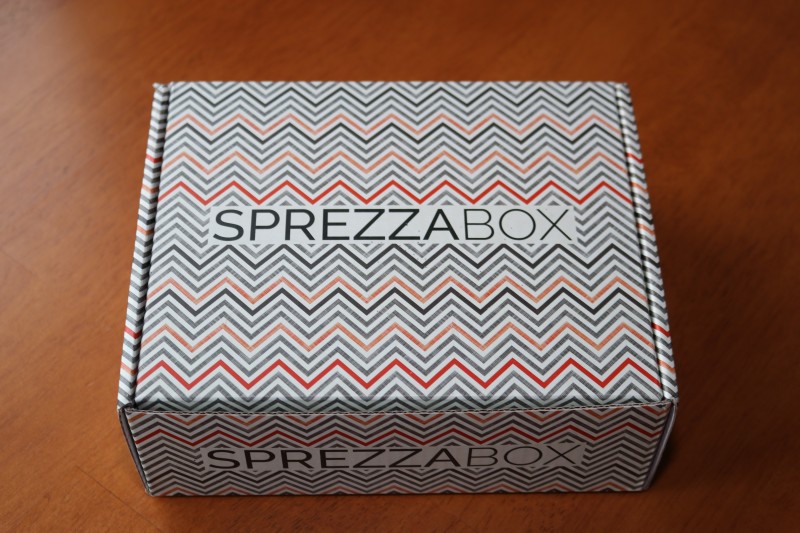 My husband has been receiving SprezzaBoxes for about a year-and-a-half now. Overall, he's been pleased with some of the fun finds in the boxes he's received. So often he's tried out different things that he didn't know if he would like and actually did end up using/liking the product. There have been some things throughout the boxes that my husband didn't love, so we've given those items to his brothers, as they were more suited to their style.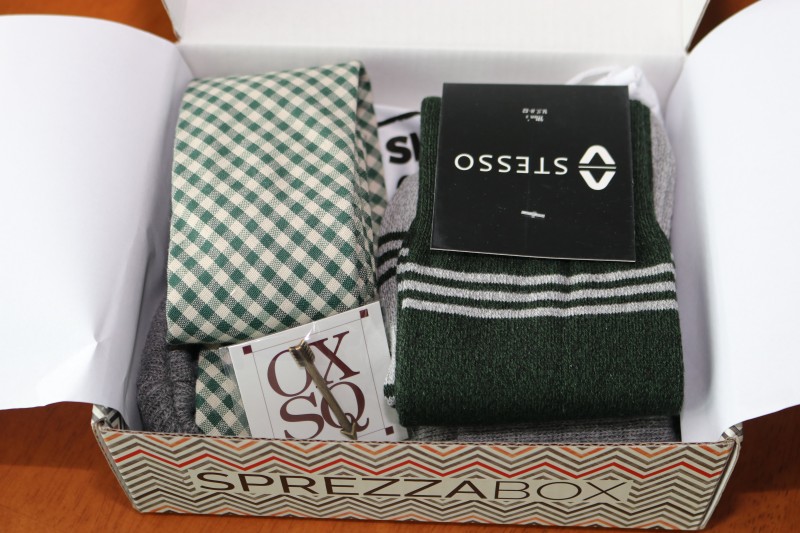 This month we got to try the "Pick Your Own Box" PYOB feature that SprezzaBox recently rolled out. There were a handful of different box choices. They email you when it's time to choose your box and you can go in and see exactly which items are offered in each of the boxes that month and choose which you would like to receive. This month The box was called the Bowery: "No matter what the weather is like right now, its always important to step out in style. This month we went over budget to deliver you some killer products, including an item we've never featured before. Get Excited!" The Bowery SprezzaBox included:
~ A Green Gingham Sprezza Tie – Featuring a green and tan pattern and measuring 2.75″ (7cm) wide x 58″ (148cm) long. Made of 77% Polyester and 23% Cotton. I think the tie is super cute. The retail value of the tie is $25.
~ Hunter Green Color Block Socks from Stesso. Size: US Men 8-12 / EU 41-46 / UK 7.5-11.5 These mid-calf length socks are 80% Combed Cotton, 17% Nylon, 3% Elastic. My husband really likes these. Retail value is $12.
~ The Yachtmaster Sunglasses from Shades Club. These retro black and gold sunglasses are super cool. They retail for $45. They are not my husband's style but I am sure these are going to be right up my brother-in-law's alley!
~ Oxford Square – Arrow Lapel Pin. My husband, who loves bowhunting, really likes this little bronze arrow pin. It retails for $15.
~ DIBI Beanie – This neutral grey beanie is perfect for keeping your guy's head warm during the cool months. This was my husband's favorite item this month and the reason I think he chose this box this month in the first place. It retails for $38. We've never received a hat or beanie in any of our SprezzaBoxes before, but I think this was a great choice on their part!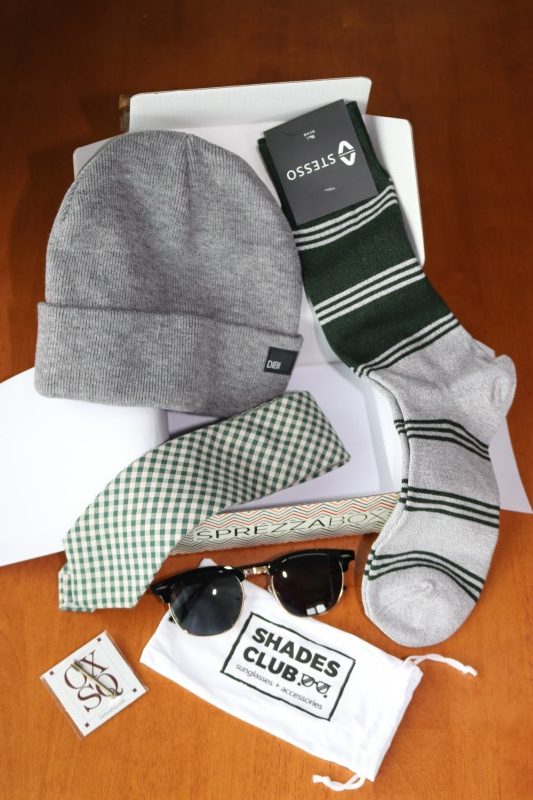 This month three of the items were keepers for my husband and two of the items are going to new homes with his brothers. He is keeping the hat, arrow pin and socks and is giving his brother the sunglasses and tie. His brother works a corporate job and often wears a tie. My husband wears a tie if someone passes away and once in a while to a wedding, so we just don't have the need for a whole lot of ties. The sunglasses were very stylish – however they were just not my husband's style.
Tell me in the comments – What do you think of this SprezzaBox? Which item is your favorite?
Buy It: Head over to SprezzaBox to see for yourself the great selection of products they offer.
Connect: Don't forget to like them on Facebook, follow them on Twitter, Pinterest, and Instagram for all the latest news and promotions.


Hi, my name is Asha. I am 30 years old and am a nurse by profession. My husband and I have been married for over five years and together we have a sweet three-year-old daughter, an infant son, and a lovable bunny named Caramel. I enjoy spending time with family, taking photographs, scrapbooking, hunting, fishing, cooking and gardening.
This post currently has 4 responses.