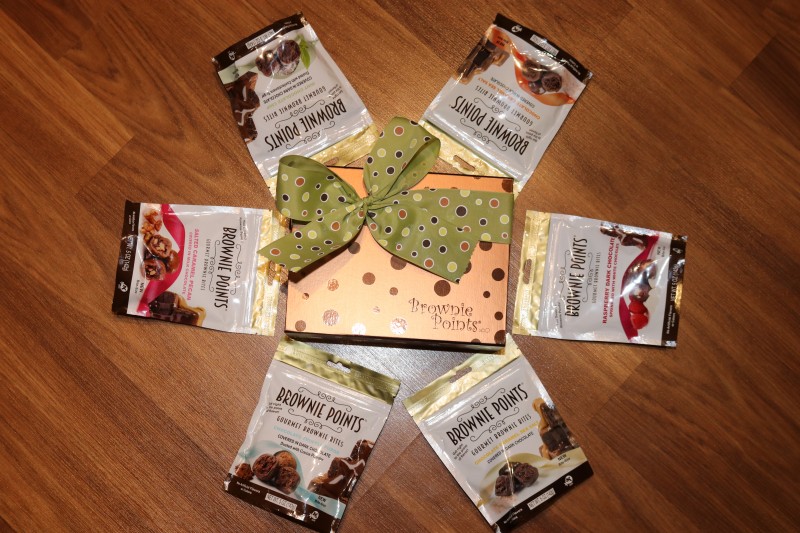 Thank you to Brownie Points for sending product for review in exchange for my honest opinion.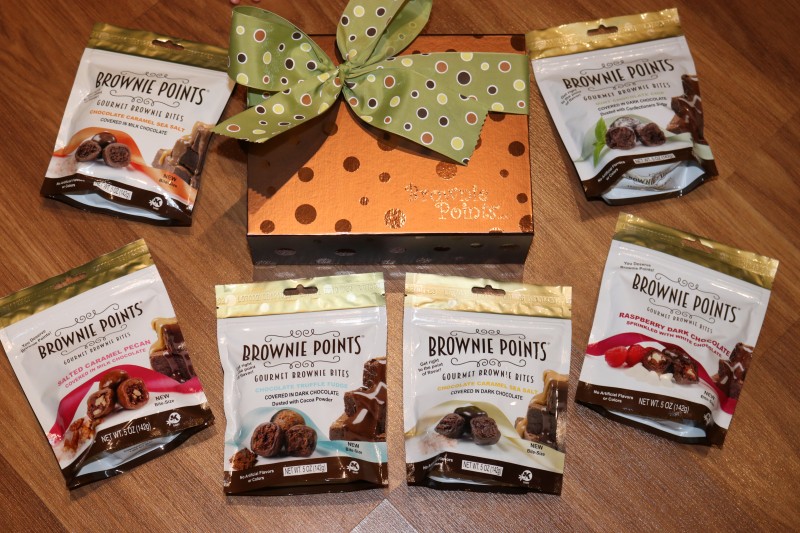 "Brownie Points: Baking The World A Better Place One Brownie At A Time"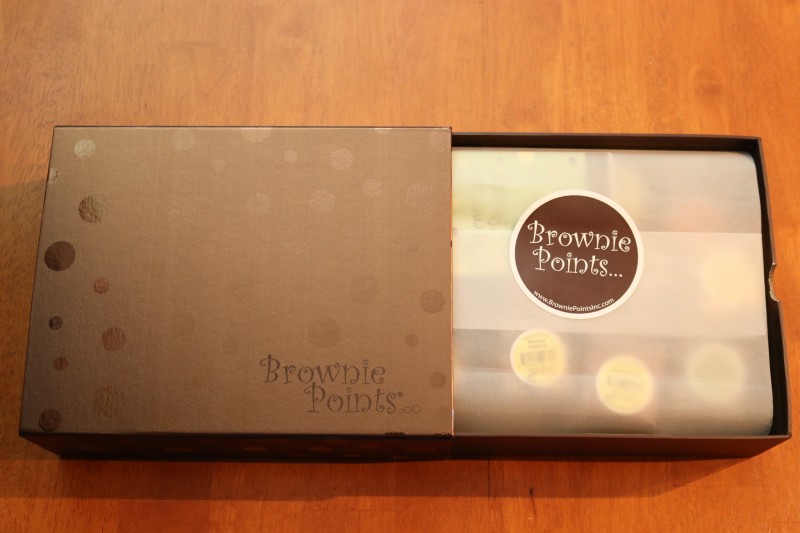 My husband, myself and my parents all tried some of the Brownie Points Baby Brownies and Gourmet Brownie Bites this week. Here are some direct quotes after we all tried the brownies;
"Wow, that's good"
"I'd like a whole pan of these for my birthday"
"These are the perfect size"
"Just enough sweet after a meal"
"I think that's the best brownie I've ever had"
"This is so pretty" (this was our 4-year-old)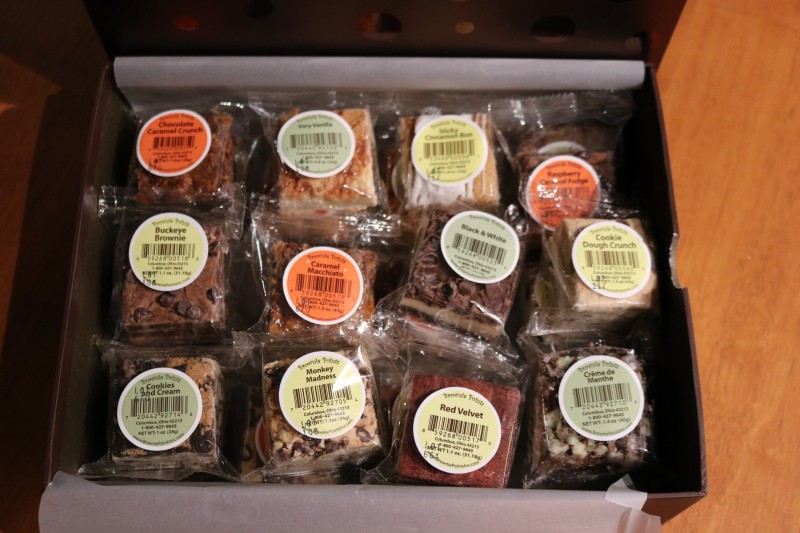 We got to sample six varieties of Brownie Points Gourmet Brownie Bites: Raspberry Dark Chocolate, Dark Chocolate Caramel Sea Salt, Mint Chocolate Chip, Salted Caramel Pecan, Chocolate Truffle Fudge, and Milk Chocolate Caramel Sea Salt. Coated in chocolate – a proprietary process that creates a chocolate candy shell around a chewy fudgy brownie – so there is a slight crunch on the outside and a soft chewy fudgy brownie on the inside.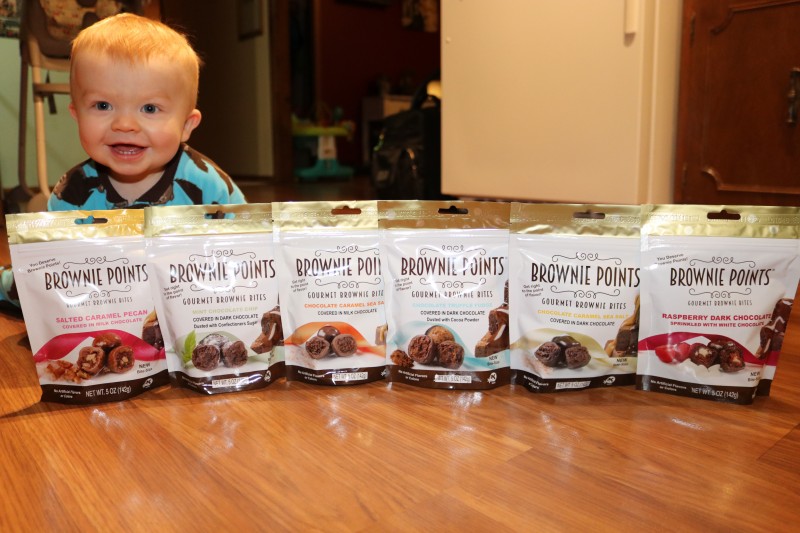 Brownie Points contain no artificial flavors, colors or preservatives. The product is certified Kosher, women owned and a portion of every sale of each bag goes back to the Cancer Support Community. My husband really liked the crunchy outer shell mixed with the fudge insides. His favorite was the Milk Chocolate Sea Salt Caramel variety.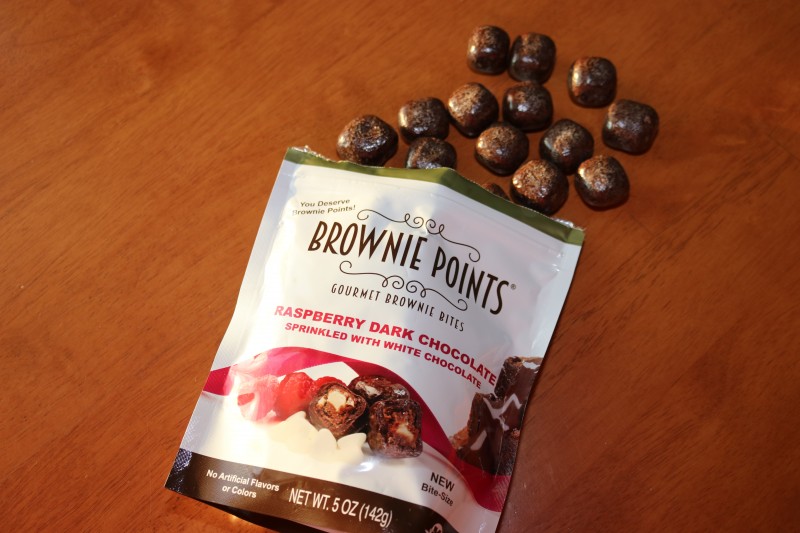 Brownie Points specializes in extraordinary brownie varieties. We were sent the Baby Brownies 24 to sample – 24 different, decadent, individually wrapped Baby Brownies. Flavors included were: Red Velvet, Black & White, Butterscotch Sensations, Very Vanilla, Sticky Cinnamon Bun, Buckeye Brownie, Peanut Butter Passion, Birthday Cake, Chocolate Caramel Crunch, Cookie Jar, Cappuccino Toffee Fudge, Cinnamon Streusel, Cookie Dough Crunch, Chocolate Fudge, Monkey Madness, Double Chocolate Chunk, 'Original' Kitchen Sink, Chocolate Caramel Sea Salt, Black Forest, Caramel Macchiato, Cookies & Cream, Raspberry Caramel Fudge, Creme de Menthe and Lemon Blueberry Swirl.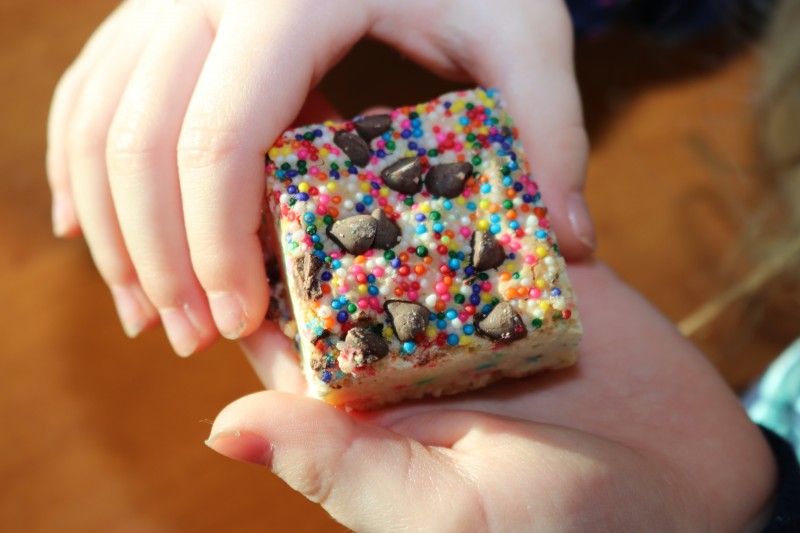 Brownie Points has received national acclaim appearing on The Food Network, The Today Show, Good Morning America, CNN, Fox News, Fox Business as well as the dressing rooms at the Grammy and Billboard Music Awards. We can see why. These are hands down, they best brownies we have ever had.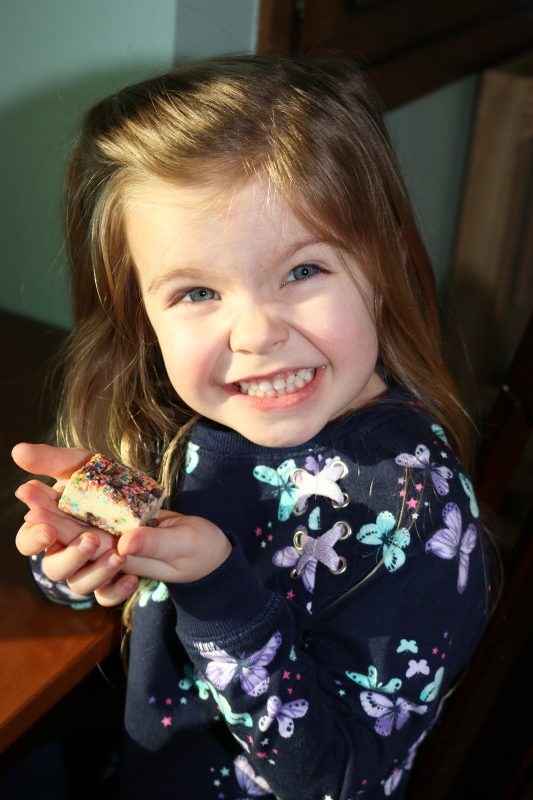 Which Brownie Points Variety would you be most excited to try? Be sure to enter below to win a gift box of 16 Baby Brownies!
Buy It: Head over to Brownie Points to see for yourself the great selection of products they offer.
Connect: Don't forget to like them on Facebook, follow them on Twitter, Pinterest, and Instagram for all the latest news and promotions.
Win It: Brownie Points is generously offering one of our lucky readers a brownie gift box: Baby Brownie 16. The giveaway is open to US only. The giveaway will end February 26, 2020. For your chance to win, enter the Giveaway Tools below. Good luck!


This post currently has 6 responses.