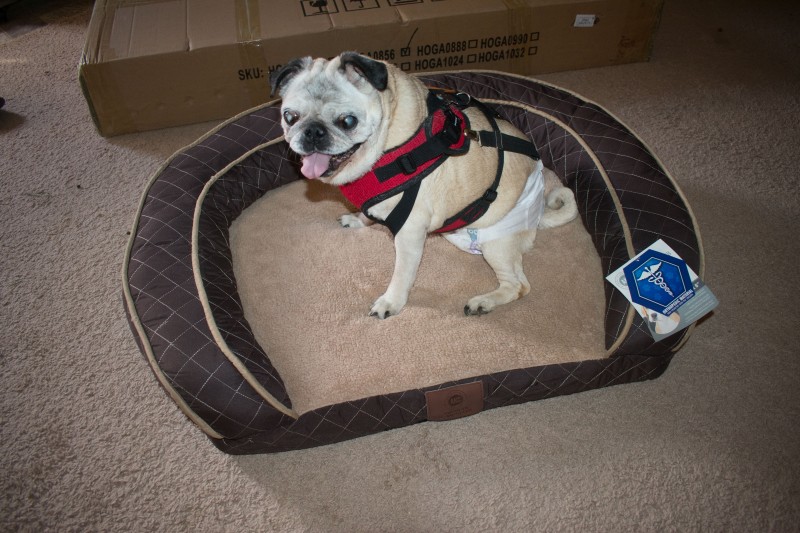 I was sent a dog bed from American Kennel Club. All opinions are my own.
We're just shy of 7 years from when we brought my two pugs, Frank and Beans home. They were 8 and 9 then, so they are 15 and 16 now. Back in 2014, I worked with American Kennel Club. Part of what they sent me included some of their rather affordable dog beds.
These days, it feels like Frank and Beans are both on "borrowed time" so to speak. Google says pugs have a life expectancy of 12-15 years, so they're both at or beyond that range, but they also both have a list of health issues, some being significant.
Frank hasn't been able to walk for several months. Beans is 90% blind and while she can walk just fine, she can't go upstairs as easily as she used to. I believe she's probably in the early stages of having the same "rear end weakness" issues that Frank has had for a long time.
One day Frank was laying in our old AKC dog bed and I (thoughtlessly) tried to pick up the edges of the bed to pull the dog bed with him in it. It caused the sides of the dog bed to tear away from the bottom. I decided it was time to finally replace the dog bed. I Was shocked when I went back through my blog and found that we had originally got that dog bed back in 2014! Some pics of the bed from 2014: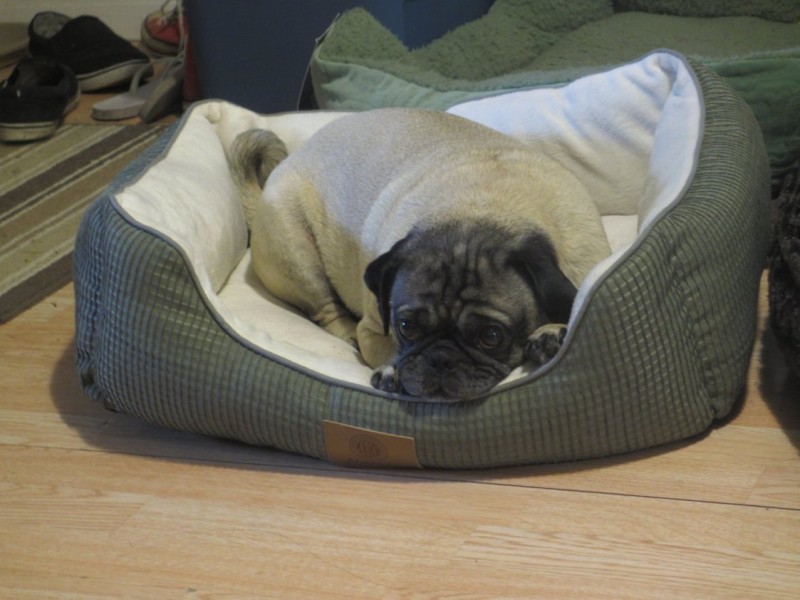 The instructions on the bed said to spot-clean only. Over the years, I threw it in the washer and dryer and it held up many times. At least structurally, The outside got a little ragged looking, and the inside did get discolored in a way that wouldn't' come out with washing. Of course, I'm not advising that you wash your dog bed or anything that says it isn't machine washable. I just am saying, we didn't treat this dog bed delicately by any means, we were quite rough on it..but it still kept holding out for us. So, I think the quality is really good given how affordable the beds are. Here is Frank in the same bed, 6 years later (just a couple months ago).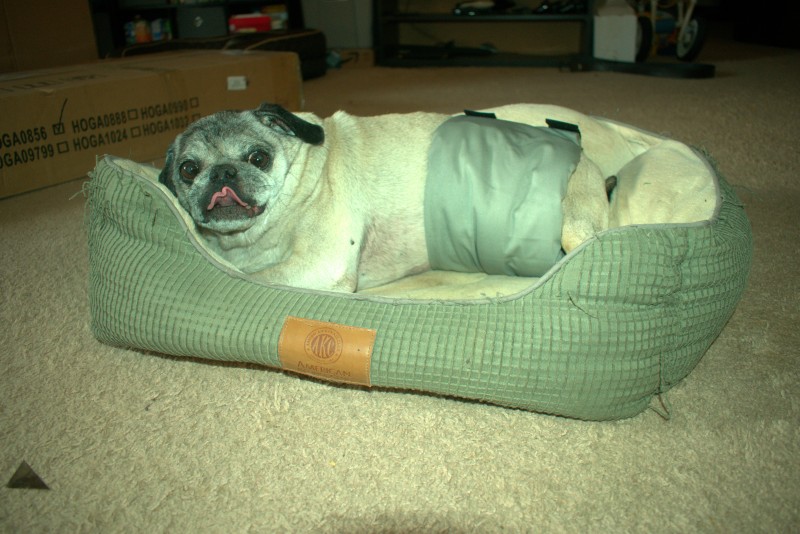 I believe our old bed model is the "Self Pet Cuddler" bed which is still sold on Amazon.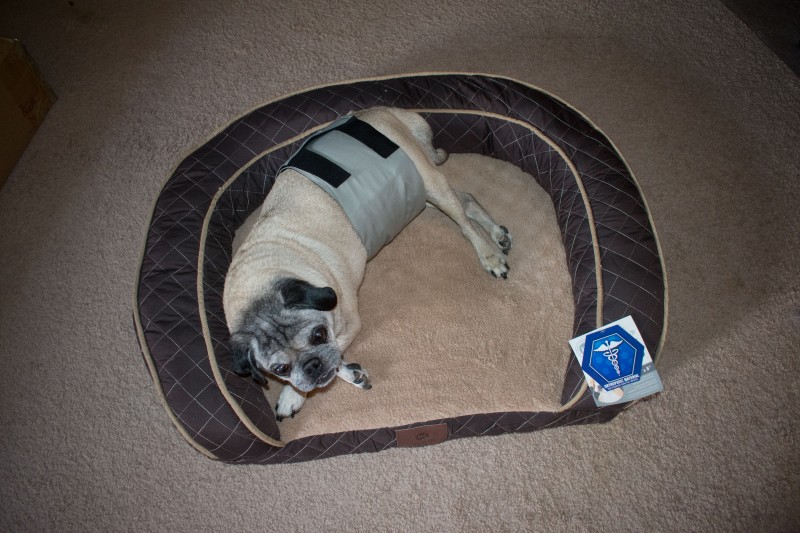 So, we decided it was time to finally replace the old bed. We were sent an Extra Large American Kennel Club Orthopedic Sofa Style Pet Bed. I had three features I wanted in a dog bed. I wanted a dog bed that was big enough for both of my pugs to fit into. They often cram together in 'medium' dog beds on their own, so they probably don't mind the lack of space. I feel better having a large dog bed though, so that if they both crawl in, they fit fairly well. The second was low entry on at least one side. Beans isn't able to jump, and her mobility may get worse over time, so I wanted it to be easily accessible, no need for her to lift her legs to step over the outer edges. At the same time, I did want edges on the dog bed, because both of my dogs like to lay their head on pillows or other surroundings. This sofa style pet bed in the extra large size was perfect. They can both lay in it together if they want, the front is just a couple inches tall so no need for Beans to jump into it, and the remaining sides have an edge they can rest their chins on. The base of the bed has egg-crate foam that is 3 inches thick which can help relieve pressure while providing support. I also love how it's made from recycled materials and is eco-friendly.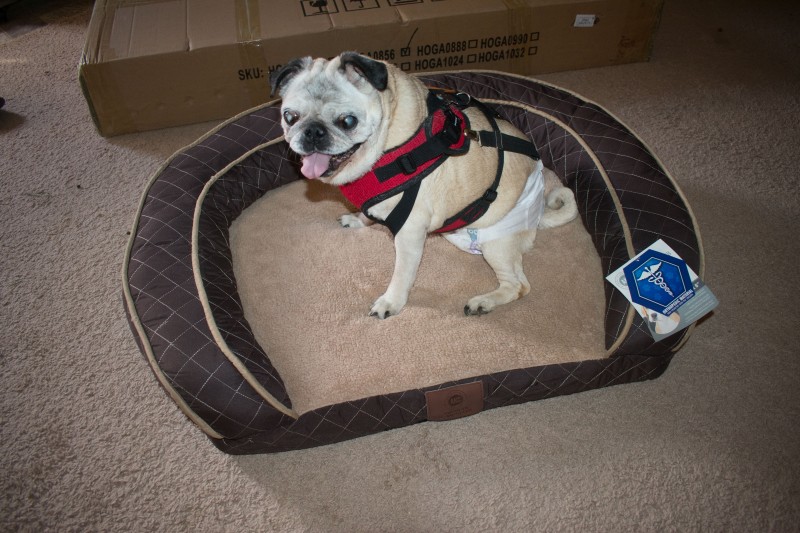 It took Beans a few days of the bed being here before she started using it on her own. Though she is at least 90% blind, so perhaps it took her a while to recognize the bed as being a dog bed. Once she used it the first time, she stated using it daily. So, she definitely seems to like it! When we leave the house, I lay Frank in the bed so that he is comfortable without being at risk of falling off a surface that is too high (like the couch). It doesn't seem to flatten/compress under their weight so I feel like it's nice and supportive.
Overall we're pleased with their new bed, as we were the old one.
You can purchase AKC brand dog beds on Amazon
and Chewy.com.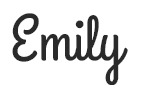 Hi there! I am Emily Evert, the owner of Emily Reviews. I am 28 and live in a small town in Michigan with my boyfriend Ryan and our two pugs. I have a large family and I adore my nieces and nephews. I love reading memoirs, and learning about child development and psychology. I love watching The Game of Thrones, Teen Mom, Sister Wives and Veep. I like listening to Jason Isbell, John Prine, and other alt-country or Americana music. I created Emily Reviews as a creative outlet to share my life and the products that I love with others.
This post currently has 5 responses.