Emily Reviews writers were sent products in exchange for including items in our gift guide. There are affiliate links in this post. All opinions are our own.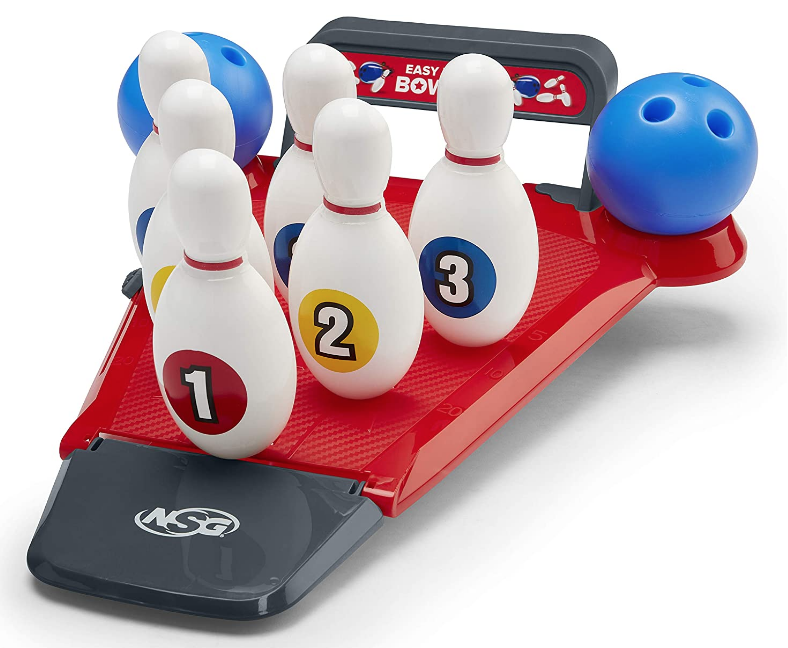 Bowling is a past time that can be enjoyed by all ages and now, it can even be enjoyed from your home! The downfall of many children's bowling sets is all the time spent setting pins so NSG Sports created a solution with their Easy Up Pins Bowling Game. Featuring a one click set up that makes this chore a breeze, all ages will love this fully functioning mini bowling alley. Plus, the pins lie flat when not in use for convenient travel or storage and the two built in ball ball holders make for extra easy clean up.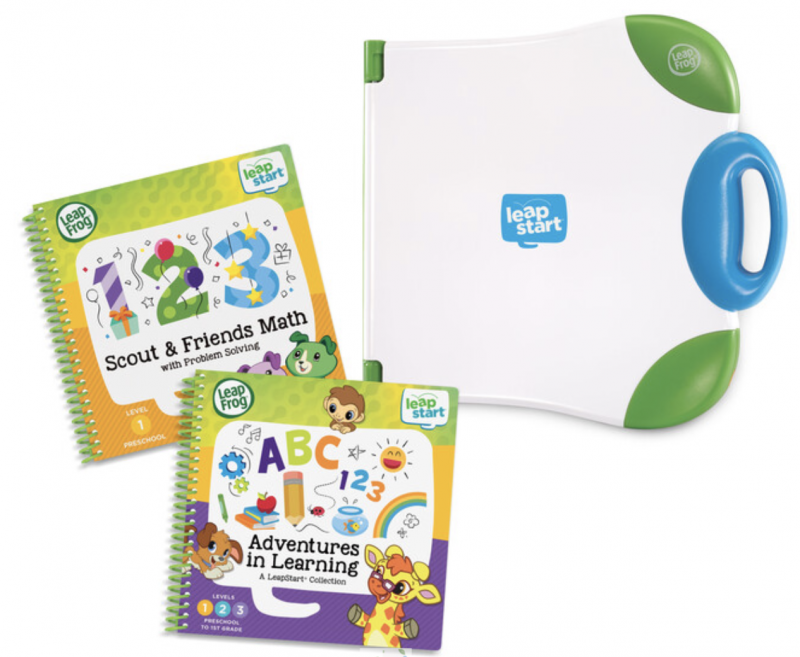 The LeapFrog LeapStart® Preschool Success learning system grows with your child and gets them excited about learning with interactive touch-and-talk pages. Activities include puzzles, games, and creative challenges that enhance learning and help build math, reading, problem-solving skills and more. Two activity books are included and the LeapStart® library of books (sold separately) cover a variety of preschool through first grade subjects. Many activities have two levels with 50+ key skills per grade level, so kids can play and learn at the right level and move up when they're ready. The easy-to-hold stylus is comfortable for kids of all ages and promotes proper writing grip.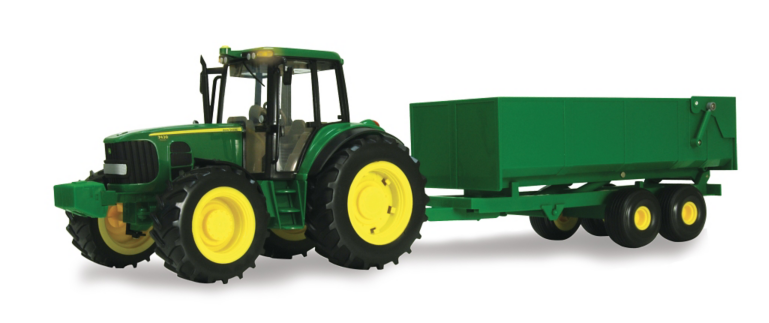 The little farmers in your life will LOVE this big farm play with this 1:16 Scale John Deere 6930 Big Farm Tractor w/Wagon. An incredible value, the tractor features lights and sounds that can be easily activated by a child. Kids also love to open the cab roof for easy access to the steering wheel and to be able to utilize the movable front axles. The dump wagon is another big hit as it hitches easily to the tractor and features a tilting box and lifting tailgate. This set offers everything any little farmer needs to haul their cargo!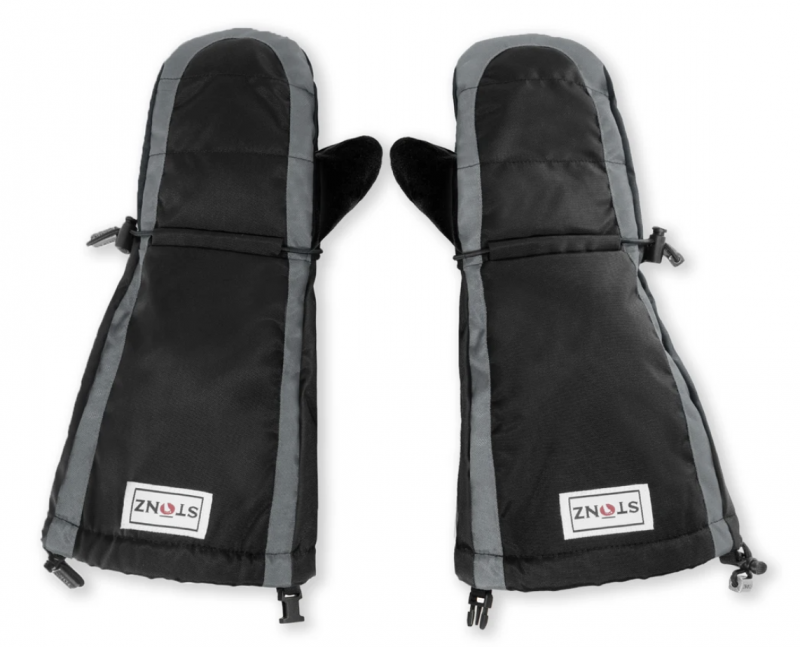 Stonz Mitts are warm, waterproof and wind resistant. These mittens feature extra-wide over the arm coverage to protect from cold, hold in warmth and prevent snow from going inside. Lined with super warm fleece that is't bulky. These mitts stay on by using adjustable toggles at the wrist and arm. Palm grip panels allow for better manipulation of snow and other activities, such as sledding or skiing. These mittens are machine washable, made of non-toxic materials and are available in sizes 2-4 years or 4 years +.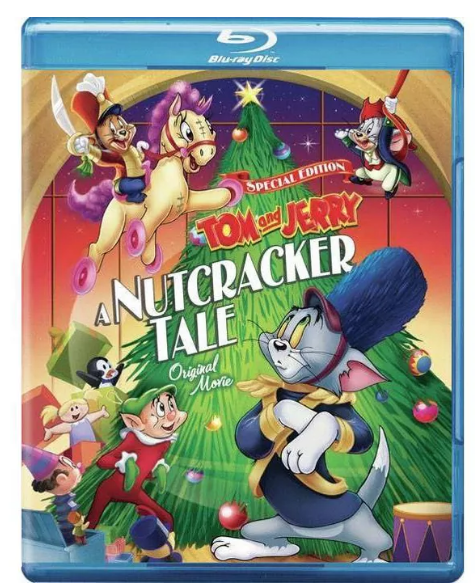 Celebrate the season with the help of Tom and Jerry and this brand new special edition "Tom and Jerry A Nutcracker Tale Original Movie"! This great movie tells the story of Jerry Mouse, who is a devoted fan of "The Nutcracker" and how he is magically transported into his own version of the classical ballet one Christmas Eve. The film is inspired by the classic Tom and Jerry cartoons that were originally created by William Hanna and Joseph Barbera. It is a heartwarming, and hilarious take on the world-famous holiday ballet about a little girl who goes to the Land of Sweets on Christmas Eve with her favorite gift, a toy nutcracker, which ultimately transforms into a handsome prince. Definitely a holiday must see!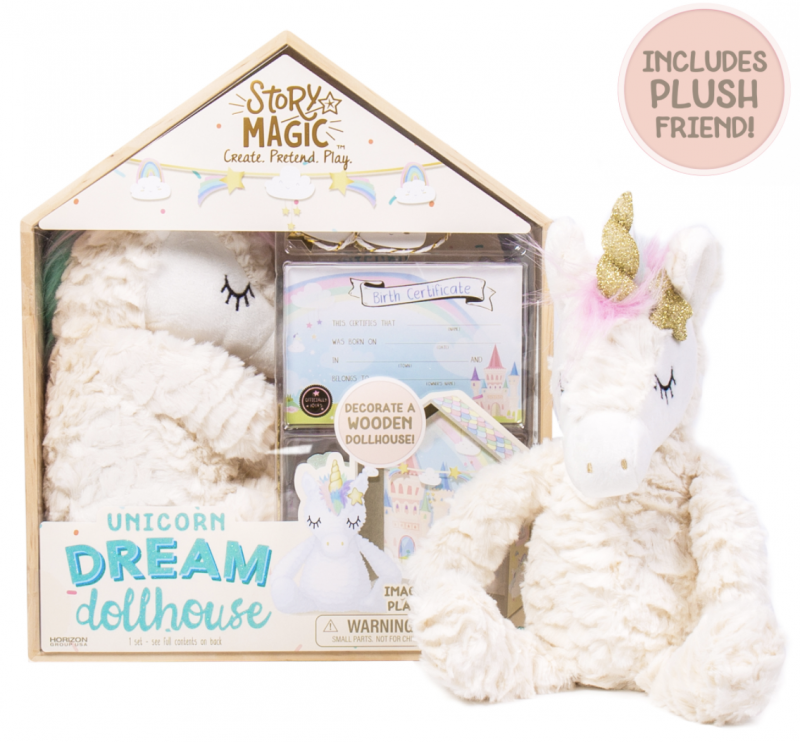 Have your little one say hello to a sweet, lovable, huggable plush unicorn, who arrives in its own magical wooden dollhouse. Have them fill out their new unicorn's birth certificate to make the magic official, and create an enchanted castle by decorating the dollhouse with sparkly 3D stickers and a starry garland. They can create their own Story Magic by filling in the blanks in their mini story maker, and explore adventures in a magical world all their own!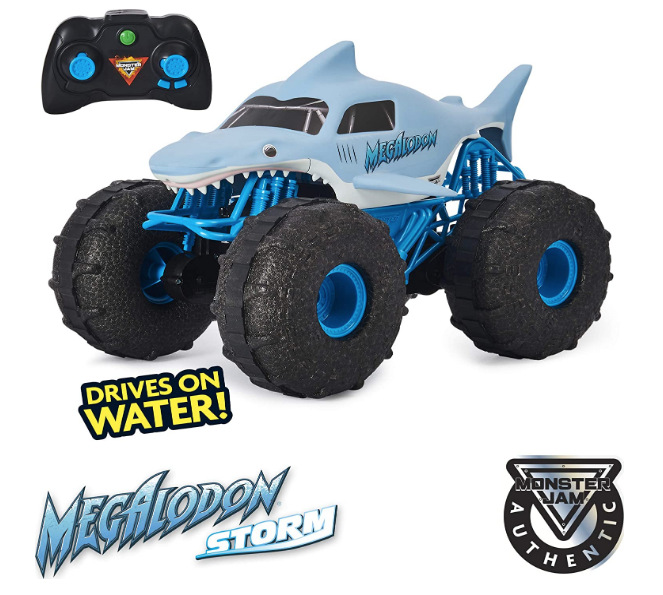 If you're looking for a monster truck that can do it all, look no further! The Official Megalodon Storm All-Terrain Remote Control Monster Truck features a water-resistant design and custom performance tires. It attacks water with ease and amazes everyone in sight. You can drive from water to land and then just keep on going – this Megalodon RC is like no other! With authentic graphics, details and BKT tires, it's like driving the real thing!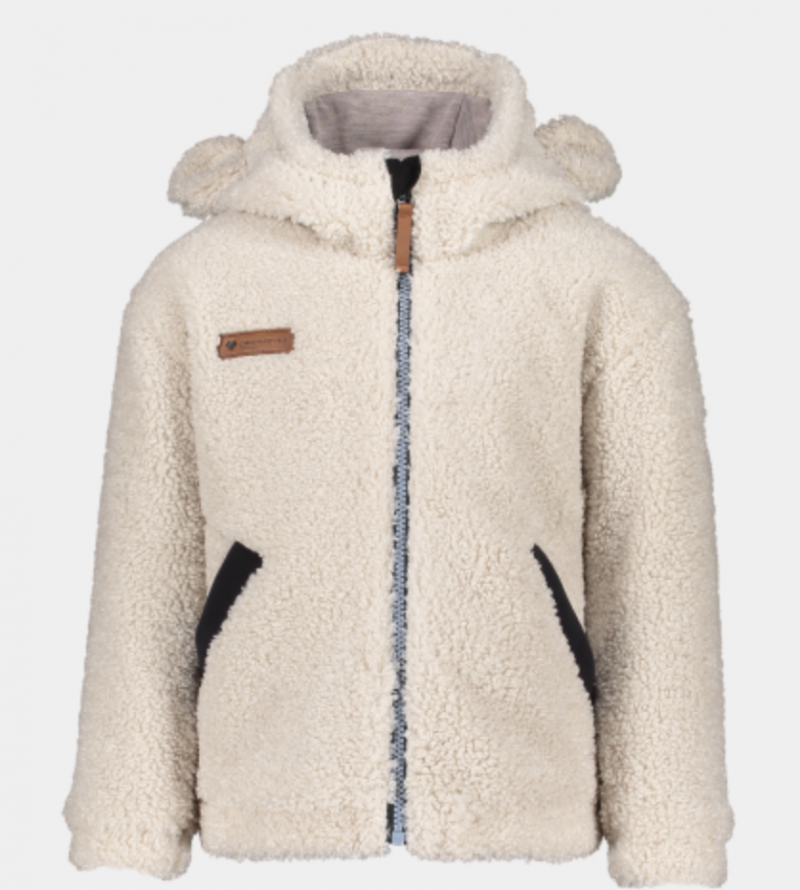 Obermeyer's Shay Sherpa Jacket is ideal for boys or girls. With a super soft and warm shearling fleece fabric and a jersey cotton lining for next-to-skin comfort. With interior wind guard, it's perfect for cool fall days and is heavy enough to take your little one into winter. Featuring hand warmer pockets, reflective trim for safety, and super cute decorative ears. Available in five color choices, in kids sizes XS through XL.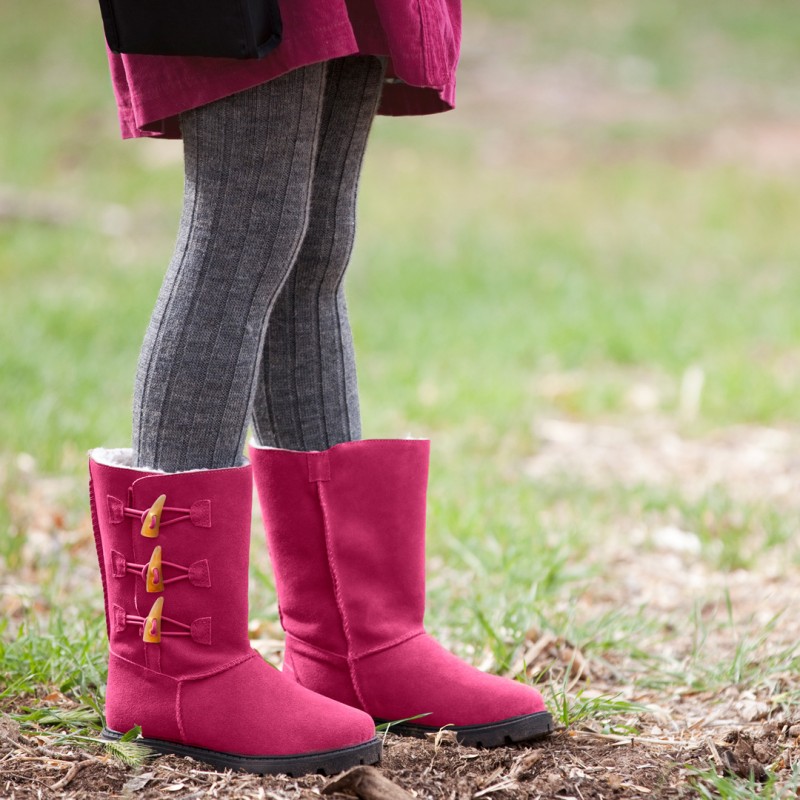 Kids feet grow so fast so update their footwear this Christmas with adorable boots from pediped Outlet! They have cute footwear for both boys and girls but these particular boots are the Flex Maggie Boot Fuchsia. Stylish and vibrant in color, these boots will protect your child's feet while offering a comfortable fit for outdoor adventures in the cold. Features include:
-Genuine suede upper
-Faux fur lining
-Flexible rubber sole
-Cold weather boot with side buckle
-Approved by the American Podiatric Medical Association for promoting healthy foot development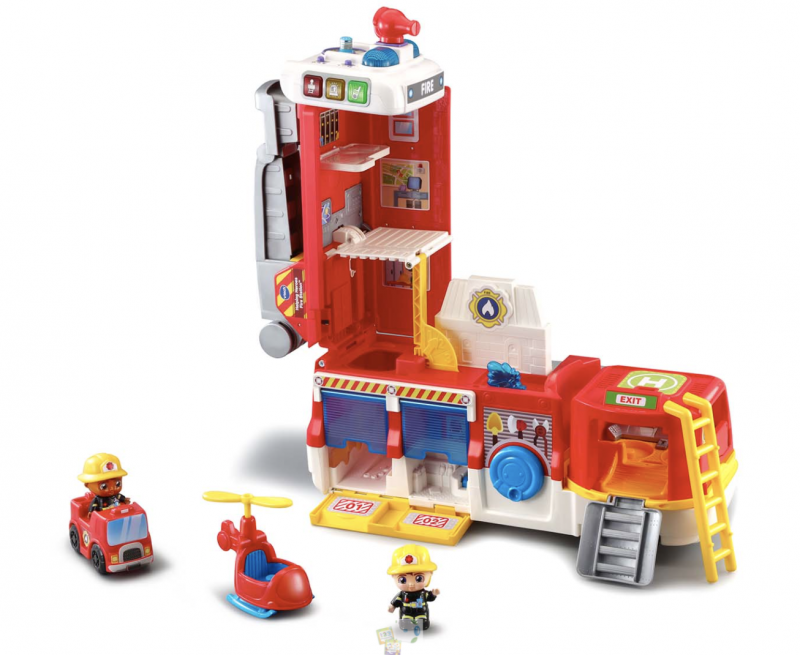 Aspiring little firefighters will love the Helping Heroes Fire Station. The multi-level fire station transforms into a fire truck. Place firefighters Frankie and Fiona on the Talking Point location to hear sound effects, music and phrases about their roles as firefighters. Music & Sounds, Explore & Train and Rescue Mission play modes combine with three action buttons to create an imaginative and learning-packed play experience for little ones. Recommended for ages 18 months – 4 years.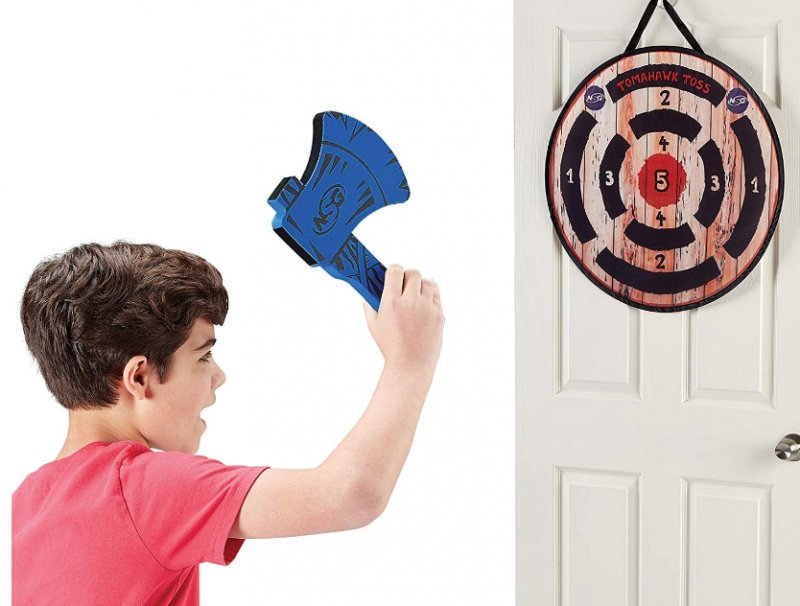 A great way to pass a wintery day, this Tomahawk Toss is a unique, indoor or outdoor kids target game. Stemming from the newly popular trend of axe and hatchet tossing, which is a great event in itself, this game lets kids safely hone their skills. Included is everything you need for tomahawk toss fun including:
-two foam axes wrapped in Velcro
-one large easy stick target
-nylon door hanger with suction cup
Plus, parents will love how the target easily folds for storage.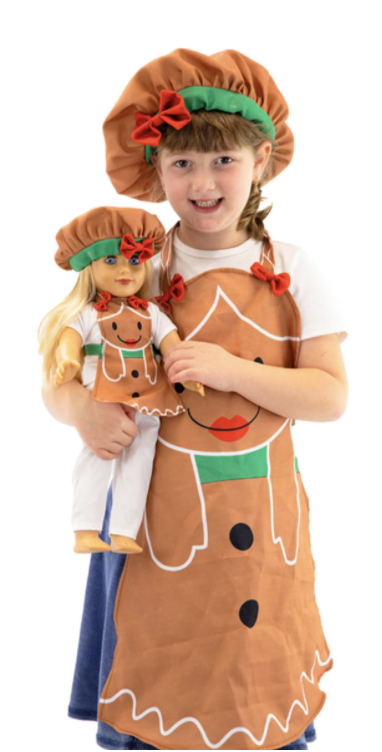 Club Eimmie is a subscription for a girl, her doll and her imagination! Each month, she will get 18 inch doll clothing, accessories and or play sets, and sometimes even a matching outfit for her! Clothing fits any 18 inch doll she may already have. This holiday season, the first shipment will be this cute gingerbread apron and hat for both her and dolly. Packages can be purchased monthly, or as a 6-month or 12-month subscription. Each month when she gets her delivery, she will be reminded of you!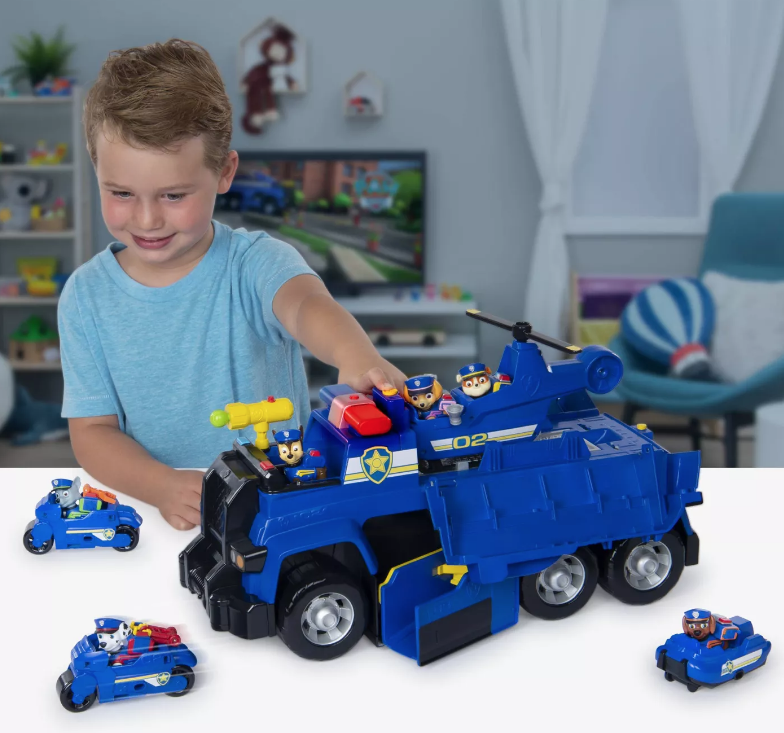 Paw Patrol to the rescue! Your kiddos will have everything they need to help anyone who may be in trouble with this AWESOME, larger than life PAW Patrol Chase Ultimate Cruiser. This toy is seriously so much fun! It features a variety of different compartments and fun ways to play. It's a big vehicle that comes with a helicopter, motorcycles, and other attachments for endless hours of fun and imaginative play. Push the button for music, set the helicopter blades in motion, and get ready to jump into action.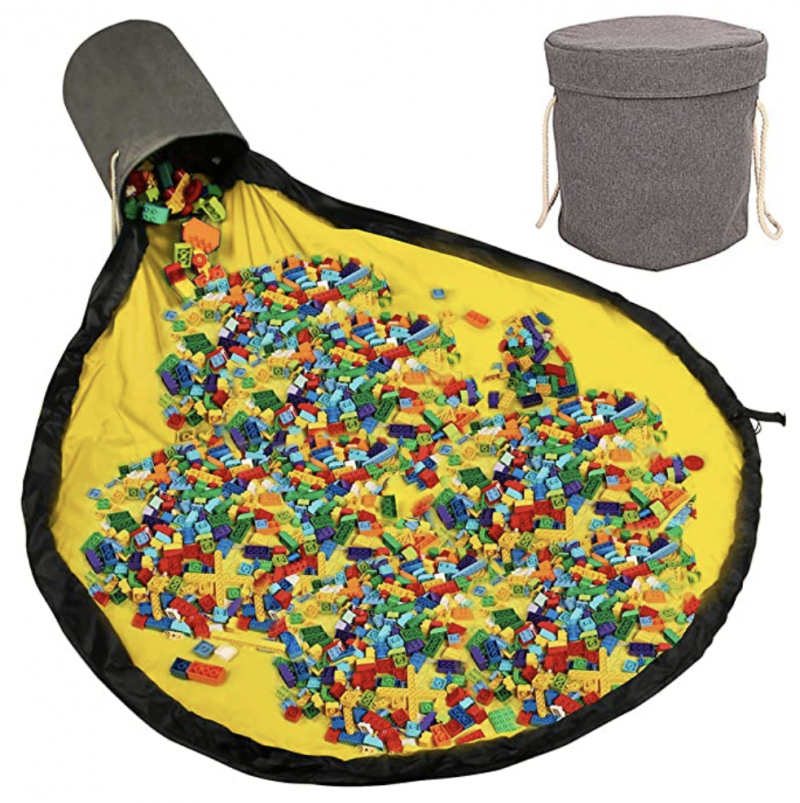 With all of the toys you are gifting, don't forget to think about how you are going to store those toys! This toy storage basket from XZR has a built in play mat. Little ones can sit and play right on the mat, then easily tuck all of the toys and the mat back into the storage basket for easy clean up. Store toy cars, building blocks, magnetic building toys, doll clothing and more. The storage basket measures 11.8 x 11.8 x 11.8 inches and the play mat 57 x 57 inches.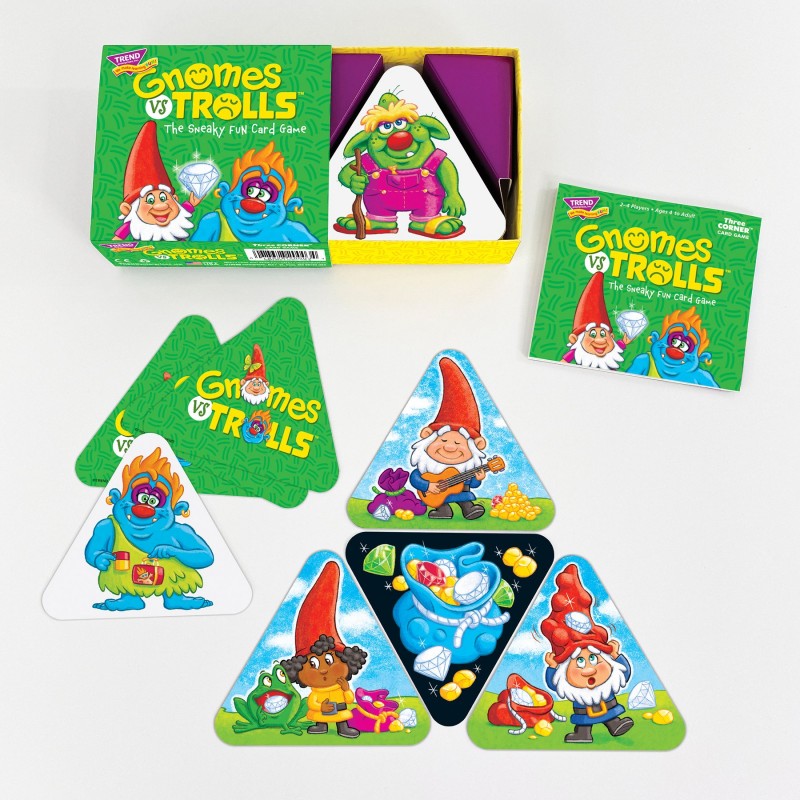 Gnomes vs. Trolls is one of six new family card games from TREND Enterprises, Inc. Unique, three-sided cards with storybook illustrations give players lots of fun surprises to spot. The inventive pyramid "troll timer" creates suspense – no two rounds of the game play the same way! Tricky trolls are lurking, turning up when they're least expected. Flip a card to find your fate: a gnome, treasure, or a TROLL! Nine thieving trolls surprise unsuspecting gnomes, take their treasure, and put an end to their gathering games. Gather the most treasure and save it from the tricky trolls to win!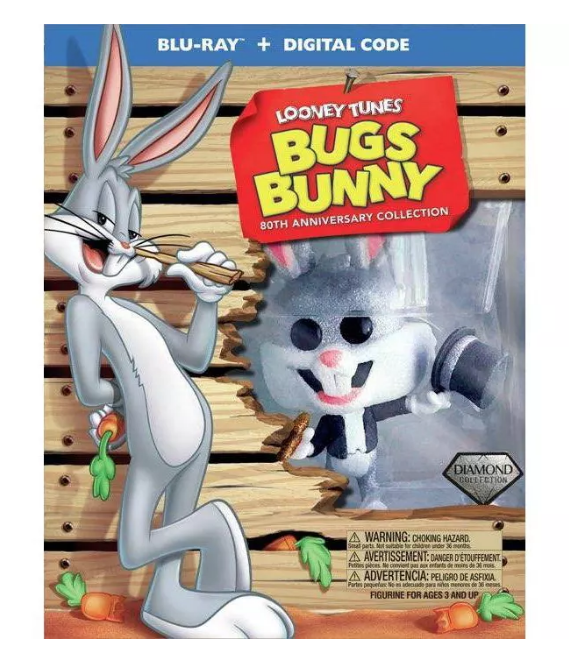 Bring back a little piece from your childhood and share it with your kids when you give them this newly released (coming December 1st!) Looney Tunes Bugs Bunny 80th Anniversary Collection! Warner Bros. Home Entertainment is excited to release this new collection of theatrical shorts that will have the entire family laughing. Bugs Bunny first hopped onto the screen in 1940 and he's been a pop-culture icon ever since. Grab a copy of this DVD to relive all the reasons why!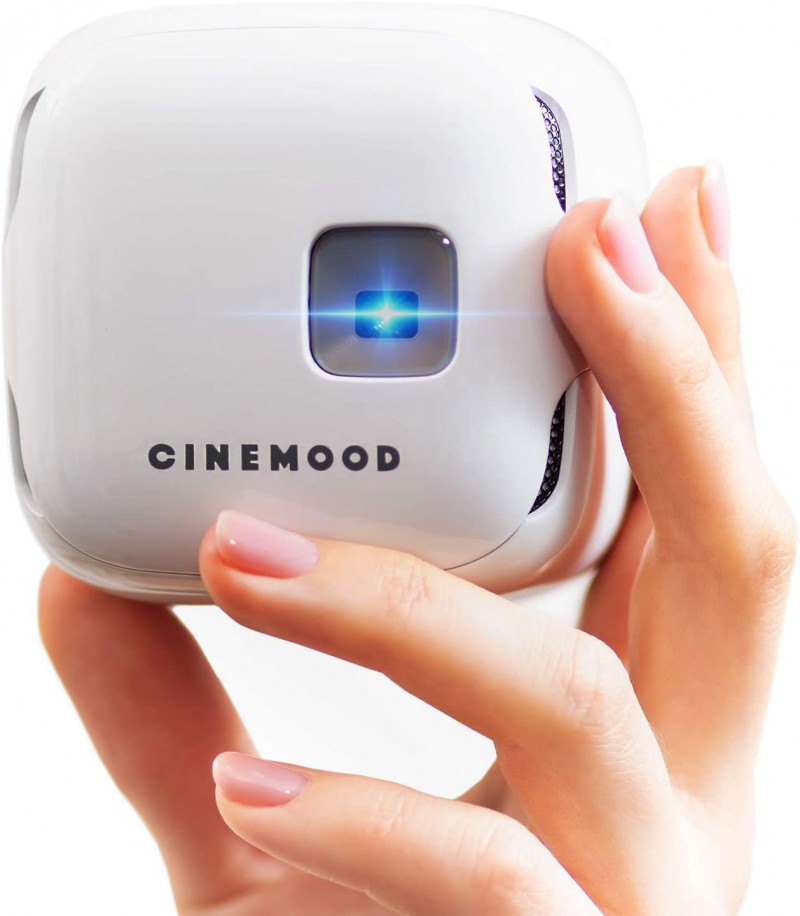 This holiday season, give the gift of a portable movie theater from CINEMOOD! CINEMOOD creates up to a 12 food projection in a dark environment and will run for up to 5 hours on a full charge. It can connect to your home Wi-Fi to stream shows from services like Netflix, Amazon Prime, and YouTube – or, you can download shows and movies to play when not connected to Wi-Fi! Better yet, it comes with a digital library including Disney e-books, cartoons, games, and more.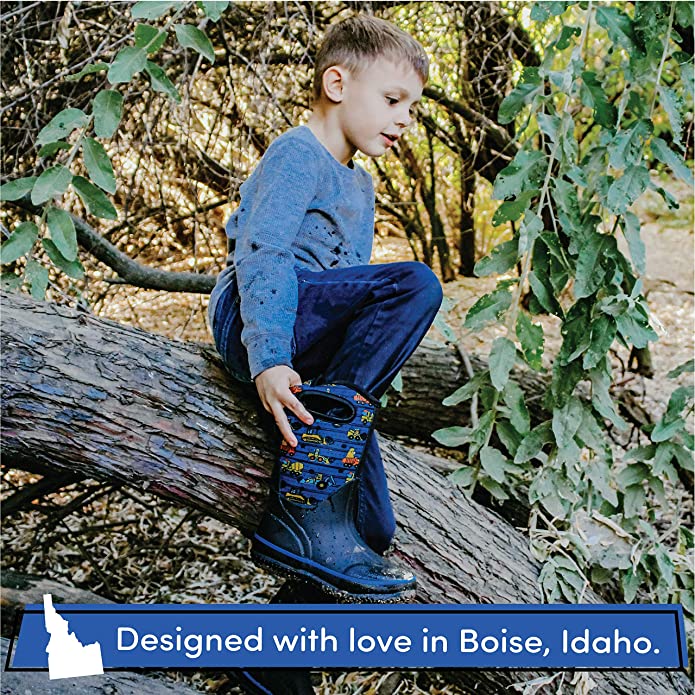 These adorable MudBoots from LONE CONE are perfect for winter! With convenient pull-on handles, they're great for little hands and there are many fun designs to choose from. Waterproof and insulated, these all-weather neoprene boots keep kids warm and dry in rain, snow, mud, and muck! Quick to dry, MudBoots let little ones explore more, no matter the weather.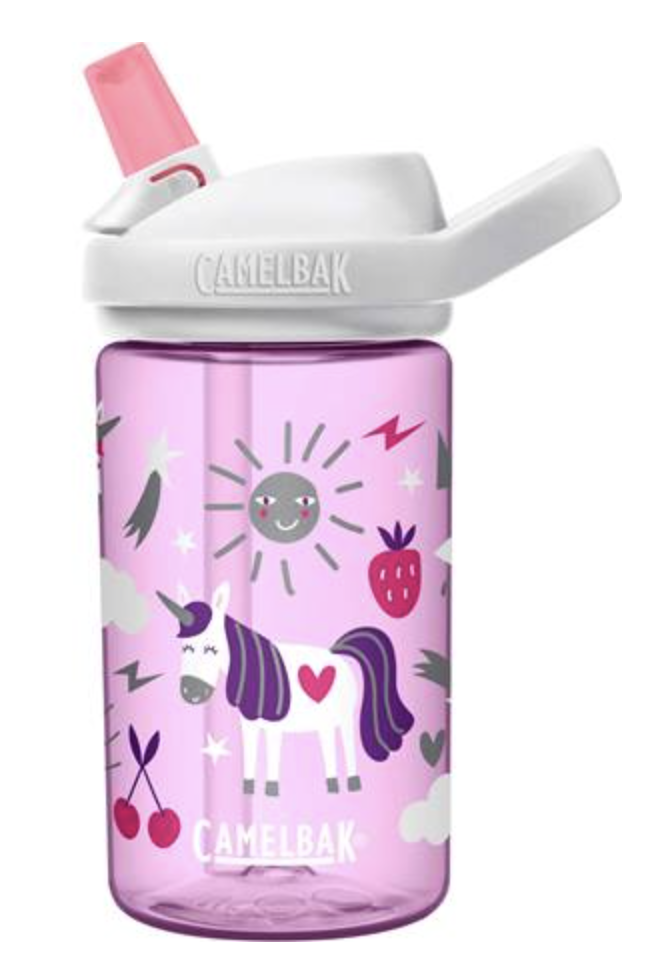 Hydration is important, even in the wintertime! A new water bottle makes a fun and useful gift. The CamelBak Eddy+ Kids water bottle holds 0.4L of fluid and is made with Echo, a 10% renewable plant-based material. These water bottles are lightweight and durable as well as spill-proof when open and leak-proof when closed. Kid's don't need to tip them to drink, they just need to flip the top, bite, and sip. Super easy to clean and BPA, BPS, and BPF free. Available in 14 cute designs!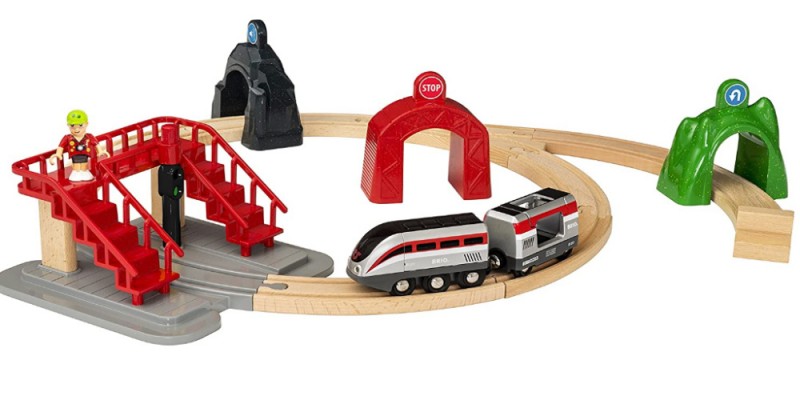 Playing trains is a great activity for kids of all ages, starting at toddlerhood! So this awesome new BRIO World – 33873 Smart Tech Engine Set with Action Tunnels is the perfect set to either start your BRIO collection or a great add-on to your current play (as it's compatible with all BRIO train pieces!) Kids will love the 17 included pieces featuring a battery-powered Smart Tech engine, passenger wagon, Smart Tech Action Tunnels, Smart Tech bridge, wooden tracks, and more.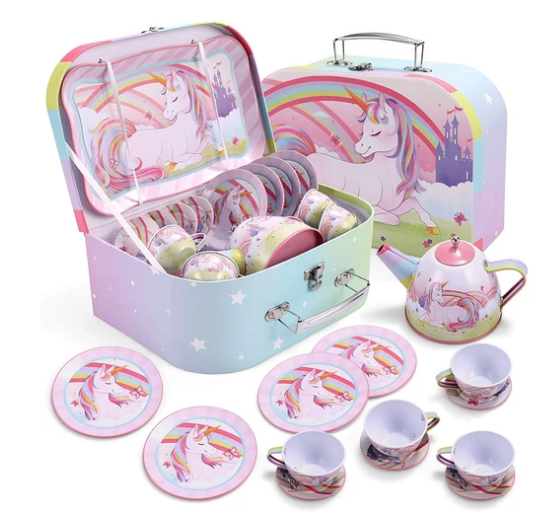 Little kids LOVE to play tea party! That's just a fact. Now you can make it more magical than ever with this gorgeous Joyin Unicorn Castle Teapot Set. This fun set includes everything you need to get started including:
-1 Teapot
-4 Cups
-4 Medium-sized Plates
-4 Small-sized Plates
-1 Big Plate
-Gorgeous Unicorn Case

For girls who love horses and who love to play with hair, Breyer Mane Beauty Styling Heads are a perfect gift! Ages five and up can style, groom, and create magnificent braids with a horse of their very own. Breyer Mane Beauty Styling Heads are realistically sculpted and have long, silky, no-tangle manes. They are available in three styles: Blaze (black mane), Daybreak (white mane) and Sunset (blonde mane). Each styling head includes: one styling booklet, one mane comb, two mane clips, four mane spirals and fifty elastics.

This brand new 1:32 scale set features loads of fun with its 2017 Ford F350, a John Deere 5075E tractor, and a detachable 5th wheel trailer. The truck has everything a real farmer would have including exceptional detailing and dual rear wheels. Durable and fun, this is the perfect addition to any farm setup as it combines John Deere styling with durable design and super cool features.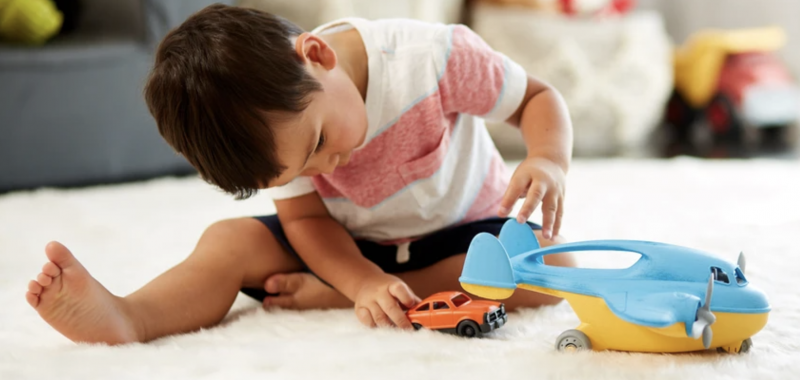 The Green Toys Cargo Plane is ready to fly! The plane has a three-wheel design and handle on the body, so little ones can easily go from taxiing on the ground to soaring in the sky. They can access the spacious cargo hold through a flip-down door that doubles as a ramp which is perfect for loading the included Green Toys Mini Car. Manufactured in the USA and made from 100% recycled plastic with no BPA, phthalates or PVC. Great for indoor or outdoor play. The super-safe design has no metal axels or exteriors paints or coatings and meets FDA food contact standards.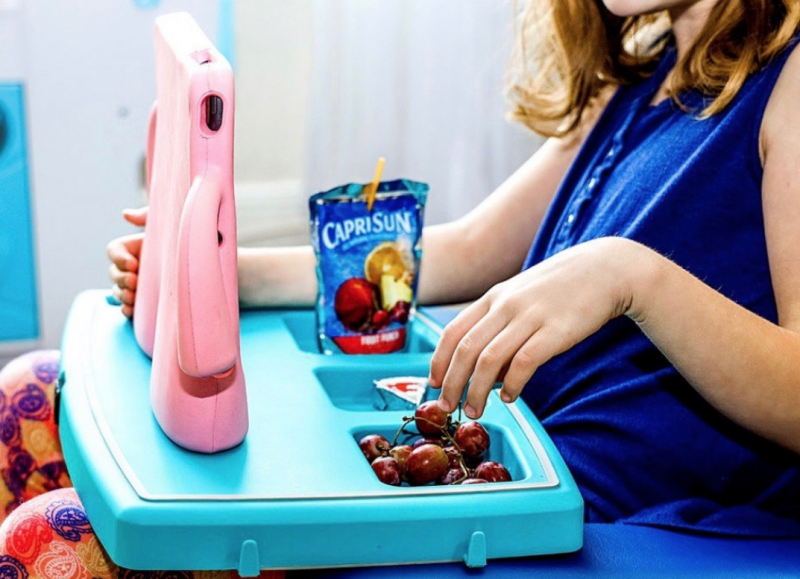 Every child could use an extra hand when it comes to snacking and playing games on the go. Now, they've got the Stupid Car Tray to help them out instead! This tray is lightweight and easy to take anywhere you go, it balances out the seat and doubles as a tabletop. Kids can eat a snack or meal, take to their older sibling's game, and use as a clean spot work. Heavy duty construction means it'll last through all the adventures you take it on!

Plush Pods from GUND are new this holiday season. Just pinch the clip in the back of the 9.5" plush animal and it'll open wide to reveal a surprise inside. These adorable two-in-one plush toys are surface-washable for easy cleaning. Available in three choices: a happy shark with colorful fish, a unicorn with a smiling ice cream cone and a dragon with knight. Collect all three and kids can mix and match the characters for more fun and imaginative play.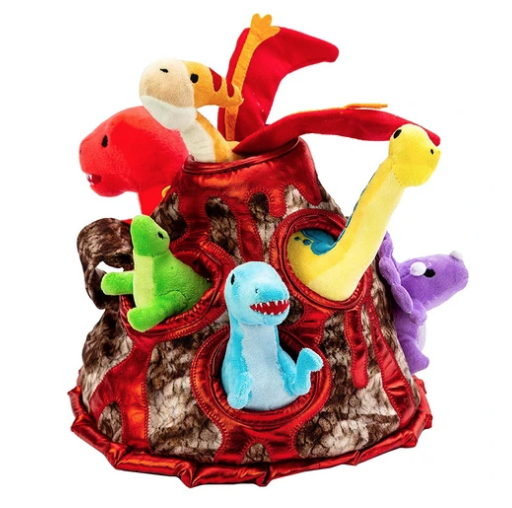 Where's the dinosaur fans!?!?! Kids everywhere will love this Joyin Play-Act Dinosaur Volcano Cave! It comes with everything you need for prehistoric fun including one dinosaur cave plush carry bag and six plush toys dinosaurs. Each plush toy is high and made with a soft, yet detailed unique design. There's endless fun in store as kids create a variety of scenarios with this open-ended toy.

Codi is a screen-free, adorable interactive robot that stimulates children's imaginations and creates a sense of adventure with stories and songs. Codi even encourages good habits like brushing teeth and cleaning up! Codi's artificial intelligence learns from a child's usage patterns to become more personalized and deliver a customized experience based on age and interests. With ongoing software improvements and future content releases, Codi will grow with your child for years to come.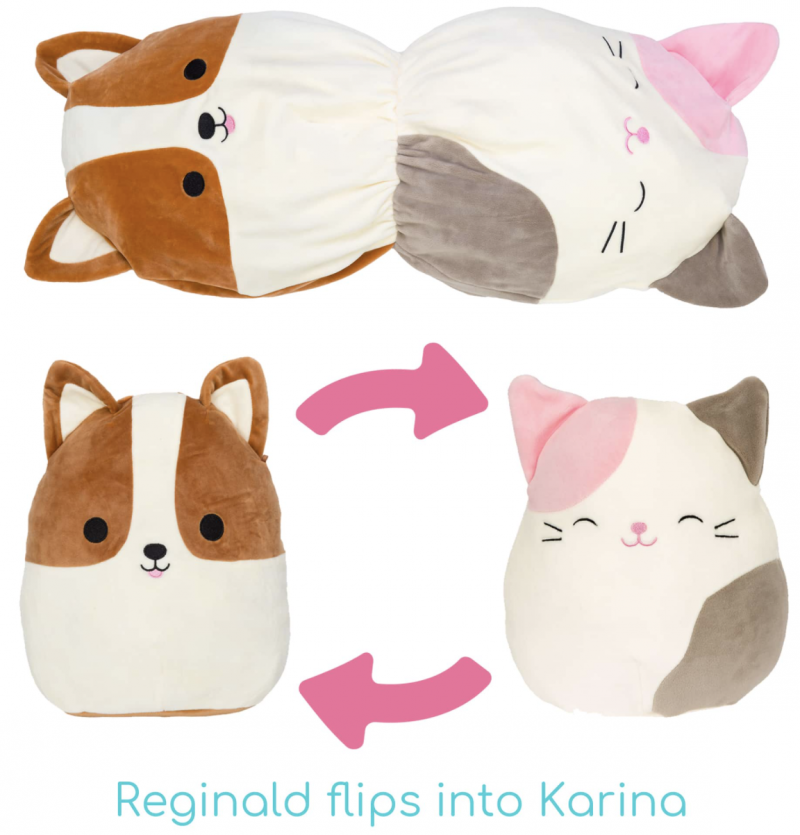 Chances are that your child has already heard of Squishmallows as they are some of the most recognizable and marshmallow soft plush available. Is there anything better than one Squishmallow? How about two-in-one with Flip-A-Mallows?! Easily flip back and forth between two adorable Squishmallows characters. The Original Squad contains Gordon the shark flipped into Ricky the clownfish, Reginald the corgi flipped into Karina the cat, and Dawn the fawn flipped into Winston the owl. Flip-A-Mallows are 12 inches and come in packs of three.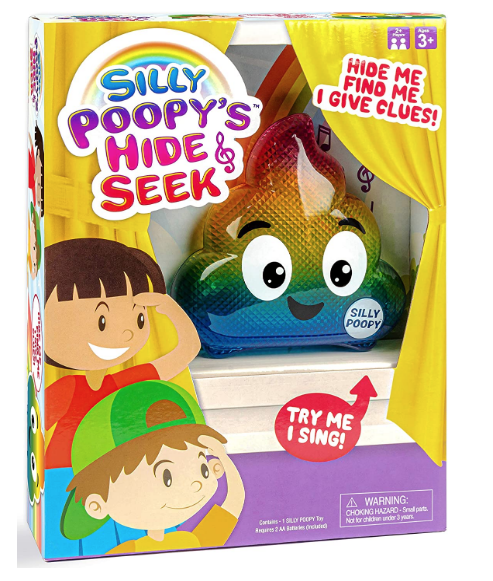 Ready for a silly game that kids love? Well, this is it! Silly Poopy is a plastic rainbow hide and seek toy that sings, talks, and lights up when you find him. Easy to play, just HIDE Silly Poopy, LOOK for Silly Poopy, and then FIND Silly Poopy to hear the special song that will make you want to dance!
To start, flip the 'on' switch on the back of Silly Poopy and pick one person to be the hider first. Once the "hider" finds a hiding spot for Silly Poopy, they press the Silly Poopy button so it's ready to play hide & seek — with some hysterical farting clues! Everyone else begins looking and once the other players find Silly Poopy, they press the button again and get ready to DANCE your poopy socks off!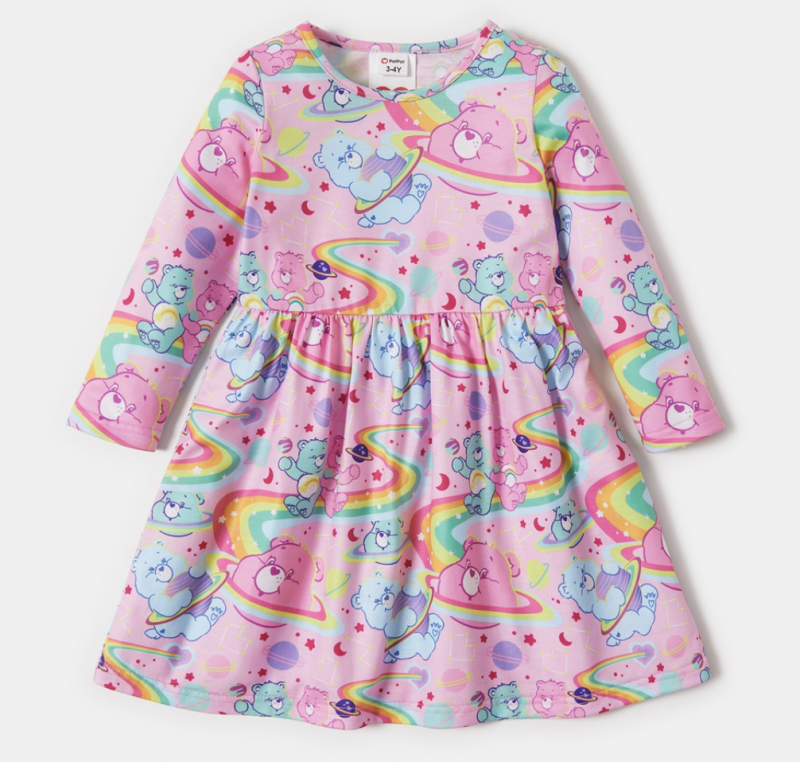 PatPat is an online retailer where you can find stylish and affordable kids clothing. PatPat has teamed up with the Care Bears to bring a burst of positivity to our world. For almost 40 years, the Care Bears have been a source of good vibes and fun and now they are back, just when we need them most. PatPat's Care Bears collaboration features positive messages, vibrant colors, and premium fabrics that help boys and girls feel good and do good! There are lots of cute designs to choose from.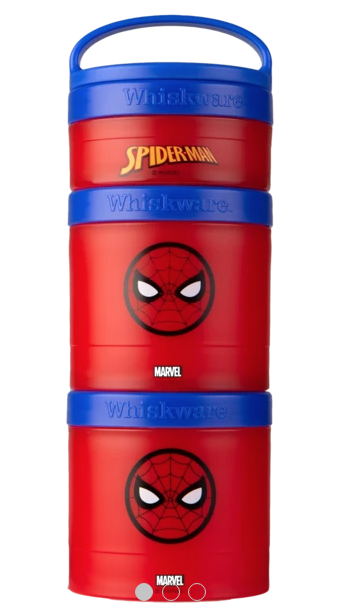 These awesome Whiskware Stackable Snack Packs are available in a variety of fun, playful designs that kids love! From farm animals to superheroes, they have you covered! These containers are perfect for taking snacks on your next adventure, as we all know how kids are ALWAYS hungry! Plus, these great containers are environmentally-friendly since you can use again and again. Versatile, stackable, and interlocking; these containers are perfect for on-the-go snacking or lunches. No more crushed up food in the bottom of the backpack!
Laser Pegs is a light up construction system that helps spark children's imagination and creativity, with no limit to what they can create. A super fun alternative to the traditional construction toy, Laser Pegs illuminate using patented vibrant colored light bricks. Race cars, airplanes, helicopters, mega trucks, dinosaurs and even farm animals, there are endless possibilities with Laser Pegs!

Check out this huge 20 piece Case IH Farm Toy Playset as it's a great way to kick-start any child's miniature farm! Truly a great value, this set includes a variety of tractors, a combine, RAM truck, implements, and even horses! Everything you need to inspire creative play for young and old alike is in this set. Each vehicle is approximately three inches long and they all feature free rolling wheels as well as a sturdy construction that is great for both indoor and outdoor play. Hours of fun is sure to be had as this is one gift that will be enjoyed for years to come!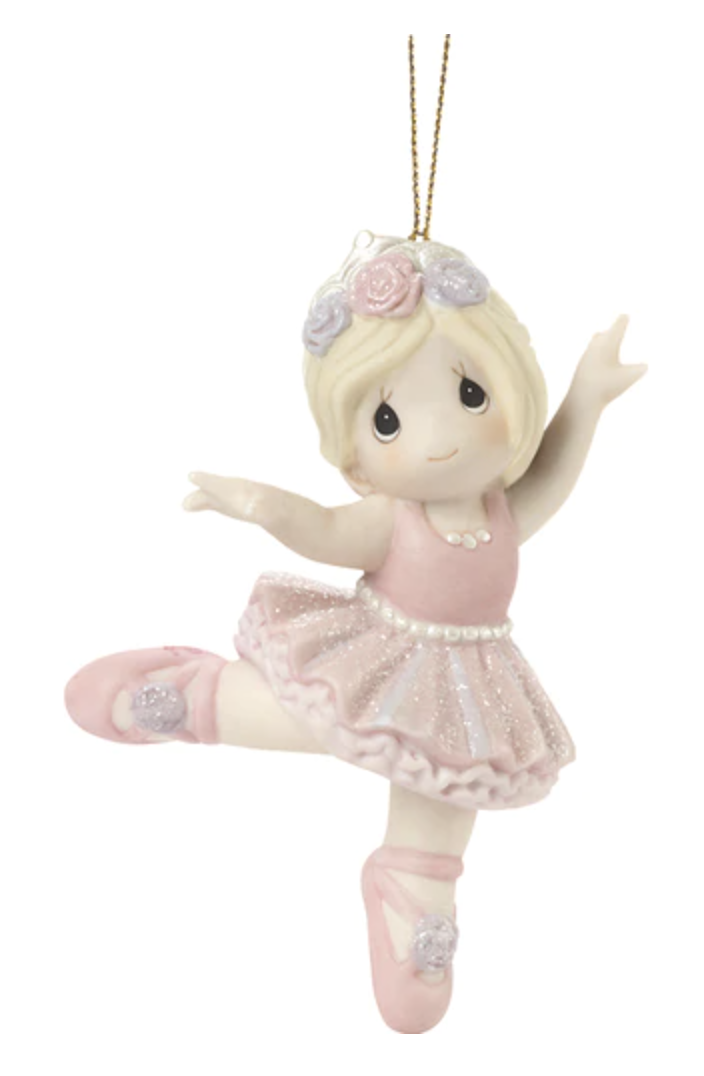 Do you have a tradition of gifting an ornament each year? This dainty ballerina from Precious Moments is called the "Believe in Yourself" Ornament. In a costume adorned with and sparkles, this ballet dancer shares a message of encouragement that is needed all year through. Give this ornament to a little girl who loves to dance, or any little girl who needs a gentle reminder to believe in herself. She measures approximately 4.25 inches high, is meticulously crafted of bisque porcelain and is expertly hand-painted.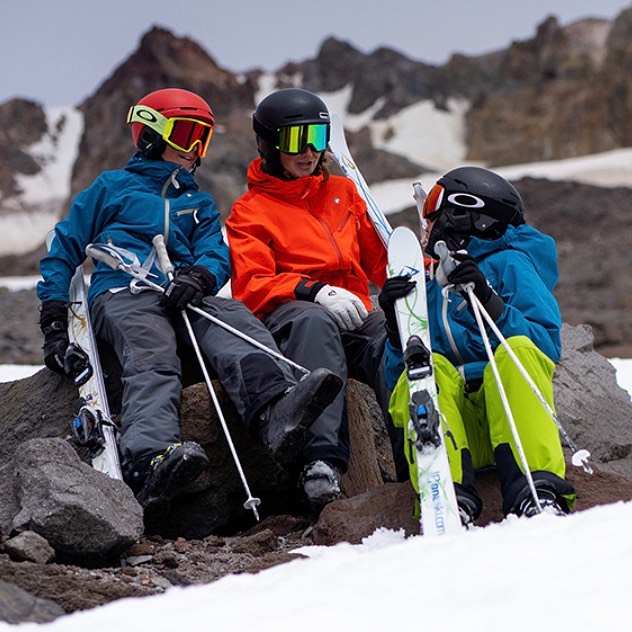 Kids need to gear up so they can get away from screens and head outdoors. This year, be sure to do it with Shred Dog Gear! They offer 'direct 2 you' pricing which cuts out the middle man and save money! The best part is their gear is top of the line! Their shells and pants are now 20k/20k waterproof/breathability rated which exceeds almost all other kids' gear. You'll also love the fully seam-taped for maximum waterproofness and to add to the breathability of the fabric they also have the underarm and thigh vents. This and so much more makes them the best!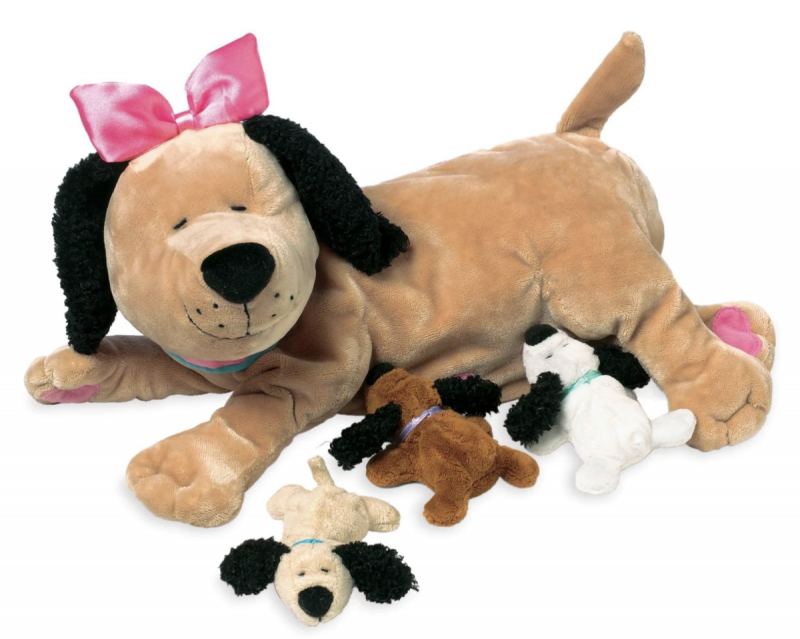 Little ones will instantly fall in love with Nursing Nana from Manhattan Toy. She is an adorable plush momma dog with three cute pups. They cuddle up to their mother and attach with magnets, but can also play on their own. Encourages nurturing role play. Nursing Nola the Rabbit, Nursing Nissa the Hedgehog and Nursing Nina the Cat area also available. They are all perfect for age children ages three and older.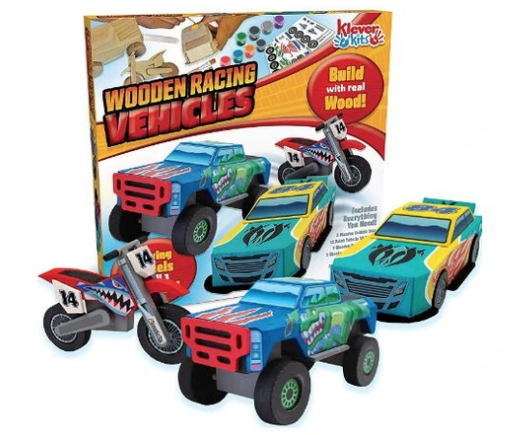 Crafty kids will love this fun Klever Kids Build & Play Vehicle Set. These premium quality build and paint craft kits are made with durable, non-toxic wooden and plastic materials that are safe for kids. A super value, each 144 piece kit includes:
-3 Wooden Vehicles (Race Car, Motorcycle, and Monster Truck)
-12 Paint Tubs in 10 Colors
-3 Wooden Paint Brushes
-3 Sheets of Racing Stickers
-1 Wooden Glue Pen
-Easy to Follow Instructions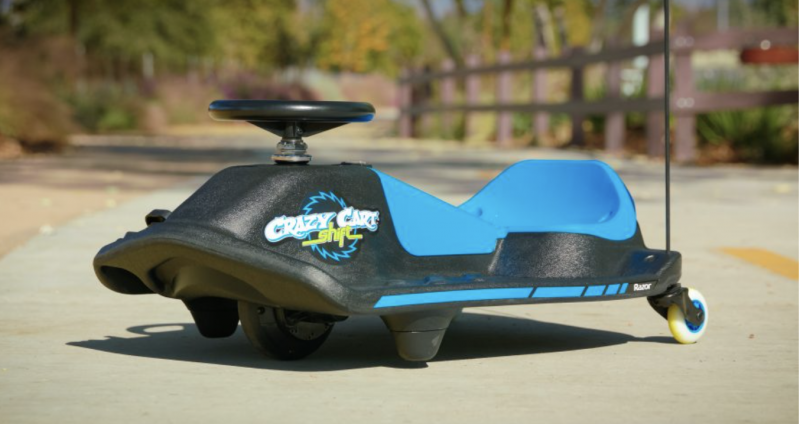 With Razor's all new Crazy Cart Shift younger kids can drive, spin, and drift like never before! Durable, lightweight and designed to be fun for riders of all skill-levels, the Crazy Cart Shift starts as a fun spin session and grows into an unparalleled drifting experience as riders become more familiar with the controls. The simplified drift system automatically engages so that riders can keep both hands on the wheel while focusing on steering and throttle control. A hidden top speed control switch allows parents to select the appropriate maximum speed for their child: 2.5 mph for beginners and younger drivers or 8 mph for the full Crazy Cart Shift experience. Recommended for ages six and older, and under 120 pounds.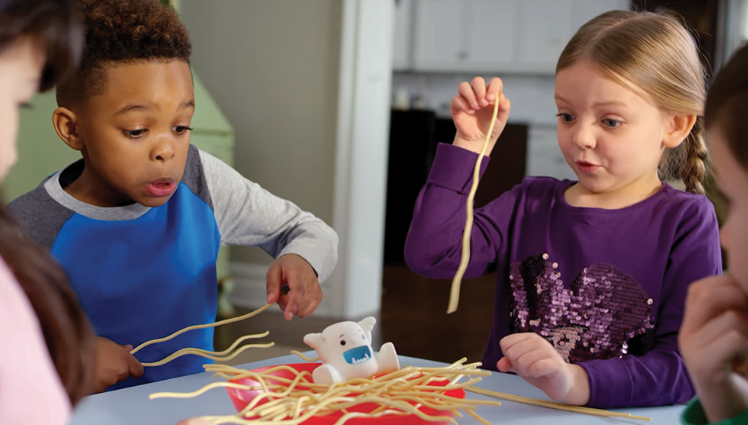 If you're looking for a game that the entire family can play along with, this is it! Who knew yetis liked spaghetti?!? In this wacky, unique Yeti In My Spaghetti game, the plastic noodles are placed across the bowl and the yeti sits on top. But be careful… As you slowly and carefully remove the noodles one by one, the yeti could fall into the bowl, and that would mean you lose! And nobody wants that to happen. This game is a great option because the youngest family members can play along!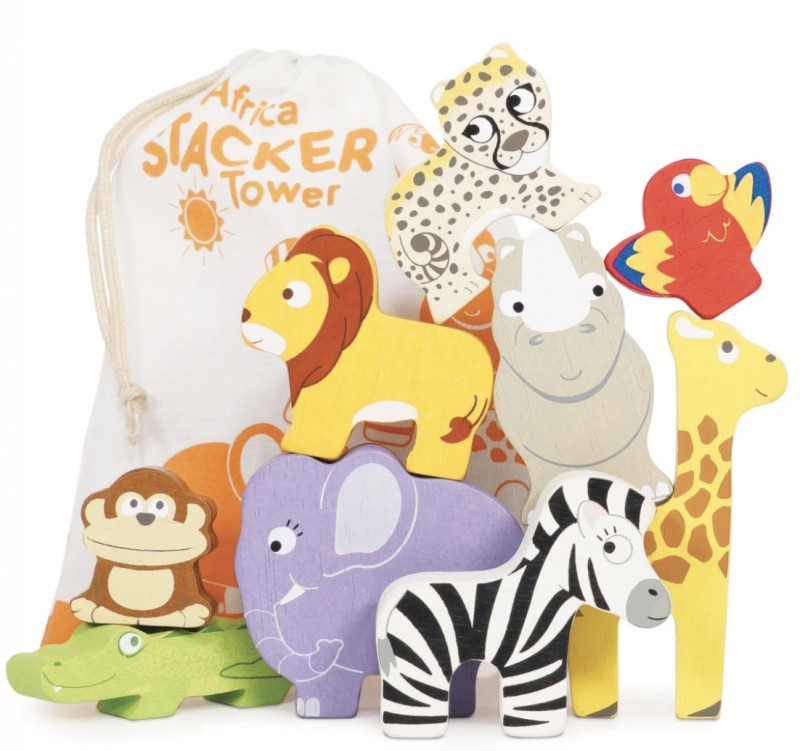 Have your little work on fine motor skills like building and balancing in a new way with the Africa Stacker from Le Toy Van. This stacking toy features nine wild wooden animals including a crocodile, a giraffe, an elephant, a lion, a zebra, a monkey, a rhino, a cheetah, a parrot and a fabric bag to take the stacker on the go. This toy is made of wood, and decorated with safe, non-toxic paints. It is recommended and safety tested for 18 months and older.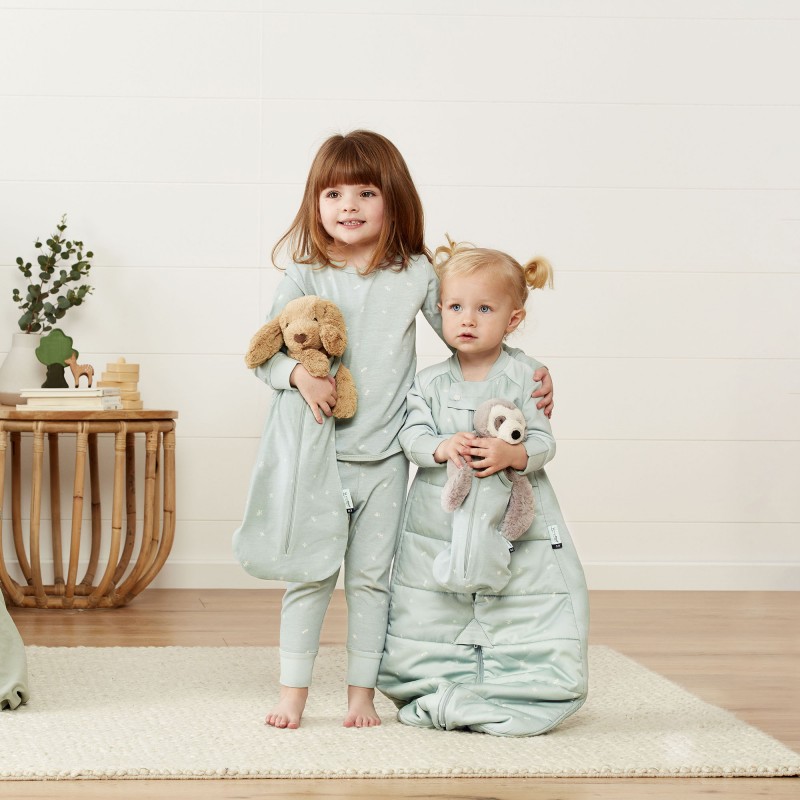 The ergoPouch Doll Sleeping Bag is designed to help your child learn their bedtime routine and make night time settling easier and more fun. Not only does this awesome Doll Sleeping Bag act as a sleep cue, promote positive sleep association, and offer routine learning; but it also aids in fine motor skill development. Your child will love matching their favorite doll or teddy. Available in small and large sizing, ergoPouch is also now introducing two new prints for Fall/Winter Sage and Berries!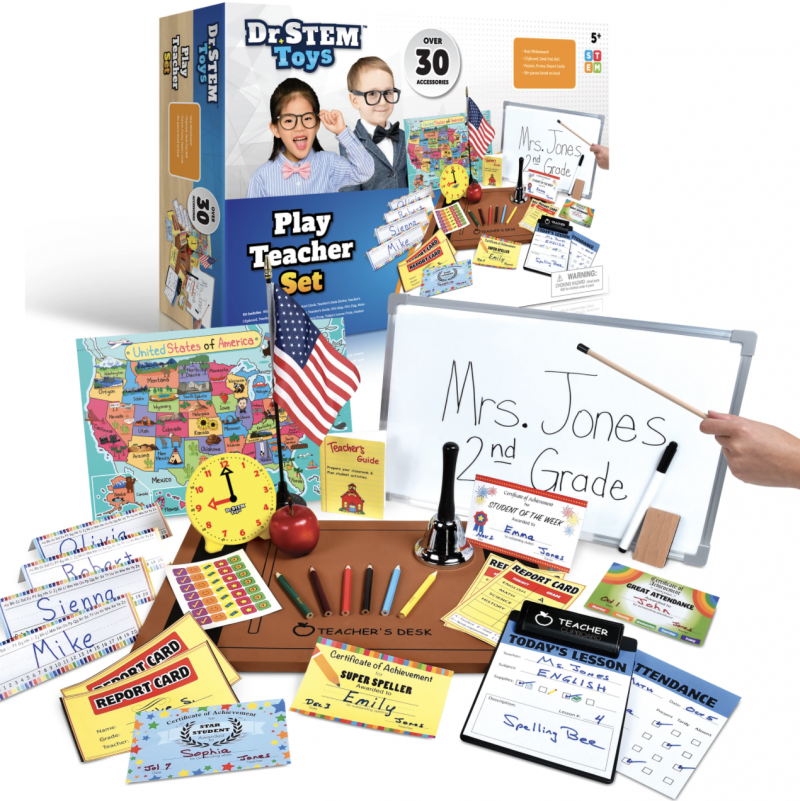 For your little one who loves to play school, get them a super realistic teacher and student role play set from Dr. STEM Toys. With the Play Teacher Role Play Set they can take attendance, write on the board, ring the bell, hand out grade cards, and much more. The kit includes an easy to clean desk blotter, USA map, bell, flag, pointer, write and wipe board, eraser, attendance list, name card, grade cards, play clock, Certificate of Completion and more. Includes everything they need to be a pretend teacher or student.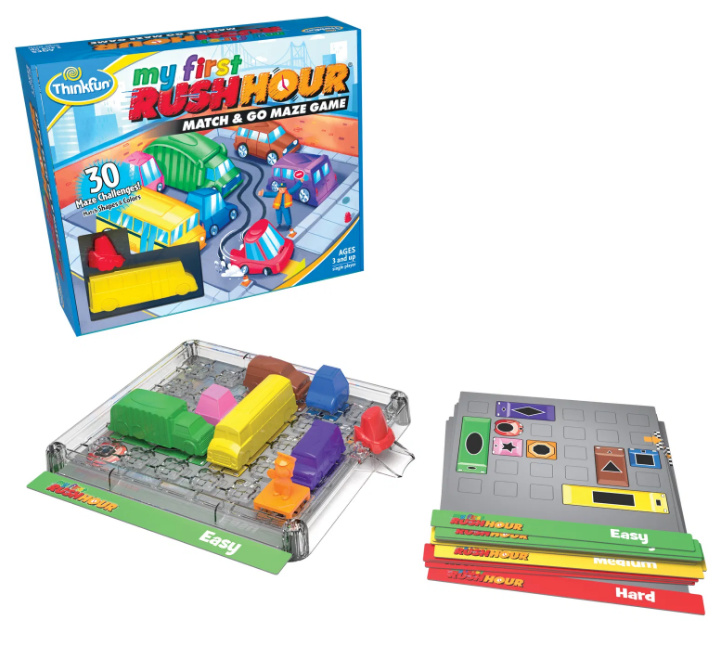 This My First Rush Hour Game is a unique matching game and this version is created especially for preschoolers. They get to use shape and color identification to place game pieces on the grid, creating a new maze in every challenge. As they work to solve the puzzle and drive the red Hero Car through the maze, the goal is to make it out of the EXIT to WIN!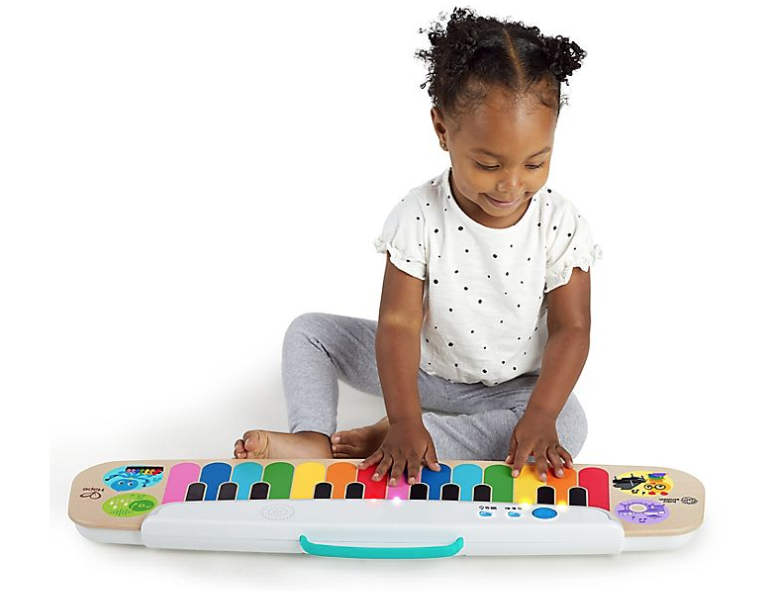 It's never to late to introduce music appreciation! So this year, give the gift of music with the help of this Baby Einstein Notes & Keys Magic Touch Keyboard. The portable design makes it easy to bring self-expression wherever you go, whether it be to preschool, grandma's, or a friends house. Parents will also appreciate how it stows neatly away when not in use. Sleek and beautiful, this is a toy that will be appreciated for years to come.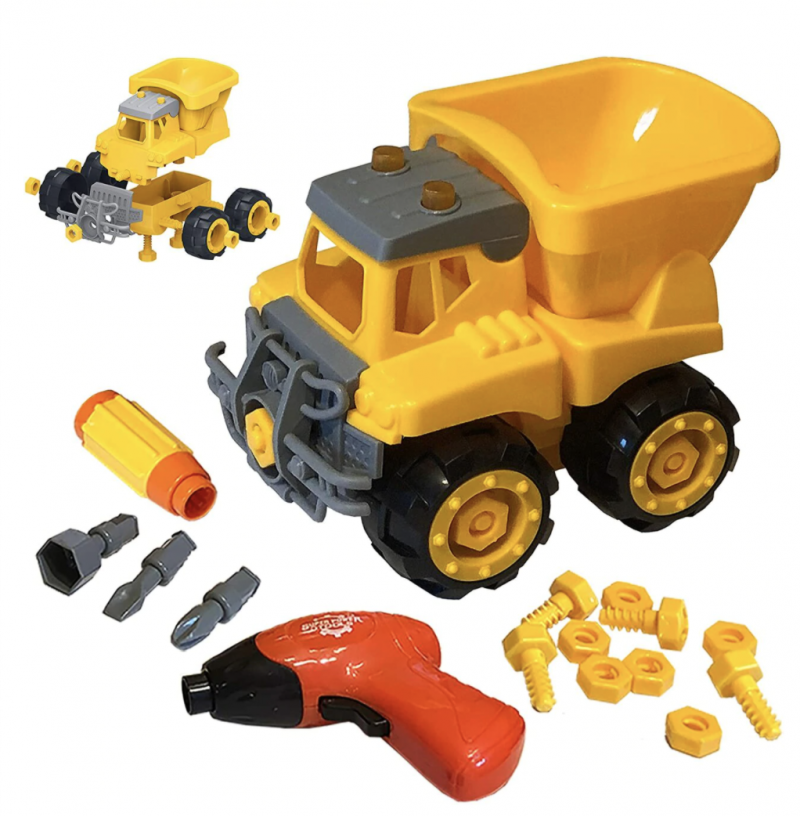 The Take Apart Dump Truck from Funstruction Toys improves fine motor skills, critical thinking skills, and builds confidence each time your child takes it apart and puts it back together. The toy tool set includes a toy electric drill, toy screwdriver and three bits you can use with both. It comes with a full set of nut and bolts too! The toy dump truck has a working bed that dumps! A storage and carrying case is included so they can take it on the go.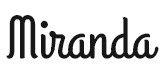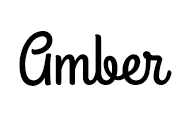 This post currently has 7 responses.