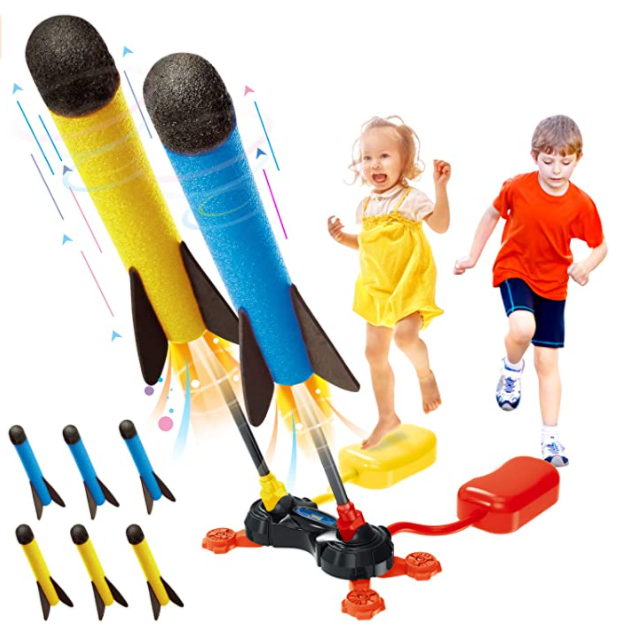 BetheacesToys sent me product samples. There are affiliate links in this post. All opinions are my own.
I have a fun toy company to share with you all today! They sell right on Amazon and have a variety of items for kids of different ages and interests. I'd encourage you to check out the entire BetheacesToys storefront page to see their whole section. For this post though, I'll be focusing on two of their items.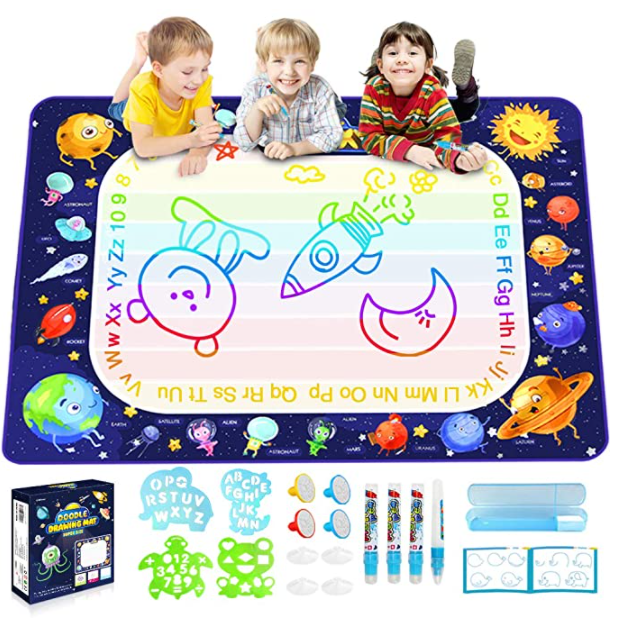 Their drawing mats are great for expressing creativity, or using them in a more educational manner. The "pens" hold a small amount of plain water, and when used on the mat they bring bright colors to light. This gives kids a feeling similar to painting, except it is mess-free. As the marks dry, the design will fade so the mat can be reused. It comes with some stencils and stampers in addition to the pens.
These can be used simply to draw on, or you could incorporate them into homeschooling or distance learning to change things up! Remember when teachers would hand out small chalk boards or white boards? I always found that to be so much more fun than writing in a regular notebook or on a worksheet. This mat could be used similarly for kids, by having them write answers on the mat while doing school work.
BetheacesToys has a few different designs for this drawing pad. The magic doodle drawing mat shown above is space-themed but they also offer one in an animal theme and one in a dinosaur theme.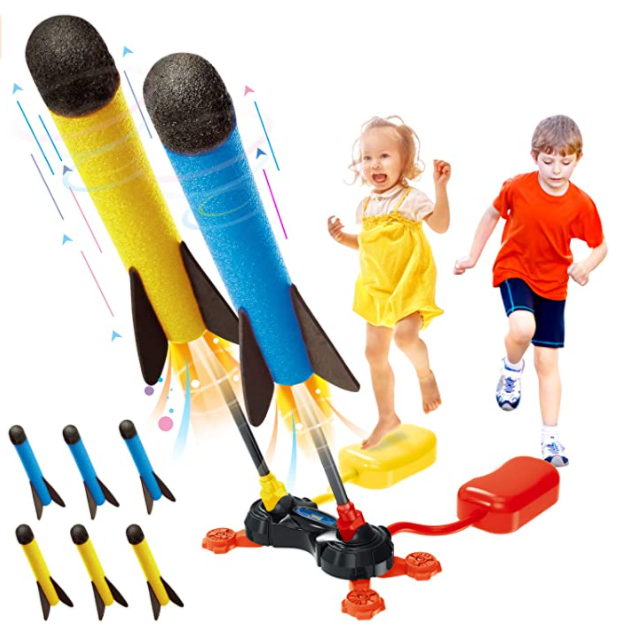 Next up is the duel rocket launcher toy. These foam rockets are placed on the launcher and then you step (or stomp) on the pump to blast the rockets off into the air. They can fly up to 100 feet! Don't let the small children on the picture here throw you off, this toy will appeal to little ones up to adults in some cases! There's just something really fun about getting to jump on the launch pad and watch the foam rockets go up in the air. Plus, this being a duel launcher makes it a fun group activity. Kids will be challenging their siblings, friends or parents to see who can get a rocket to go higher or farther. The launcher angle is adjustable so kids can even run little experiments to see which angles work best to go high vs go far, and so on. This is a great toy for outdoor play and getting some exercise, too.
Either of these would be nice Valentine's day gifts for kids, or Easter basket stuffers if you're thinking that far ahead already. Prices on Amazon can change at any time, but they are both currently priced at $21.98.
Discount: When purchasing the rocket toy, use the code EN3PQ9VR now through 1/25 to get 20% off, making your total price $17.58. It ships free for Prime users.
Win it: TWO lucky winners will each win a Duel Rocket Launcher set! This giveaway is open to the US and will end 2/5/2021 at 11:59pm EST. Fill out the GT form below to enter.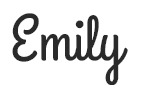 Hi there! I am Emily Evert, the owner of Emily Reviews. I am 28 and live in a small town in Michigan with my boyfriend Ryan and our two pugs. I have a large family and I adore my nieces and nephews. I love reading memoirs, and learning about child development and psychology. I love watching The Game of Thrones, Teen Mom, Sister Wives and Veep. I like listening to Jason Isbell, John Prine, and other alt-country or Americana music. I created Emily Reviews as a creative outlet to share my life and the products that I love with others.
This post currently has 6 responses.