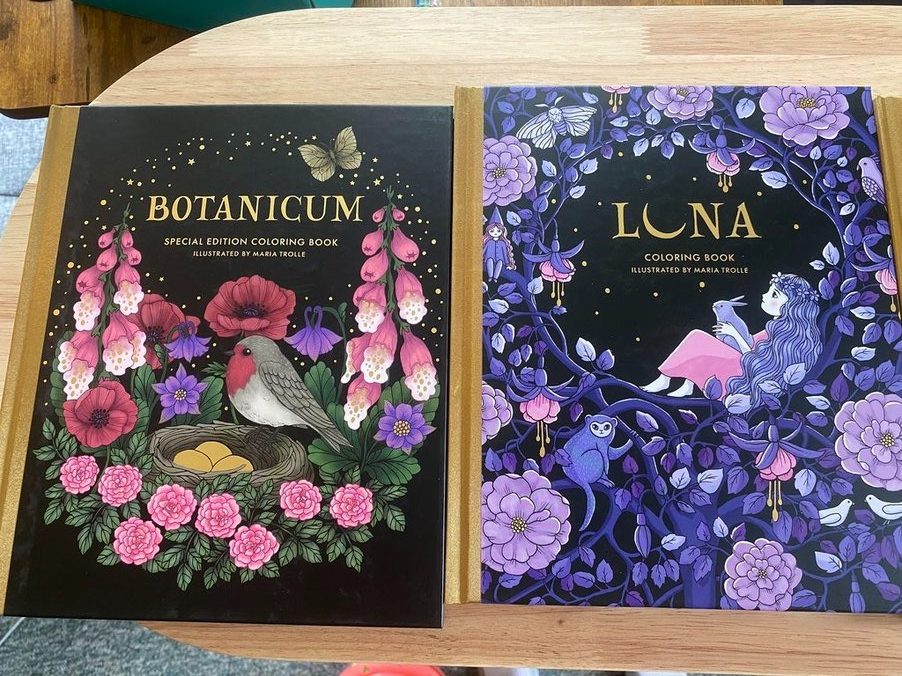 Gibbs Smith sent me books for inclusion in my holiday gift guide. All opinions are my own.
Do you have an artistic friend or family member who loves coloring books? Gibbs Smith recently sent me some of their titles, and they offer something for colorists of all ages.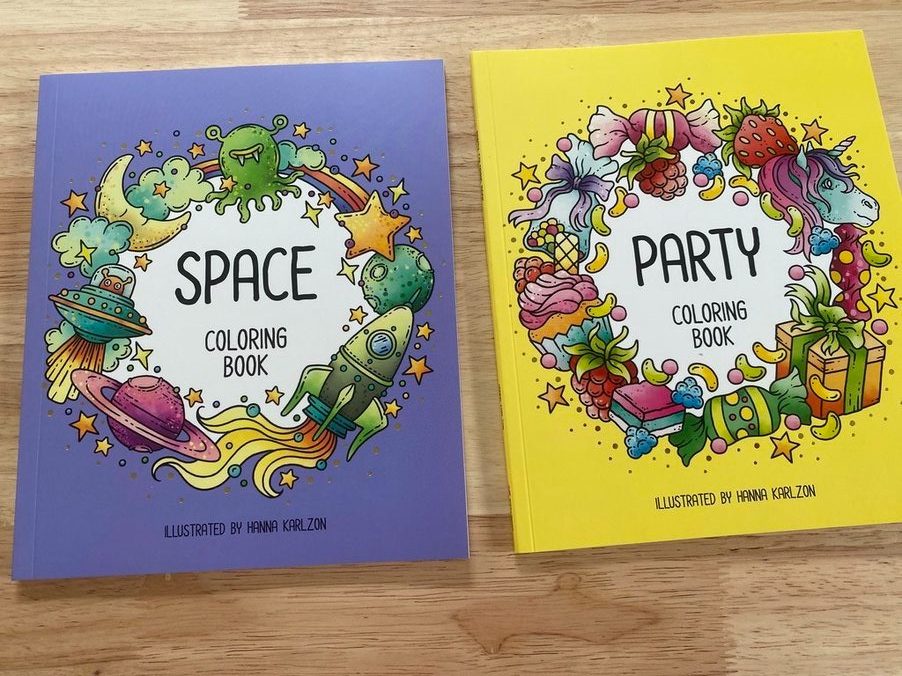 For kids who dream of exploring outer space, the Space Coloring Book would make an excellent gift. This fun, whimsical book takes young astronauts on an adventure among the stars. They'll visit uncharted planets and meet crazy aliens along the way. Swedish artist Hanna Karlzon fills the pages with her signature detailed, magical illustrations. Kids can let their imaginations soar while coloring rocket ships, planets, and more galactic sights. There are over 35 illustrations, so this book will keep budding space explorers entertained for hours. Recommended for ages 5-8.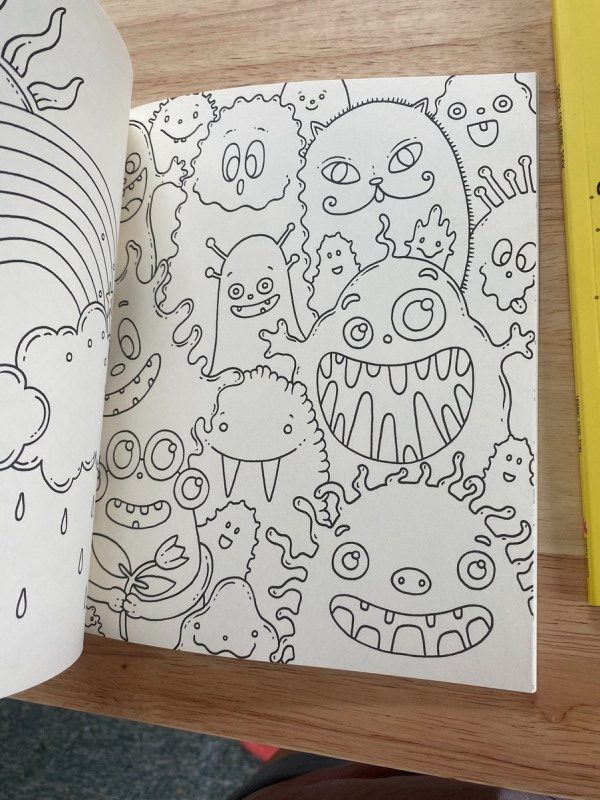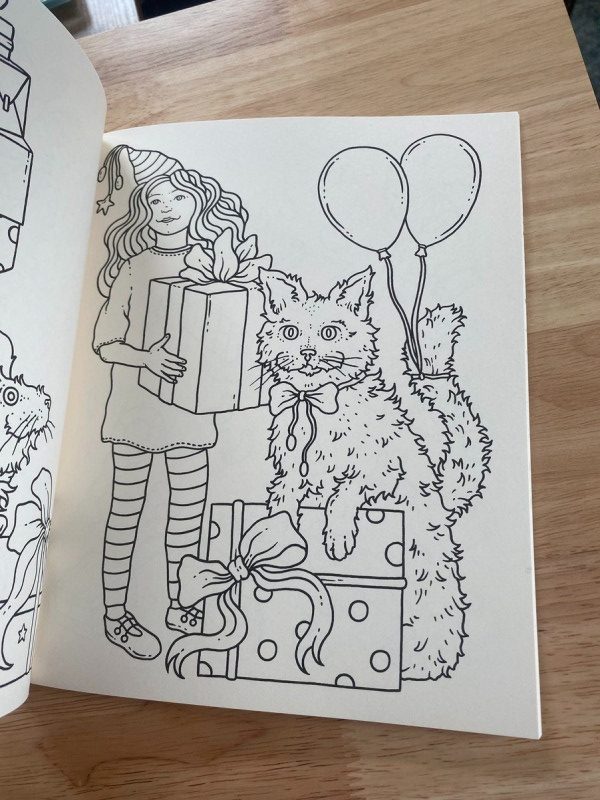 Left – page from 'space' coloring book. Right – Page from 'party' coloring book
The Party Coloring Book is another kid-friendly option from Hanna Karlzon and Gibbs Smith. Kids are invited to an exciting party celebration filled with magical creatures, towering cakes and cupcakes, and costumed partygoers. This book encourages creativity and is sure to delight kids ages 5-8. With different sweets, presents, and party scenes on every page, it will get kids in the celebratory spirit!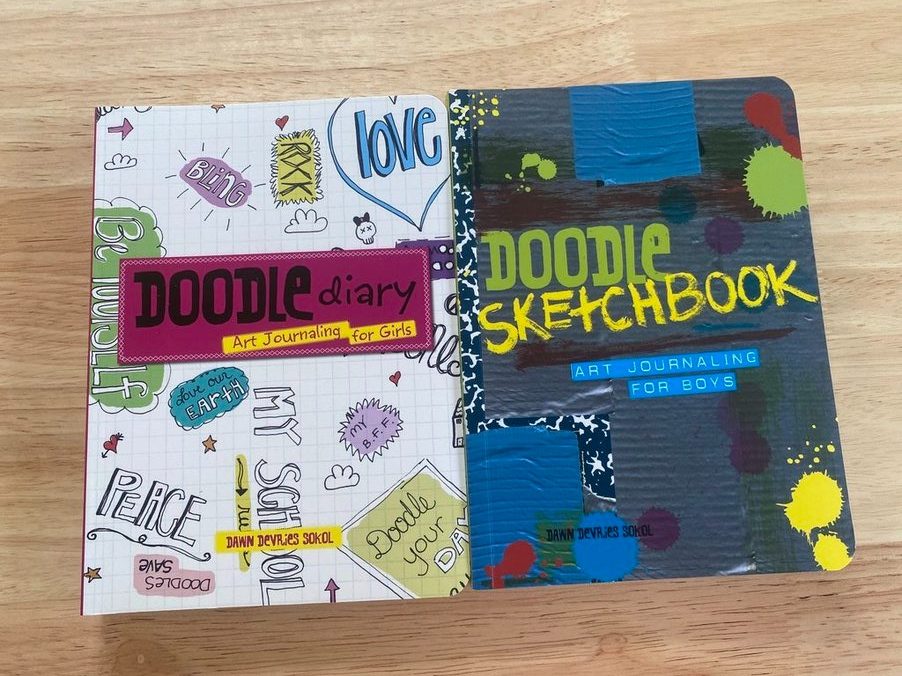 For pre-teen girls, the Doodle Diary is a great choice to encourage art journaling. It teaches girls how to combine images, words, and different artistic techniques like watercolors, collage, and more. With guided prompts and explanations, this interactive book makes art approachable and fun. Girls can use it to practice their skills, document their days, or simply daydream. The Doodle Diary promotes creativity through open-ended journaling with over 175 pages of art prompts and ideas to spark the imagination. Tweens will love the freedom to experiment with different mediums and make the journal their own.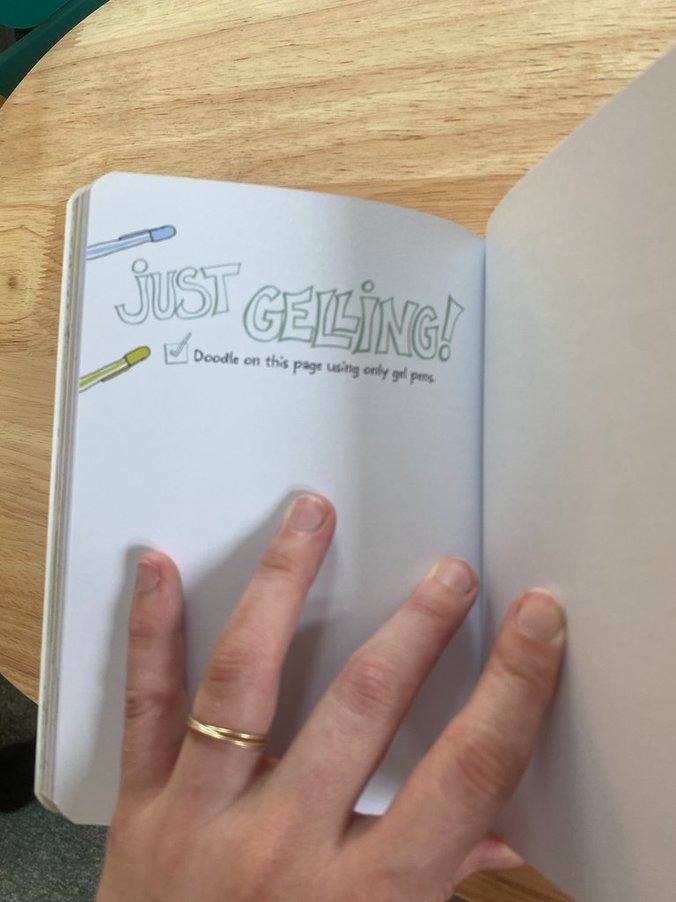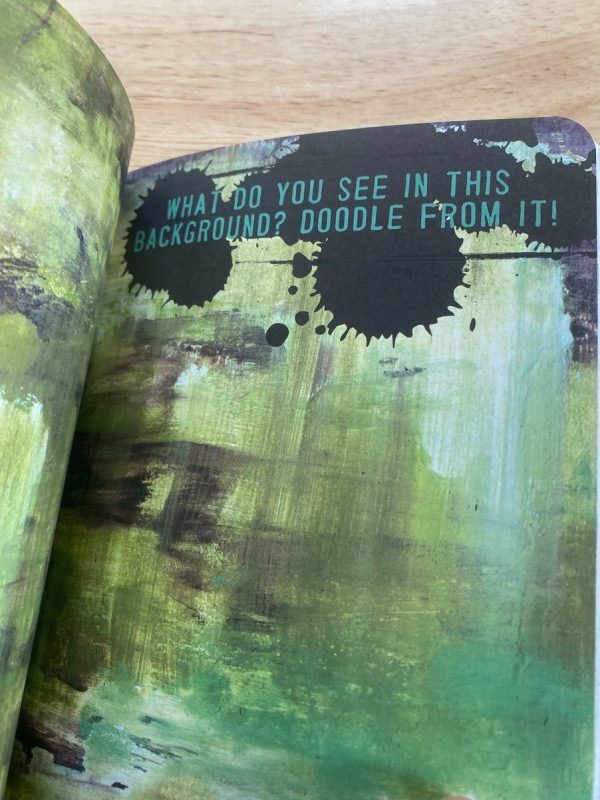 Left – Page from Doodle Diary. Right – page from Doodle Sketchbook.
The Doodle Sketchbook targets artistic pre-teen boys with tips to get them drawing, sketching, and doodling. It demonstrates using pens, stickers, photos, found objects, and more to create unique journal pages. Young artists will love the hands-on, experimental nature of this book. With guided prompts, techniques, and endless doodling ideas, this 192-page sketchbook will keep boys entertained for hours. They can even personalize pages with ticket stubs, photos, or drawings of their favorite things.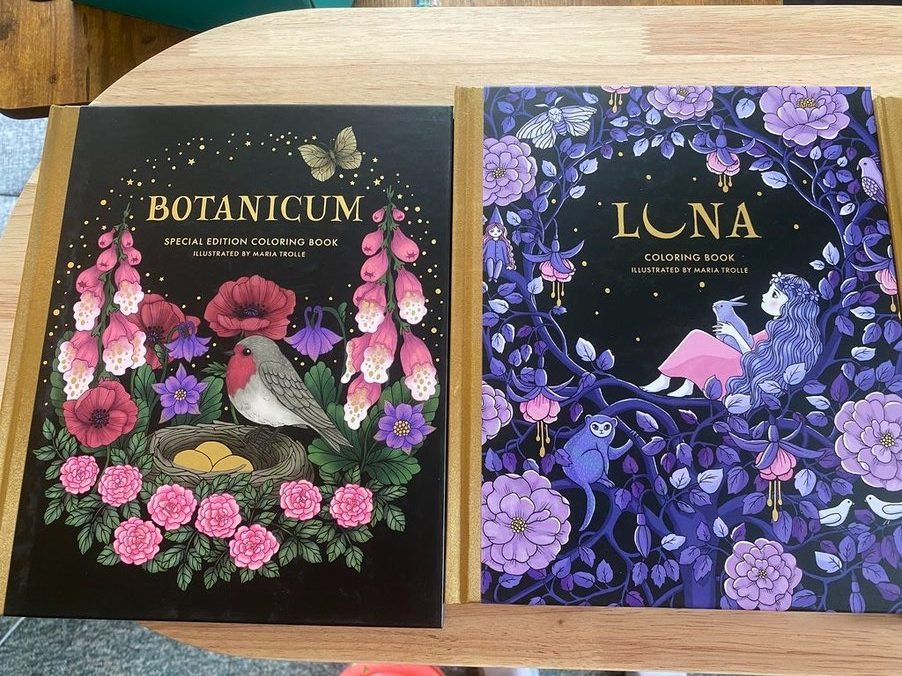 Finally, the Botanicum and Luna Coloring Books are detailed, sophisticated options for teens or adults. Botanicum features intricate illustrations of flowers, plants, and natural scenes. Luna invites colorists to bring enchanting moonlit gardens and fairy tales to life. Both books include 20 removable artwork cards, making them great for displaying finished pieces. The nature themes and relaxing artwork make these books a wonderful gift for women who enjoy detailed adult coloring books. The high-quality hardcover binding and specialty paper add to the splendor of these books. Give the gift of creativity and relaxation this season with Gibbs Smith's gorgeous coloring books! They also sell regular books. I just have a lot of creative people in my family which is why I've focused on the artistic options. Check out the Gibbs Smith Books website to see everything they offer!
Gibbs & Smith is going to be offering two giveaways over the course of our gift guide! I thought I'd share one in this post, and the other in a future article. This giveaway is for two kids coloring books, Party and Space! The next giveaway will be for two adult coloring books, keep an eye out for that later this month!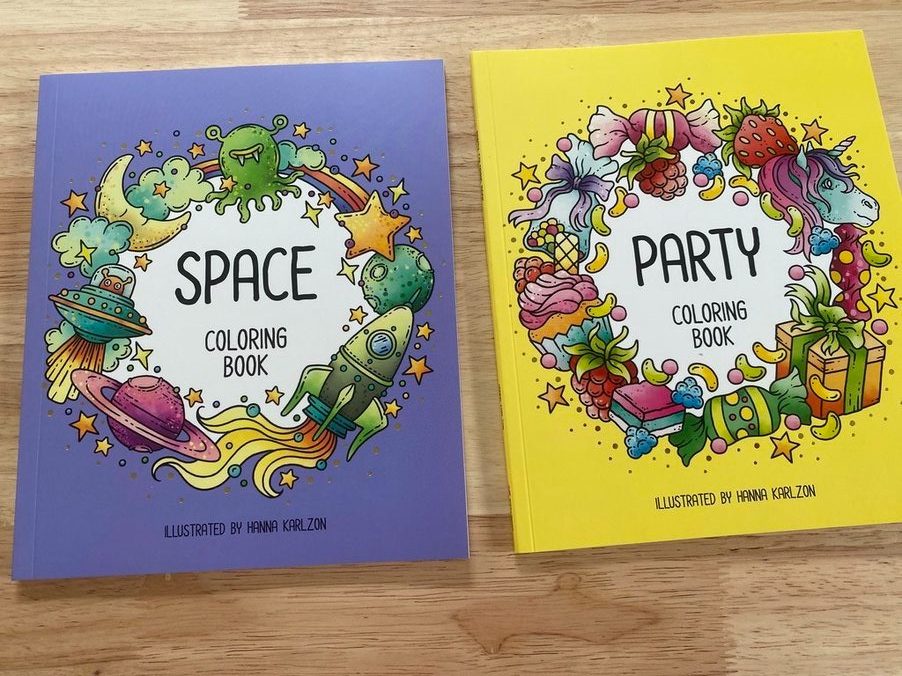 Win it: Party and Space themed kids coloring books from Gibbs Smith. This giveaway is open to North America and will end 11/16/2023.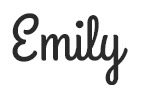 Hi there! I am Emily Evert, the owner of Emily Reviews. I am 28 and live in a small town in Michigan with my boyfriend Ryan and our two pugs. I have a large family and I adore my nieces and nephews. I love reading memoirs, and learning about child development and psychology. I love watching The Game of Thrones, Teen Mom, Sister Wives and Veep. I like listening to Jason Isbell, John Prine, and other alt-country or Americana music. I created Emily Reviews as a creative outlet to share my life and the products that I love with others.
This post currently has 2 responses.