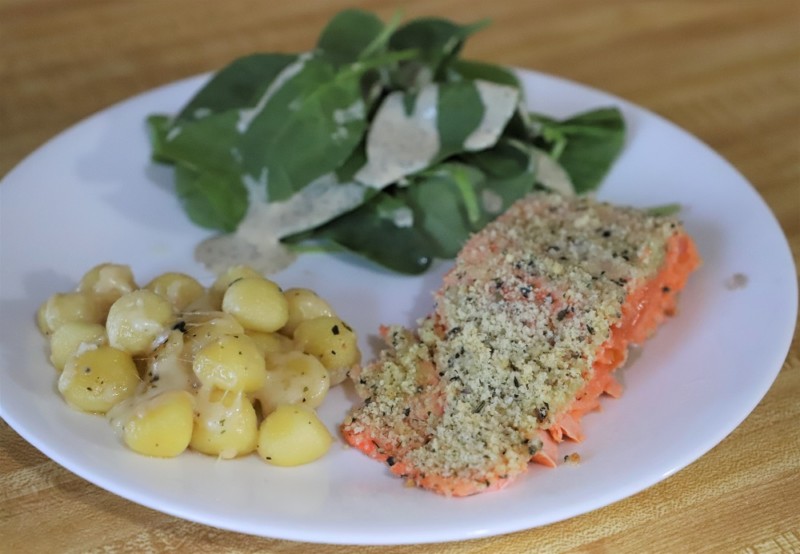 It's Amber, coming at you with another delicious salmon meal! If you couldn't tell, our family loves wild caught salmon. We make a variation of it at least once a week. Wild caught salmon is so healthy and our kids always love these recipes. Since this one was so popular, I figured I'd share it with you! 
Baked Salmon with Italian Herb Crust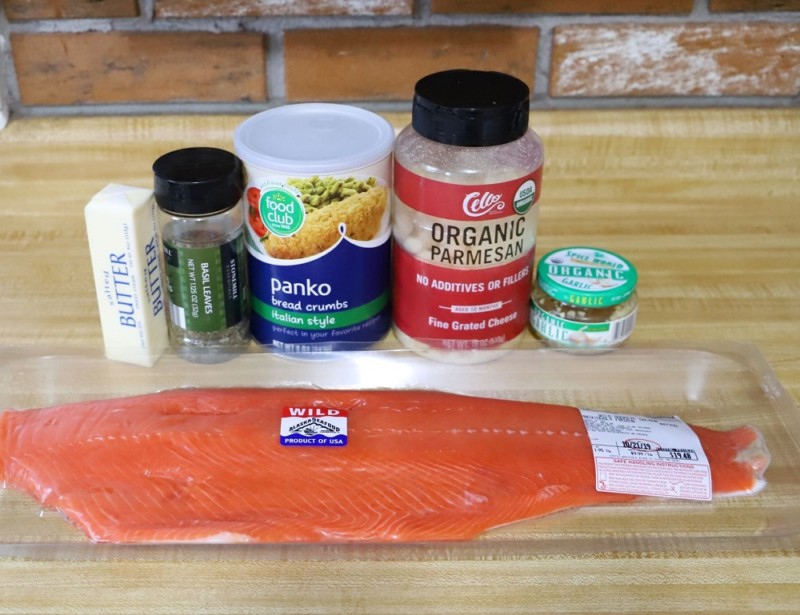 For this recipe, you'll need salmon (wild-caught is best!), dried basil leaves, parmesan cheese, diced garlic, Italian seasoning and bread crumbs OR Italian Panko bread crumbs which is what I used. Using the Italian style bread crumbs makes the recipe simpler, and we'd had some in the cupboard for months so it was time to use them up! Preheat the oven to 400°F and line a baking sheet with aluminum foil.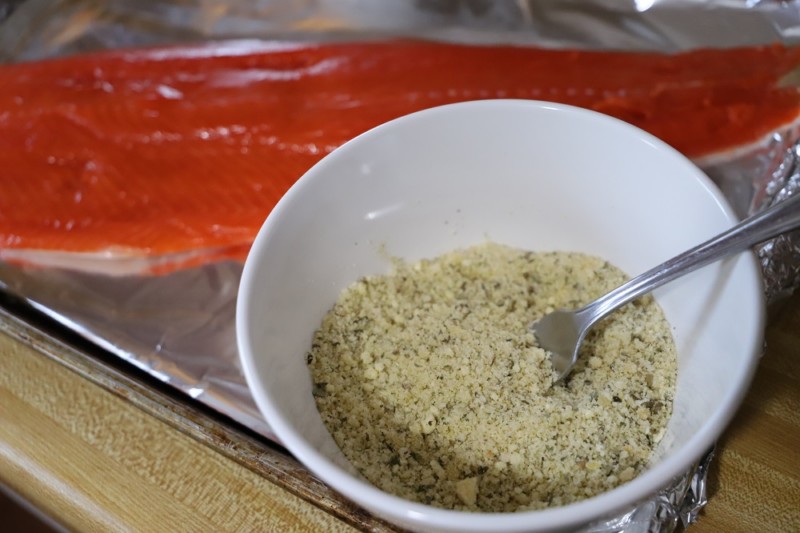 First you'll mix the bread crumbs, parmesan, garlic, and basil in a bowl. Then, pat down the salmon to remove any excess liquid and cover the top of the salmon with your breading mixture. You'll want to press it into the salmon as best you can. Then melt your butter and pour the butter over the top of the breading.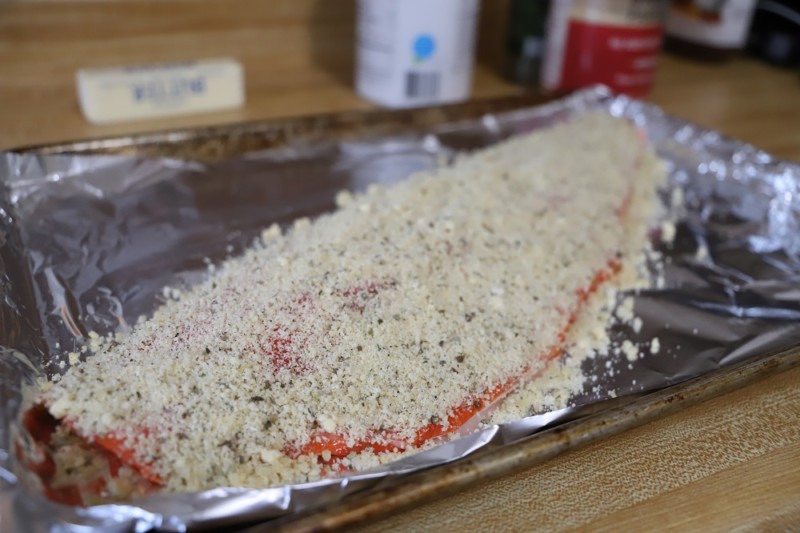 Bake the salmon in the oven for 15-20 minutes or until cooked to your liking. We prefer ours on the medium side, but I know some prefer their salmon to be well done so you may want to adjust for time. I would check it after fifteen minutes and go from there.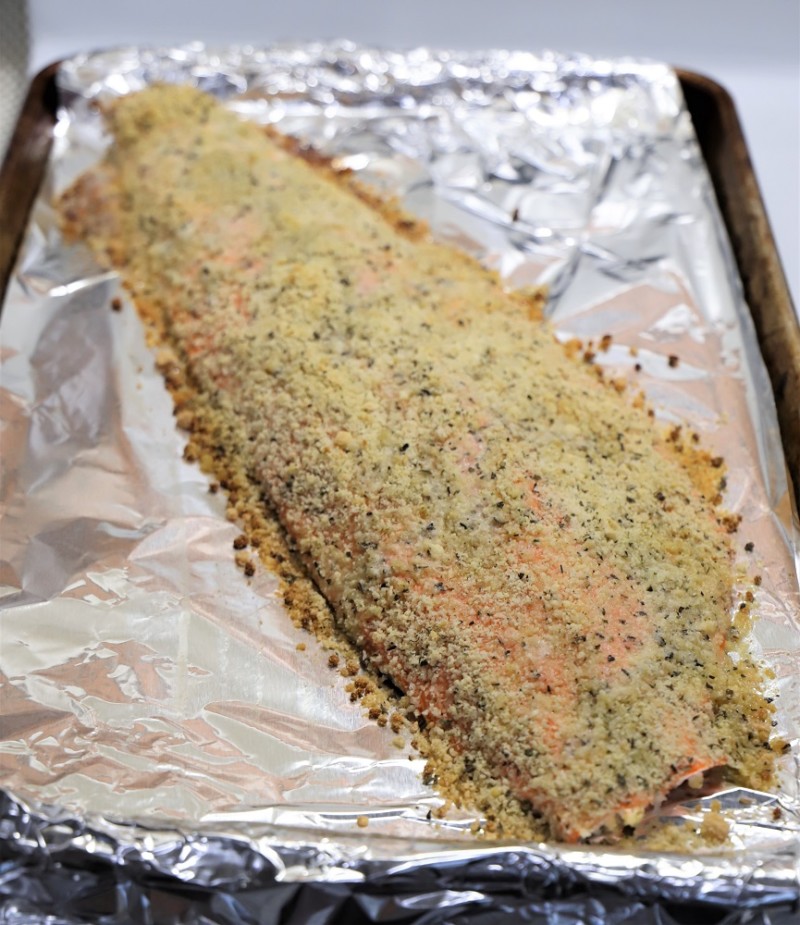 Your salmon will come out crusted and slightly darker than when you put it in. Then, just cut into portions and serve! We ate ours with a green salad and side of gnocci from Costco. The kids were begging for more and we didn't end up with any leftovers, which means it was a great meal at my house!

Baked Salmon with Italian Herb Crust Recipe
Prep time:
Cook time:
Total time:
This is a tasty salmon dish that's perfect for any season. With an Italian herb crust, it's best served with salad and a side of gnocci!
Ingredients
2 pound whole salmon filet
½ stick butter
⅓ cup Italian style Panko bread crumbs
⅓ cup parmesan cheese
3 cloves garlic, minced
1 Tbsp dried basil leaves
Salt and pepper to taste
Instructions
Preheat the oven to 400°F
Line a baking sheet with aluminum foil
Pat down the salmon and place on baking sheet
Mix together bread crumbs, parmesan, garlic, basil leaves, salt, and pepper in small bowl
Spread breading mixture over salmon
Melt butter and pour over salmon
Bake for 15-20 minutes checking for doneness around 15 minutes
Cut salmon into portions and serve with a green salad and gnocci, or other sides that you prefer!

What's your favorite way to cook salmon? Let me know in the comments!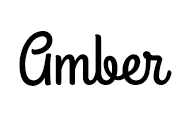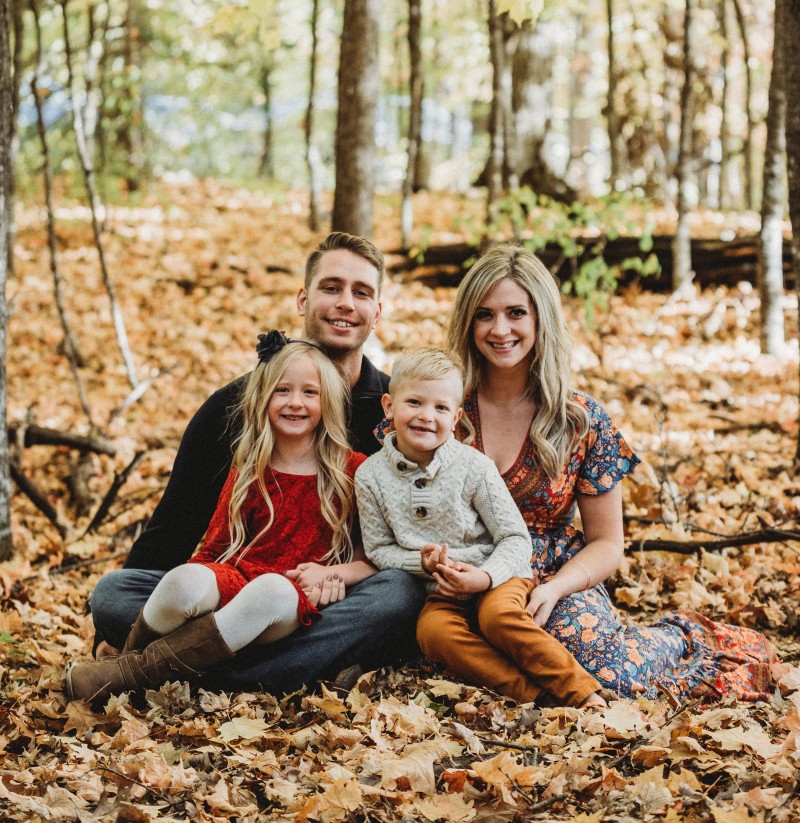 Hi there! I'm Amber, a 34 year old wife and mom of two from central Minnesota. I love to be outside with my family anywhere the weather is warm (which means I spend half the year freezing). We're a homeschooling family that loves to travel as often as possible! When I have a spare free moment, I love to read, take photos, and scrapbook. I'm interested in anything that makes life more fun; I also love socializing and sharing about my favorite products!
This post currently has 15 responses.