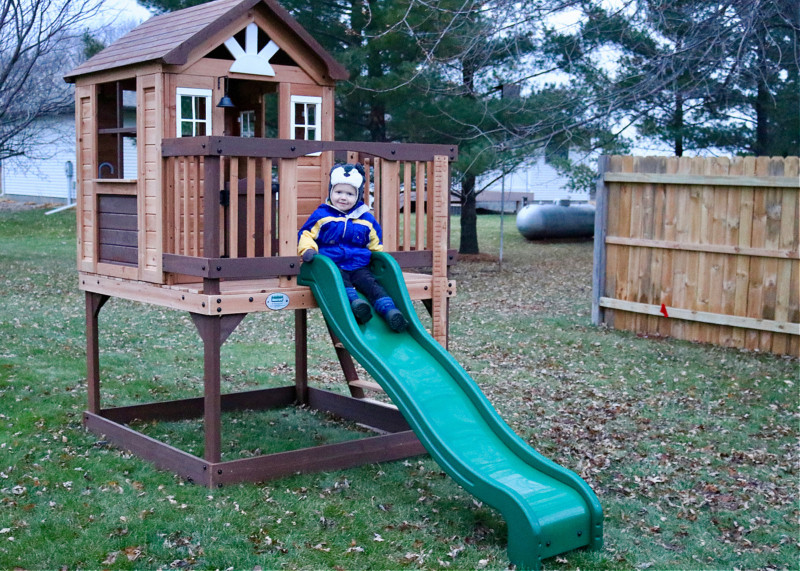 Thank you to Backyard Discovery for sending an Echo Heights Playhouse for review in exchange for my honest opinion.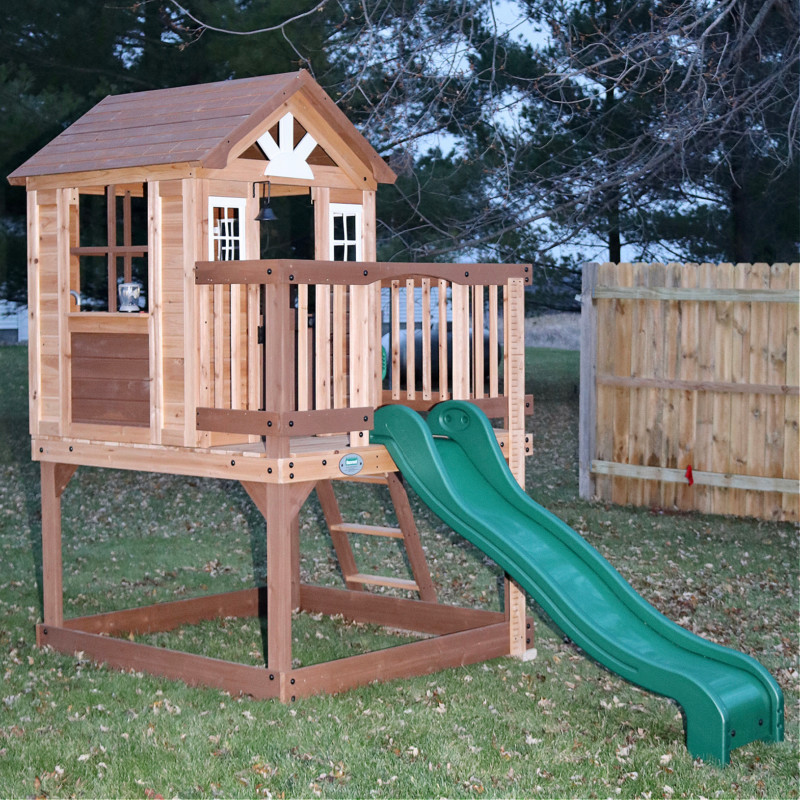 I had been wanting to get our children a playhouse for a while, but all of the features and price points just about made my eyes go buggy! Which options did we need? Which was the right one?!
After finding Backyard Discovery, I knew they were the company for us. They have been in business more than 30 years, and I was impressed when reading the reviews on their website: tons of happy customers with five star reviews. Even if there was a problem (for example a missing piece) folks shared that the customer service was top notch and the missing piece was shipped quickly.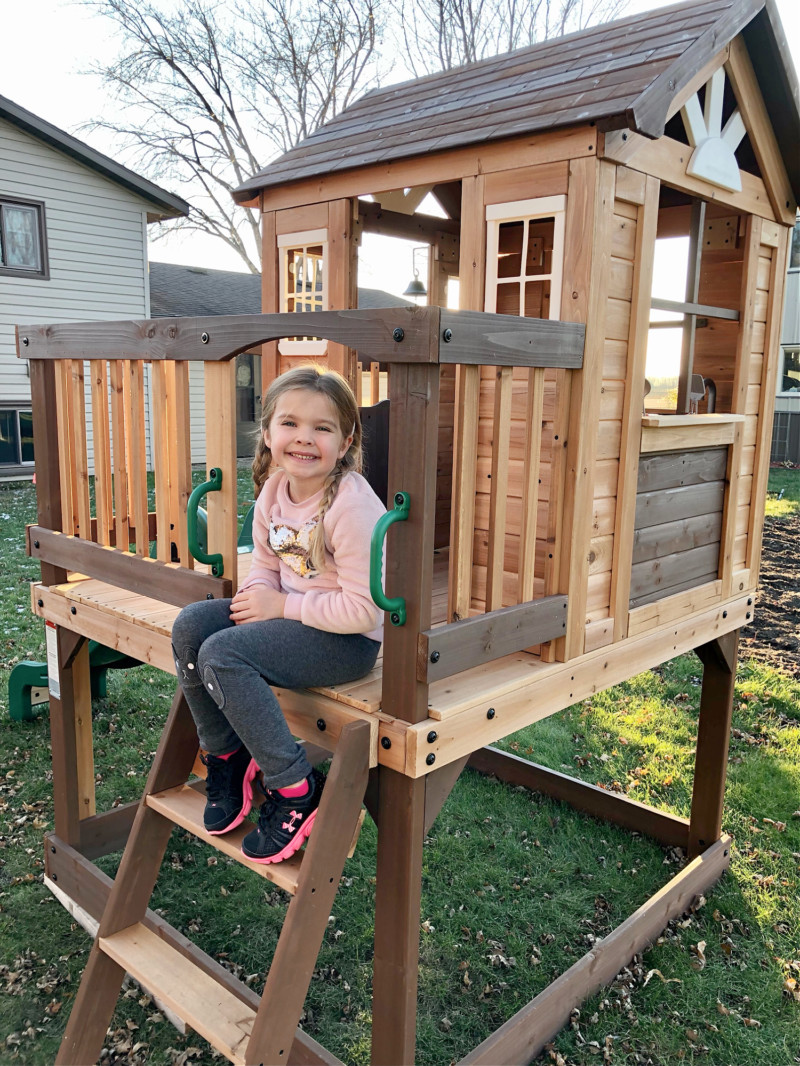 We got one of Backyard Discovery's newest playhouses: the Echo Heights Playhouse. There is a lot to love about it!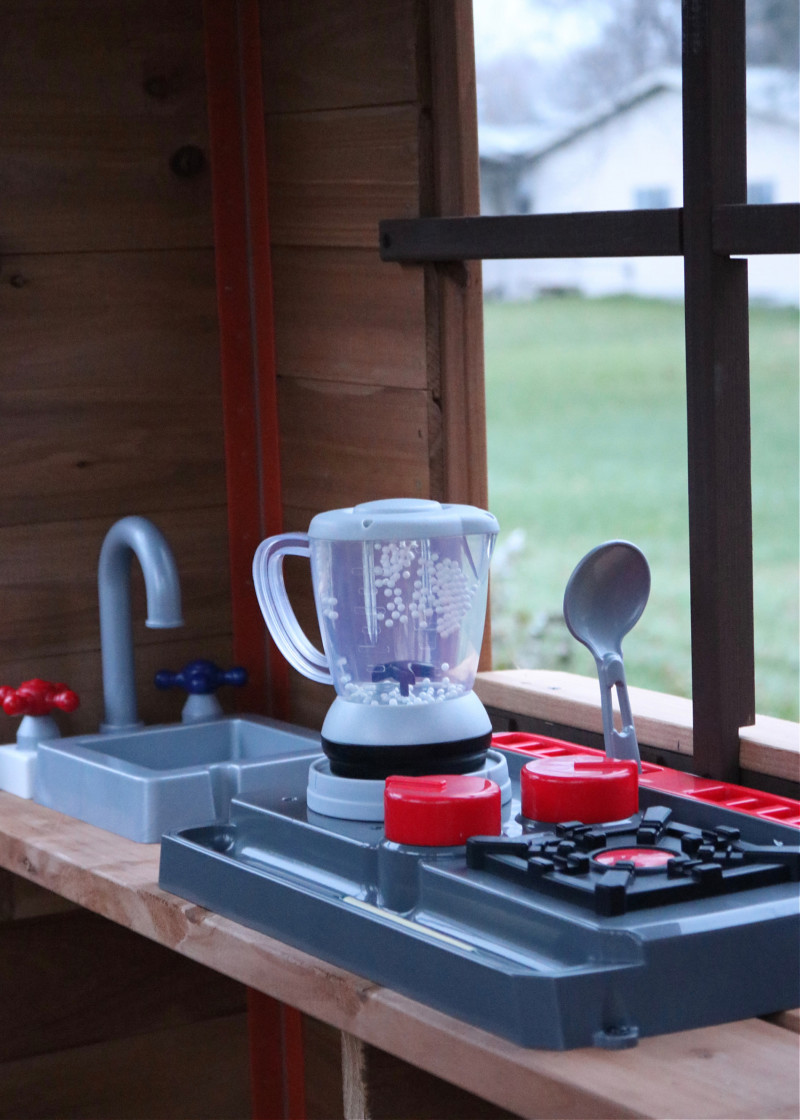 It's downright cold here in the midwest already, and it gets dark so early in the evenings! But, the chilly weather and even the darkness has not stopped my children from thoroughly enjoying their new playhouse!

I love listening to them as they use their imaginations and play! The Echo Heights has a built in play kitchen that includes a powered blender, pot, pan and utensils. The blender is definitely the favorite for both kids, but they enjoy the sounds that the pot and pan make too.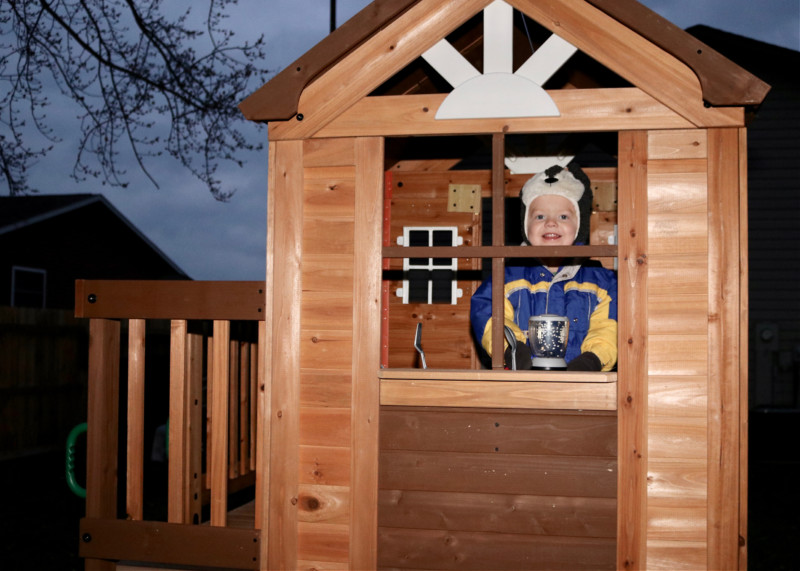 They both love the slide, but my 3-year-old especially loves going down, running over to the steps, climbing up and doing it all over again. It's great because he inherited my grace (ie: none) and the ladder has wide, flat steps and nice handles so hasn't ever fallen! The slide is a 6-foot long, high-rail wave slide. It seems super durable.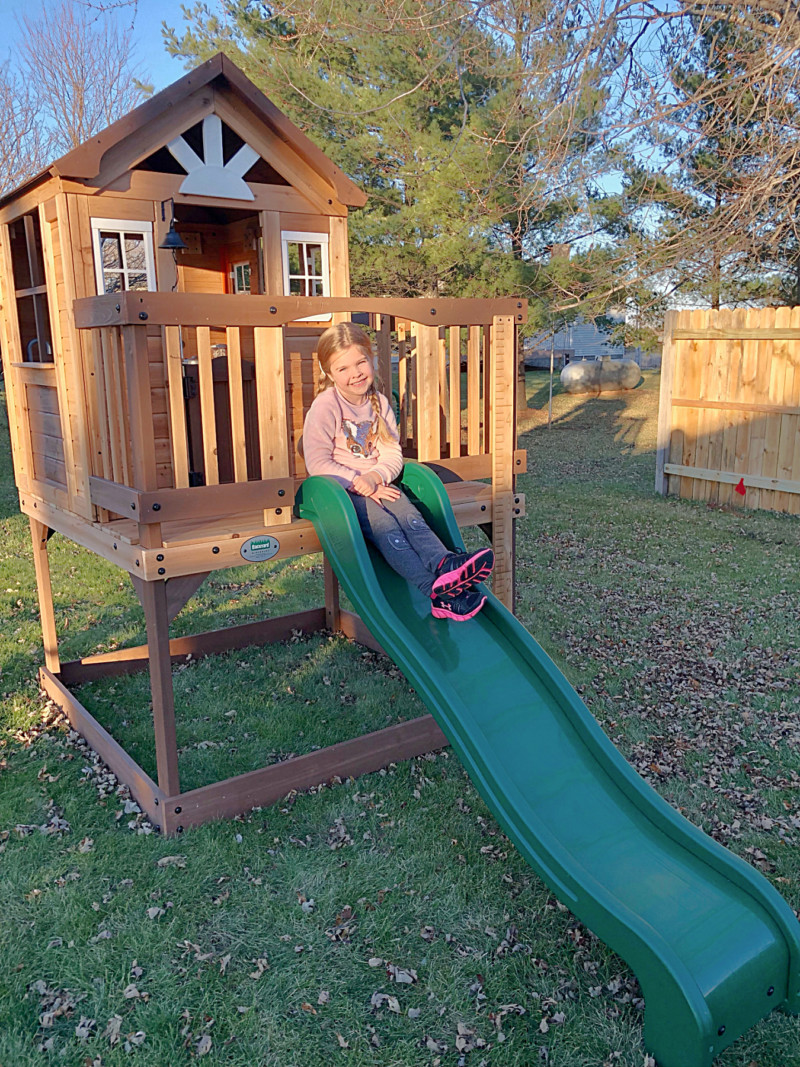 I love all of the little details – like the bell that the kids have used to put school in session, call each other to 'dinner' and to ring the doorbell! A cute hinged door lets them in and out of the playhouse.
The Echo Heights is a raised playhouse. It is perfect for compact spaces. You could store toys underneath if you have a small yard. We are planning to turn the area underneath into a sandbox in the spring.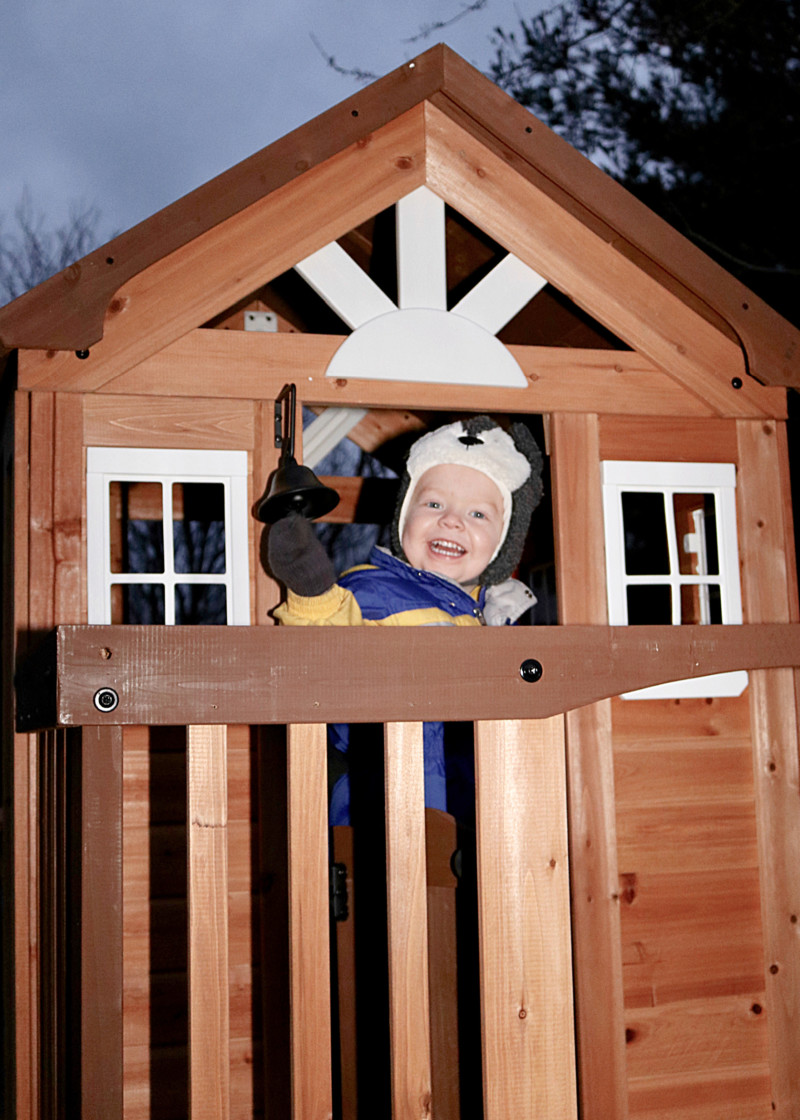 One of my favorite features is the growth board. Each summer you can document your child's height and see how they've grown.
My husband loves that the Echo Heights is made of 100% cedar wood so it is naturally resistant to rot and decay, and it was pre-cut, pre-stained and pre-drilled, so it was easier to put together.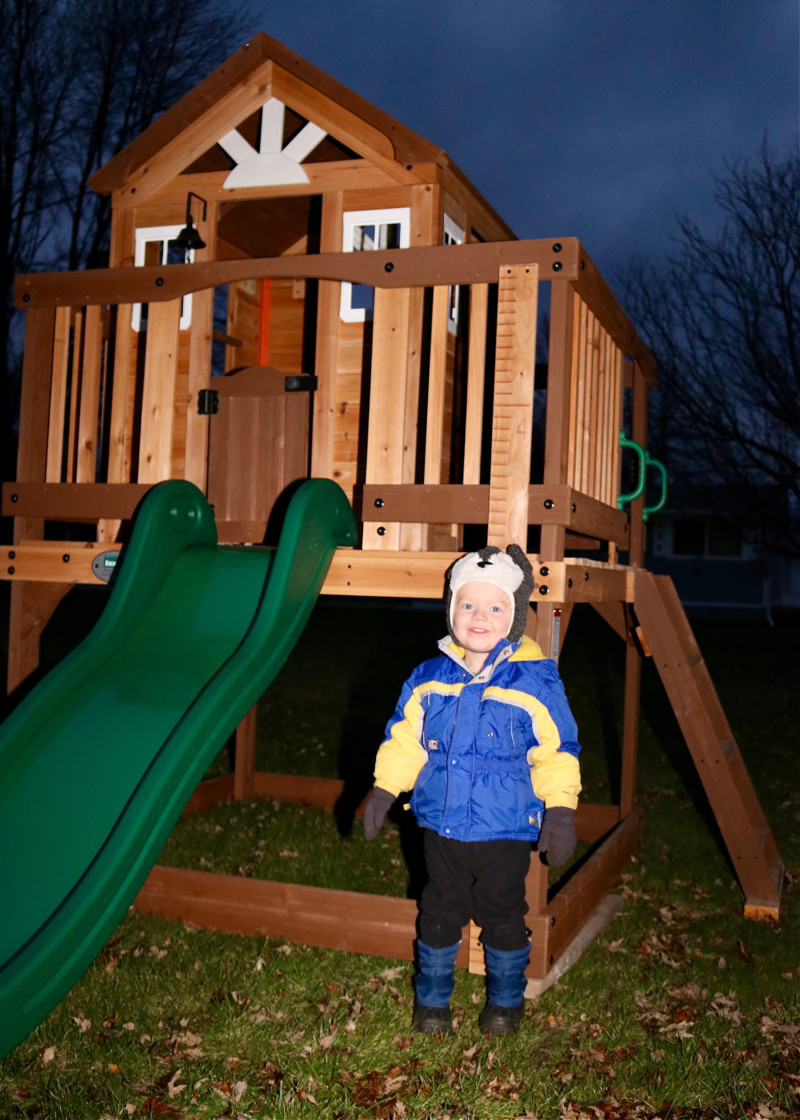 The Echo Heights arrived in three boxes. My husband was our builder. He worked on it in the evenings after work, it took him about three evenings to get it put together. All in all it took him around seven or eight hours total. He found the assembly to be easy. Backyard Discovery does offer a step-by-step, interactive and voice narrated BILT app for ease and convenience during assembly process, however my do-it-yourself husband didn't opt to use the app and still got it assembled just fine.
Backyard Discovery provides a full 2-year warranty as well as an extended 5-year warranty on wood rot and decay, so you can rest assured that your playhouse will last for many years.
Buy It: Head over to Backyard Discovery to see for yourself the great selection of products they offer. HURRY use code EMILY10 to save 10% through 11/30/21!
Connect: Don't forget to like Backyard Discovery on Facebook, follow them on Instagram and Twitter, and subscribe to their YouTube channel for all the latest news and promotions.


Hi, my name is Asha. I am 34-years-old and am a nurse by profession. Right now I am battling Breast Cancer. My husband and I have been married for 8 years and together we have a sweet six-year-old daughter, a fun three-year-old son, and a lovable bunny named Caramel. I enjoy spending time with family, taking photographs, scrapbooking, hunting, fishing, cooking and gardening.
This post currently has 7 responses.