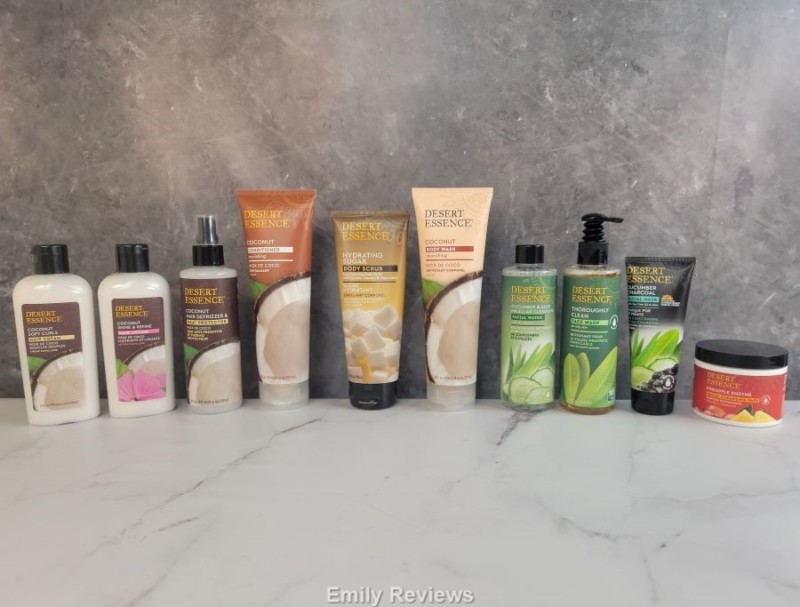 Thank you to Desert Essence for providing me with products to facilitate my blog review. All opinions are 100% my own.
A few years ago, I stumbled upon a brand called Desert Essence. Desert Essence offers its customers a line of beauty, cosmetic, and personal care products that are made with safe, non-toxic, and high-quality ingredients. They realize the value of the nutrient-rich botanicals found in the desert such as Tea Tree, Jojoba, and Argan Oil. Without adding a bunch of chemicals or additives to natural ingredients, Desert Essence is able to provide us with so many products that will nourish and spoil our bodies and hair. Over the years, I have used many of their products and have fallen in love with the brand.
When I began thinking about what gifts I wanted to get my tween and teen daughter this Christmas, I knew Desert Essence hair and skincare products were going to be on it! I hit an amazing SALE and was able to get them an assortment of hair products, body wash, body scrub, and some skincare products.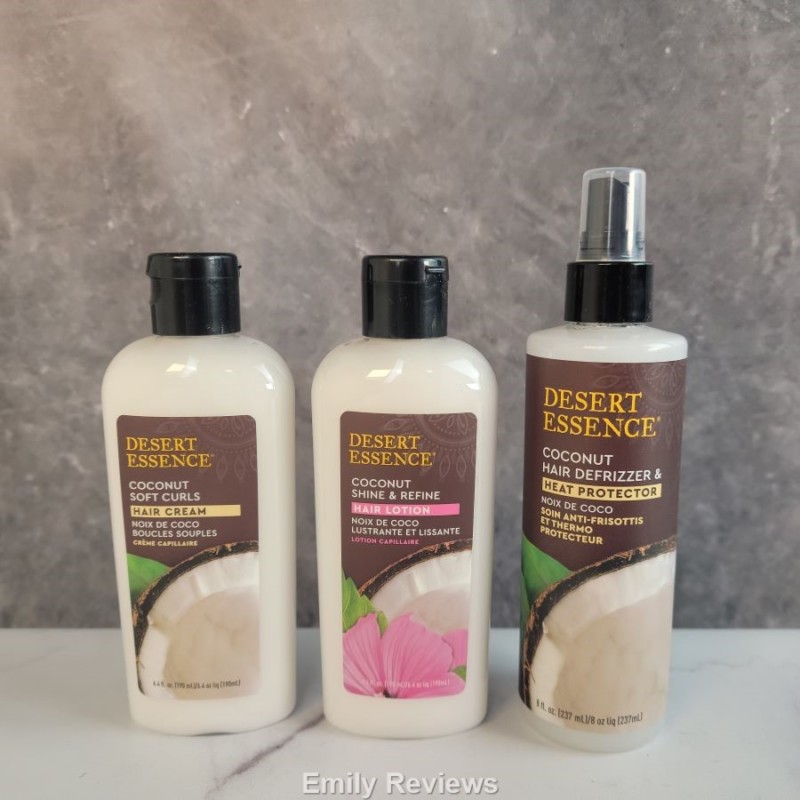 The Coconut Shine & Refine Hair Lotion takes Coconut Oil and adds to it extracts of Black Oat and Nopal Cactus along with Vitamin E and Panthenol. This lightweight formula controls frizz and restores moisture and shine while giving your hair the delicious scent of coconut.
Coconut Soft Curls Hair Cream adds protective hydration to dry and damaged hair while it softens curls and adds bounce and definition. This product contains extracts of Black Oat and Nopal Cactus in addition to Coconut Oil, Agave, Yucca, Hydrolyzed Soy Protein, and Provitamin B5. Together these natural ingredients make your curls bouncy, shiny, defined, soft, and deliciously scented with coconut.
Coconut Hair Defrizzer & Heat Protector is a hair spray that performs several amazing feats with your hair. This one product will not only detangle your hair but also tame any frizz that you might have and protect your hair from heat damage from irons, blow dryers, etc. Let this natural formula leave your hair silky and smooth and lightly scented with coconut.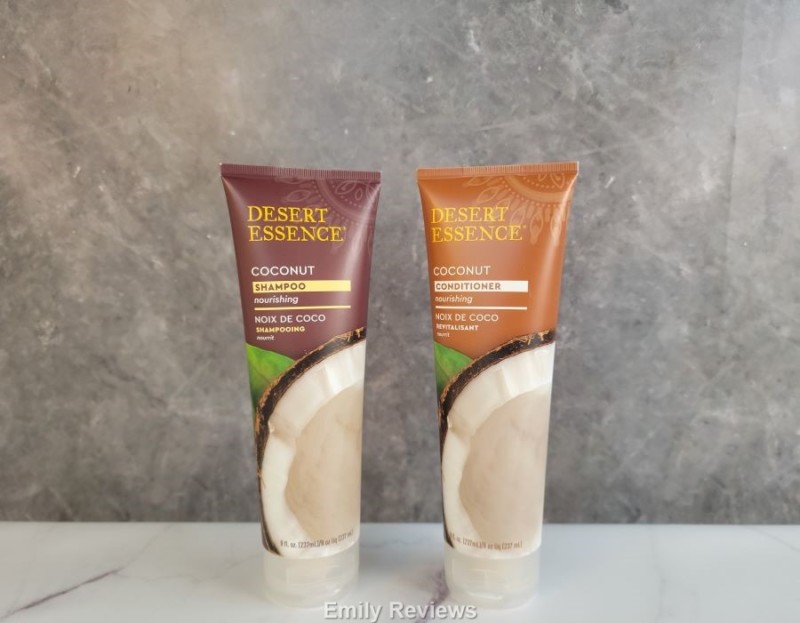 The Coconut Shampoo and Conditioner both contain Shea Butter and Olive Leaf Oil in addition to Coconut Oil. The conditioner has Nettle and Sunflower Oil added to the formula to add nourishment to dry hair. In place of Nettle, the Coconut Shampoo includes Hemp Oil. This shampoo is effective at removing pollutants from your hair and adding moisture and nourishment for a beautiful shine and delightful coconut scent.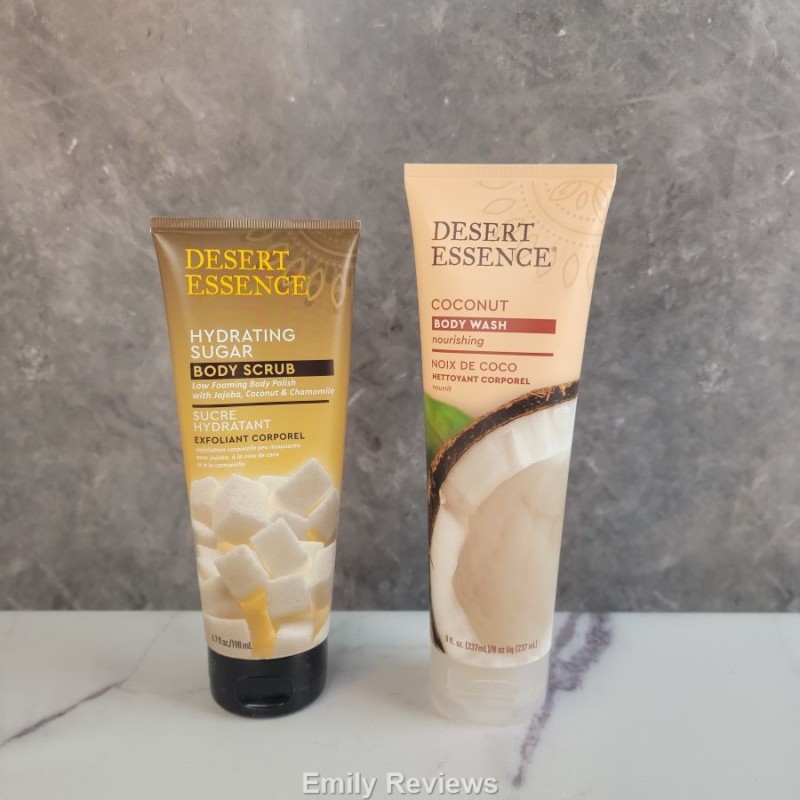 The Coconut Body Wash contains Jojoba Oil and Organic Shea Butter in addition to Coconut Oil. Together they add hydrating "life" back to dull, dry, and stressed skin and leave you smelling as amazing as you feel.
Hydrating Sugar Body Scrub is a gentle way to exfoliate your dry rough skin even if it's sensitive skin. When used, this sugar scrub that includes Shea Butter, Coconut Oil Cucumber, Chamomile, and Jojoba Oil, turns into a luxurious foaming lather that moisturizes and leaves your skin feeling soft, smooth, and protected from the elements.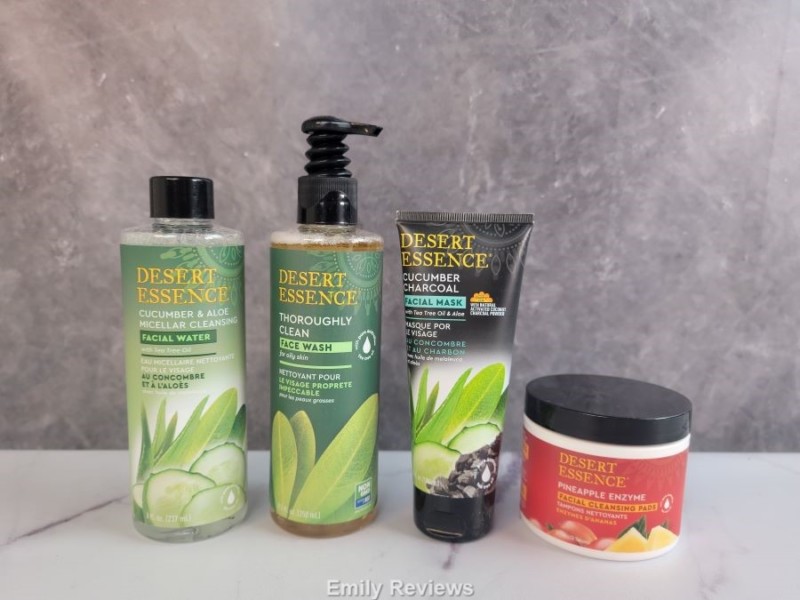 The Cucumber & Aloe Micellar Cleansing Facial Water sounds a little intimidating but actually, it's a one-step makeup remover and facial cleanser. Simply put a small amount of this water that contains pure Australian Tea Tree, Cucumber and Aloe, on a cotton ball and gently rub it over your face and eyelids in an upward motion. No need to rinse it off.
Thoroughly Clean Tea Tree Oil Face Wash is so gentle that it can be used twice daily. This face wash efficiently and effectively removes oil and impurities without drying out the skin. Australian Eco-Harvest® Tea Tree Oil, Olive-Oil-based Castile Soap, Lavender, Chamomile, and Calendula Essential Oils provide antioxidants and vitamins to your skin leaving it feeling clean, smooth, moisturized, yet not oily.
Cucumber Charcoal Facial Mask is a detoxifying facial mask that contains Cucumber, Aloe, Activated Coconut Shell Charcoal, Bentonite Clay, and pure Australian Tea Tree Oil and can be used 2 to 3 times a week. This detoxifying mask leaves you with a clean and refreshed face after removing excess oil and pollutants. While the Charcoal and Clay draw out the impurities, the Australian Tea Tree Oil cleanses, and the Cucumber and Aloe hydrate and refresh your skin.
Pineapple Enzyme Facial Cleansing Pads exfoliate and cleanse. Not only are there Pineapple Enzymes in this product but also pure Australian Eco-Harvest Tea Tree Oil and Jojoba Oil. Together these ingredients cleanse, remove excess oil and dead skin cells, and moisturize. These pads are great for blemish-prone skin and so easy to use. For the best results, simply guide these pads over an already cleansed face and neck. If you're in a hurry or on the go, another option is to use these pads as a quick cleanse and refresher. After the pads are used, you can discard them in the trash.
Not only does Desert Essence provide its customers with a wide range of high-quality products, but they also follow high standards (social, legal, and environmental) for their business in general. Desert Essence is a certified B-Corp Corporation which means they strive to be not only "best in the world" but also "best for the world". That means a lot to our family.
Buy It: Please visit the Desert Essence website to see the great selection of products they offer and convenient shopping locations.
Connect: Don't forget to follow Desert Essence on Facebook, Pinterest, and Instagram for the latest product announcements and special offers.


Hello, my name is Laurie. My family and I live near the Oregon coast. When we aren't at work, in school, or on the volleyball court, we enjoy traveling, cheering for our favorite sports teams, playing outdoors, and checking off items on our bucket list. We are lucky in that both sets of our parents, as well as our siblings and their families, live within an hour of us. We get together often to help one another out, celebrate milestones, and go on adventures together.
This post currently has 9 responses.