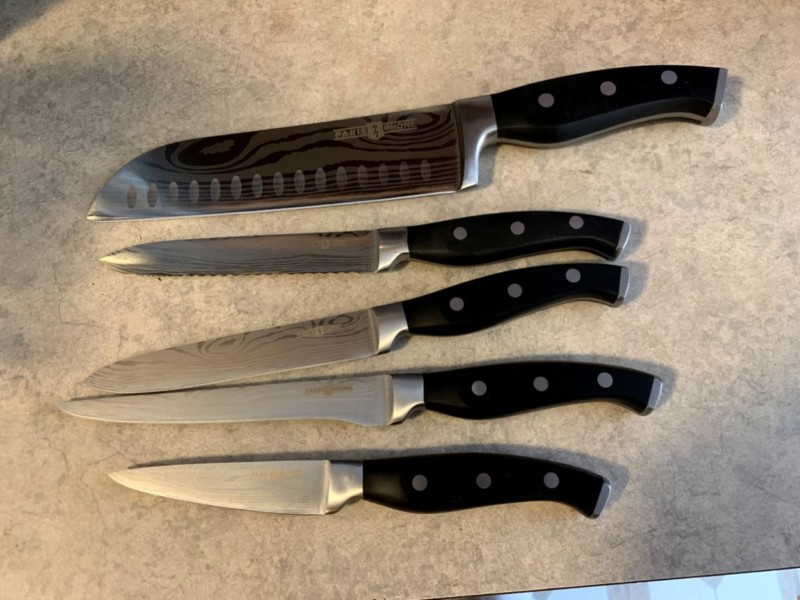 PARIS RHÔNE sent me their 16-piece kitchen knife set for review. There are affiliate links in this post. All opinions are my own.
When Ryan and I got our first apartment we had it furnished through hand-me-downs, essentially. My mom and a couple of my aunts donated everything from a couch to bakeware to us. What items we still lacked, we bought from thrift stores. As we got older and our finances became more secure, we've upgraded some of those things. Others, we've really had for a long time and just got by with.
One of the areas that we've neglected for years was our knives. We've never had a nice knife set. We had a handful of random knives tha we got by with for years, which was okay…but when PARIS RHÔNE offered to send me their 16 piece kitchen knife set to review, I happily said 'sure!'.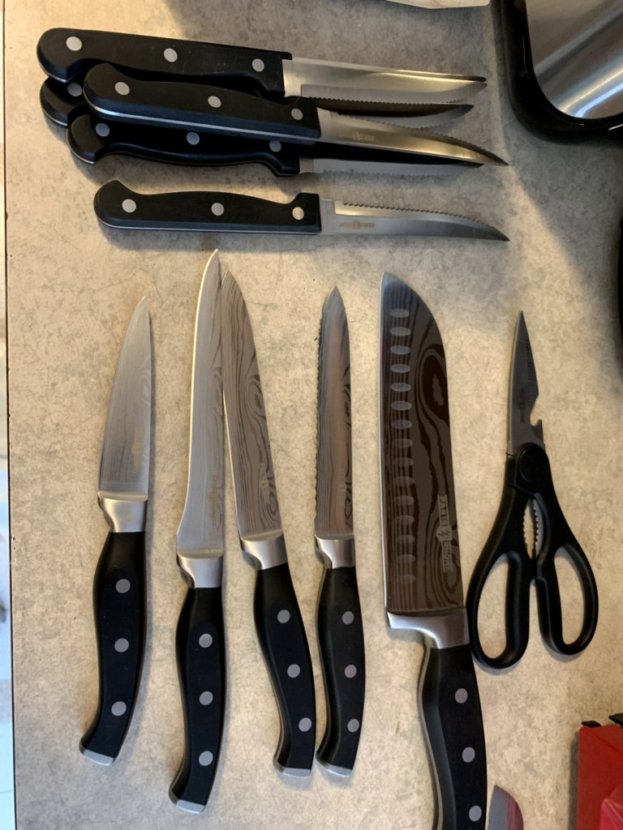 The knife set comes with a block and everything that comes with it can be stored within the block. It has six steak knives, kitchen scissors, a 3.5 inch pairing knife, a 5″ utility knife, a 5.5″ boning knife, a 5″ bread knife, an 8″ bread knife, an 8″ carving knife, an 8″ chefs knife, a 7″ santoku knife, and an 8″ carving fork.
We've had this set for a few weeks and we haven't used all of these knives yet. Some of them just aren't ones that we have routine use for. However, the ones that we have been using regularly, we really love. The 3.5″ pairing knife is awesome, it cuts so smoothly and perfectly straight, too. With our old pairing knife, it would bend when trying to cut through a potato, this one doesn't.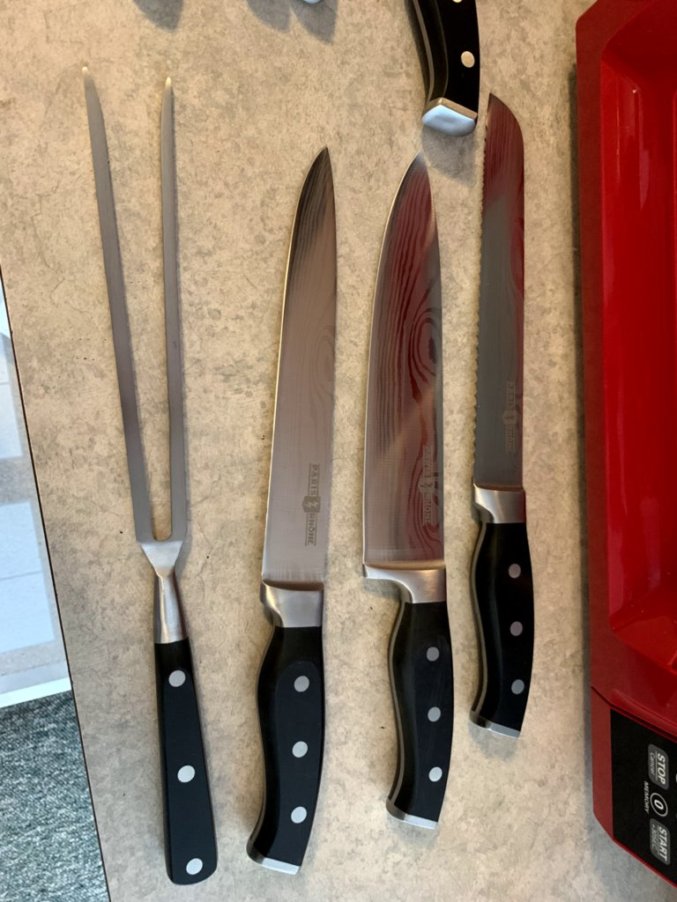 We've used the bread knives on loaves of bread we got from the bakery, and we've used them for cutting frozen pizzas. Yeah, I know that's a little strange! We buy frozen pizzas ad then cut them into several pieces and place the into freezer bags for portion control purposes. The 8″ bread knife has allowed us to easily cut even thick frozen pizzas into even portions.
We've also used the kitchen scissors a lot, and they cut really effortlessly.
PARIS RHÔNE doesn't specifically specialize in cutlery, they sell other household products as well. I think as a result of that, I suspected that these knives would be better than what we had, but not great. Ryan and I have both been extremely happy with the quality of the knives. I'm a little intimidated by how sharp they are, honestly – but they are really nice knives. I'm a bt surprised that they retail for $99.99. Plus, you can get them quite a bit cheaper tha that right now. On Amazon they are running a 20% off discount code, and a $15 off coupon is available. You can use these together, and the 20% off coupon comes off first, so your grand total after both discounts is $64.99 before taxes.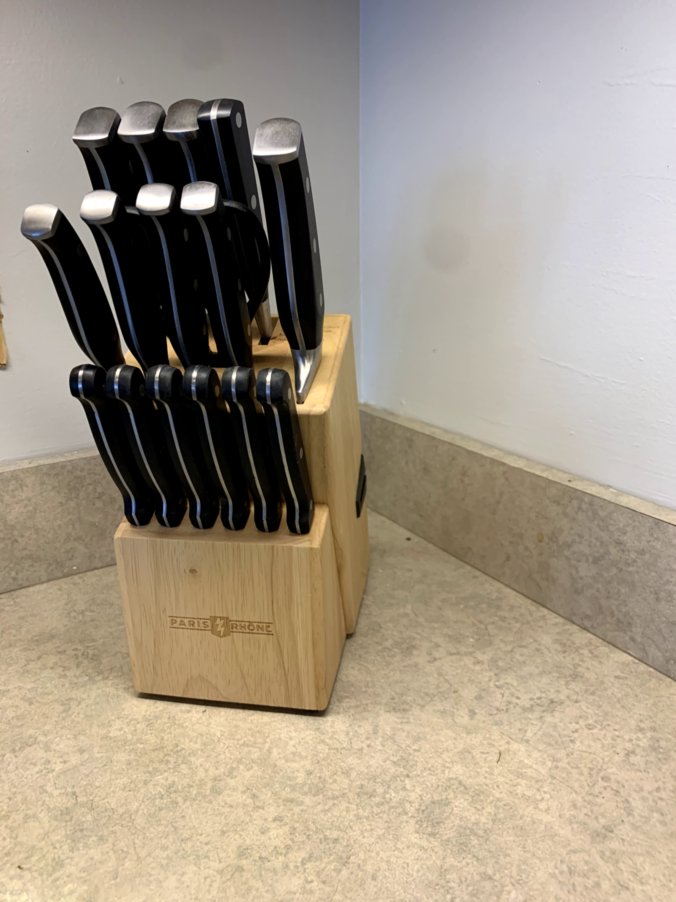 I also like how everything stores right in the block. We have a really tiny kitchen and very limited counter space. However, one area of counter space that we do have is behind our sink. Our kitchen sink is on the corner of where the stove and a counter come together, so this awkward triangle area of counter is available behind the sink. We can't really put appliances or most other 'useful' things back there because the sink would be in the way. It works just fine to put the knife block there, though. The side of the knife block has a sharpener built in, as well.
Buy it: You can purchase this set on Amazon.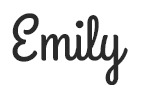 Hi there! I am Emily Evert, the owner of Emily Reviews. I am 28 and live in a small town in Michigan with my boyfriend Ryan and our two pugs. I have a large family and I adore my nieces and nephews. I love reading memoirs, and learning about child development and psychology. I love watching The Game of Thrones, Teen Mom, Sister Wives and Veep. I like listening to Jason Isbell, John Prine, and other alt-country or Americana music. I created Emily Reviews as a creative outlet to share my life and the products that I love with others.
This post currently has 8 responses.