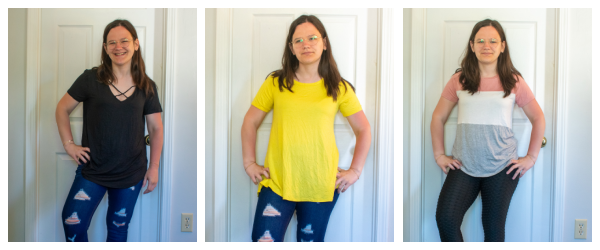 Nadine West sent me a clothing subscription bag for this review. All opinions are my own. There are affiliate links in this post.
Nadine West is a clothing subscription service for women. When you sign up you share your sizes, as well as some details, about how you like to dress. You can share with them which colors and patterns you do and don't like, which areas of your body you want to conceal, which tones of jewelry you like to wear and more.
The company uses the information you provide to select clothing and accessories that they think you will like. You're charged a shipping fee of a little under $10. Once your package arrives, you get to try on everything they sent you. The package will include a prepaid return shipping label, and a list of items in your bag and the cost of each.
You get to decide which item(s) you'd like to keep and which you don't. If you keep an item, the shipping fee that you paid is taken off the cost of the item. Meaning you don't really end up paying the shipping fee as long as you keep one item.
This time I was sent six items.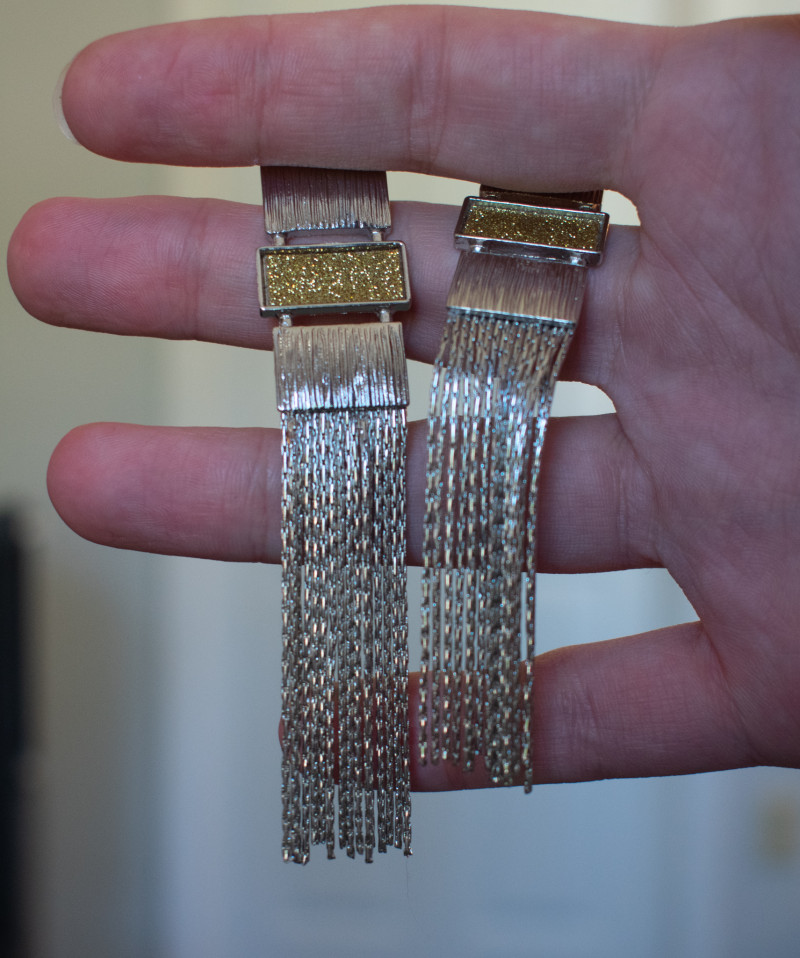 The first item, and only jewelry item this time, was these earrings. These are quite a bold look and they are very heavy. I am someone who likes dainty, subtle jewelry so these aren't for me. They cost $36.99 to keep.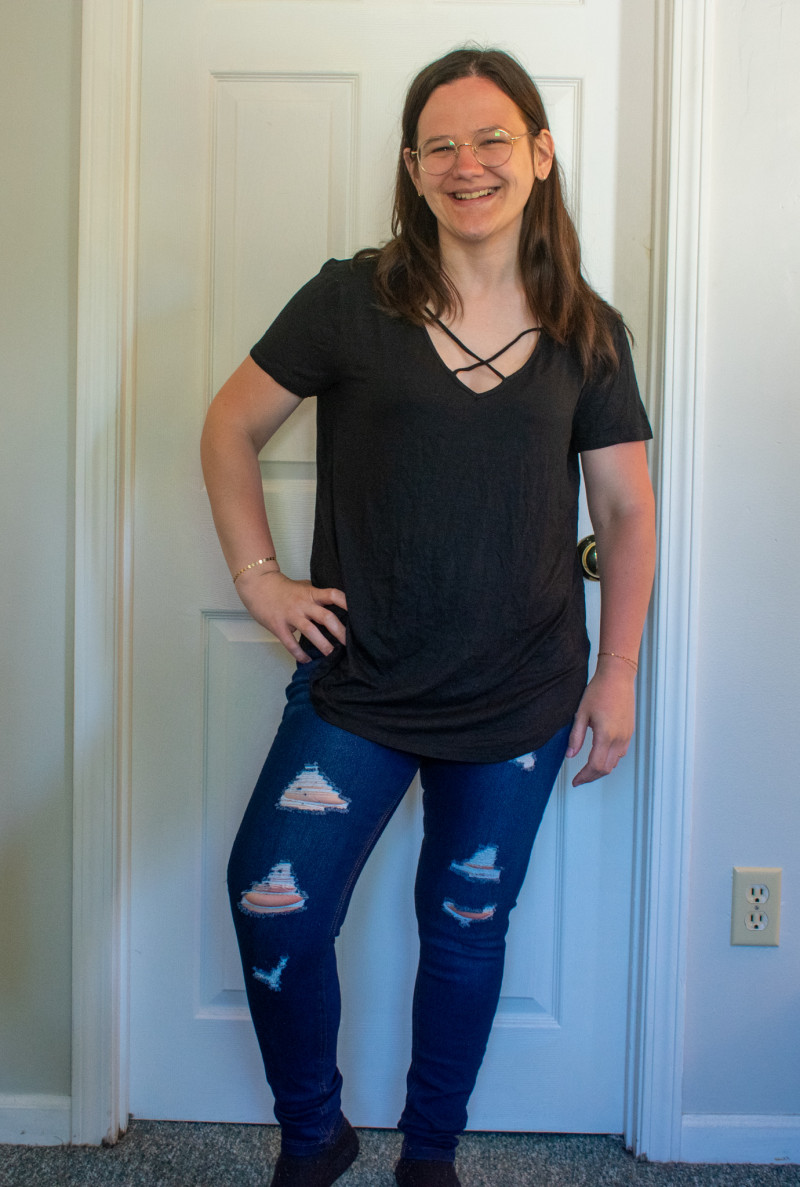 The top and bottoms I'm wearing here were both sent this shipment. I'll cover the pants in the next part though, as I show them with another top as well.
This top is 100% my style! I love basic tops that have a little bit of 'flare'. This plain black v-neck with criss-cross chest is something I'd pick out for myself. Definitely a keeper for me! It is $27.99.
The top and bottoms here were both sent this shipment.
I was excited about the shirt until I got it on. I'd gladly add a yellow feminine-fit t-shirt to my wardrobe…if it was of 'regular' length. This is more of a tunic length, it goes down past my butt in the back. I've just never been a fan of tunic length, so sadly I won't be keeping this one. It is $33.99.
The bottoms are a keeper, though! I love how Nadine West frequently sends me these jean-like leggings. These ones have real back and front pockets, but a stretchy waist (no zipper or button). They completely look like pants but they're super comfortable. I love them! They are $37.99.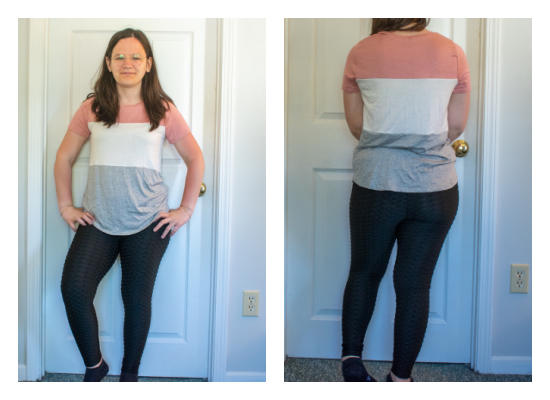 The top and bottoms here were both sent this shipment. This top is really cute, it's a pretty basic t-shirt style but I love the three blocks of color. All three are colors I enjoy wearing. I don't own any other tops that are color-blocked like this. It's a keeper for me. It is $27.99.
The bottoms here are some textured leggings. I bought a pair of leggings that are textured just like these back around Christmas. They are similar to a style of leggings that went viral on tiktok. These ones sent from Nadine West are a thinner material and the elastic on the backside seems weaker to me, too. Overall, I can feel that they are a bit cheaper than the other ones that I own. Still, they are comfortable and I like them so I'll be keeping them. I do feel they are overpriced for the quality at $27.99 though, to be honest.
Overall this was a great shipment! I decided to keep 4 of 6 items. Want to try the service yourself? Shop NadineWest.com
.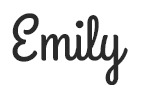 Hi there! I am Emily Evert, the owner of Emily Reviews. I am 28 and live in a small town in Michigan with my boyfriend Ryan and our two pugs. I have a large family and I adore my nieces and nephews. I love reading memoirs, and learning about child development and psychology. I love watching The Game of Thrones, Teen Mom, Sister Wives and Veep. I like listening to Jason Isbell, John Prine, and other alt-country or Americana music. I created Emily Reviews as a creative outlet to share my life and the products that I love with others.
This post currently has 2 responses.