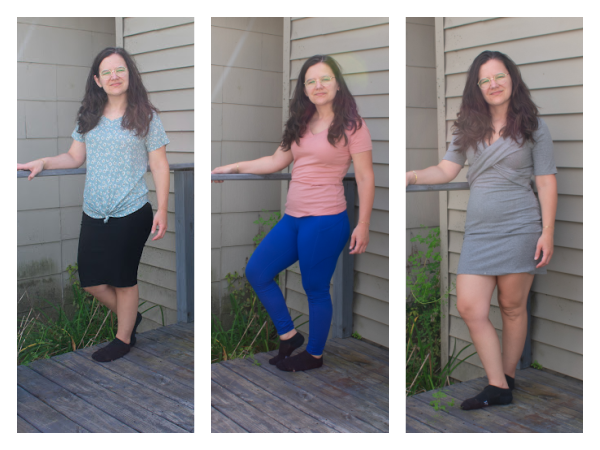 Nadine West sent me a clothing shipment for review. All opinions are my own.
Fall is officially here as of yesterday! In Michigan we bounce around a lot. We have some days that hit 80, and some days in the 50's. Tonight it's supposed to get down to 35! Sometimes it feels like we jump from summer to winter more so than having a 'real' fall. Anyway, fall is a weird season around here but it's here! I like fall/winter clothing better than summer clothing usually so I was excited to see what Nadine West sent me this time.
As a quick overview for those who aren't familiar with Nadine West, it's a clothing subscription service. You don't pick out what they send, instead you share your clothing sizes and some information about your style preferences. Then a stylist uses that information to send you clothing they hope you'll like. You get to check everything out at home, and mail back anything you don't want to keep and pay for. You're only charged for the items you choose to keep.
This shipment, I received 7 items.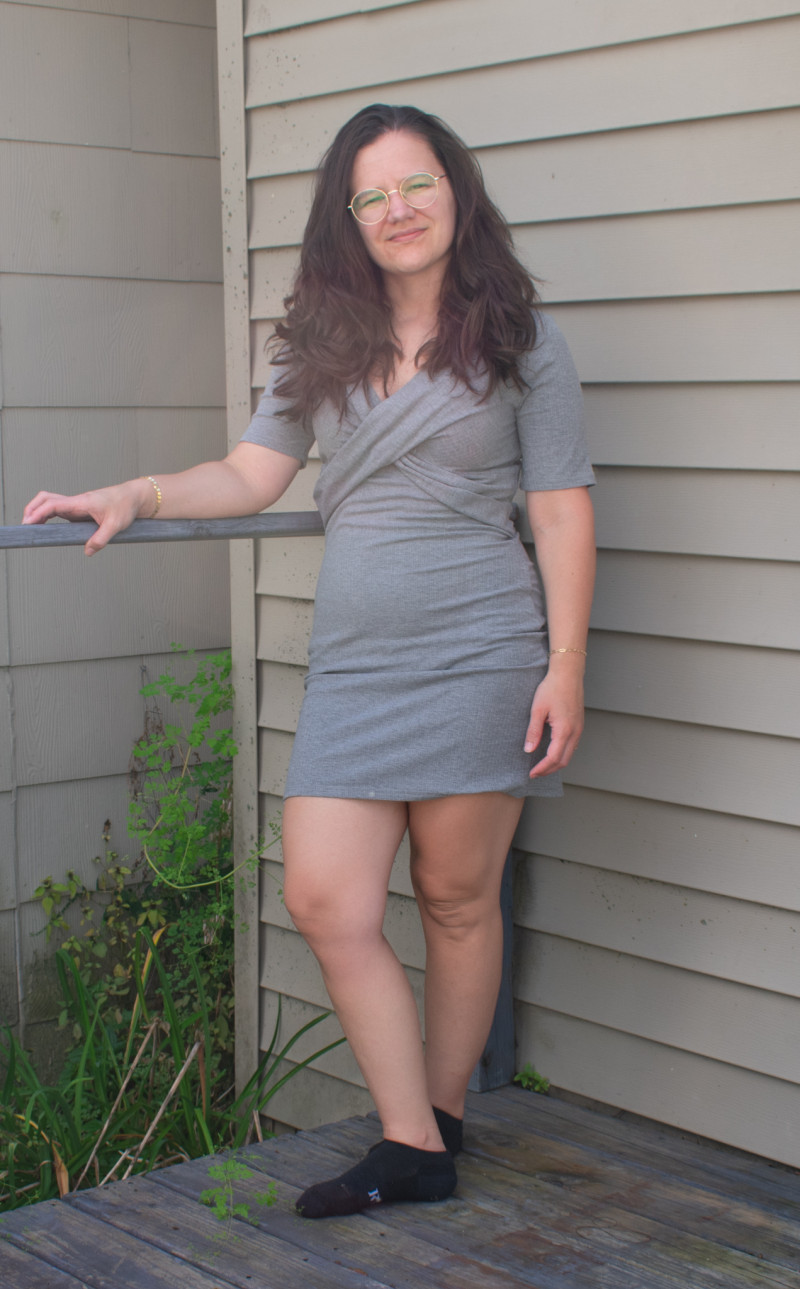 In many Nadine West posts in the past, I've talked about how I work from home and rarely have the need to dress up. When I do, it's usually for weddings or similar events. I don't have much use at all for business-type clothing. This dress strikes me as a businesssy dress, and I likely won't have many opportunities to wear it…but I like it enough that I kept it. I think it's a nice mix of flattering yet classy. It is really tight so it will look best with smoothing shapewear on but I like it a lot. This dress is $34.99 to keep.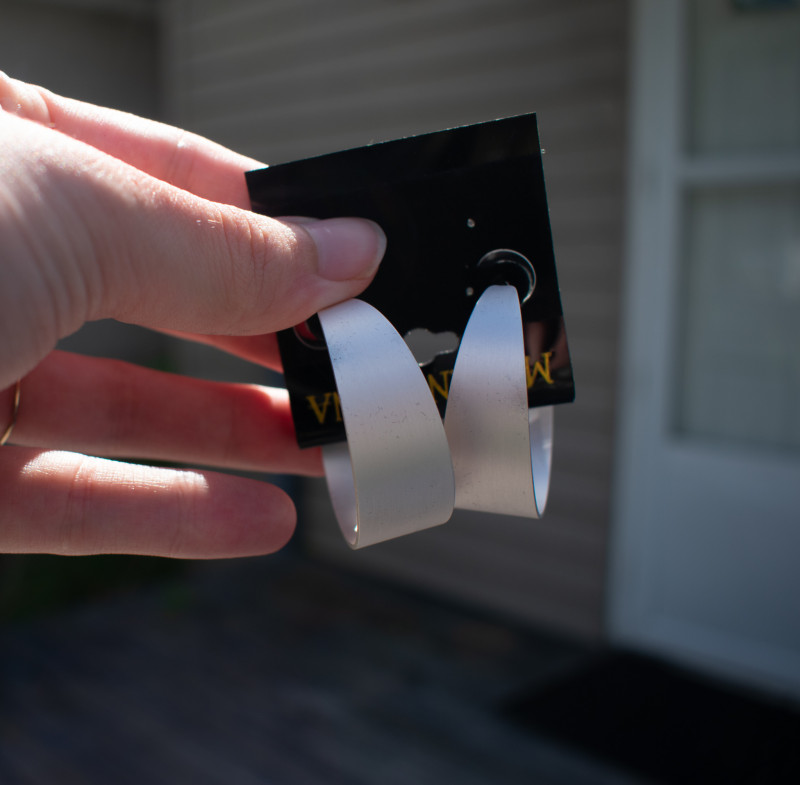 These earrings are simple yet pretty. These are pretty close to my style, but they're a bit big and heavy for my preference, so I decided against keeping them. These are $17.99 to keep.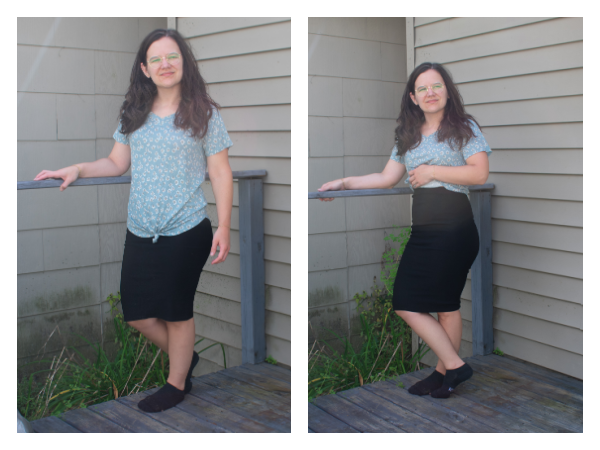 The skirt and top were both sent in this shipment.
The skirt is a really basic pencil skirt that is high waisted. I think it looks nice, I just know I wouldn't get much wear out of it so I decided against keeping it. It is $27.99 to keep.
The top is a really soft, thin, breathable material. I don't wear blue a lot, but I like the pattern and style of this top so I kept it. It has a daisy-like flower pattern all over. I also like how the bottom of the top has a knotted detail. The top is $33.99.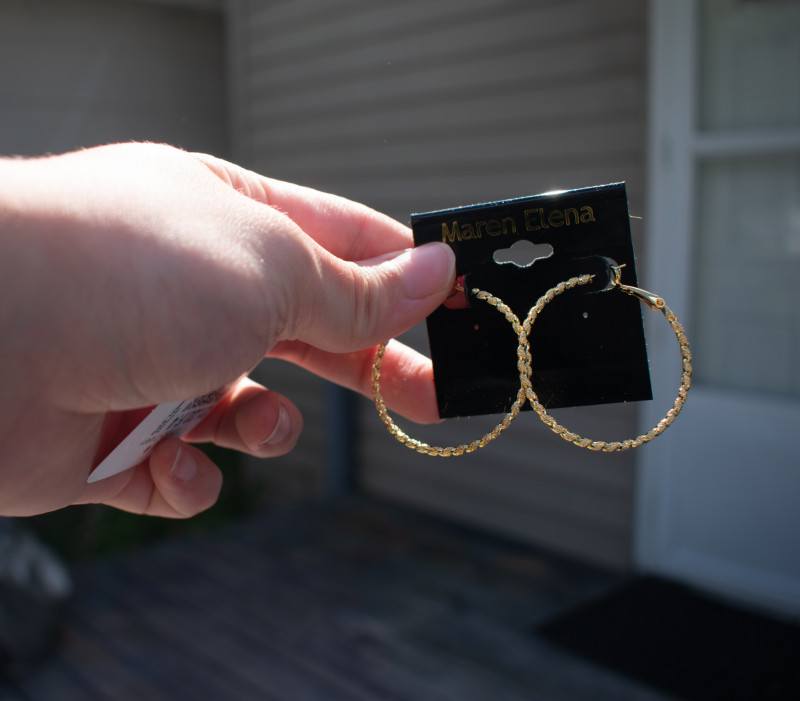 These hoop earrings are gold-toned and have a spiral type texture to them. I like hoop earrings on rare occasions when I dress up, but I think the texture of these is a bit unappealing to me. I can't see myself wearing these. I sometimes wish that more detail came with nadine west jewelry, in particular. These cost $34.99 to keep (the other earrings I was sent in this bag were $17.99). This leads me to wonder if these earrings are a higher quality material and that is why they are more expensive, but I don't have any way to find out, unfortunately.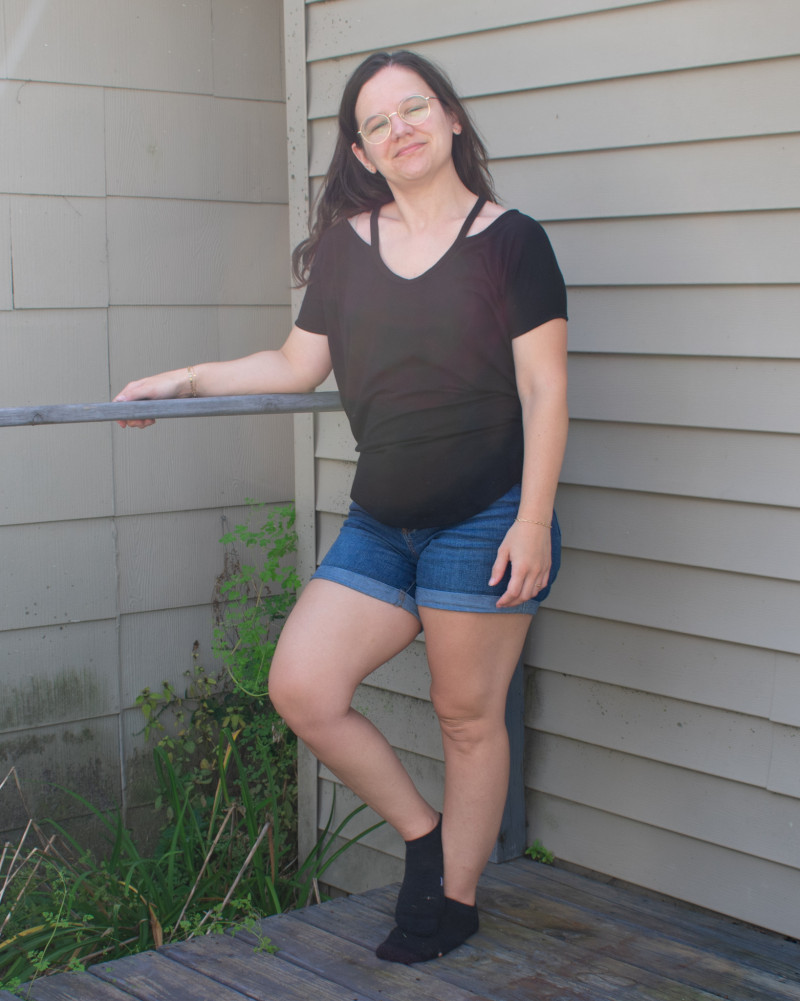 The shorts were previously owned by me, the top was sent to me by nadine west.
I often like "cold shoulder" tops, and I thought this top was an interesting twist on a cold shoulder style top. Rather than the cap of the shoulder being exposed, it exposes area a bit closer to your neck. I think this looks neat in a way, but the area that is exposed is where a bra strap would typically be. I've never really had luck with finding any bras I like that are strapless or that have a-typical strap types (like halters or other configurations). So for me, I know my bra straps would usually show when wearing this top which is why I didn't keep it. It's a little sad though because I do like it. It is $33.99.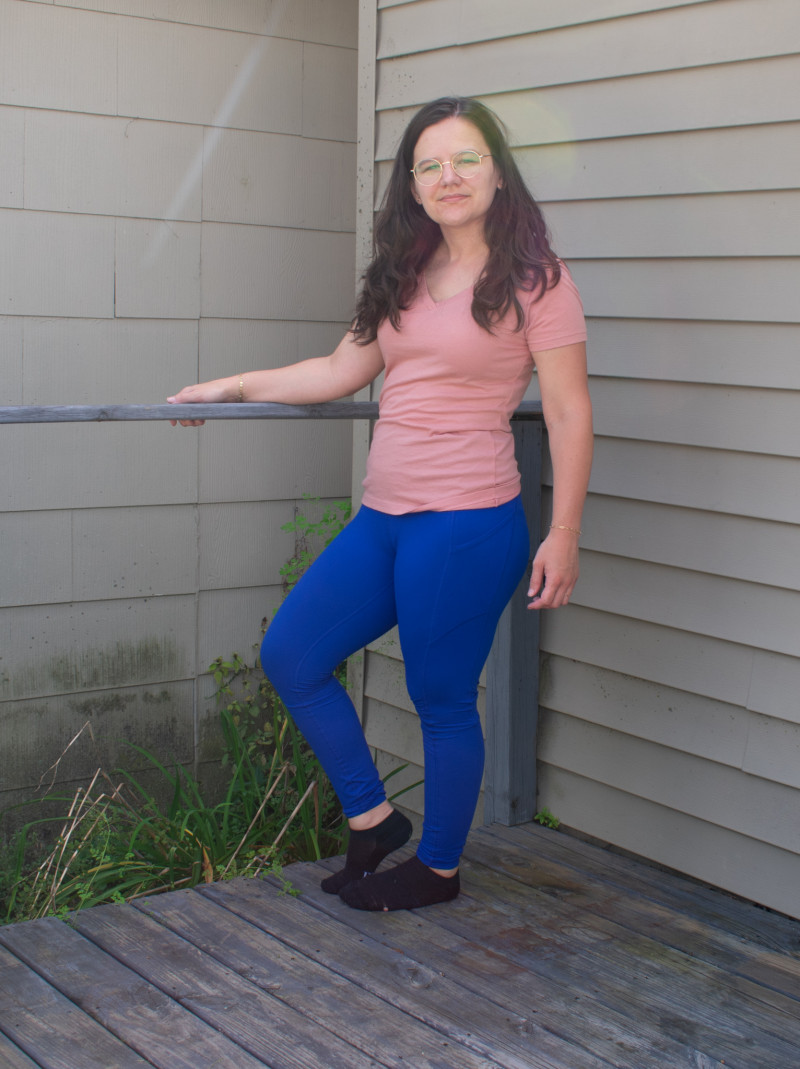 The top was previously owned by me, the leggings were sent from Nadine West.
These leggings are the "buttery soft" material that became popular through Lularoe. I dislike multi-level marketing companies, believe they are predatory. So, I refuse to purchase from Lularoe distributors but I do pick up Lularoe leggings second-hand sometimes because I do love the material. I'm also excited when I can find non-lularoe brand leggings that are the same material. So, I was excited to get these. I don't love the color, it's too bold/bright for me…but the material is so comfy that I kept them. I won't wear them outside of the house but they're the comfiest material ever for wearing to bed. These are $33.99.
Overall this was a good shipment for me. I kept the dress, the leggings and one of the tops. Let me know in the comments what your thoughts on these items are!
Take Your Style Quiz Today at NadineWest.com and See How Our Stylist Can Help You Stay On Trend this Fall Season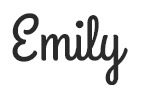 Hi there! I am Emily Evert, the owner of Emily Reviews. I am 28 and live in a small town in Michigan with my boyfriend Ryan and our two pugs. I have a large family and I adore my nieces and nephews. I love reading memoirs, and learning about child development and psychology. I love watching The Game of Thrones, Teen Mom, Sister Wives and Veep. I like listening to Jason Isbell, John Prine, and other alt-country or Americana music. I created Emily Reviews as a creative outlet to share my life and the products that I love with others.
This post currently has 5 responses.