Nadine West sends me clothing subscription bags for review. There are affiliate links in this post. All opinions are my own.
Nadine West offers a unique subscription service tailored to women's clothing and fashion. Upon signing up, you provide your clothing sizes and style preferences, such as your affinity for scarves or sunglasses, preferred jewelry tones, colors, patterns, and more.
Every month or every other month, depending on your preference, a skilled Nadine West stylist curates a collection of clothing and accessories specifically for you. The items are carefully chosen with the hope that you will find them appealing. To initiate the process, you pay a nominal shipping fee of just under $10. Along with your shipment, you receive a prepaid mailing label and a detailed list of the products included, along with their respective prices.
Once you receive the package, you have the convenience of trying everything on in the comfort of your own home. It's entirely up to you to decide which items you wish to keep and pay for, and which items you would like to return. If you decide to keep at least one item, the shipping fee you paid will be deducted from the cost of that item. For instance, if you choose to keep a $20 item, you would only be charged an additional $10 (approximately).
It's important to note that you have a limited timeframe between the arrival of your shipment and the deadline for making your decisions. Therefore, prompt returns of any unwanted items are essential. Once you have made your choices, visit the Nadine West website to rate and review the items you received. This feedback is valuable to your stylist, as it allows them to understand your preferences and dislikes from your previous shipment, enabling them to customize your subsequent package more effectively.
Review of Bag #1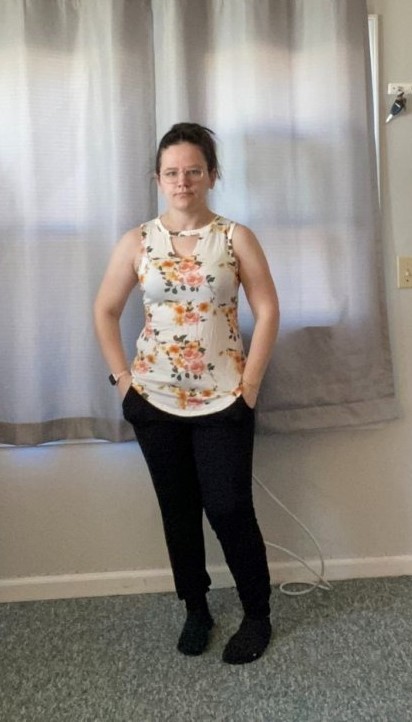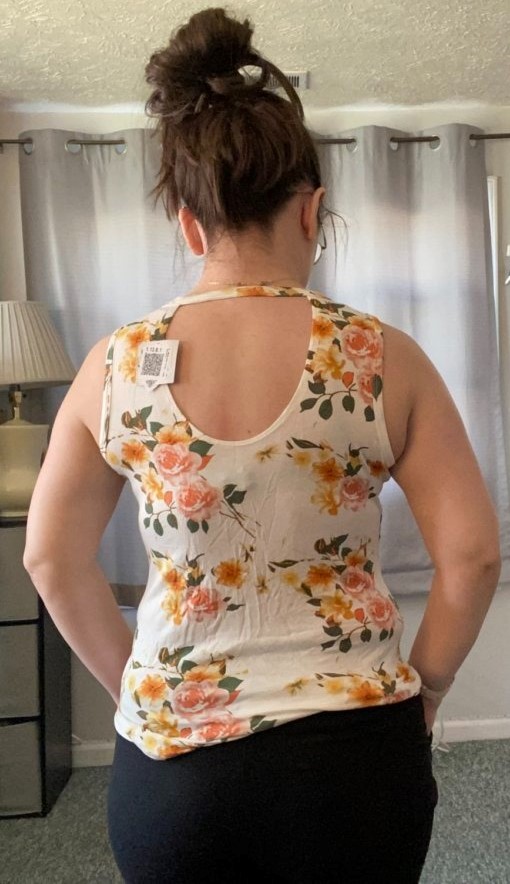 The top and bottoms shown here were both sent in this shipment.
I don't really love wearing sleeveless tops currently, but I really like the print and colors in this top as well as the overall style. I love how the back has a cut-out in it, yet it can still be worn with most bras without any of the bra showing. I kept this one, it is $27.99.
The bottoms are solid black "buttery soft" jogger style leggings. I absolutely love this fabric, and you can't really go wrong with solid leggings so I kept these too! These are $33.99, which I thought was a little overpriced for these, though I do really like them.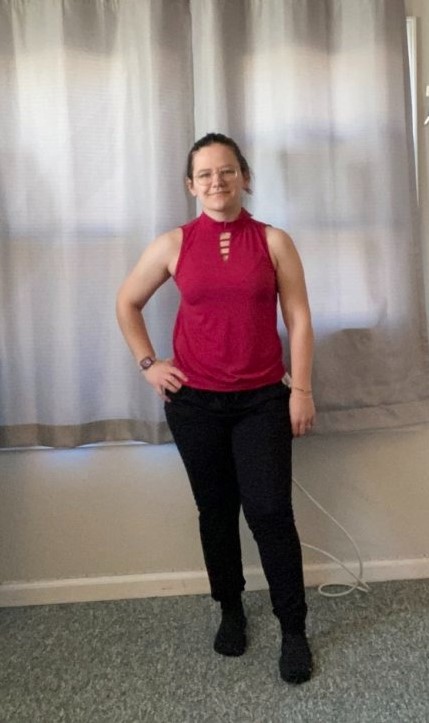 This top was really soft, and pretty cute. It has a button-up neckline though which is almost impossible to put on by yourself. Once tightened, it makes the neck pretty snug, sort of like a collar which caused a sensory aversion for me. Not quite my style, but close! This costs $29.99 to keep.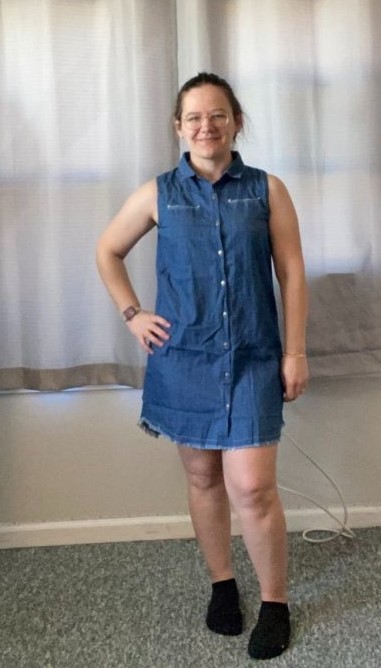 I am someone who only likes jean-like materials in actual jeans or shorts, so this dress is definitely not my style. Still, it's pretty unique from anything else Nadine West sent me so I do like that they send a variety at times. This is $34.99 to keep.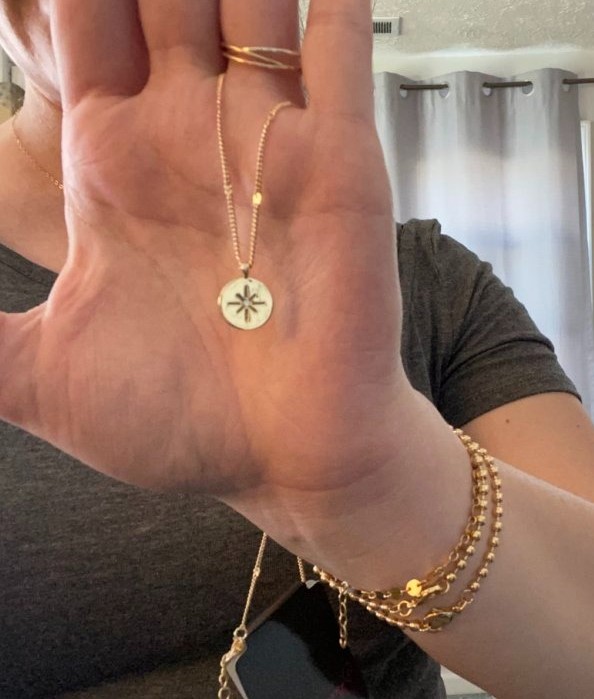 This little necklace is cute, the symbol on it just isn't something that is meaningful enough for me personally for me to want to wear it. It is $34.99 to keep.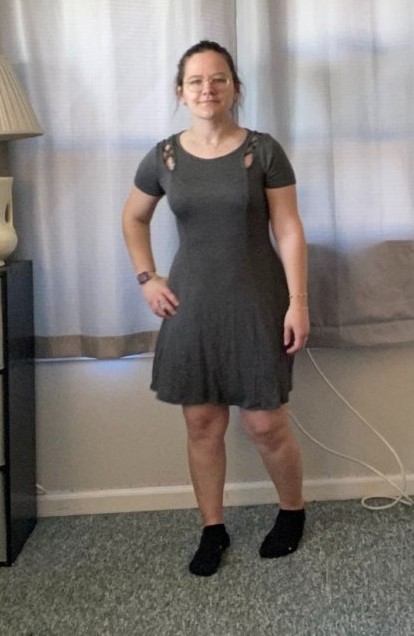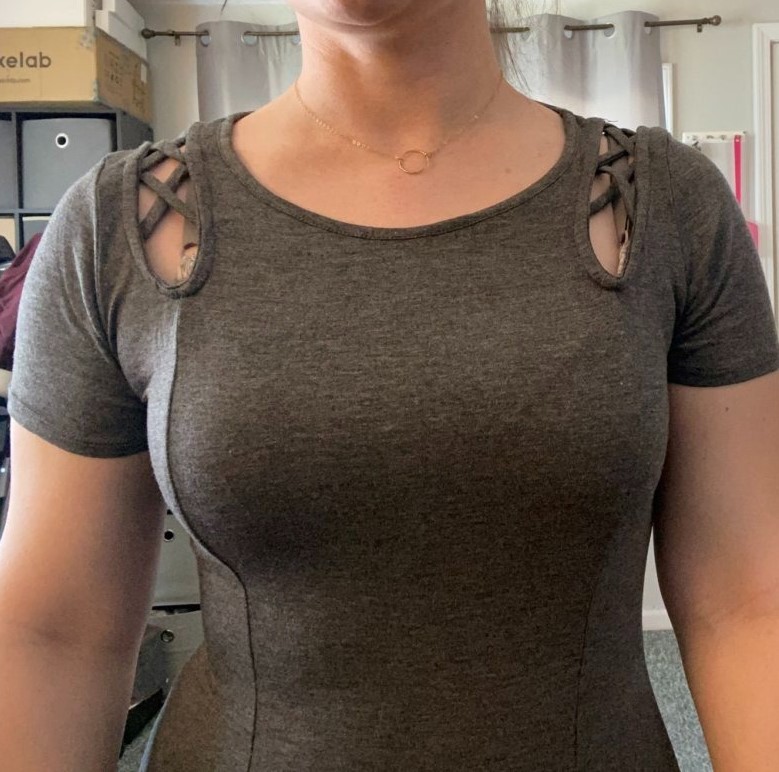 I briefly considered keeping this dress. I like how the top portion is fitted to the chest and natural waist. I think the shoulder detail is interesting, too. Ultimately, I just wasn't sure it was quite my style, though I somewhat liked it. It was a neat one to get to try on! It is $35.99 to keep.
I kept 2 of the 6 items in this shipment, and only one was a really strong NO for me, so this was a pretty good shipment.
Bag #2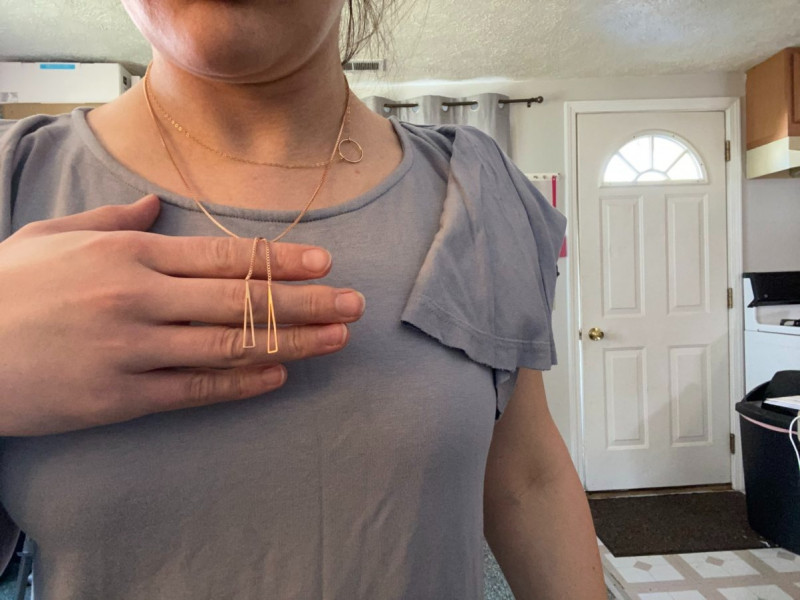 This simple necklace is quite pretty, just not quite my style so I opted not to keep it. It is $34.99 to keep.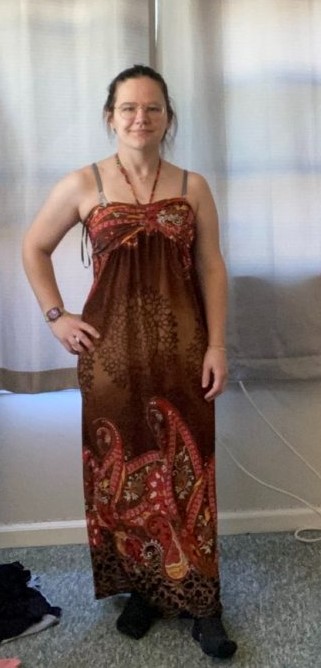 This was an interesting one for me to try on. I never have worn full length dresses. As someone who is short, I've just always stuck to short dresses. The particular pattern of this one isn't my style, but I did sort of like how this looked on me style-wise. Maybe I should give long dresses a try in the future! It is $34.99 to keep.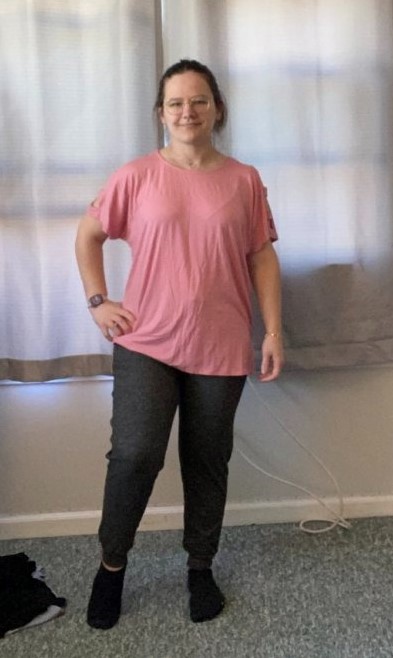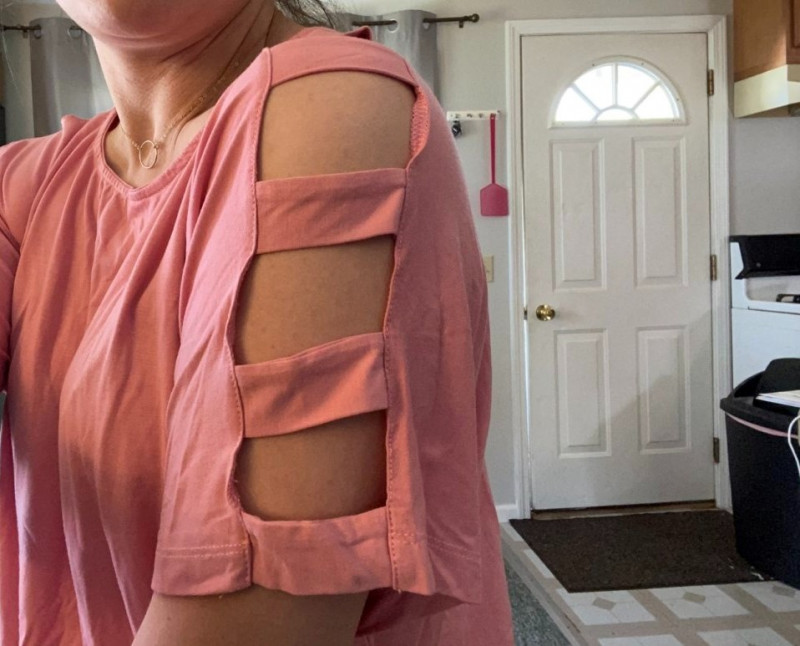 I love wearing pink, and I like the cute shoulder detail on this top. I just wish it was a bit more fitted through the torso area. I don't like the oversized look, so I opted to pass on this one. It is $33.99 to keep.
These bottoms are sweatpants like joggers. I was a bit surprised to get these this time of year, but they are comfy and cozy so they are something I chose to keep. They are $36.16 which does feel a bit pricy for some pretty simple sweatpants.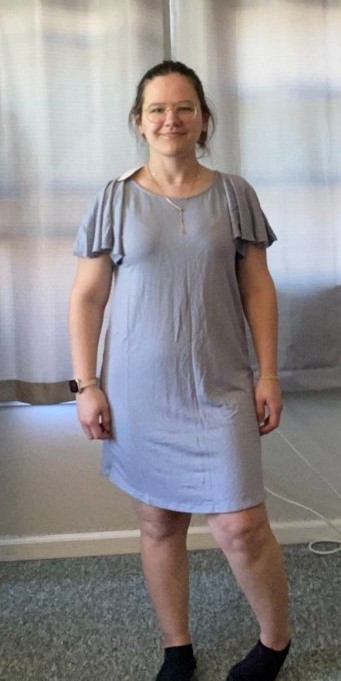 This dress is thin and light, ideal for summer weather. The sleeves don't really appeal to me, and blue isn't one of my preferred colors to wear so I opted to pass on keeping this. It is $34.99 to keep.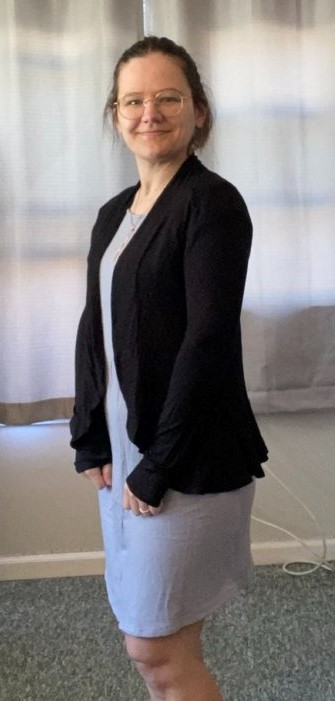 This cardigan paired pretty well with this dress, I thought! I am that kind of millennial who loves a cardigan still. This one has a bit of a ruffed edge along the bottom. It stays open rather than having buttons. I will get lots of wear out of this during the fall and winter. It is $37.99 to keep.
I kept 2 of the 6 items that were sent in this bag, which I consider to be pretty good!
I was happy with both bags that I was sent this time.
If you'd like to see what a Nadine West stylist would send you, head to NadineWest.com
to take the style quiz today!
Hi there! I am Emily Evert, the owner of Emily Reviews. I am 28 and live in a small town in Michigan with my boyfriend Ryan and our two pugs. I have a large family and I adore my nieces and nephews. I love reading memoirs, and learning about child development and psychology. I love watching The Game of Thrones, Teen Mom, Sister Wives and Veep. I like listening to Jason Isbell, John Prine, and other alt-country or Americana music. I created Emily Reviews as a creative outlet to share my life and the products that I love with others.
This post currently has 8 responses.