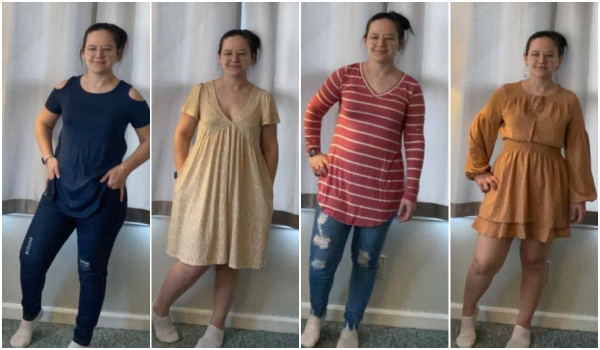 Nadine West sent me clothing bags for review. All opinions are my own. There are affiliate links in this post.
Nadine West is a fashion and clothing subscription service that caters exclusively to women. Upon signing up, you will be asked to provide your clothing size and styling preferences, including your color and pattern preferences, as well as your affinity for accessories such as scarves and sunglasses.
On a monthly or bi-monthly basis, a Nadine West stylist will curate a collection of clothing and accessories based on your preferences and send them to you. The shipment will include a prepaid mailing label and a list of the products with their respective costs. You will be required to pay a shipping fee upfront, which is just under $10.
Once you receive the shipment, you can try on the items at home and decide which ones you want to keep and which ones you want to return. If you choose to keep at least one item, the shipping fee will be deducted from the cost of that item. For instance, if you keep a $20 item, you will be charged around $10 for it.
You will have a few days to make your decision, so it's crucial to return any unwanted items promptly. After selecting the items you wish to keep, head to the Nadine West website to rate and review the products you received. Your stylist will use this information to personalize your next shipment to better match your style preferences.
I'm going to be sharing a review of two bags in this review. The first bag contained six items.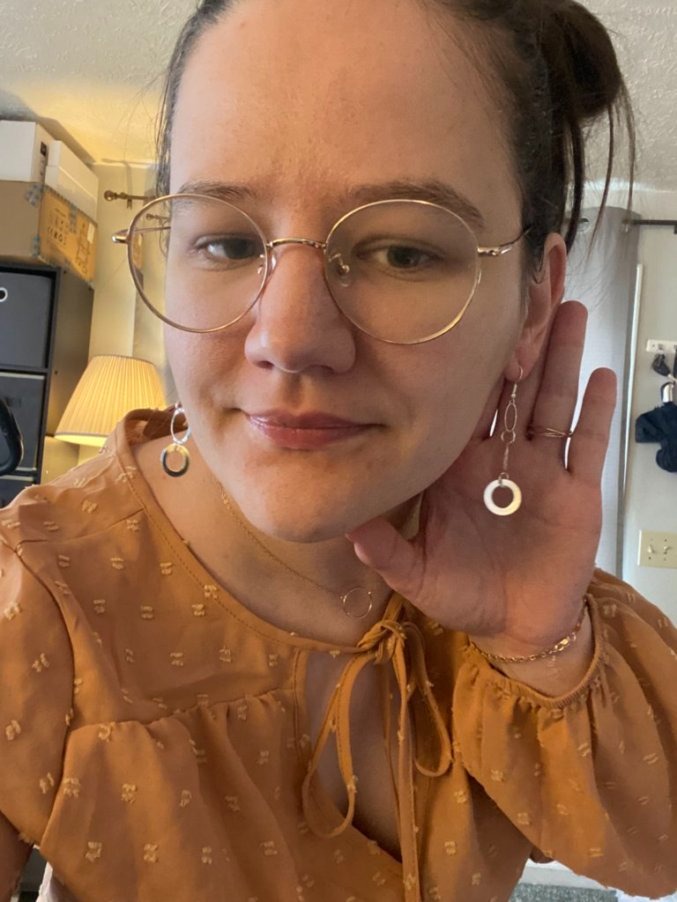 These earrings are simple silver-toned dangle earrings. I like to wear long earrings when dressing up sometimes, but I don't like earrings that are too heavy or large. These are a great size for me. I'll keep these for special occasions. They are $17.99.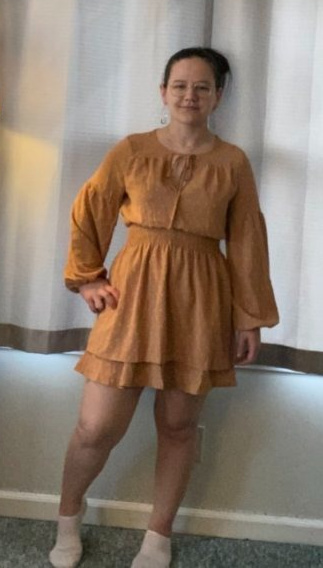 This dress isn't one that I would likely have picked up to try on if I had seen it in a clothing store. Yet, once I got it on – I really liked it! I thought it works well for my body type. The material is really light and thin so even though ti has long sleeves I think it'll feel comfortable to wear in the summer. I opted to keep his. It is $34.99.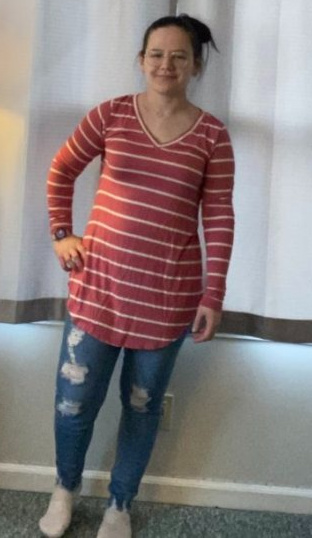 The bottoms shown here were previously owned by me though I did receive them in a past nadine west bag. The top was new this shipment. I like simple v-neck tops, and the colors of this work for me, but I don't care for the length. It comes up shorter on the sides but is really long in the front and the back which I don't care for. This top is $27.99.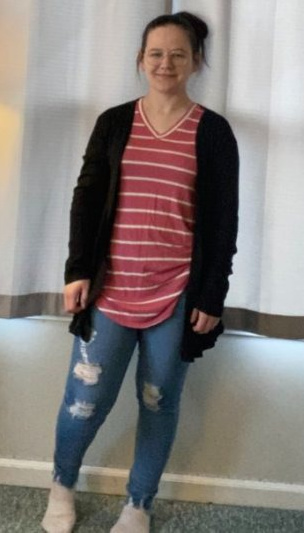 They also sent this cardigan. I love cardigans, and this one is a relaxed fit that will work great over almost any of the top that I own. It's hard to go wrong with a basic black cardigan if you ask me! This is a keeper for me. It is $37.99.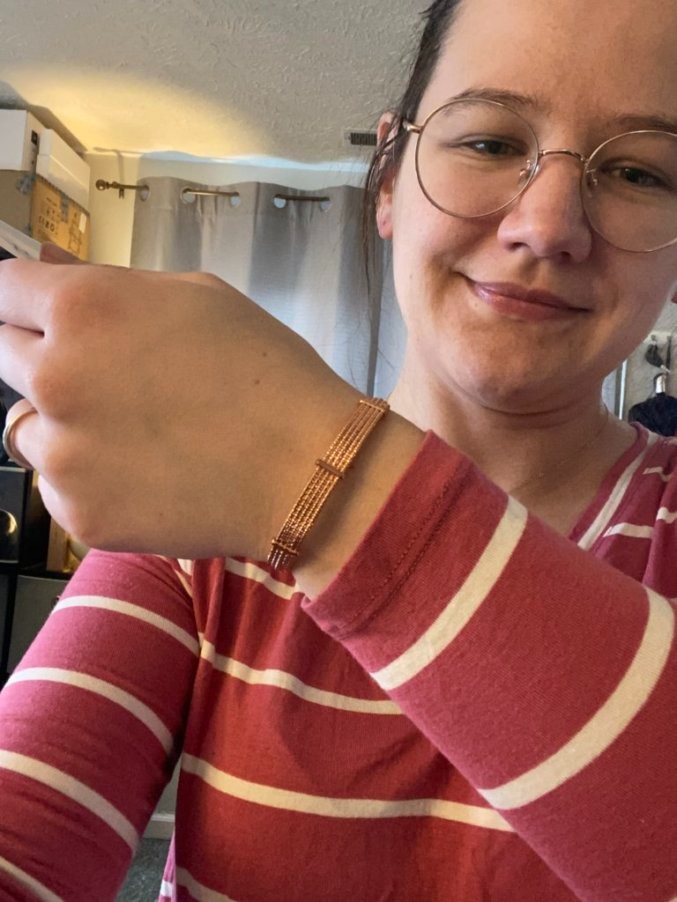 This bracelet was the second jewelry item included. It is firm all the way around, a cuff style bracelet. I don't really wear bracelets outside of chain style ones. I decided to pass on this. It is $17.99.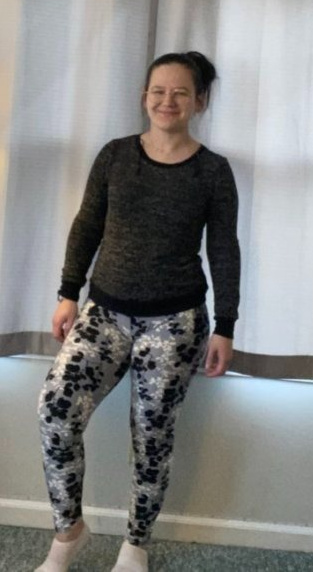 The final item included this shiment was these leggings. They are similar material to what lularoe uses. I love the "buttery soft" fabric. The print on these is a little bit loud, but I love the material so much that I decided to keep them. I just love leggings in this super stretchy, super comfy material! These are $27.99.
Overall, this was a pretty good shipment for me. I kept the leggings, dress, cardigan and earrings. I think my favorite item was the dress because it's something I wouldn't usually think to try on myself. I like when Nadine West sends me items that help me expand my typical wardrobe a little bit!
Bag #2
The second bag included six items.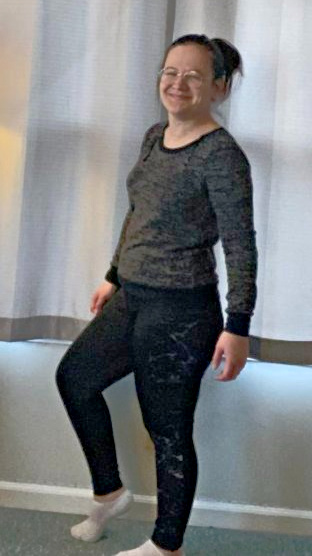 First is these leggings. I've talked before about how I sometimes get leggings or other bottoms from Nadine West that feel like a cheap, rough material that reminds me of cheap Halloween costumes. These leggings are that material. I never keep items that are this material because the texture just causes me sensory aversions. These are $27.99 to keep.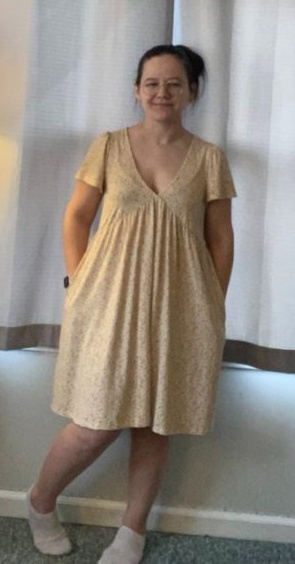 This dress is a really cute floral print that really appeals to me. The style of the dress isn't flattering on me, in my opinion. It reminds me of the house dresses that grandmas used to wear. It's such a bummer when I see a cute fabric and unroll it to find that it's not in a style of top or dress that I would wear. It does have pockets, which is a bonus. I just stick with dresses that have a more fitted style to them especially through the waist. This dress is $40.99 to keep.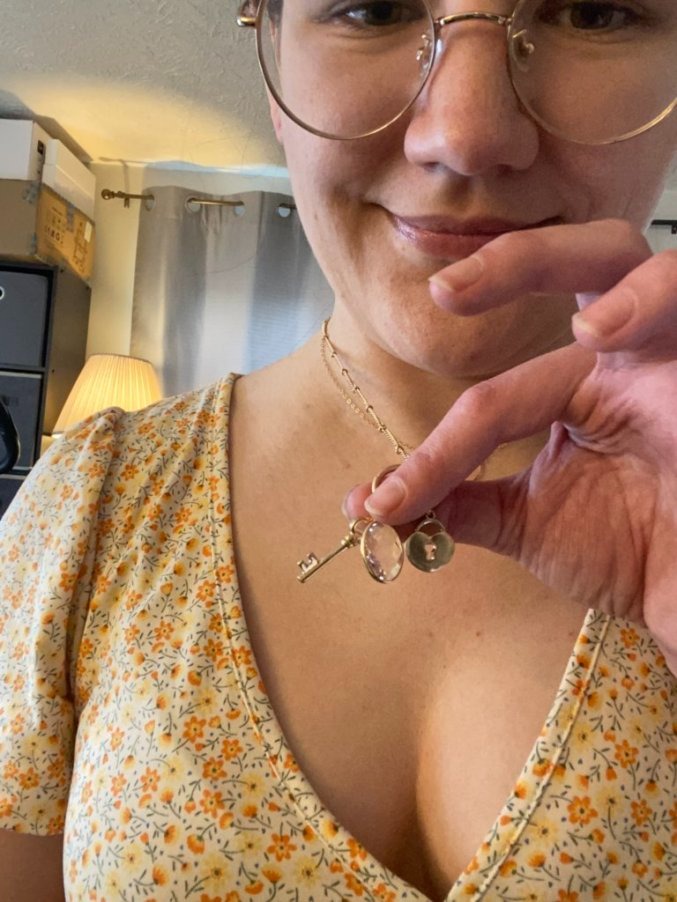 This photo shows the pattern of the dress up close! But I'm mostly showing this picture to show the necklace that was sent. It includes a key, a heart with a keyhole in it, and a light pink gem. I think this necklace is cute, but it's not something I'd get much wear out of personally. It is $39.99.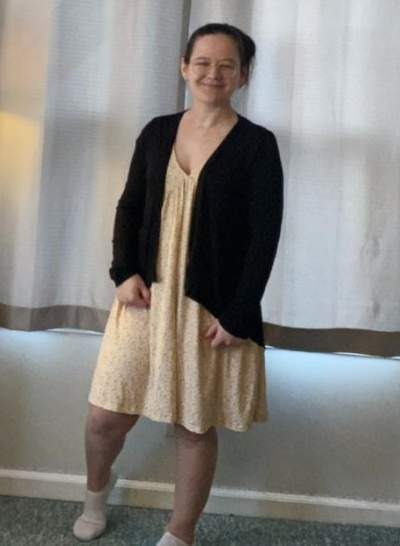 I was also sent a simple black cardigan. It feels well made and I can see myself getting lots of wear out of it, so I will keep it. It is $39.99.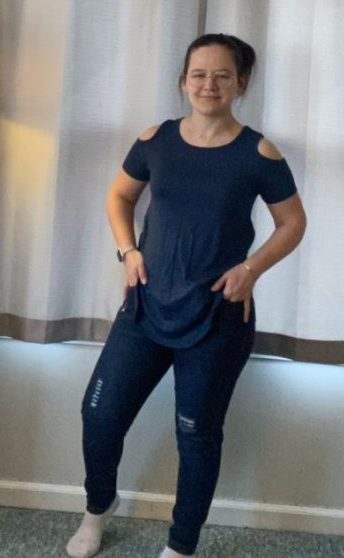 The top and bottom were both sent this month. I like the top a little bit, but I don't wear blue a lot. I may have considered keeping it if it was just in a different color. It is quite thin and it's a material that is really prone to wrinkling so it needs to be hung, not folded. Due to that, I may have passed on it even if it had been in a color I like better. I also feel it's a bit overpriced for how simple the top is. It is $33.99.
The bottoms were also sent this shipment. In a picture, these look quite a bit like the leggings/jeggings that I'm often sent from Nadine West. They look like jeans but are leggings. However, when I tried these on, I could tell they were from a different brand than most of the other jeggings that Nadine West has sent me. The material of these is really thin and stiff, making them less comfortable and less sturdy feeling than the other leggings they've sent me in the past. They are priced at $37.99 and I don't feel like the quality matches that price.
From this second bag, I only kept the cardigan. This wasn't such a good bag for me, but that's part of the experience of being sent surprise items! Sometimes they knock it out of the park, and other shipments send me more items that I choose not to keep than items I choose to keep. Overall, I feel like I get more bags that are a good match for me than ones that aren't.
If you want to try out Nadine West, now is a great time. They've offered an exclusive discount code for my readers! Now through June 30th 2023 use the code EMILY25 to get free shipping on your first Nadine West bag, plus 25% off anything you decide to keep!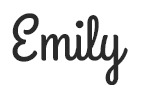 Hi there! I am Emily Evert, the owner of Emily Reviews. I am 28 and live in a small town in Michigan with my boyfriend Ryan and our two pugs. I have a large family and I adore my nieces and nephews. I love reading memoirs, and learning about child development and psychology. I love watching The Game of Thrones, Teen Mom, Sister Wives and Veep. I like listening to Jason Isbell, John Prine, and other alt-country or Americana music. I created Emily Reviews as a creative outlet to share my life and the products that I love with others.
This post currently has 5 responses.