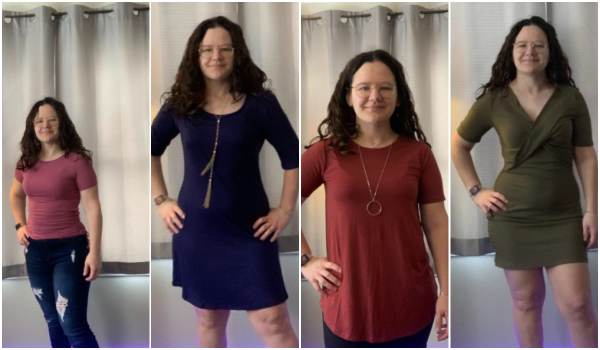 Nadine West sent me clothing bags for review. All opinions are my own. There are affiliate links in this post.
Nadine West
is a women's fashion and clothing subscription service that caters to your individual styling preferences. During sign-up, you'll be prompted to provide your clothing size, color and pattern preferences, and interest in accessories like sunglasses and scarves.
Every month, a stylist from Nadine West will handpick a collection of clothing and accessories that match your preferences and ship them to you. You'll receive a prepaid mailing label and a list of the items along with their costs. A small shipping fee of just under $10 will be required upfront.
Once you receive your shipment, you can try on the items in the comfort of your home and decide which ones you'd like to keep and which ones to return. If you decide to keep at least one item, the shipping fee will be deducted from the cost of that item, for example, if you keep an item priced at $20, you'll only be charged around $10.
It's essential to make your decision promptly, as you'll have only a few days to do so. Once you've decided, head to the Nadine West website to rate and review the items you received. Your stylist will use this information to customize your next shipment to better match your style preferences.
In this post I'm going to review TWO bags that I received, a few weeks apart. The first bag included six items.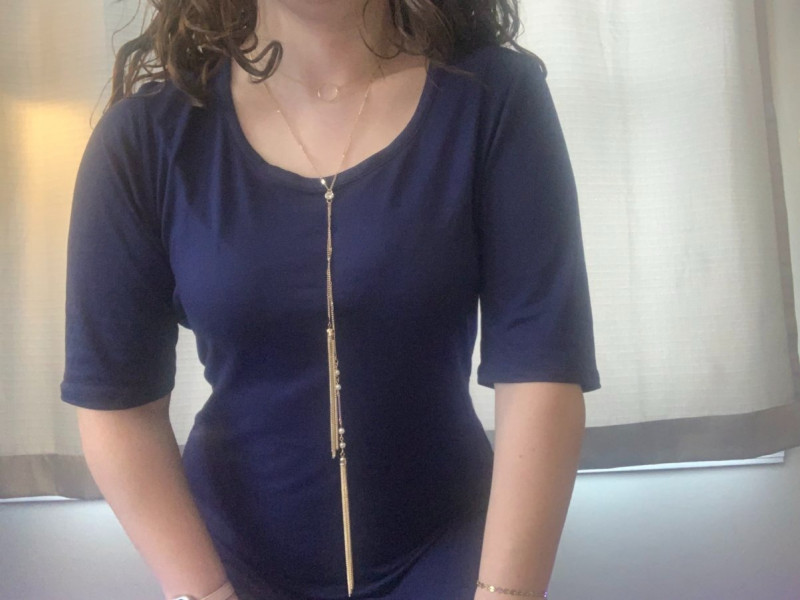 The first item is this necklace. It's sort of bolero style, with two really long pieces. This isn't my style so I decided to pass on keeping it. It is $39.99 to keep.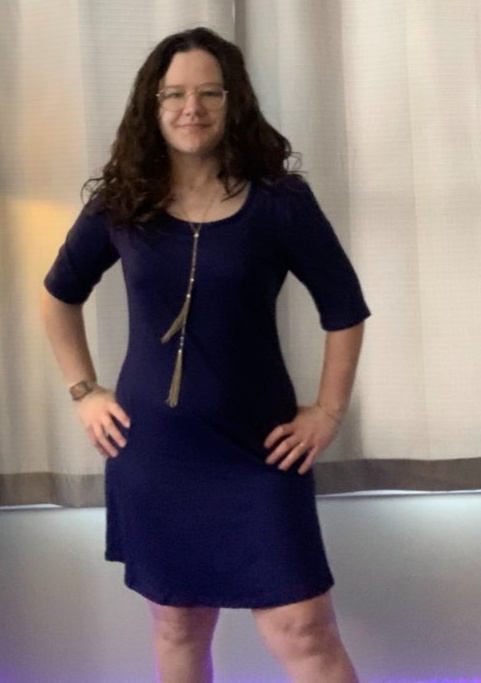 The next item was this dress. It looks like a t-shirt style but it's a bit more fitted than many t-shirt dreses. It is a nice, soft material that is really comfortable to wear. It does cling a bit to the body so I decided to pass on it, as I'd only feel comfortable wearing it with shapewear which I wouldn't really want to do with a casual dress. It is $36.99 to keep, which feels a bit overpriced to me for a really basic dress.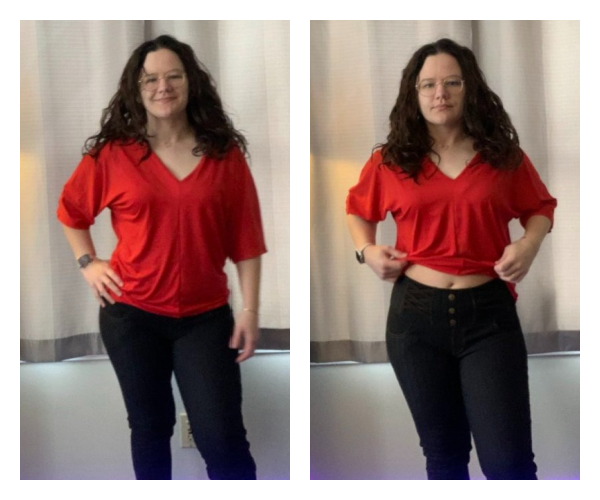 The top and bottoms shown here were both sent this shipment. The bottoms have a jean-like ook with multiple fake buttons and real pockets. I would have kept these if I was in need of jeggings, but I have a ton so I opted to pass on these. They fit nice, are comfortable and seem to be decent quality. These are priced at $39.99 which I feel is a lot for legging material.
I came close to deciding to keep this top. It's a nice, soft fabric, I like the style for the most part, but I am not a huge fan of bright red, or of the seam that runs right down the center of the shirt. I know it's intentional but it's just not my favorite look. I probably would have kept this if it was in a different color. It is $27.99.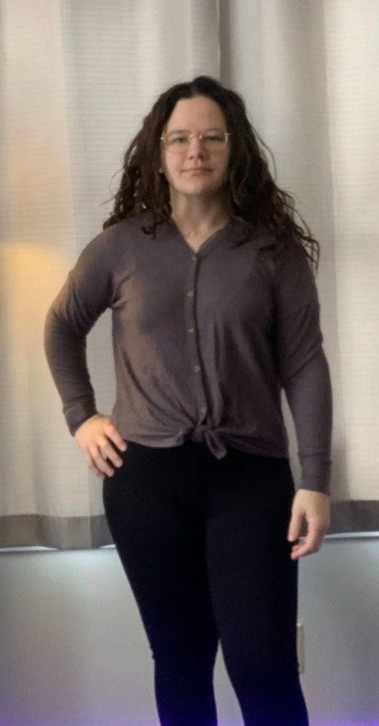 The top and bottoms here were both sent this shipment as well. The bottoms are leggings that look and feel like dress slacks. They have an elastic waist, but a firm fabric and feel. I don't really ever wear dress pants so I decided to pass on these. They are $39.99 to keep. The pants don't seem to be poor quality to me, but they don't feel particularly well made either so I was a bit surprised to see the price point.
This top was my favorite item from this shipment! It's thin but really fuzzy like a thin sweater. Gray is one of my favorite colors to wear, and I thought the tie at the bottom was really cute. This is priced at $37.99.
Overall, this wasn't the best shipment for me as I only kept 1 item. However, even when I just find one item to keep, I'm still pretty happy with the overall service as you aren't really out anything as long as you keep 1 item.
Bag #2
The second bag also included six items.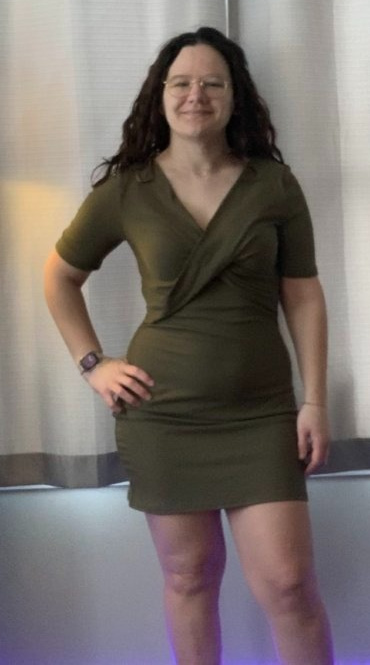 The first item was this dress. I was sent this exact dress but in gray in a previous Nadine West bag. I really like the style of this, it just isn't super flattering on me at my current size. I am in the process of working to lose weight though so I'm keeping this so I can enjoy it someday. I really like the style because it's really comfy while looking a bit professional. It is $34.99 to keep.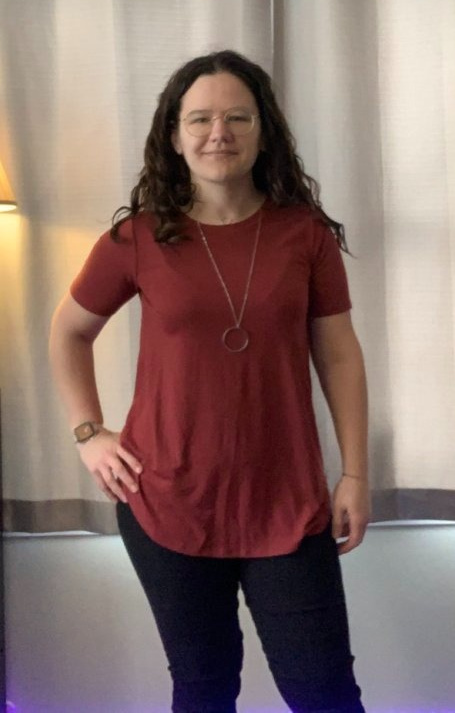 The top, bottom and necklace shown here were all sent in this shipment.
the bottoms are a really plain legging-type bottoms, but they are a bit stiff. These could pass as dress pants or black jeans from a distance. They aren't very comfortable of a material so they were a pass for me. They are $32.99 to keep.
The necklace has an extra long chain and a simple circular pendant. I like this necklace but I likely wouldn't get much wear out of it. I tend to primarily wear jewelry that is more subtle and can be worn 24/7. So I decided not to keep it. It is $39.99 to keep.
The top is a pretty basic one, and I would keep if it weren't for the length. These tunic-length or hi-low type tops feel outdated to me now, but even when they were more 'in', I just didn't care for the style. I am 5'1″ so I feel like longer tops make me look extra short. The top is $33.99 which feels a bit pricy for such a basic top.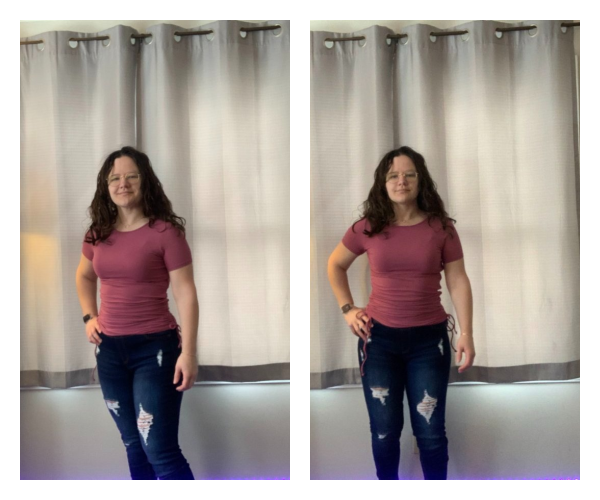 The top and bottoms shown here were the last two items sent in this shipment. The bottoms are a jean-look legging and they feel well made. I own lots of really similar jeggings from Nadine West and I love them! I just have so many of them now that I don't really need more, so I'll be passing on these. They are $37.99 to keep.
The top is a cute style, with rouched sides that you can adjust and tie at each hip. The top is form fitting throughout. I like this style, but am not very comfortable wearing clothing this snug at my current weight. I plan to keep this in hopes of being able to feel better wearing it once I lose more weight. It is $27.99 to keep.
This second bag included two items that I decided to keep, the dress and the top.
In these two bags, I only kept 3 items total which is a bit rare for me but I don't need to decide to keep many items from these bags for it to be a fun and worthwhile experience.
If you'd like to try out Nadine West
, you can take a style quiz today. You can use the discount code EMILY25 to get free shipping on your first order, plus 25$ off if you decide to keep everything you're sent.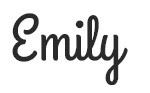 Hi there! I am Emily Evert, the owner of Emily Reviews. I am 28 and live in a small town in Michigan with my boyfriend Ryan and our two pugs. I have a large family and I adore my nieces and nephews. I love reading memoirs, and learning about child development and psychology. I love watching The Game of Thrones, Teen Mom, Sister Wives and Veep. I like listening to Jason Isbell, John Prine, and other alt-country or Americana music. I created Emily Reviews as a creative outlet to share my life and the products that I love with others.
This post currently has 4 responses.