Nadine West sent me clothing subscription bags for review. There are affiliate links in this post. All opinions are my own.
Nadine West presents a distinctive subscription service catered to women's clothing and fashion preferences. When you join, you provide your clothing sizes and style preferences, including your interests in scarves, sunglasses, jewelry tones, colors, and patterns.
Every month or every other month, depending on your preference, a skilled stylist from Nadine West thoughtfully curates a personalized collection of clothing and accessories. The selection is carefully made to appeal to your tastes and preferences. To begin the process, you pay a nominal shipping fee of just below $10. The package arrives with a prepaid mailing label and a detailed list of the products, along with their respective prices.
Upon receiving the package, you can conveniently try on all the items in the comfort of your own home. The decision of which items to keep and purchase, as well as which ones to return, is entirely up to you. Should you choose to keep at least one item, the initial shipping fee you paid will be deducted from the cost of that item. For example, if you decide to keep a $20 item, you would only be charged an additional $10 (approximately).
It is crucial to note that there is a limited timeframe between the arrival of your shipment and the deadline for making decisions. Hence, prompt returns of any unwanted items are essential. After making your choices, you can visit the Nadine West website to provide ratings and reviews for the items you received. This feedback is valuable for your stylist as it helps them understand your preferences and dislikes from your previous shipment, enabling them to create a more effective and customized package for you in the future.
Bag #1 review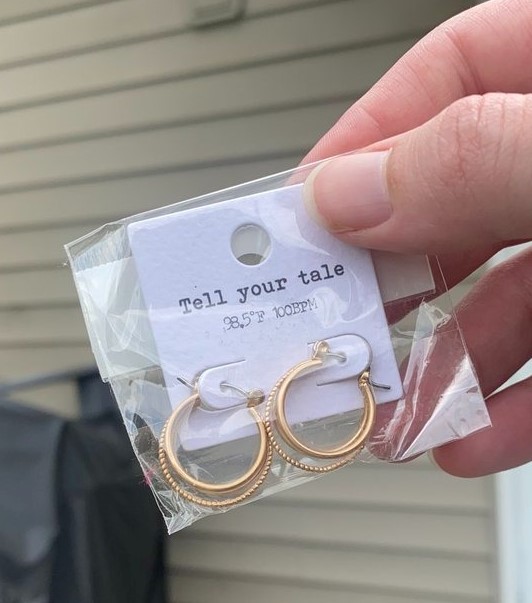 These small hoop style earrings are really cute, I thought. I like how they look like there are multiple hoops per ear even though there is really just one. I like simple jewelry that I can wear 24/7 with any outfit, and these are a tad too dressy for me for regular use. I decided not to keep these, but they are really close to my style. They are $17.99 to keep.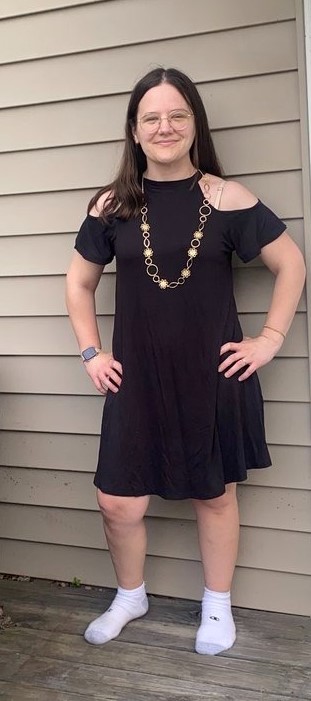 The dress and necklace shown here were both sent in this shipment. The dress is a t-shirt style dress but with the shoulders cut out. This is really comfortable, but a little bit lacking in shape for my style. For me, having a dress that comes in a little at he waist is a must. The dress is $39.99 to keep, which I thought was a little steep for a pretty simple dress.
The necklace is quite cute, I thought it would work with most any outfit to kick it up a notch and make it feel a little bit more dressy or pulled together. I personally tend to stick to jewelry that I can wear 24/7, and like the earrings, this necklace feels a bit too dressy for my regular use. I opted not to keep it, though I like the look. It is $34.99 to keep.
The top and bottoms shown here were both sent in this shipment. The bottoms are a "buttery soft" fabric that I just love. I own regular leggings and some jogger style leggings, but I didn't own any that had cargo-style pockets like this. The pockets aren't my favorite style, but I love this fabric and find them really comfortable for lounging or sleeping so I opted to keep them. They are $39.9 which I feel is overpriced.
The top shown here was also a winner for me. It's a light material that almost feels slightly mesh-like, but is not transparent. I am not a huge fan of the color blue, but I like florals and the overall style of this shirt so I chose to keep it. It costs $27.99.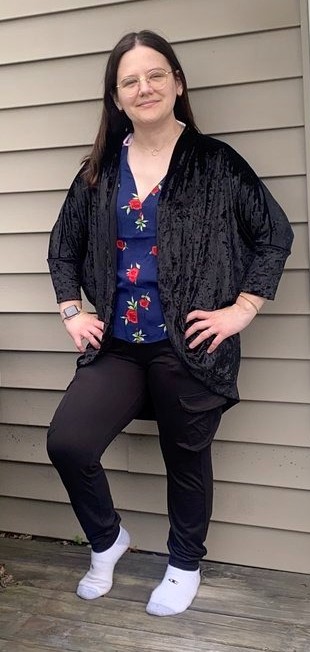 Last but not least, this cardigan. I wear cardigans quite a bit, but I had never come across one that was a velvet-like fabric on the outside like this. The weight of this cardigan really surprised me – it's surprisingly heavy! If this was a regular cotton cardigan in this style, I would have kept it. The fabrics made it a big "nope!" for me, though. The inside felt like a scratchy material that I associate with cheap Halloween costumes that I have a sensory aversion towards. I also have a sensory aversion for velvet-like fabrics, so this one was a little hard for me to even wear for a photo, to be honest! It is $39.99 to keep.
Out of this shipment, I kept 2 of the 6 items. That's a success if you ask me!
Bag #2 review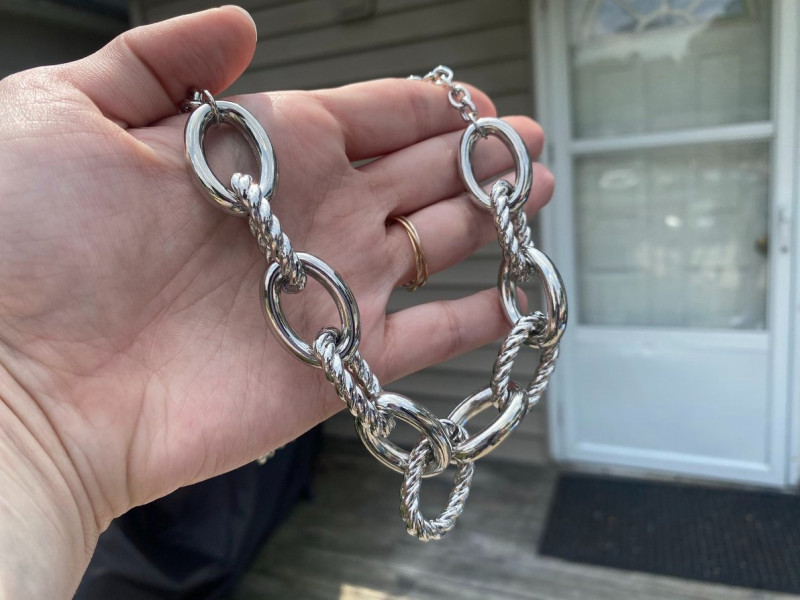 First up was this necklace. This is a much bolder statement piece than I would feel comfortable wearing. It is $34.99 to keep.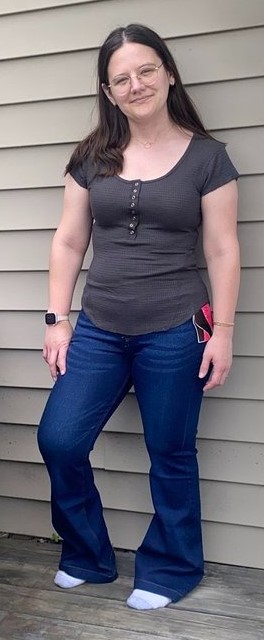 The top and bottoms shown here were both sent this shipment.
This is the first pair of flared jeans (they're actually jeggings) that Nadine West has ever sent me. With flares coming back into style, this was a fun surprise to receive. Unfortunately, I am pretty short at 5'1″ so these are really long on me which is a problem with the flare-style jeans, I'd step or trip on these. They are $27.99 to keep.
The top sent here is a waffle thermal type of material which I love. I also like how it's a pretty simple top but with a few cute details like the partial button in the chest, the scoop neck, and the curved edge at the bottom. It's tight on me right now, for some reason it was sent in a smaller size than my profile lists. It is a size that I used to wear though, so hopefully I'll get back to this size in the future and I opted to keep it for that goal. It is $27.99 to keep.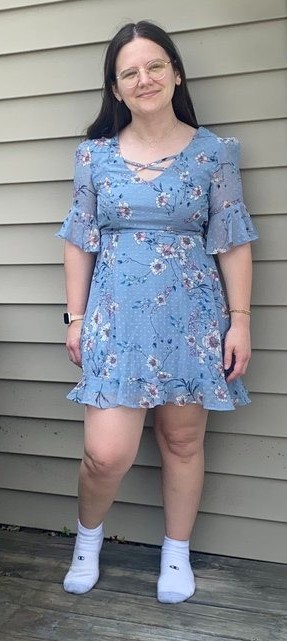 This dress has two layers to it, and it was a bit snug on me so that resulted in it wrinkling. I Also found it to be tight in some odd places on me, such as my upper arms. I never really experience tops or dressed being tight in my bicep area, so I think this is oddly slim through that section. Anyway, I decided this dress wasn't for me. It is $40.99 to keep.

The top and bottoms shown here were both sent this shipment.
This top is really similar to the blue top that I was sent in the previous bag. I really love the floral pattern on black. I like the neckline, and the really lightweight material. This was a keeper for me. It is $27.99.
The bottoms shown here were sent in my usual size, but were so small I could barely get them on! These are definitely sized smaller than most other brands. They are $37.99 to keep.
From this shipment I kept 1 of the 6 items, which isn't great but it's still not something I see as a loss. As long as you keep one item per shipment, you don't lose out on what you paid for shipping as the shipping cost gets taken off the cost of the item. So my goal is to have at least 1 item I want to keep from each bag. Both bags met that goal this time!
Ready to try out the service yourself? Shop NadineWest.com
today!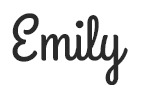 Hi there! I am Emily Evert, the owner of Emily Reviews. I am 28 and live in a small town in Michigan with my boyfriend Ryan and our two pugs. I have a large family and I adore my nieces and nephews. I love reading memoirs, and learning about child development and psychology. I love watching The Game of Thrones, Teen Mom, Sister Wives and Veep. I like listening to Jason Isbell, John Prine, and other alt-country or Americana music. I created Emily Reviews as a creative outlet to share my life and the products that I love with others.
This post currently has one response.