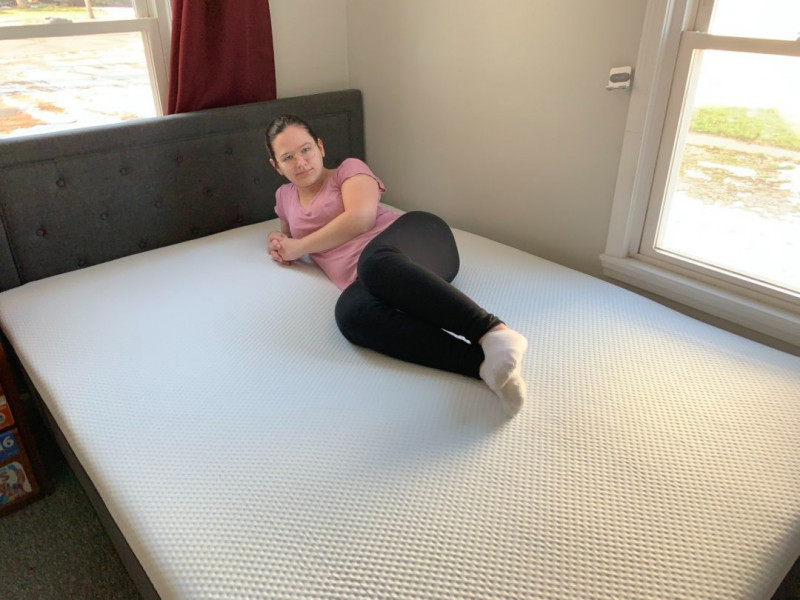 Emma Sleep sent me a mattress for review. There are affiliate links in this post. All opinions are my own.
Do you know you're supposed to get a new mattress about once every six years? Maybe it's just a sign of my age, but until recently I was thinking I had "just got" a new mattress – but then I realized it was about six years ago! So, time for a new one.
When we got our last mattress, all-foam mattresses were all the rage. I had an uncomfortable spring mattress as a child so I thought all-foam sounded really nice. It was, for a short time – but then it softened a lot and became too soft for our liking. So this time, we decided to go with a hybrid mattress.
Hybrid Mattresses are part foam and part spring. The details beyond that can vary, but I was drawn to the Emma CliMax Hybrid Mattress because of the details of its hybrid properties. It has five layers of foam and just one layer of springs. I liked that ratio, because I don't want a mattress that resembles my old spring mattress from the 90's. I want it to primarily be soft, but with enough support, too.
The top layer of the Emma Climate Hybrid is a pillowtop cover that is plush, moisture-wicking, climate-regulating and removable and machine washable! Yes, you can remove the top layer and wash it in your washing machine! How awesome is that?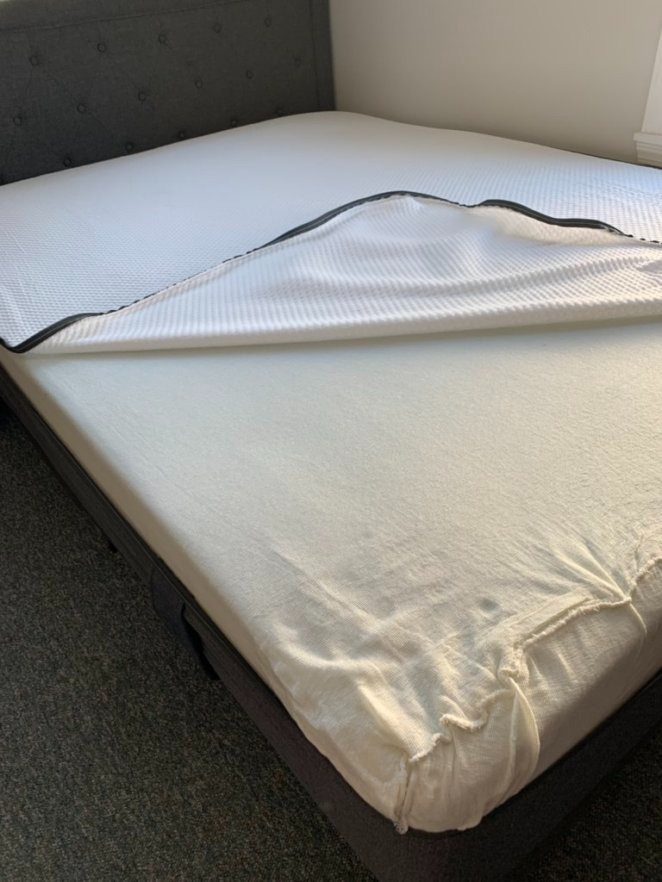 The second layer is an award-winning open-celled foam that is really breathable to help you avoid getting overheated at night. This layer also limits motion transfer so if your partner (or children, or pets – whoever shares your bed with you!) moves around it's less likely to wake you up.
The third layer is a type of memory foam with over 100 supportive points and 5 zoned contouring that is designed to offer pressure relief for the head, shoulder, back and hips!
The fourth layer is the spring layer. The coils are 4.7 inches and they are individually wrapped to offer optimum amount of tension and bounce. They're strong enough to support sleepers of all body types and sizes. This layer also enhances air flow, to again help you with staying comfortable as you sleep.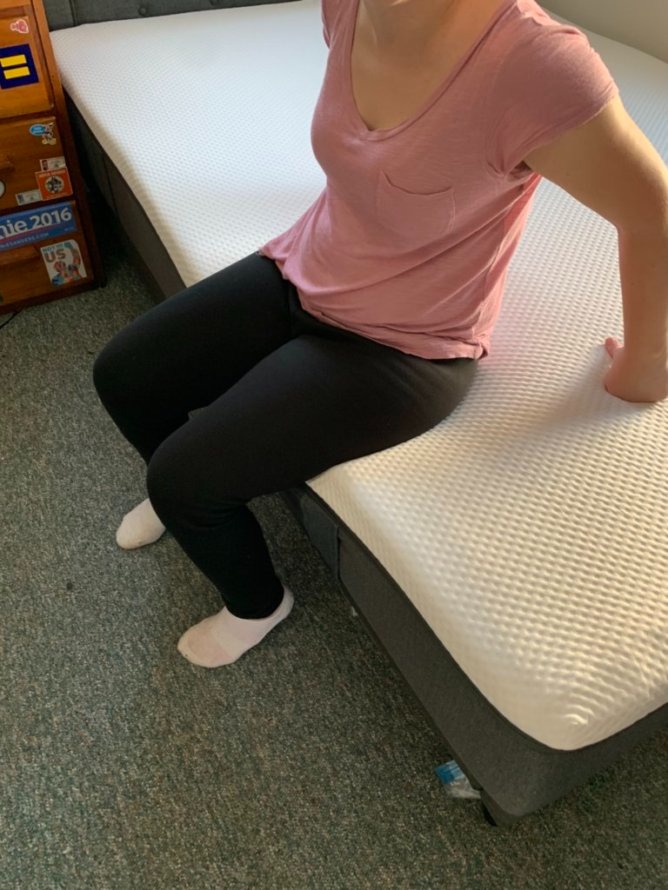 The fifth layer provides a reinforced perimeter that helps prevent wiggle-worms from falling off the bed at night, and helps you to sit up and get out of bed in the morning. Personally, I'm pretty excited about this aspect because an issue we had with our old mattress was how soft the outer edges got. If you sat on the edge of the bed, the mattress would just slump over under your body weight. It has made me realize that I prefer mattresses that can maintain their form around the edges. With this mattress, the area where you're sitting compresses some, but it's much more minimal than with our old all-foam mattress.
The sixth layer is HRX or high resiliency extra. The brand refers to this layer as "thicc" which I thought was funny. This layer is a base layer of foam that is stress-tested and is guaranteed to provide sturdy support that can withstand a decade of use even with heavy sleepers.
How does all of that work in practice? Well, this mattress is still new to me so I can't speak to how it'll hold up longterm. We're happy with it so far, though. It's noticeably firmer than our old mattress, but we felt that our old one was too soft so we're happy about that. Ryan commented that it's funny to feel like he's sleeping ON this mattress, rather than IN the mattress. I had really similar thoughts myself before he had said that. It definitely feels more like this mattress is holding us up rather than us sinking down into it.
Despite this feeling of being on top of this mattress rather than sinking into it, this mattress doesn't cause me any discomfort when I lay on my side. With some firm mattresses, my hip bones will hurt if I lay on my side as there isn't enough give. I haven't found that to be true with this mattress.
I also notice the difference in how the edges stay closer to their original shape when we sit at the edge of the bed. I really like how the top cover can be unzipped and washed in the washing machine. I like to use mattress protectors, and of course we use a bedsheet, but I still like knowing that the top layer of the mattress can be washed as well.
When we first unpackaged the mattress it did have a bit of a scent to it but it dissipated within a few hours. We both felt like we had to adjust to this mattress a bit because it does feel noticeably different from our old mattress, but we both have been sleeping well on it and haven't woken up ith any aches or pains.
The Emma Climax Hybrid can be used by anyone, of course, but it's specifically designed to be a good fit for plus sized people. Not all mattresses can withstand larger people, but this one specifically is marketed as a good choice for those who weigh 250+ lbs and the bed overall can hold up to 1000 lbs, so if you're a plus-sized couple this mattress has you covered.
If you're in the market for a mattress, right now is the perfect time to buy the Emma Mattress because it is 50% off! The queen-sized mattress is usually $1,599 but is currently just $799. When you purchase a mattress you'll get two pillows included for free. The mattress arrives in a tall and fairly skinny box. This was really convenient for me because my house is really small and we had to remove our old mattress before we could make room for this new mattress. Seems how the mattress comes in a box that is much smaller than the mattress is once it is unpackaged, we were able to just leave it in the box until we had time to remove the old mattress.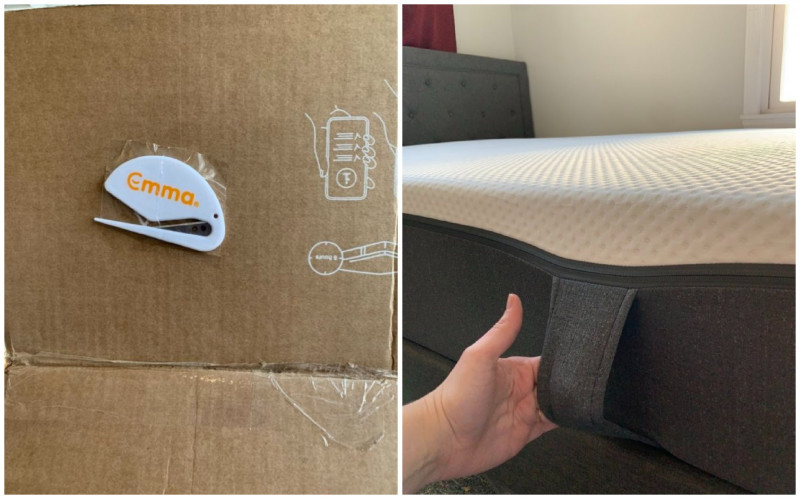 A few small details that I thought were nice touches. There are handles on the long sides of the mattress so it's easier to carry when setting up, changing rooms or moving. The box came with a boxcutter taped to the outside to assist you with opening the box and the vacuum-sealed bag that the mattress comes in.
You could use this as a Christmas gift by leaving it in the box and wrapping it. The recipient would see a big present but would likely not think that a mattress could fit in there!
The Emma Climax Hybrid comes with a 365 night risk-free trial so you can sleep on this bed for quite a while but still change your mind about keeping it! It also comes with a 10 year warranty, and free shipping and returns.
Emma mattress currently has an awesome black Friday sale going! The Emma CliMax Hybrid Mattress is currently 50% off! It's a great time to buy.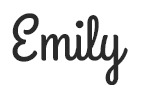 Hi there! I am Emily Evert, the owner of Emily Reviews. I am 28 and live in a small town in Michigan with my boyfriend Ryan and our two pugs. I have a large family and I adore my nieces and nephews. I love reading memoirs, and learning about child development and psychology. I love watching The Game of Thrones, Teen Mom, Sister Wives and Veep. I like listening to Jason Isbell, John Prine, and other alt-country or Americana music. I created Emily Reviews as a creative outlet to share my life and the products that I love with others.
This post currently has 6 responses.