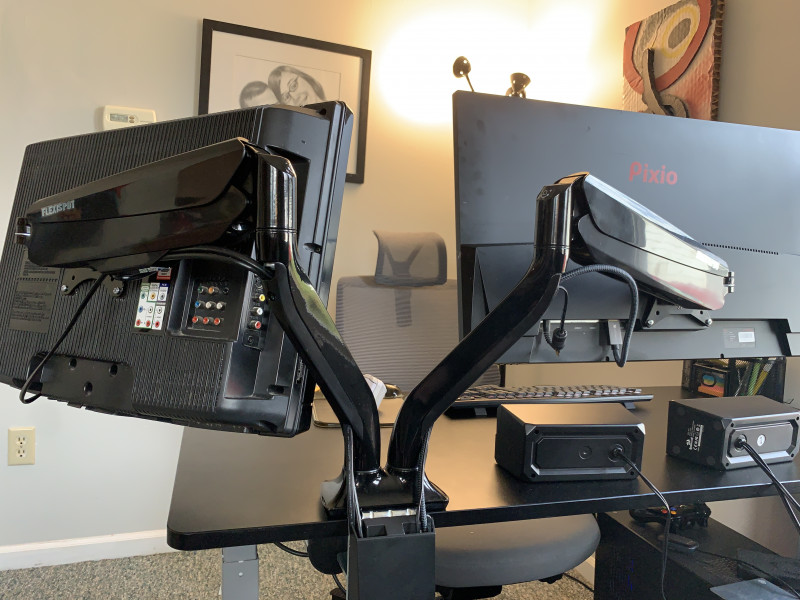 I was sent a Flexispot Dual Monitor Mount F7D/F8LD for review. All opinions are my own.
If you have a desktop computer and you aren't using a monitor arm, you're missing out. A monitor arm clamps to your desk (with gentle rubber padding) at its base. They have 3 points on the arm that you can turn different ways, and can then be tightened with an Allen wrench so they can't be turned again accidentally. They look nice and they clear up way more space on your desk than you would think, especially if you use two monitors. These monitor arms are the perfect gift for the techie in your life!
Personally, I use two monitors so I can have youtube or some streaming service playing on one monitor while I work, play a game, or check out social media on the other monitor.
Flexispot's Dual Monitor Mount F7D/F8LD is aesthetically pleasing and extremely functional. I know "extremely functional" sounds like bizarre hyperbole, but the number of monitor configurations these two arms can create is incredible. The image below just scratches the surface on how you can set up your battlestation: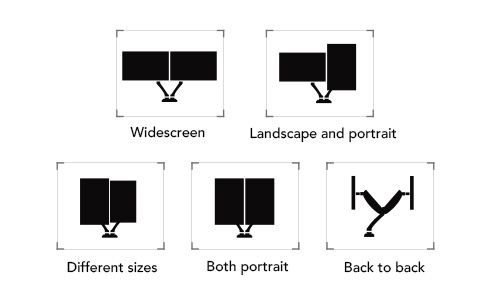 It supports monitors between 24″ and 36″, and between 8.8 and 22 pounds per arm. The 4 screw holes on the back of your monitor need to be 75mm or 100mm apart to work with these arms. Most monitors and monitor-sized tvs will work. Each arm has removable plastic pieces that you run the cords to your monitor through. The arms are made of aircraft-grade aluminum. They feel firm and reliable. Even the removable plastic pieces you run the cords through feel like quality material.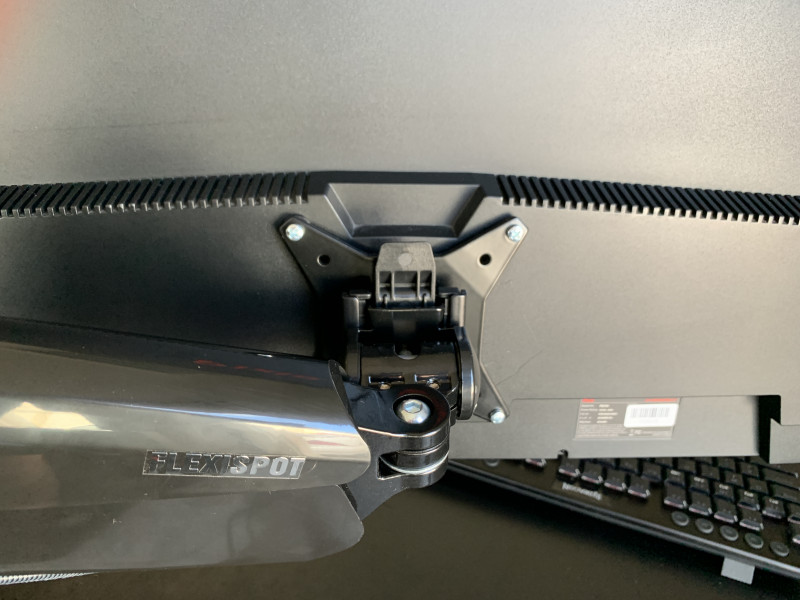 Installation is easy. If you want to REALLY secure your arm to the desk and are willing to drill a hole in your desk, it comes with hardware go through that hole to guarantee stability. That strikes me as overkill, but I'm sure there's a use case I'm just not aware of and it's nice it comes with the option. I chose to use the clamp it comes with, in my tests it does not damage the desk.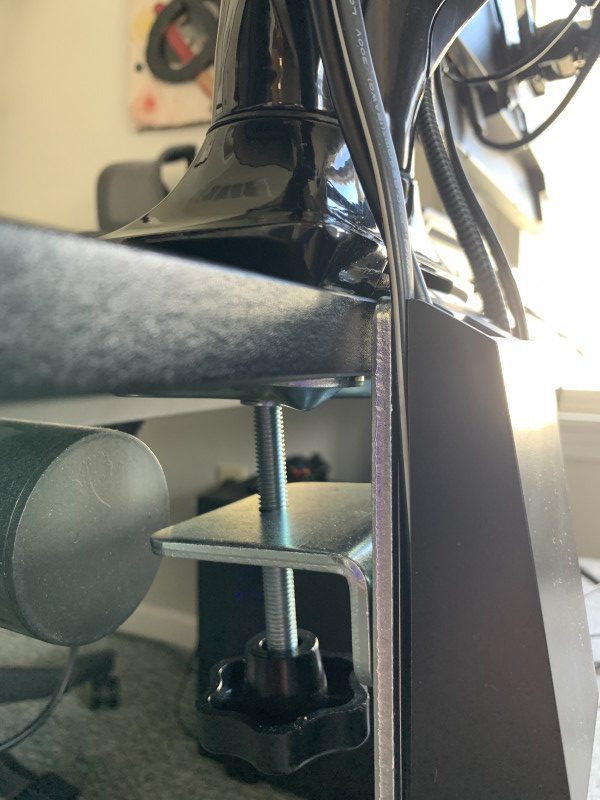 It's a great product. It's secure, I'm not worried my monitors are going to come crashing down. It looks nice. It's freed up considerable space on my desk. And it's extremely flexible, it's always fun to spin one of my monitors around to show somebody something.
Connect: Learn more about Flexispot on Instagram, Facebook, and Twitter!
Buy it: You can buy the Flexispot Dual Monitor Mount F7D/F8LD on their website!
November deals:
Now through 11/24 they are having a pre-black Friday sale, and November 25th-30th they'll have their main sale event. Some highlights include:
– Up to $160 OFF on Standing Desks
– Up to $100 OFF on Ergonomic Chairs
– Up to $130 OFF on Desk Bikes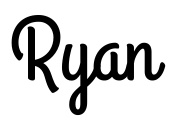 This post currently has 2 responses.