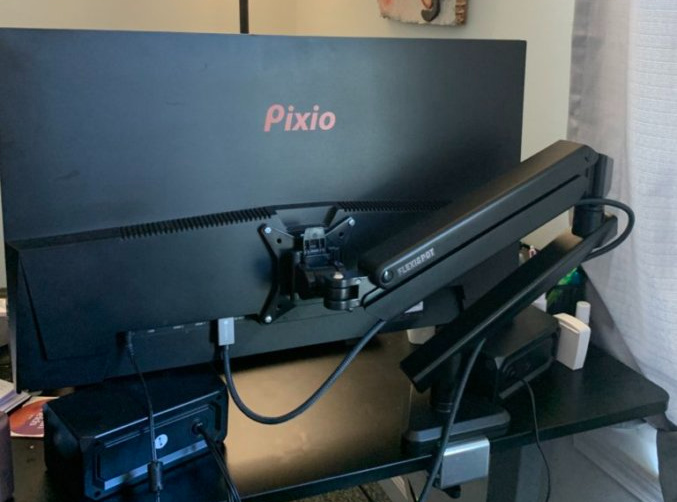 Flexispot sent me a MD01 Intelligent monitor arm for review. There are affiliate links in this post. All opinions are my own.
We're quickly becoming a Flexispot household! In May of 2021 we got a Flexispot office chair and I shared my Flexispot Soutien Ergonomic Office Chair Review. Ryan still uses that chair daily and it's held up great. Prior to that chair, we went through two office chairs in 12 months. A lot of office or gaming chairs just are not well made, apparently. Thankfully, that wasn't the case with the Flexispot chair that we received.
After having such a positive experience with the office chair, I was happy to try their monitor arm as well. Ryan has a large computer monitor and the color of the screen varies depending on the angle that you're seeing the screen from. If you look at the screen from above or from the side, the colors can be a bit distorted. This shouldn't be a problem on its own, as a lot of screens work that way.
It was a problem for Ryan's particular screen though, because the base that the screen came with held the screen up in a position that tilted the screen down slightly rather than being straight ahead. The tilt wasn't major so the colors on the screen were only mildly distorted and Ryan lived with it that way for quite a while. It was a bit of an annoyance, though.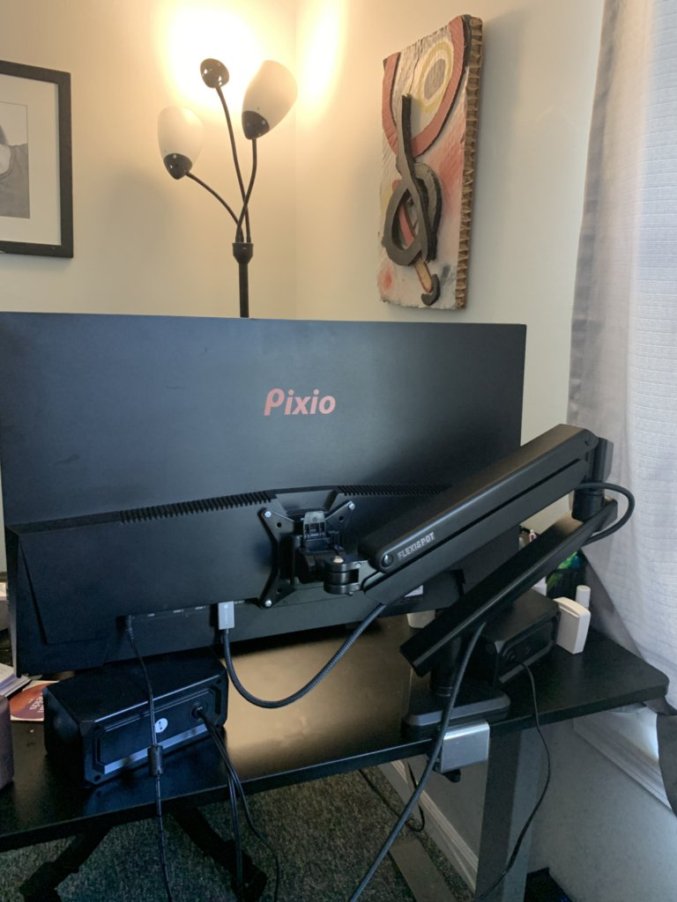 We got theFlexispot MD01 intelligent monitor arm to help hold his monitor at the exact height and angle that he desires. It required some assembly after delivery, but it wasn't too hard for him to get set up. He was able to easily adjust the monitor arm to put the screen at the height and angle that is perfect for his setup. Adjusting the screen is really easy to do and the movements are nice and smooth.
Our current home is quite small and Ryan's office area is quite small so he doesn't extend the monitor arm. However, we like knowing that when we move and have more space next year, he'll be able to use the monitor arm to move his monitor around as much as he wants. For example, he could use the monitor arm in its current position while working, but then adjust the monitor arm to flip the screen backwards so that he could watch a video on his computer screen while working out behind his desk. Or, he could adjust the monitor arm to flip his screen towards me to show me something while I was seated to the side. The monitor arm can be used to hold your screen in landscape or portrait mode.
This monitor arm works for screens sizes 17″-30″, and that weigh between 5.5-18.7lbs.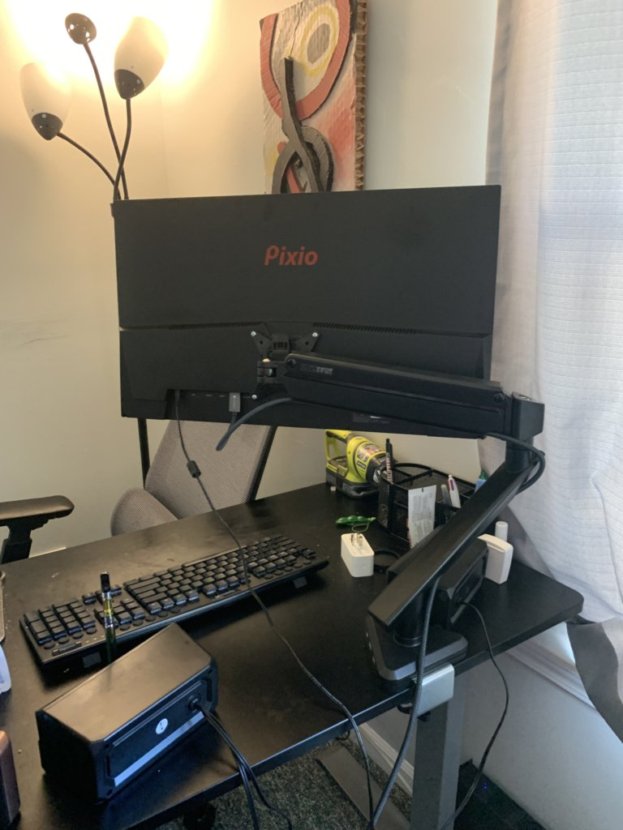 In addition to being a nice monitor arm, it also has a docking station at the base. The docking station has a USB-C port, two USB ports, one VGA and one HDMI port.
Ryan has really enjoyed this new set up. We like knowing that it'll work well when we move, too.
Flexispot Tech Day Sept 9 2022
Flexispot is having a big Tech Day sale this Friday, September 9th! Some items will be up to 50% off! Most sales will start Friday, but a few are already going.
The deals include standing desks, desk converters, office chairs, desk bikes and more. Several items will be over $100 less than their regular price! There are too many deals for me to list here so I'll just say you won't want to skip out on visiting the Tech Day Sale page on Flexispot!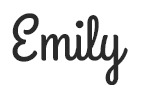 Hi there! I am Emily Evert, the owner of Emily Reviews. I am 28 and live in a small town in Michigan with my boyfriend Ryan and our two pugs. I have a large family and I adore my nieces and nephews. I love reading memoirs, and learning about child development and psychology. I love watching The Game of Thrones, Teen Mom, Sister Wives and Veep. I like listening to Jason Isbell, John Prine, and other alt-country or Americana music. I created Emily Reviews as a creative outlet to share my life and the products that I love with others.
This post currently has 5 responses.