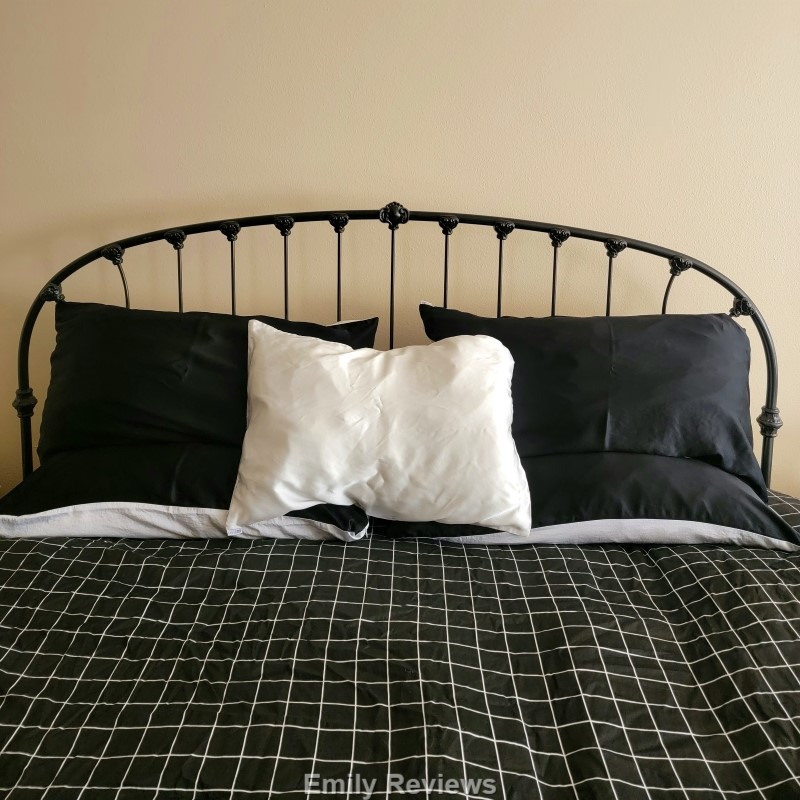 Thank you to MYK Silk for providing me with products to facilitate my blog review. All opinions are 100% my own.
We are in the process of renovating our master suite. Most of the work is in our bathroom, but I wanted to also give the bedroom a makeover. I started with fresh paint and new bedding. Once the bathroom work is finished, we plan to add new bedroom lighting and then new flooring throughout the entire house. It is going to be a time-consuming project but it will be completely worth it!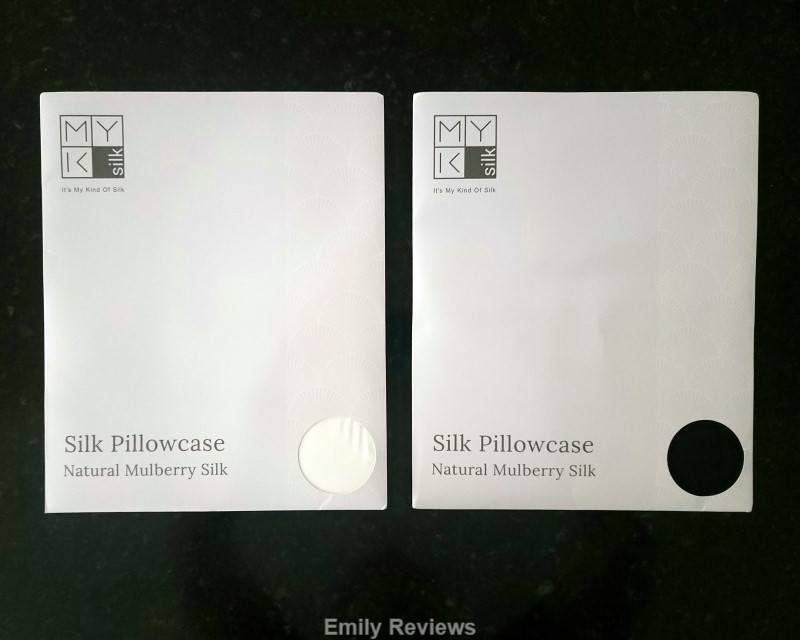 I had an idea of what I wanted for our bedding. I found a duvet cover and sheets locally but knew I wanted to finish the set with MYK Silk Mulberry Silk Pillowcases. I discovered MYK Silk pillowcases last year. I believe using MYK Silk pillowcases is gentler on your hair and skin, plus, they feel luxurious!
My new duvet cover is black with a white grid pattern. After looking at all of the pillowcases that MYK Silk has to offer, I decided to stick with a black-and-white color scheme. I can add seasonal pops of color with decorative pillows and throw blankets.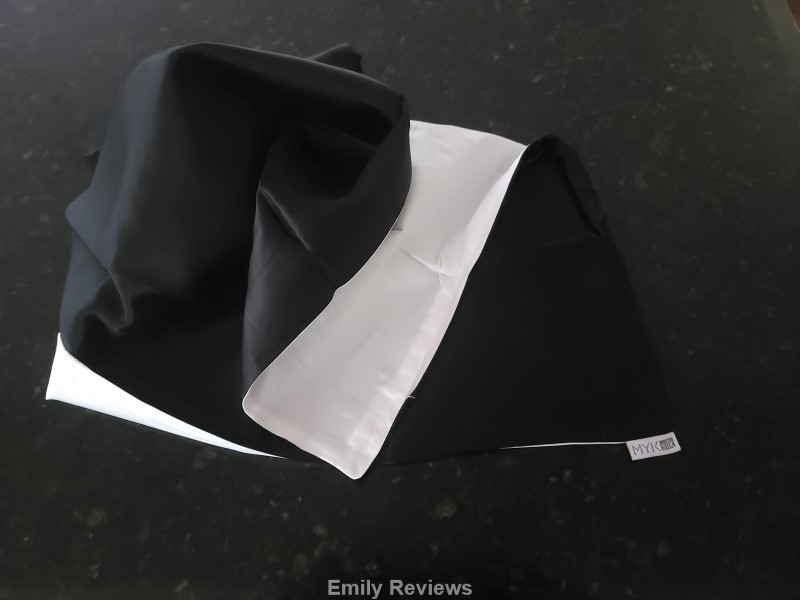 My new pillowcases are from the MYK Silk Natural Collection. The Natural Collection pillowcases come in standard, queen, and king sizes and are available in ten colors. They have a smooth zipper closure.
My king-size pillowcases have black 19 momme Mulberry silk on the top of the pillowcase and white cotton on the underside. My queen-size pillowcase has ivory 19 momme Mulberry silk on both sides of it.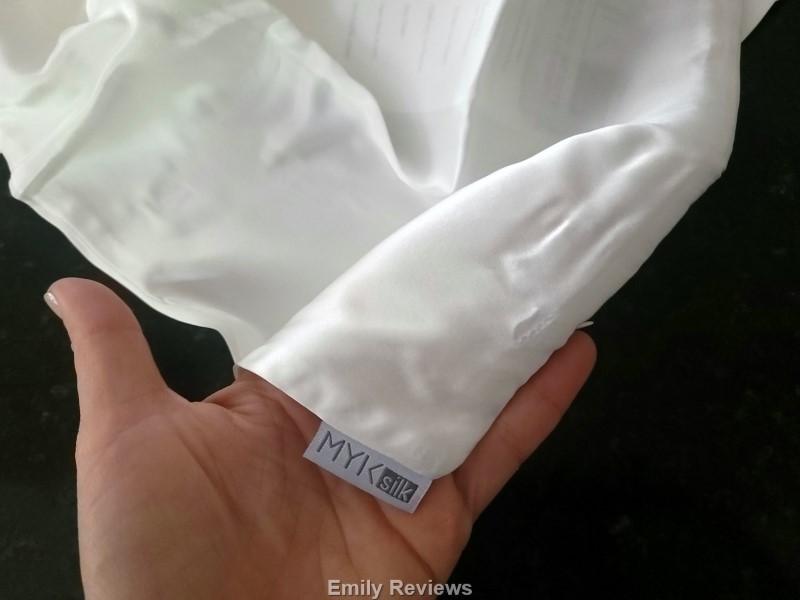 Natural Collection pillowcases can be machine washed in a delicate setting.
MYK Silk products are certified OEKO-Tex. When products are certified OEKO-Tex, it means that they have gone through strict testing for a variety of toxins and have been deemed free of harsh chemicals.
I love my new MYK Silk pillowcases. They were the perfect way to finish our new bedding set!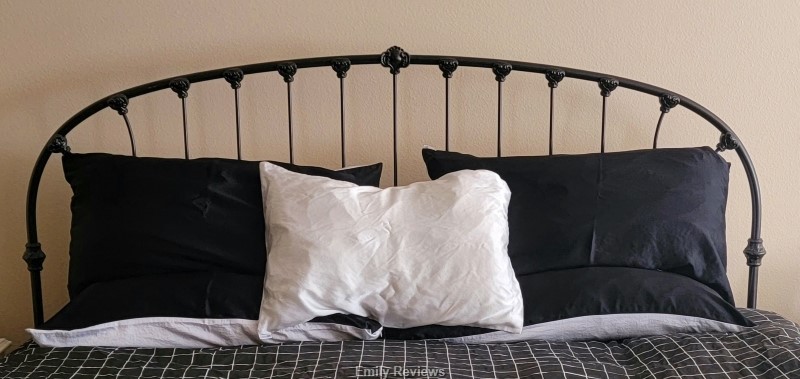 MYK Silk pillowcases make great gifts! Grab one to give and one to keep.
Buy It: Please visit the MYK Silk website to see their great selection of products and convenient shopping locations.
Connect: Don't forget to follow MYK Silk on Facebook and Instagram for the latest product announcements and special offers.
WIN IT: Two winners will each receive an MYK Silk bundle that includes one 19mm pillowcase and one embroidered eye mask. This giveaway is open to US residents. The giveaway is scheduled to end on 11/22/2022. Good luck!


Hello, my name is Laurie. My family and I live near the Oregon coast. When we aren't at work, in school, or on the volleyball court, we enjoy traveling, cheering for our favorite sports teams, playing outdoors, and checking off items on our bucket list. We are lucky in that both sets of our parents, as well as our siblings and their families, live within an hour of us. We get together often to help one another out, celebrate milestones, and go on adventures together.
This post currently has 54 responses.