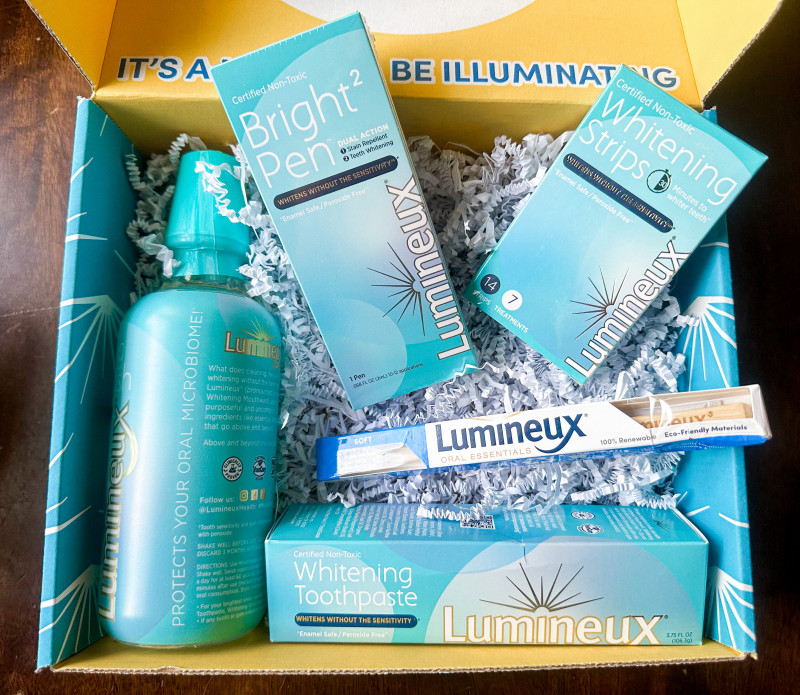 Thanks to Lumineux for sending me these products! As always, all opinions are my own. There are affiliate links in this post.
I've been on the hunt for tooth whitening products that aren't full of chemicals, and when Lumineux crossed my desk, I knew I had to check out their products! I knew that they offered tooth whitening strips but what I didn't realize is that they have an entire oral care line, and it's fantastic! I'm excited to share my favorite products with you and let you know about my whitening results
Lumineux products were created by a dentist who wanted to formulate a better mouthwash for his patients. What originally started out as a simple mouthwash recipe has expanded into a complete oral care line that addresses concerns like sensitivity, dry mouth, gum disease, and staining. The best part is, these products have been developed using high-quality, safe ingredients rather than harsh chemicals that can affect your microbiome. I'll share more about that later, but to start off the product line, I want to discuss their toothpaste and mouthwash first.
Lumineux Mouthwash and Toothpaste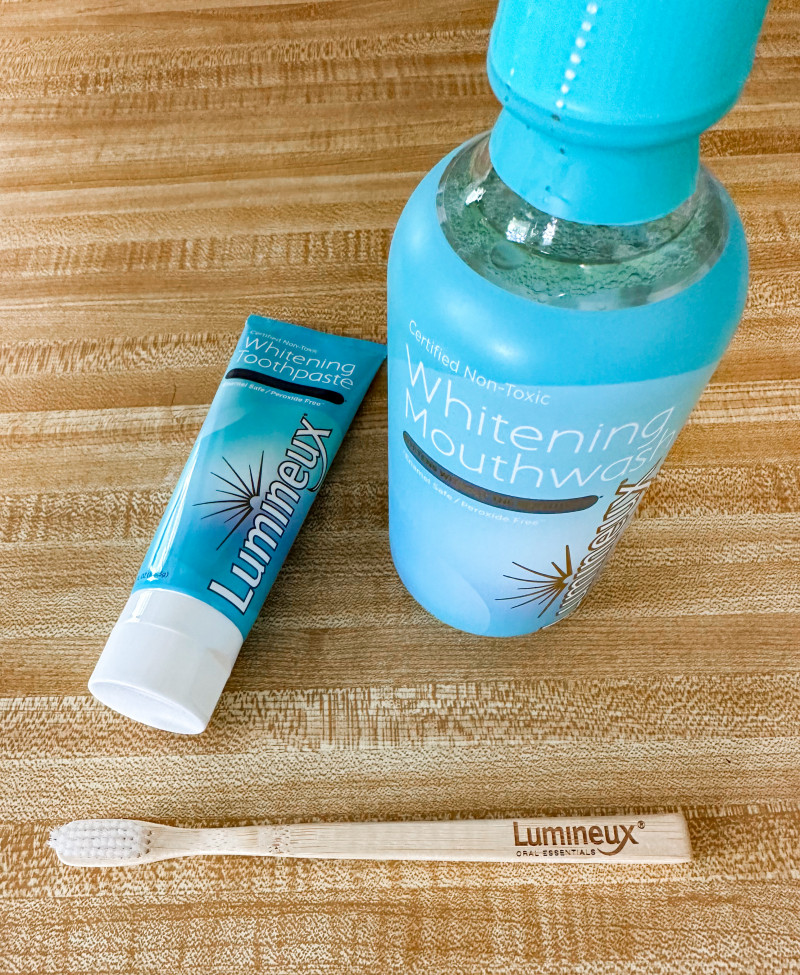 I've been on a natural toothpaste kick for years now, avoiding SLS and Fluoride for a variety of reasons. Lumineux Toothpaste is free from both of these ingredients, and is also free from alcohol, artificial colors and flavors, and additives. Instead, Lumineux Toothpaste is certified non-toxic and uses potent essential oils, dead sea salt, and aloe vera to whiten your smile while also protecting your enamel. Did you know that most whitening toothpastes include bleach which damages your enamel over time? As someone with 'soft enamel' already (according to my dentist), using Lumineux Toothpaste is a relief. Plus, I love the mild minty flavor.
Along with the toothpaste, Lumineux Mouthwash is certified non-toxic and is made with coconut oil, dead sea salt, and lemon peel oil. Traditional mouthwash wipes out all of the bacteria in your mouth, both good and bad. This damages your microbiome which can cause other health issues including dry mouth, tooth sensitivity, bad breath, and even cavities. Lumineux Mouthwash works with your microbiome to preserve the good bacteria and detoxify the bad. It also tastes great, and my mouth feels so clean after using it!
These products alone can help with teeth whitening and sensitivity, but I also love their whitening strips!
Lumineux Whitening Strips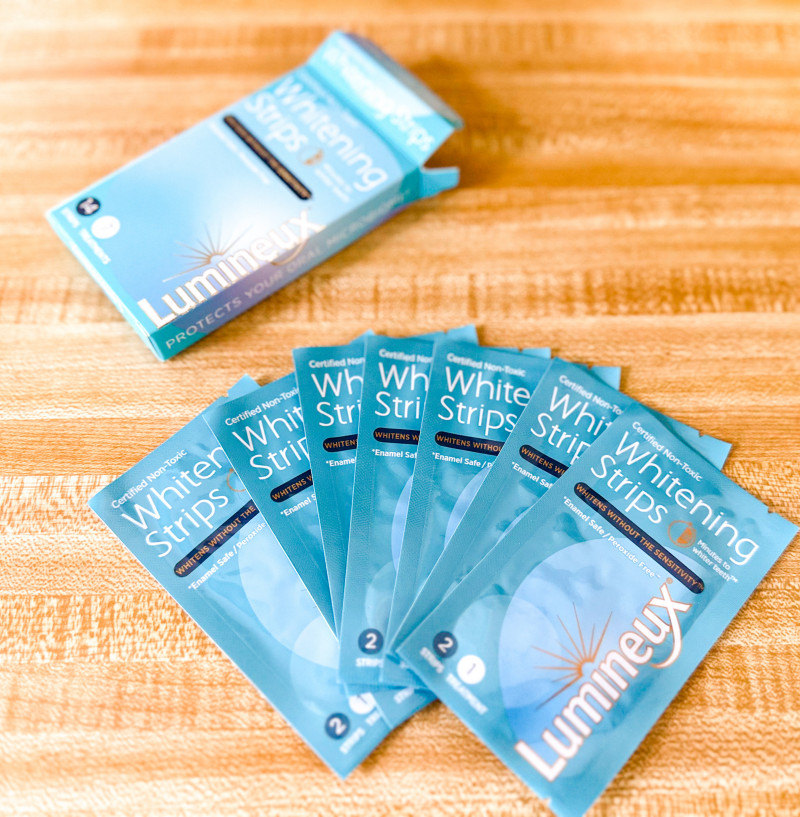 I have tried other brands of whitening strips in the past; while they may work for a short time, they also lead to crazy sensitivity to my teeth for at least the first week, and they're using those harsh bleaches I mentioned earlier that can cause damage to enamel. Lumineux Whitening Strips are formulated to protect your tooth structure and your enamel, while gently whitening. I'm in my mid-30's now and while I used to only have coffee occasionally, I drink it regularly now. I have noticed over the past couple years that my teeth are not as bright white as they used to be, and when I used Lumineux Whitening Strips, I was amazed at the results after just a week! My before picture is on the top, and after a week of the Lumineux Whitening Strips, my results are on the bottom. I know they will continue to get whiter as I keep using the products, too! The best part is, I didn't have any sensitivity while using the strips or after.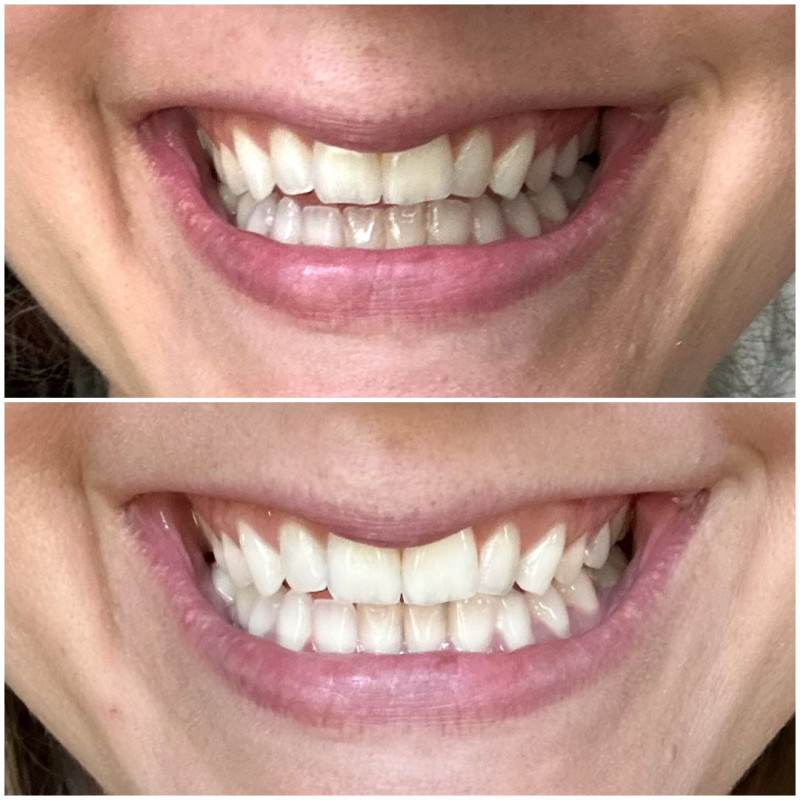 Lumineux Whitening Pen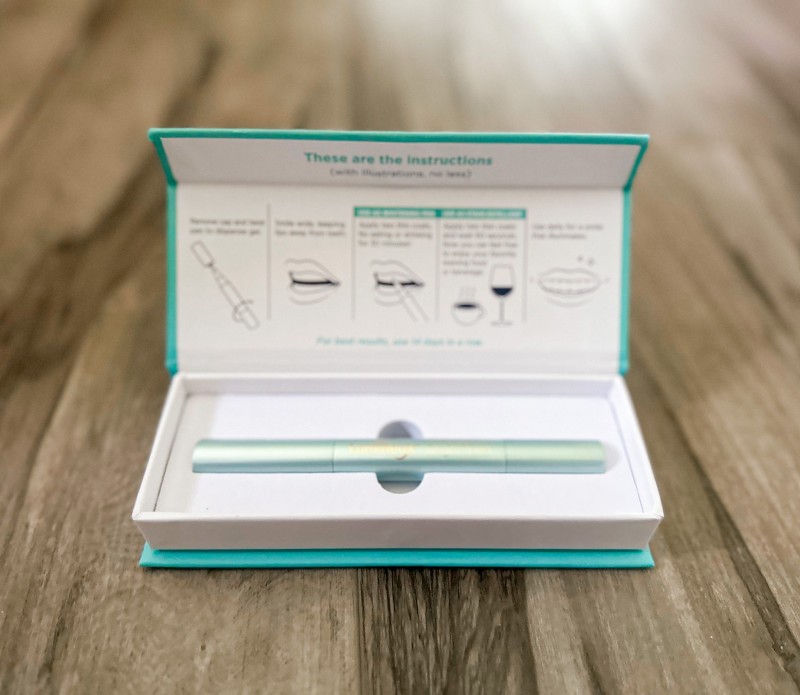 The last Lumineux product I want to share is the Luminuex Whitening Pen. This pen is multi-functional; not only does it help to remove stains on teeth, it also can be used as a preventative to keep stains from forming! I'm certain that my loss of whiteness has been due to drinking coffee, but I'm almost always grabbing coffee from Caribou while driving somewhere, so I can't brush my teeth after drinking it. I've started carrying the Luminuex Whitening Pen in my purse and I'll brush it onto my teeth before drinking my coffee. It's super compact and doesn't affect the flavor of my coffee either, which is a big deal. Like all other Lumineux products, it's certified non-toxic and uses natural ingredients for whitening rather than harsh chemicals.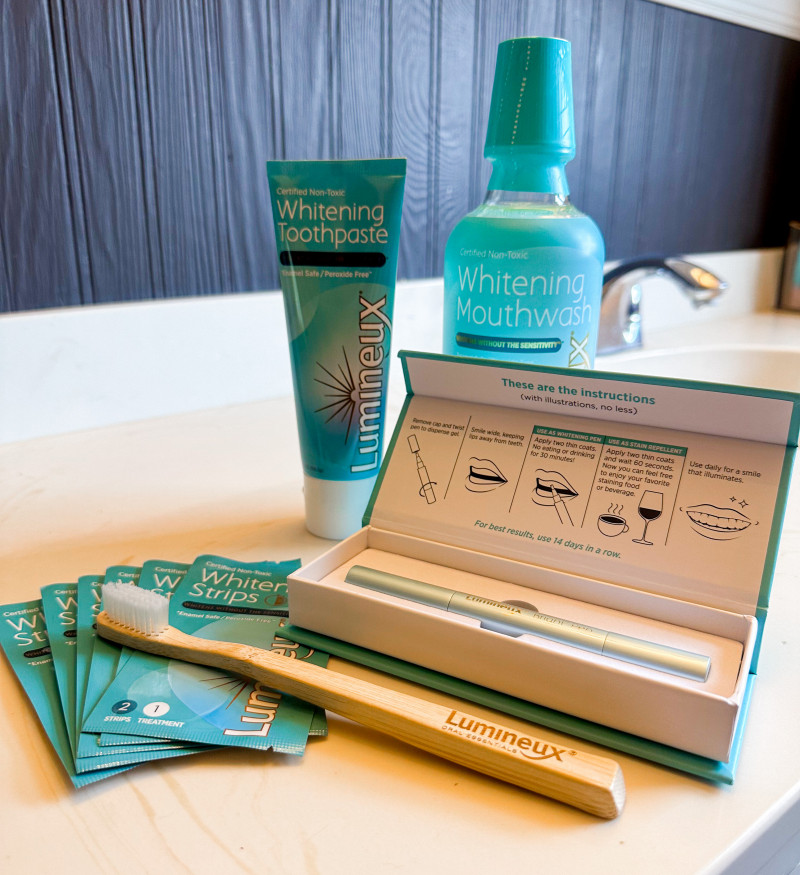 Overall I am so impressed with Luminuex products; so much so that I signed up for subscribe and save on Amazon so I can keep getting them on a regular basis! If you choose to purchase a Lumineux Kit from Amazon, they give a bamboo toothbrush with most orders. There are deals regularly as well, so keep an eye out for discounts when you order!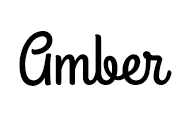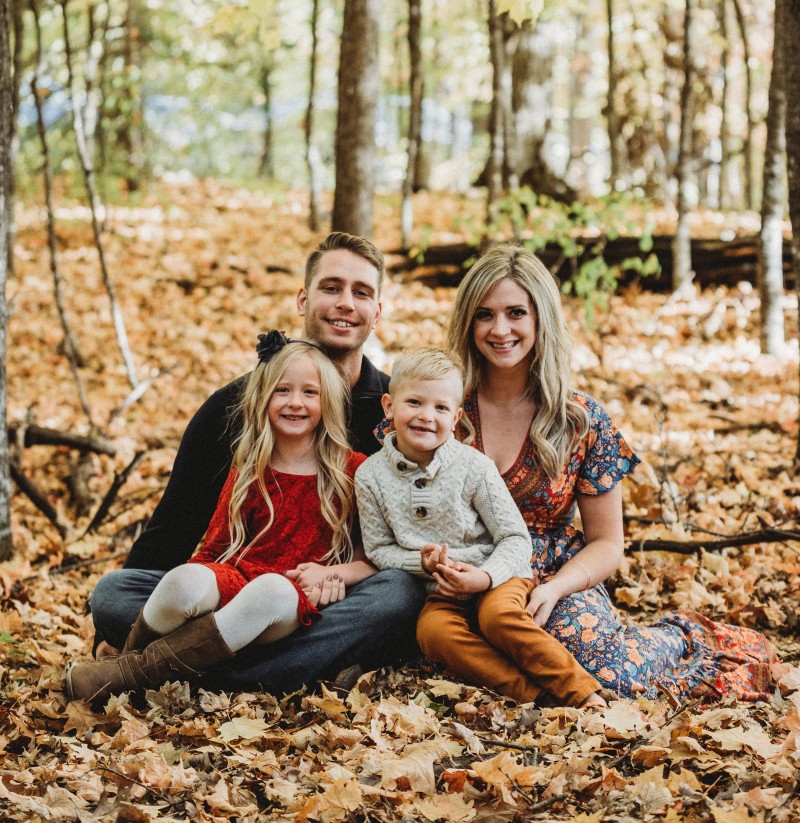 Hi there! I'm Amber, a 34 year old wife and mom of two from central Minnesota. I love to be outside with my family anywhere the weather is warm (which means I spend half the year freezing). We're a homeschooling family that loves to travel as often as possible! When I have a spare free moment, I love to read, take photos, and scrapbook. I'm interested in anything that makes life more fun; I also love socializing and sharing about my favorite products!
This post currently has 3 responses.