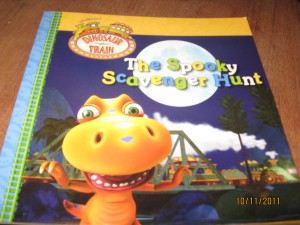 The Jim Henson Company has some very clever folks working there. We recently had the opportunity to review the new Dinosaur Train book called "The Spooky Scavenger Hunt". Mr. Pteranodon, Tiny, and Buddy set off in a spooky night time scavenger hunt at Big Pond. As the courageous group goes on their adventure, each is called forward to help the group with a special skill. Do you think they find all their Scavenger Hunt items at Big Pond? Do you think they make it back to the Night Train?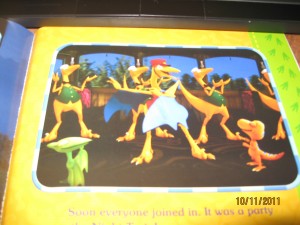 Just in time for Halloween, Dinosaur Train has a "Haunted Roundhouse/Big Pond Pumpkin Patch" special. On October 20th, Dad and the kids will board the Night Train to Troodon Town for a special party. The kids make some new friends and get to see their first pumpkins!
My kiddo really like Dinosaur Train but, they LOVE Sid the Science Kid! Sid the Science Kid also has a "Spooky Science Special" coming this month. On October 17th, Sid and friends will be dressing up in spooky and scary costumes for Halloween. Teacher Susie will teach them about bats, spiders, cats, and skeletons!
Parents, the PBS website has a bunch of helpful links including DIY costumes, birthday parties, printable coloring pages, and lots more.
You can find the NEW Dinosaur Train book, "The Spooky Scavenger Hunt" here.
"Celebrate Halloween with Two NEW episodes from The Jim Henson Company!"
Sid the Science Kid "Spooky Science Special" airs October 17, 2011 and repeats on October 25th, 28th, 30th and 31st.
Dinosaur Train "Haunted Roundhouse/Big Pond Pumpkin Patch" airs on October 20th and repeats on October 24th, 28th, 30th, and 31st.
You can follow The Jim Henson Company on facebook and twitter.
Keep up with your PBS friends on twitter and facebook too.
*There was a giveaway here but it has ended. Please check the "current giveaways" tab to see giveaways that are still going.
This giveaway is open to the US and will end october 28th @ noon EST. Winner will have 48 hours to reply to my email and claim their prize.

Hello, my name is Laurie. I have been married to my husband for 16 years. We have two young daughters, ages 15 and 13 years old. My family and I live in Oregon so that means we are just minutes from the beach, mountains, and desert.  We love it here and try to spend as much time outdoors playing as we can. When we aren't outside playing, I enjoy reading, gardening, refinishing furniture, and other crafts.
This post currently has 120 responses.