"Sounds in the House" is a wonderful Children's book written by Karl Beckstrand and Illustrated by Channing Jones. This creatively written book takes you through the spooky sounds a little dog hears at night. Have you ever found yourself lying in bed wondering what was making the noises that were keeping you awake?
WHAT OR WHO WAS THAT? Should you get up to see what it is or just lay there and hope it goes away?  "Could it be that a goblin or ghost, or a really bad guy…who eats dogs in his pie…"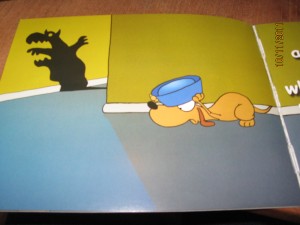 I think this is a cute book for Fall, it explains what all those new sounds are at night, that we don't necessarily hear during the summer…the heater revving up, the trees tapping the windows, twigs falling on the roof top, the rain trickling down the side of the house, or the wind rustling through the trees.
The Author, Karl Beckstrand, suggest this book for 2 years and older. Cheyenne, my 2.5 year old Daughter, really enjoyed this book. I am not sure how much of the story she understood, but she really liked the pictures. The illustrator Channing Jones, kept the pictures simple making it easy for the little readers to follow the
story. They are really cute!
It is available in English print as well as Spanish.
Karl is generously offering get a free "Crumbs on the Stairs" (bilingual mystery) when you pre-order any hard cover title (while quantities last) at premiobooks.com!
You can follow Karl Beckstrand and all his wonderful works on Facebook and Twitter.
This giveaway is open to the US and will end october 28th @ noon EST. Winner will have 48 hours to reply to my email and claim their prize.

Hello, my name is Laurie. I have been married to my husband for 16 years. We have two young daughters, ages 15 and 13 years old. My family and I live in Oregon so that means we are just minutes from the beach, mountains, and desert.  We love it here and try to spend as much time outdoors playing as we can. When we aren't outside playing, I enjoy reading, gardening, refinishing furniture, and other crafts.
This post currently has 144 responses.