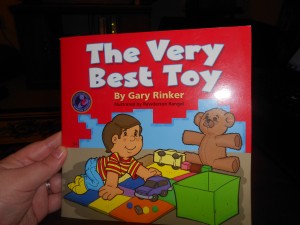 The Very Best Toy is written Gary Rinker and Illustrated by Rawderson Rangel.  Gary Rinker has worked with the Hand the Cowdog series of books and audios at Maverick Books for twenty-five years.  Rawderson Rangel has worked as an illustrator since 1993. He has been published in Brazil, Portugal, Spain and this is his first work in the United States.
The Very Best Toy is a book about a child's imagination regarding his/her dad.  To kids a dad is not only a parental figure, but an airplane, a swing, a tree, a mountain range, a horse, a trampoline, a slide and so much more.  How many times has little one asked their dad to fly them around the house like an airplane or asked if they could ride on their back like a horse?  My 3 year old asks Mr. S. more often then not.  Little C loves to play with his daddy more then almost anything else.
It was great receiving this book!  Mr. S. doesn't read to Little C as much as I do, but this book was one they could read together.  It was so awesome to see Little C cuddled up with his daddy in a big comfy chair reading a book.  My husband could identify with the book and Little C enjoyed seeing that he isn't the only kid in the world that uses their daddy as a horse or a swing.  Little C could easily identify with the book.  The best part about this book is that my son doesn't ask me to read The Very Best Toy to him.  He happily runs to his daddy to read it.  This children's book has given my husband and son something to bond over and that just melts my heart.
The Very Best Toy would be an excellent Father's Day gift for that special dad in your life!  He can relate to it if you have a younger child in your household or it will bring back some great memories if your children are grown.  Either way The Very Best Toy is the perfect gift!  Make sure you enter to win a copy of The Very Best Toy!



This post currently has 3 responses.