When my girls were little, I wanted to try a baby wearing sling but, was overwhelmed by the task of choosing the right one and didn't know how to wear it or how to get baby inside safely. I was also unimpressed with the styles at that time. Now, 5 years later, baby wearing products have had great improvements.
Hotslings are Adjustable Pouch Slings. They are easy to adjust and accommodates wearing baby in different positions as they grow.  For my review, I received the Hotslings AP in Silhouette. I was super excited to receive this product because I had just started providing daycare for my 2 month old Niece, Jordyn. When the Silhouette arrived, Jordyn was having a bit of a fussy day. I decided to place her in the Silhouette and take her for a walk around the block.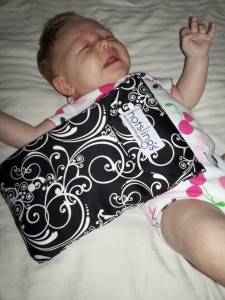 As the instructions suggest, I put on the Hotslings on (without baby) and pulled the fitting straps to a tightness that felt comfortable. I checked to make sure that I had the proper fit and carefully placed Jordyn in the pouch. Everything felt great so we started our walk; before long, Jordyn was sound asleep!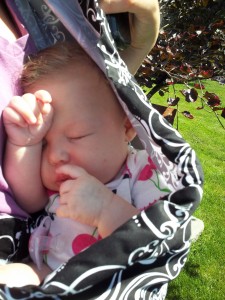 The Hotslings Silhouette design is beautiful; white scrolls pops up against a deep black background. The Cotton/spandex material is light and airy and easy to care for. I really appreciate the wide comfortable shoulder design of the Hotslings; even after wearing baby for a while, my shoulder felt great. Although she didn't tell me, I have a feeling that Jordyn liked the padding along both sides of the pouch.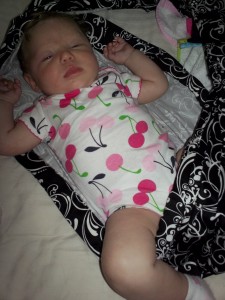 Hotslings is on facebook and twitter.
One lucky winner is going to get to a Hotslings of their choice; this giveaway is open to US & Canada, it will end on 8/12.
Javascript must be enabled to enter this giveaway. Learn how to activate Javascript by
clicking here.

Loading Entry-Form


This post currently has 5 responses.