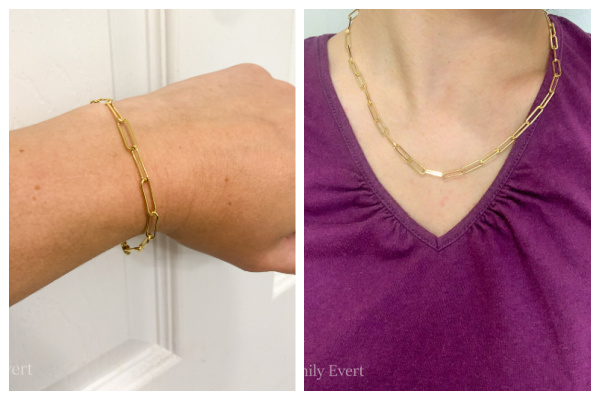 Maya J Jewelry sent me jewelry for review. All opinions are my own.
If you've been avidly following my blog, this isn't the first time you've seen me share about Paperclip jewelry. I first noticed paperclip necklaces over a year ago and instantly thought they were adorable. I'm usually more of a bracelet kinda girl though, so I went looking for a paperclip bracelet.
I've tried two that didn't quite work for me, so I'm excited that I've now found my perfect Paperclip Chain Bracelet at Maya J.
Something to keep in mind with paperclip chain bracelets is they are similar to a linked chain, so different pieces of the chain will lay against your skin at different angles. Some may lay flat against your skin, but others will rest at different angles. Due to this, if you try to buy a paperclip chain bracelet that is an exact fit for your wrist measurement, it some of the pieces of the chain are likely to dig into your wrist. So, I'd suggest buying a paperclip chain bracelet that leaves you a bit of slack.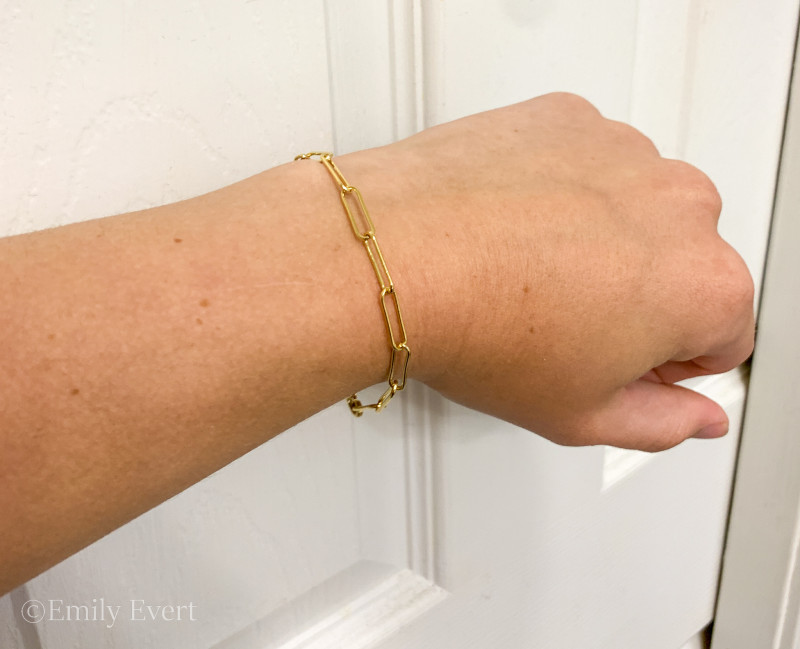 My wrist measures 6 and 1/8 inches. The Maya J Paperclip chain bracelet comes in a 7″ length which is great for me, and I think it could fit people with a slightly larger wrist as well. On my arm, when I raise my arm and hand straight up, the bracelet will fall to about 2 inches below here my palm meets my wrist. For me, this means it is tight enough to feel like it's staying on my wrist rather than falling down my actual arm, yet it isn't so tight that it causes the chain to dig into my skin.
I've been wearing this paperclip chain bracelet 24/7 since I got it, and it's never pinched or made me uncomfortable in any way. I even wear it to sleep and shower. It is brass, so it can tarnish in water but I haven't experienced that yet. I think it's pretty and relatively subtle. I think it can coordinate with almost any outfit.
I was also sent a Paperclip Chain necklace from Maya J. While it was a paperclip chain necklace that I saw someone else wearing that first made me interested in paperclip chain jewelry, I hadn't tried a necklace in the paperclip chain style until this one came. I like necklaces, and have had phases in my life where I've worn necklaces 24/7, but I've also had long periods in my life where I haven't worn necklaces at all. I like jewelry that I can put on and leave on, so they need to go with almost any outfit and be comfortable to wear. I thought a paperclip chain necklace might work for me.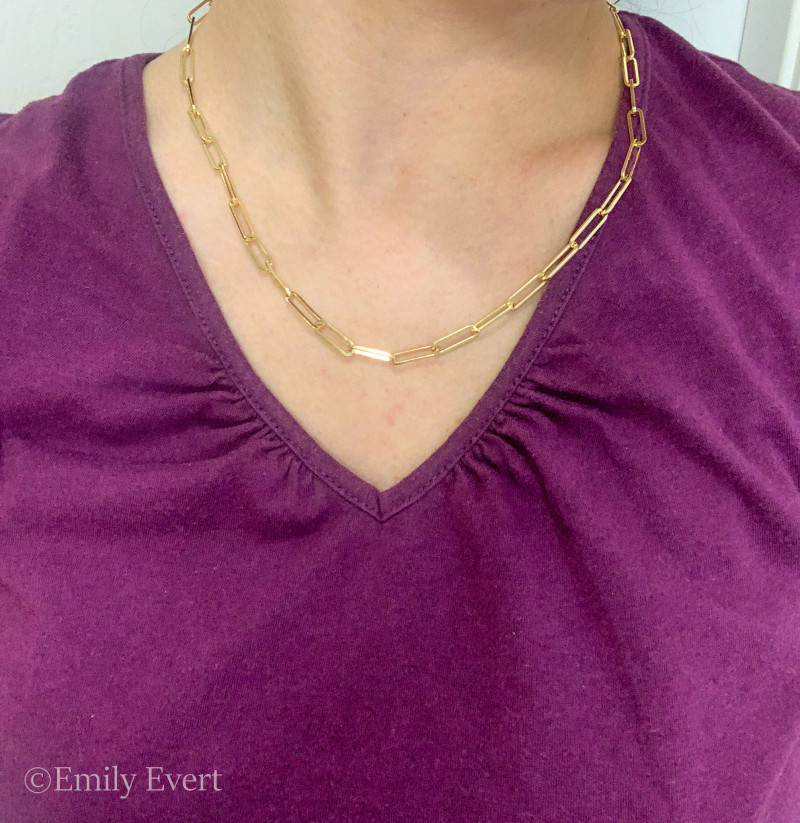 This necklace is available in 16, 18, 20 and 30 inch lengths. I went with the 18 inch length as I wanted short necklace but not one that was close to being a choker. I was really happy with how the 18 inch necklace fit on me length-wise. I am not sure that this will become a necklace that I'll wear 24/7. I was a bit surprised that the necklace looked a bit more substantial once on. I think I would prefer a paperclip chain necklace where the individual chains are thinner or smaller in size.
The chains on the necklace are the same as on the bracelet, so it's odd that the bracelet doesn't seem as attention-grabbing o me as he necklace does. Perhaps part of it is just that I am not used to wearing necklaces.
I don't think this is a bold or 'statement' necklace by any means, but it's larger and more eye-grabbing than I had envisioned. This is entirely just my personal preference though, I tend to skew towards somewhat dainty jewelry. I think lot of women would be thrilled with this necklace and it would make a nice gift.
Maya J has lots of other styles of jewelry, too. Visit the Maya J Jewelry website to see their selection.

Hi there! I am Emily Evert, the owner of Emily Reviews. I am 28 and live in a small town in Michigan with my boyfriend Ryan and our two pugs. I have a large family and I adore my nieces and nephews. I love reading memoirs, and learning about child development and psychology. I love watching The Game of Thrones, Teen Mom, Sister Wives and Veep. I like listening to Jason Isbell, John Prine, and other alt-country or Americana music. I created Emily Reviews as a creative outlet to share my life and the products that I love with others.
This post currently has 4 responses.