Matilda Jane clothing is inspirational; the designs, colors, and shapes are all about being carefree, playful, inquisitive and fun…after all, isn't that what childhood is about. Matilda Jane clothing is whimsical and completely charming!
For our review, both girls received an outfit from Matilda Jane; Cheyenne's outfit is the Celery 2 Tank with Gentry Skirt and Savannah's is the Harbor Gray Emilia Dress with Scrappy Leggings.
Cheyenne's top the Celery 2 Tank is a refreshing light green ribbed tank with a playful bouquet of blue flowers. The Gentry Skirt has layers of cheerful fabric in a stress-free shape. Each piece is special on its own but with the two pieces combined it is a spirited outfit fit for a 3 year old.
Savannah's top is the Harbor Gray Emilia Dress it is a sage green fluttery dress with charming ruffles and glistening button embellishments. The Scrappy Leggings are creative tiers of exciting material with sparkling button adornments on both of the ankles. Together or separate, these pieces are perfect for a beaming 5 year old. *The Scrappy Leggings were so popular, that they are no longer available.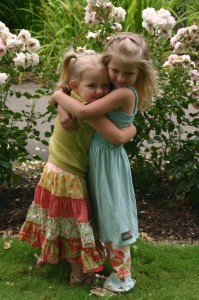 The girls recently wore these outfits to a tea party with their Grandmother and Aunts. They were ecstatic to show off their new Matilda Jane outfits. The staff and our family members just LOVED the outfits. The girls received many compliments saying that they were energetic, artistic, and adorable.
I have a feeling we have just begun our collection of Matilda Jane clothing.
Matilda Jane also offers a beautiful line of clothing for women.
Matilda Jane is on facebook and twitter.


This post currently has 2 responses.