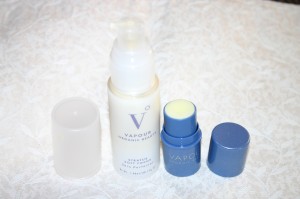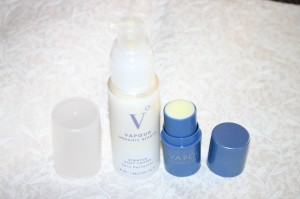 Vapour Beauty offers its clients a product line of luxury cosmetics.  The cosmetics are made with 70% certified organic botanicals, 30% natural mineral pigments, and vitamins. Another positive feature about their product line is that they are free from toxic chemicals, gluten, parabens, and phalates.
Vapour Beauty strives to be a socially responsible company.  One of the many ways they accomplish this is by creating sustainable products. They believe you should not have to choose between purchasing products that perform or purchasing products that are pure….and neither do I.  For this, I believe they should be applauded and supported.
For my review, I received two products:  the Vapour Beauty Stratus Soft Focus Instant Skin Perfector and the Vapour Beauty Lux Organic Lip Conditoner.
The Stratus Soft Focus Instant Skin Perfector is multifunctional.  It's a moisturizer, primer and (non-color) foundation all in one. It nourishes your skin and has anti-inflammatory properties. Stratus Soft Focus Instant Skin Perfector works on all skin types by helping to even-out your facial skin tone and providing an even base for your make-up. It is a light, silky and non-greasy formula. I thought it gave my make-up a more finished look…like I actually knew what I was doing when I applied my make-up.
The Lux Organic Lip Conditoner provides moisture to your lips and protects them from environmental stressors. This glossy formula glides on with ease and lasts for a long time. Lux Organic Lip Conditoner has a light botanical smell, which I found to be relaxing.
Vapour Beauty is on facebook and twitter.
One lucky winner will receive a Vapour Beauty Stratus Soft Focus Instant Skin Perfector and a Vapour Beauty Lux Organic Lip Conditoner. This is a US giveaway that will end on 10/10/12.
Loading Entry-Form…
…




Hello, my name is Laurie. I have been married to my husband for 14 years. We have two young daughters, ages 11 and 13 years old. My family and I live in Oregon so that means we are just minutes from the beach, mountains, and desert.  We love it here and try to spend as much time outdoors playing as we can. When we aren't outside playing, I enjoy reading, gardening, refinishing furniture, and other crafts.
This post currently has no responses.