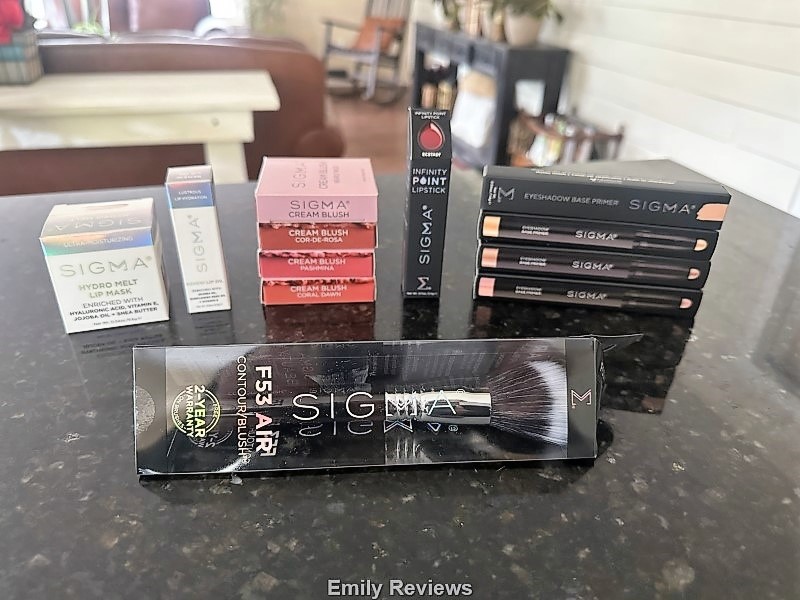 Thank you to Sigma Beauty for providing me with products to facilitate my blog review. All opinions are 100% my own.
Over the last couple of months, I have begun to enjoy trying new cosmetics and makeup techniques. I watch a lot of tutorials and have found a few beauty influencers to follow. I like seeing how others enhance and minimize different features.
One brand I heard referenced a few times is Sigma Beauty. Sigma Beauty is the place to go for clean vegan cosmetics, award-winning waterproof makeup brushes, and innovative brush care products.
I was able to partner with Sigma Beauty to show you a few items that they have that I feel would make great gifts for Mom this Mother's Day. For my review, I received a Hydro Melt Lip Mask, a Renew Lip Oil, an Infinity Point Lipstick, Eyeshadow Base Primers, and Cream Blushes.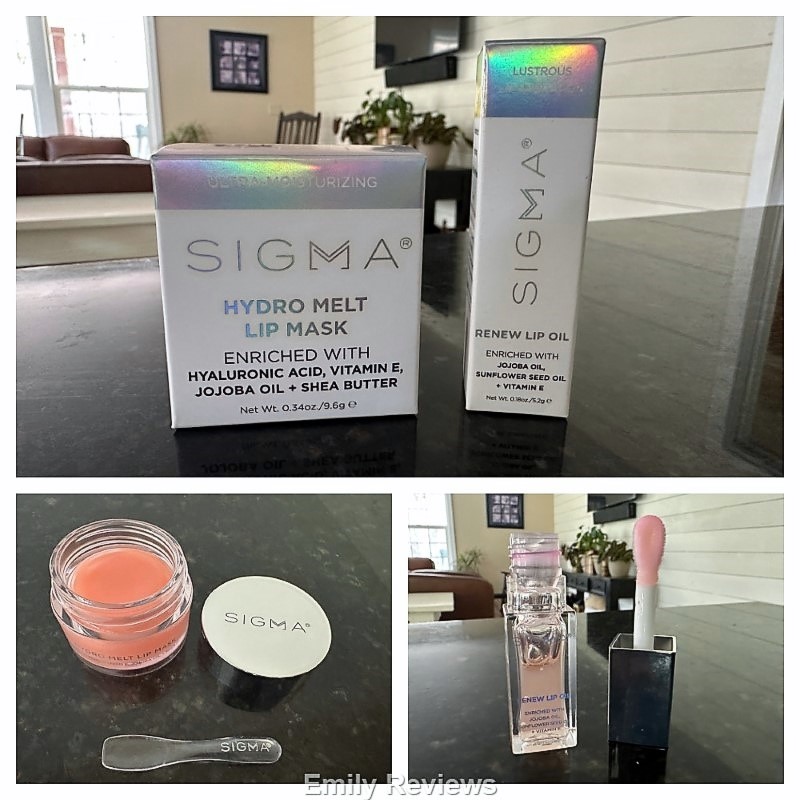 The Hydro Melt Lip Mask and Renew Lip Oil are what brought me to Sigma Beauty. I read several reviews that said these were must-haves and they were correct! These are everything I had hoped they would be. The Hydro Melt Lip Mask is leave-on. It contains hyaluronic acid, vitamin E, jojoba oil, and shea butter. It can be used day or night and it comes with a spatula for application. The Renew Lip Oil is a smooth, non-sticky lip oil. It also contains vitamin E, jojoba oil, and sunflower seed oil. Both the Hydro Melt Lip Mask and Renew Lip Oil will leave your lips feeling hydrated, smooth, and soft. I got the duo in the color Hush (clear pink). They are also available in All Heart (berry mauve), Tranquil (fresh pink), and Tint (neutral nude).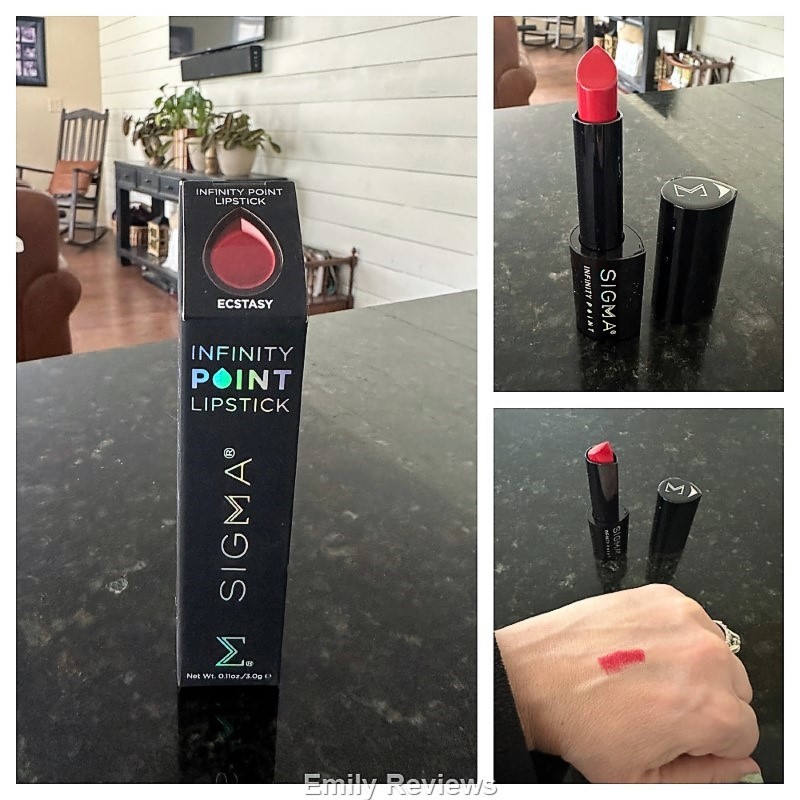 Most days, I wear warm neutral makeup with a somewhat bold lip color. Red is my favorite. When Sigma Beauty suggested I try their Infinity Point Lipstick in Ecstasy, a deep rich red, I jumped at the opportunity. The Infinity Point Lipstick is enriched with jojoba oil, sunflower seed oil, and vitamin E. It has a satin finish. The Infinity Point has an innovative design that allows the lipstick to never lose its point. This gives you a precise application every time. In addition to Ecstasy, the Infinity Point Lipstick is also available in Déjà vu (soft cognac nude), Epiphany (bright peach nude), Temptation (dark mulberry mauve), New Mod (iconic nude mauve), Red Velvet (deep baked red nude), Scarlet (rich scarlet red), and Peach Tea (peach spiced neutral). The Infinity Point Lipstick has quickly become one of my favorites. It feels nourishing and has a long wear time.
I love when I can use makeup in multiple ways. Sigma Beauty's Eyeshadow Base Primers and Cream Blushes are products that I used for their intended purpose as well as in other ways.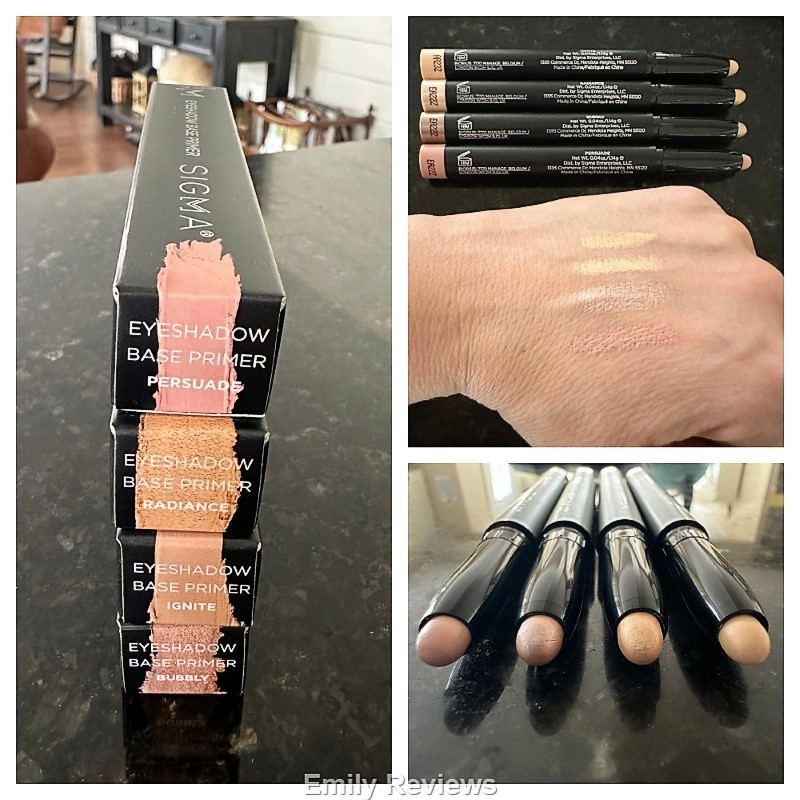 The Eyeshadow Base Primers are great for applying to your eyes before you apply a powder eyeshadow or can be worn alone. If you apply a powder over the top of them, it can help increase the color and hold the pigment longer. In addition to that, I use my Eyeshadow Base Primers as a highlighter. Eyeshadow Base Primers come in Ignite (light caramel matte), Persuade (light pink beige matte), Radiance (soft golden shimmer), and Bubbly (pinky champagne shimmer).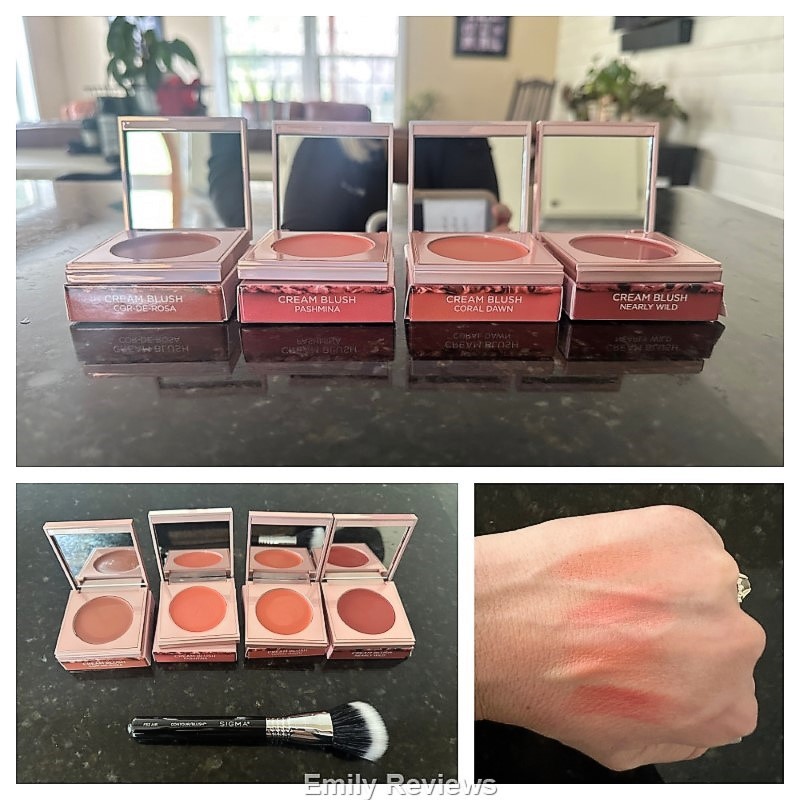 Cream Blushes are something I have recently started playing with. I am in my mid-40s. It was suggested to me that I try cream makeup because some feel that it lays better on aging skin. I have been using cream blushes for a few weeks now and like them a lot. In addition to using the Cream Blushes on my cheeks, I have also used them as eyeshadow and on my lips. They are lightweight, blend well, and have a natural look to them. Cream Blushes are available in Coral Dawn (fresh melon sheen), Pashmina (salmon rose sheen), Nearly Wild (pomegranate pink sheen), and Cor-de-Rosa (earthy rose sheen).
Sigma Beauty suggests using the F53 Air Contour/Blush™ Brush with their Cream Blushes. The F53 Air Contour/Blush™ Brush features soft duo fibers with a softly angled brush head. It is ideal for sheer to medium coverage.
Sigma Beauty has everything mom will need to look and feel her best. I am impressed with the items I received and plan to add more to my collection!
Buy It: Please visit the Sigma Beauty website to see their great selection of products and convenient shopping locations.
Connect: Don't forget to follow Sigma Beauty on Facebook and Instagram for the latest product announcements and special offers.


Hello, my name is Laurie. My family and I live near the Oregon coast. When we aren't at work, in school, or on the volleyball court, we enjoy traveling, cheering for our favorite sports teams, playing outdoors, and checking off items on our bucket list. We are lucky in that both sets of our parents, as well as our siblings and their families, live within an hour of us. We get together often to help one another out, celebrate milestones, and go on adventures together.
This post currently has 6 responses.