10 Dollar Mall is an online store where everything is $10 or less. Most of the items available are clothing items for Women & Men but they also have children's clothing, and they sometimes stock other items like phone cases, candles, jewelry, headphones, etc. While it's not hard to find t-shirts for $10, I was thrilled to see a large selection of jeans, tops, dresses and more for $10 or less. I had $50 to spend at the store and spend most of the money on Ryan. I was able to get him two pairs of jeans, a button up dress shirt and a pair of shoes. I also got myself two pairs of panties and have all of the items mailed to me for $50. Not bad at all. The jeans, shirt & shoes were $10 each, the panties were $1.99 a pair and shipping was $7.99.
The shirt that he is wearing in these pics is not from $10 dollar mall but both pairs of jeans & the shoes are.
While the website doesn't list brand names on their items, some of them are brand name. The panties I was sent were L.E.I brand. The other items weren't brand names that I was able to recognize but the shirt had a $39.99 price tag on it and one pair of jeans had a $69.00 tag on them.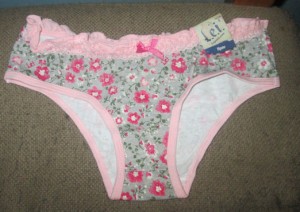 Unfortunately we had a lot of sizing issues. This is my only experience with 10 dollar mall so I have no way of knowing if we just got really unlucky or what. The jeans & shirt were all ordered in Ryans' regular size and they were all too small. All of Ryan's jeans that he had at home were the same size as those we ordered but both pairs were too tight as you can somewhat tell from the photos but much more so in person. He was able to get them on but they visibly look too tight, especially from the back and he said they were way too uncomfortable to wear for more than a few minutes. The look, feel and overall quality seems amazing for $10 men's jeans. The shirt was too small to even button up fully. The shoes were ordered in a size 12 and he usually wears an 11 but has 10.5's that fit as well and the shoes fit perfectly so if we had ordered an 11 they would have been too small. Thankfully, 10DollarMall has a convenient return/exchange policy that lets you ship the items back to them via your choice of USPS, UPS or fed ex. If you are sent the wrong item or wrong size compared to what you ordered (meaning you ordered a size small and  were sent a size medium, etc) they will pick up the shipping charges but otherwise the shipping cost will need to be picked up by the costumer.
We were happy with the quality of all of the items we received so aside from the sizing issues that we had I was happy with the experience overall. Their inventory changes incredibly rapidly, the panties and one of the pairs of jeans are still available but the other items have already sold out. So if you see some items that you want, don't delay in ordering because they might be gone by the next day.
Connect: You can connect with 10DollarMall on Facebook and Twitter.
Win it: a $50 gift card to spend at 10 Dollar Mall.
To enter: Fill out the GT form below before 11:59pm EST on 1/2.
Loading Entry-Form…
…

This post currently has 5 responses.