Over the last few months, I have worked really hard to update my appearance. One easy way for me to feel more fashionable is by taking care of my nails. My trendy Sister-In-Law was telling me about gel manicures. I thought it sounded neat and decided to look into them. That's when I found SensatioNails.
SensatioNail is an at-home gel manicure system. Gel manicures provide a durable and longer lasting manicure. Gel polish can last up to two weeks and still look great. For my review, I received a SensatioNail Starter Kit and a Magnetize Magnetic Gel Polish.
A SensatioNail Starter Kit comes with everything you need for 10 applications. The kit has a Pro 3060 LED light, gel cleaner, gel primer, a polish, gel base & top coat, manicure tools and instructions.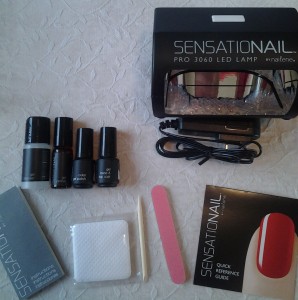 With the holidays right around the corner, I wanted to feel and look festive so, for my manicure I used the red polish that came with my starter kit. I found the SensatioNail process to be very user-friendly. The step-by-step instructions were easy to follow and the whole process didn't take very long at all.
I decided to switch things up a bit for my pedicure so instead of using the same red polish that I used for my manicure, I used the blue Magnetize Magnetic Polish. This polish is designed to give users a custom look when a magnet (provided) is held up to the fresh polish.  Although I didn't notice any changes in my polish when I applied the magnet, I still really like the color. Perhaps, I need more practice with this application method.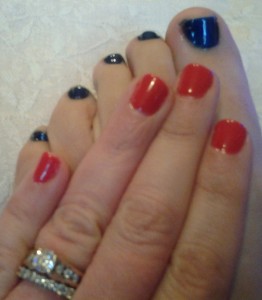 With my SensatioNail products, I had a professional looking gel manicure and pedicure in the comfort of my own home.
SensatioNail is on facebook and twitter.
Who are you buying SensatioNail for this holiday season?


This post currently has 4 responses.