So Little C has always LOVED bath time, but when he turned 3 he started to scream when I would wash his hair.  My old method used to not bother him at all.  I could dump water over his head if I wanted to and he could care less.  When he was between 1 and 2 years old I just had him look at the ceiling while I washed his hair and he was very content.  I don't know what happened when he turned 3, but the world would end when it was time to wash his hair.  I tried everything I knew to do.  I finally ended up giving him a rag to cover his face with and it worked most of the time, but water did still splash on him and of course it soaks right through the rag covering his face.  Most of the time he would just melt down when that happened.  He loves to swim and doesn't mind going under water.  He will even dunk his own head in the bathtub and be fine as long as he can wipe his face off as soon as he is done.  The idea of him throwing such a fit when I would wash his hair just baffled me.  I just didn't understand.  I am totally assuming that he is scared of the soap.  I use kid soap that says it is tear free, but I still think that their is a fear that he has of it getting in his eyes.  That is the only thing I could figure out.
Well, if you have a toddler like mine you will absolutely love the new KAIR Shampoo Visor.  When offered the opportunity to review the visor I just had to try it.  I didn't know if it would work or not, but it was definitely worth a try.  My parents laughed when they saw and insisted that Little C wouldn't wear it.  Well, were they ever wrong!  Little C absolutely loves his new shampoo visor and won't let anyone wash his hair without it.  It has become a bath time staple in my house. I still have to rinse the sides of his hair when we use the visor, but Little C doesn't mind that.  Little C has so much hair, lol!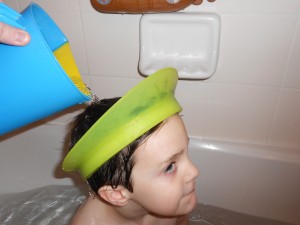 The KAIR Bath Visor was invented by a dad who was tired of having a fussy bath time routine at his house.  The patented unique air cushion sealing works like an inner tube.  By utilizing the even and gentle air pressure inside the sealing tube, KAIR provides consistent sealing effects along the hairline for all head shapes and sizes. KAIR guarantees comfort and leak proof.   The visor is super soft and works like a charm.  I was afraid that after using the shampoo visor a few times that it would become loose on Little C's head.  That has never happened and their is still no leaking while using the visor.  The visor is very easy to travel with and is an absolute must for Little C.  The visor comes in blue, green and purple and sells for $24.99.  I think that is a great price considering Little C doesn't scream when I wash his hair anymore.  If you are not happy with the product KAIR has a money back guarantee and they also offer FREE SHIPPING!
You and your little one can enjoy bath time from now on if you decide to try the new KAIR Shampoo Visor!


This post currently has 7 responses.