I have recently become a big fan of bean bag chairs. I have a living area in my house that I wanted to make a nice hang-out, lounge area, so I was thrilled to be able to review a bean bag chair that would fit nicely in it, yet also double for another purpose. I love furniture that has more than one purpose!
The CordaRoy's Bean Bag Chair and Mattress is just that. It's a bean bag chair, with a bed inside. For the day, you can use it as a bean bag chair. At night, you can take off the cover, flip the inside a bit, and it turns into a mattress! They have been incredibly popular since they were on the show "Shark Tank", and it's easy to understand why. Not only is it a nice piece of furniture, it also becomes a bed for any guests you may have over! They come in various sizes, from a kid's sleeper, to a king sleeper sofa that has two king mattresses in it.
I received the CordaRoy's Moss Green Chenille Full Sleeper to review.  Here's the bean bag chair, with a close up of the pattern: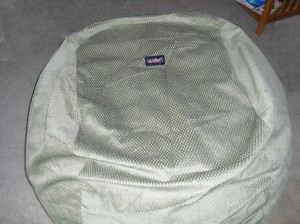 And here it is in different lighting, next to a couch for size reference. You can also see that the slight wrinkles in the first picture worked out of the cover over time: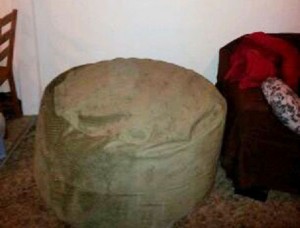 This bean bag chair is a really nice size. It's not too huge, so it can fit in a living room of any size. Yet, it's not too small either. A grown adult can easily sit and lounge in this bean bag chair, and do so very comfortably.
The cover itself is also very nice. I liked the look of the chenille pattern, it's like a cross-hatch pattern, and the material was nice and thick, and incredibly soft. I loved how soft it was. It's also completely removable, which is great. You never have to worry about spilling something on it. This cover washed really well. I washed it and dried it in the washing machine and dryer. I used the delicate cycle, and low heat just to be safe, and it turned out great. It didn't lose any of its softness, and it didn't shrink.
The filling of this bean bag chair is great. It's the most comfortable filling I've experienced in a bean bag chair. The filling of the chair, and mattress is a polyfoam fill. It's soft, yet supportive. It's like a big piece of foam. You sink into the chair when you sit in it, but it's also supportive for your back, and makes the chair easier to get out of, since it doesn't squish down too much. Basically, it's just really, really comfortable.
And, on to the exciting feature of this bean bag chair, the mattress! Here's the inside of the bean bag chair, flipped into the mattress: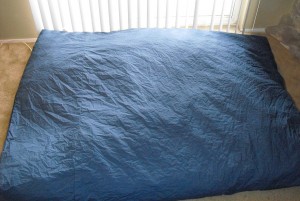 It was hard to get a feel for the thickness of the mattress when I took the pictures, so I took a picture of the thickness as well: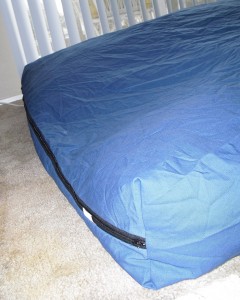 As you can see, it's nice and thick!
This mattress is really great. It's a full size mattress, so it's perfect for a grown adult, and can even fit two adults sleeping on it in a pinch. It's really comfortable, much better than having guests sleep on the couch or the ground, and also much more convenient than an air mattress that you have to fill up each time, and then find storage space for, and which can possibly get a leak and never work again. When you're done with this mattress, you just put it back into the bean bag chair cover, and it's a bean bag chair again!
It was really easy to turn the bean bag chair from the chair to the mattress. It can easily be done by yourself, no help required. The CordaRoy's website also has videos, and great instructions on how to turn it into a mattress, found here. Basically you just take the inner-bag, and flip it a bit, and it turns right into the mattress. Very easy!
One thing I would like to note, is that the mattress itself comes without a cover. Lots of pictures on the website show the mattress with a cover on. They do sell a mattress cover separately. They have a basic, and a deluxe version. These pictures show the mattress without a cover on it. I think I would definitely like to get the cover for the mattress, just so I know it's protected from spills, just like the bean bag chair is, with its cover on. However, it functions just fine without one. When we used the mattress, we just put a sheet on it.
Overall, I really like this bean bag chair. It's a great size. It's really comfortable, and it turns into a bed! What more could you ask from a bean bag chair? I really didn't find anything that I didn't like about the CordaRoy's bean bag chair. If you want a great bean bag chair, that's also useful whenever you have guests over, I would definitely recommend the CordaRoy's bean bag chair for you!
Buy it: You can buy the CordaRoy's full sleeper bean bag chair I reviewed, or many others at the CordaRoy's website
Connect: You can connect with CordaRoy's at their Facebook, Twitter, and YouTube channel.


This post currently has 6 responses.