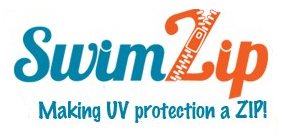 Spring is officially here. What does that mean? Summer is right around the corner! Our daughter loves water and we enjoy spending time outside around and in the pool. Finding the right swimsuit for my daughter was very important to me, and I'm not just talking about style and color.
Most of the children swimwear available right now is designed to expose a lot of your little one's fragile skin to the sun. As much as we like the sun's warmth, I am really cautious about exposing too much of my daughter's skin to it.
SwimZip is there to offer parents peace of mind when it comes to protecting children against the sun's harmful UV rays. It was created by a mom who is herself a skin cancer survivor and an advocate for better sun protection. SwimZip's swimwear come with either short or long sleeves. Not only do they offer swimwear that covers more skin than the typical bathing suits you see everywhere, but even the fabric itself is treated to offer UV protection. It was tested to ensure UPF rating 50+. Now that's what I call good sun protection, especially since unless sunscreen, it won't wash off in water.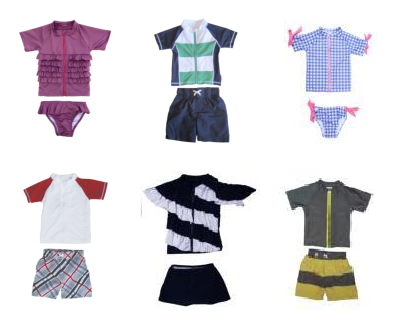 In terms of design, SwimZip thought about it all. All their swimwear come in 2-piece set. It's a lot easy to get on and off than a regular one-piece rashguard. They also included a full length zipper because they understand that it's important for a swimsuit – especially a wet one – to be easy to put on and take off. They also use flat-seam stitching and lining that ensures maximum comfort. Their swimsuit come in size 0-3 months all the way to size 4T.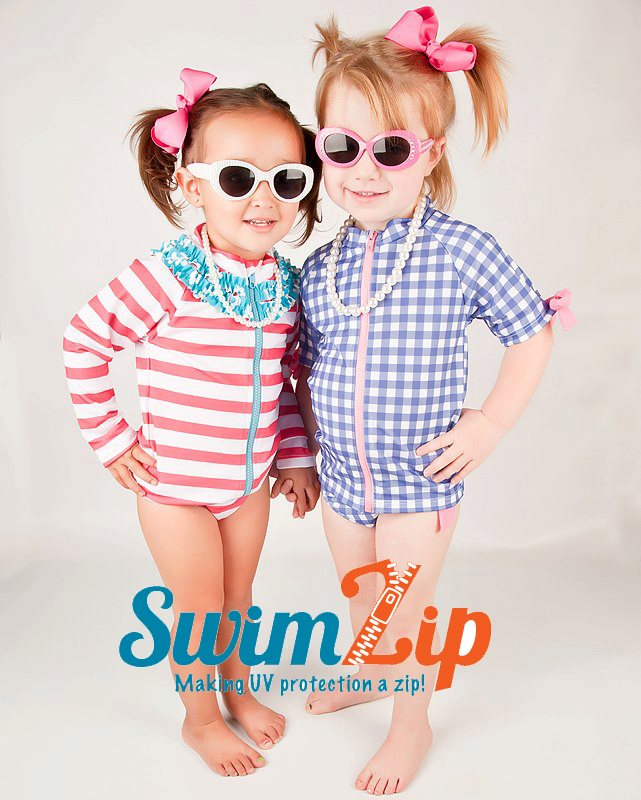 They could have stopped there, with totally functional and safe swimwear and I would have been more than satisfied but they didn't. They also wanted their products to be fashionable. So they chose cute fabrics such as plaid and stripes as well as beautiful design details such as ruffle and bows. They offer many different styles for both boys and girls. They are all equally stylish and trendy which mean you don't have to save it for the pool or the beach. It can also be use as a sun shirt for everyday outdoors activities. I'll admit that the cuteness factor make SwimZip even more appealing.
For this review, we received the Sassy Surfer for my daughter. First of all, it's pink with white polka dots so my daughter loves it! Second of all, it has ruffles on the sleeves, the lower part of the top, and the upper part of the bottom.
I also noticed that there is a small flap of fabric at the top of the zipper so it stays down and can't hurt my daughter's neck or get caught in hair. As an added bonus, she can't pull it down herself because it's hidden.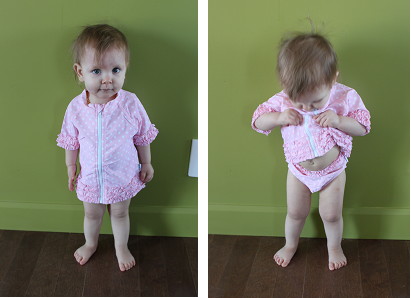 As far as fit goes, I chose a size 18-24 months for my daughter who is now 16 months old. Obviously, with us being in Canada, she won't need it for another 2-3 months. At the present time, the top is a little big on her but I'm hoping that over the summer, it'll fit her nicely. I might have been able to purchase a size smaller because my daughter isn't very big nor tall for her age but I was afraid it'd be too small before the end of the summer.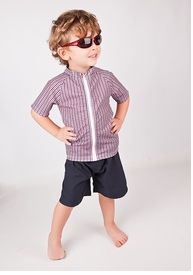 Overall, we love our SwimZip swimsuit. It's both functional and pretty and offers great UV protection.  We can't wait to show it off at the pool and the beach this summer. Head to SwimZip to purchase a beautiful swimsuit with UV protection for your little one. Don't forget to like them on Facebook and follow them on Twitter for all the latest news and promotion.
SwimZip is generously offering one of our lucky readers a voucher to buy any swimsuit valued at $29.99 or less. The giveaway is open to US and Canada BUT if the winner is Canadian, she will be responsible for shipping ($7 charge). The giveaway will end April 16th. For your chance to win, enter the Giveaway Tools below. Good luck!


This post currently has 4 responses.