Thank you Little Monsters
for providing me with a product to review, free of charge.
These are my own honest opinions.
We've been using cloth diapers with our daughter since Day 1. For us, it was an easy choice. It's best for the environment, it's best for baby's skin, and it's best for our wallets (because cloth is cheaper than disposables even though the initial investment can seem like a lot).
We've tried all kinds of diaper over the last 18 months and I'm always eager to 'test' new ones. This time, I have the opportunity to review a pocket diaper from Little Monsters Cloth Diapers.
For those of you who aren't familiar with cloth diapers, let me walk you through the lingo. A pocket diaper is a cloth diaper with a water-resistant outer shell and a soft fabric layer sewn inside with an opening usually around the back of the diaper to stuff in an absorbent insert.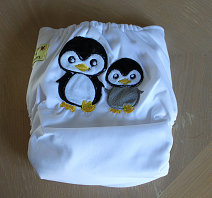 When the diaper is wet or soiled, you remove the insert and put it in your wetbag. You can choose to rinse or soak your shell or simply dunk as much as you can in your toilet and then put your shell in the wetbag as well until laundry day. I'm personally not big on rinsing and soaking. I remove as much poo as I can and the washer does the rest.
Pocket diapers can be sized or one-size. If they are sized, they don't need any adjusting but will only fit for a while before you have to get the next size. If they are one-size, they can be adjusted to fit a baby for years.
In the case of Little Monsters diapers, they should fit a baby from when they are 9 lbs to 35 lbs depending on their size, how chunky their thighs are, etc. To be a one-size-fits-all diaper, the shell has four rows of snaps so you can adjust the diaper's rise. There are also 10 button settings at the waist the diaper will fit a small baby as well as a toddler. If needed, the tabs can also be crossed over one another for a baby with a tiny waist.
Little Monsters offers many different pocket diapers from solid colored to embroidered as well as wetbags.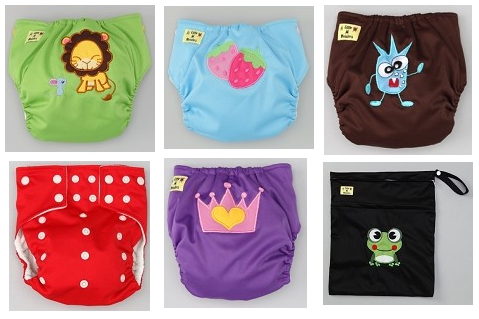 The diaper that I received is the Penguin Friends. It has a white laminated shell (PUL) with 2 cute penguins holding 'hands' in the back. Little Monsters diapers come with a triple-layered microfiber insert. It is very important to always stuff your microfiber insert in the diaper and not lay in inside it because this fabric is so absorbent it can actually dry out baby's skin. The inner layer of polyester microfleece wicks moisture away from baby's skin (it is then absorbed in the insert) and doesn't feel as wet as other types of fabric like cotton when it's wet.
The opening at the back of the diaper is wide and makes stuffing easy. You can also add an extra insert for nap time or bed time if necessary. I was able to get a good fit with this diaper and it didn't leave red marks on my daughter's legs. We used it both during the day and night. We didn't get leaks at night but my daughter isn't a big wetter. As I said, you may need to add another insert especially at night.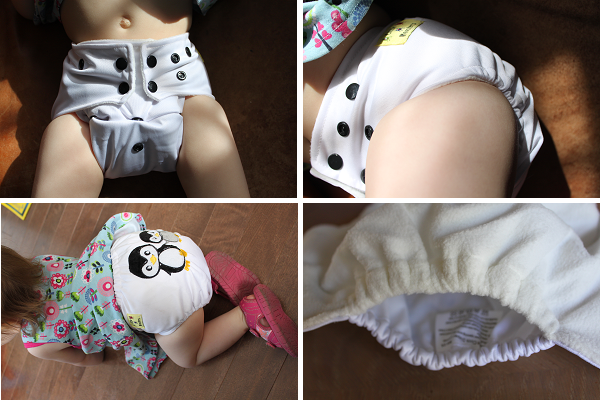 Little Monsters diapers only come with snap closure. My personal preference is applix though because it's quick and easy much like a disposable. Other than that, I thought Little Monsters diaper worked very well and they are very cute!
Head over to Little Monsters to see for yourself the cute one-size pocket cloth diapers they offer. Don't forget to like them on Facebook  for all the latest news and promotions.
Little Monsters is generously offering one of our lucky readers a one-size pocket diaper. You can either choose boy, girl, or gender neutral. The giveaway is open to US residents only. The giveaway will end June 13th. For your chance to win, enter the Giveaway Tools below. Good luck!


This post currently has 6 responses.