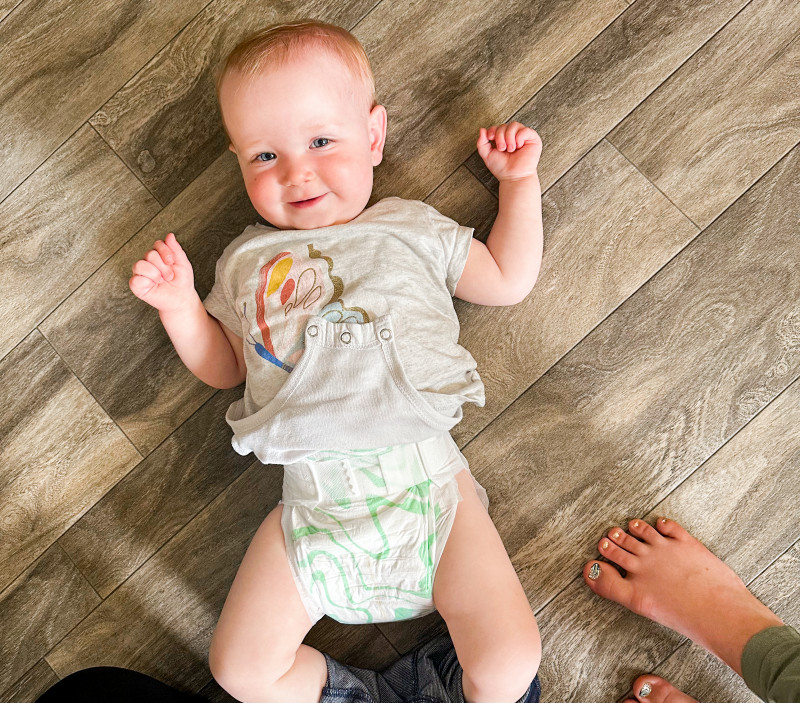 This Freestyle Diapers review is sponsored by Freestyle Diapers. All opinions are my own.
As a mom to six children, former daycare provider, and former foster mama; I've had a LOT of experience with diapers. From brand name to store bought, chemical free to cloth, I feel like I've tried them all. When I became a mom over 18 years ago, my aunt swore by Pampers so that's what I bought. Well, by 1 week old, our poor little baby was so raw I didn't know what to do! When we took her in for her 1-week check, an angel of a nurse told me to try a different brand of diapers as her granddaughter also broke out terribly from Pampers. I ran straight to the store and switched that very day. Within 24 hours, her bottom was looking so much better. And so began my journey to finding the best diaper brand.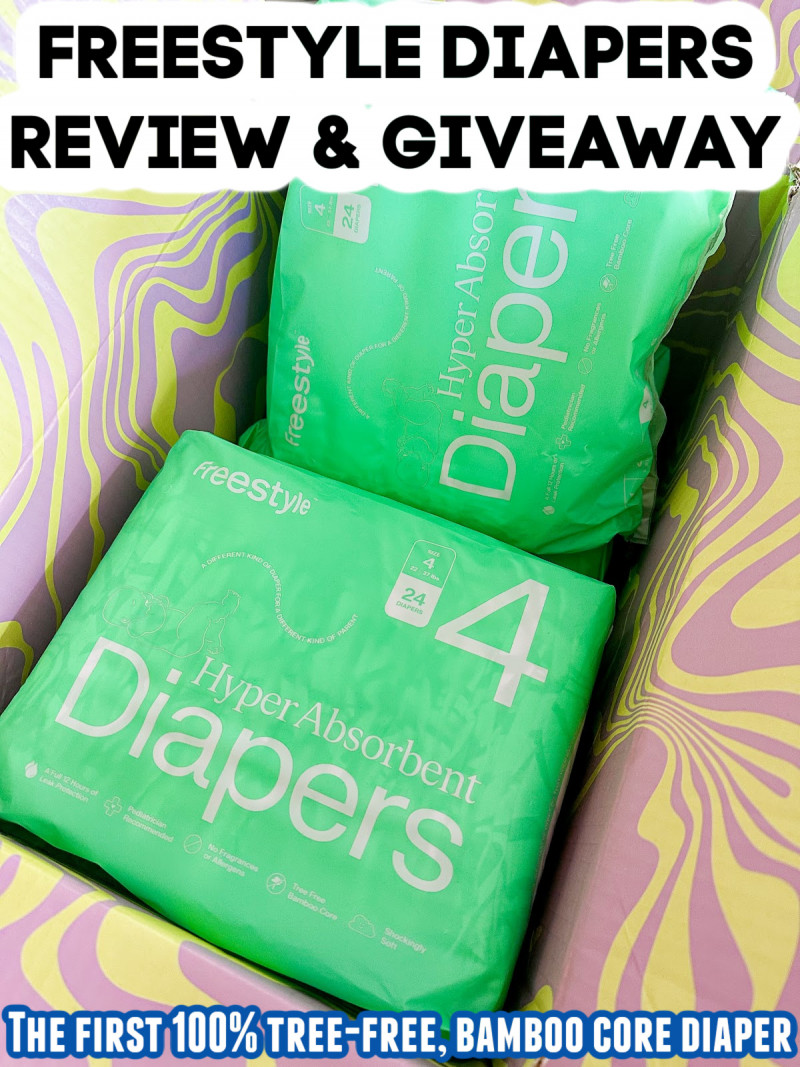 Freestyle Diapers Review: Chemical Free Diapers That Work!
Did you know that Freestyle Diapers is the first diaper brand to use a 100% tree-free core? Their proprietary BambooTek core is not only the most sustainable option on the market, but also absorbs 1.5 times more moisture than other diapers!
NOTE: If you like to save money, use the discount code 'SLEEPTIGHT25' when giving Freestyle Diapers a try!
Made From BambooTek
Have you ever heard of BambooTek? It's the next generation of absorbency and Freestyle Diapers has it! — You'll enjoy a core made from 100% organic bamboo that's 55% more absorbent than the #1 brand of diapers. And because Freestyle Diapers uses bamboo pulp instead of viscose, there are no harsh chemicals or bleaches in the makeup of their diapers either. This means that it's safe to put on baby's sensitive skin.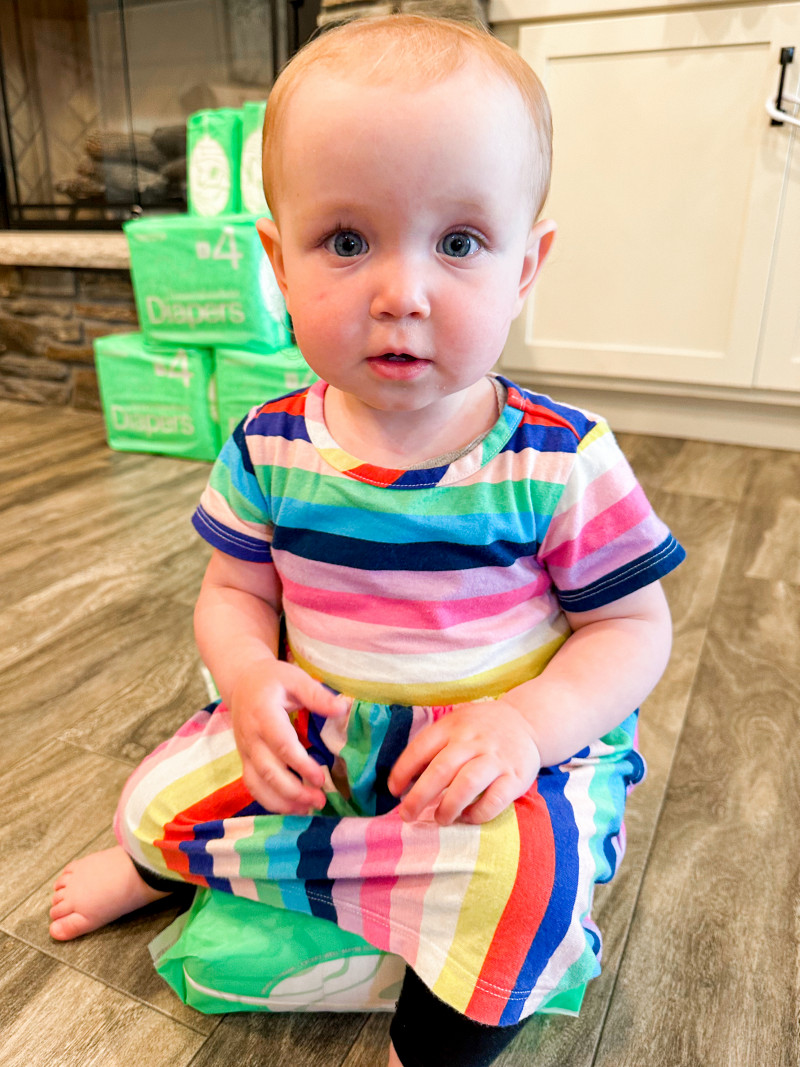 Features At A Glance
Freestyle Diapers are 55% more absorbent than regular diapers.
They are shockingly soft to the touch.
Chemical-free
Designed by artists, limited edition prints.

Initial Observations
First off, I love how the Freestyle Diaper Subscription ensures I'll never run out of diapers. (No more late night runs to the store because nobody was paying attention to the diaper count! Yay!) Our little one is 15 months old now and I ordered her the size 4 diapers. My package arrived hassle-free to my front doorstep. The very first thing I noticed when I opened them up was how soft they felt! They are seriously the softest diapers I think I've ever tried.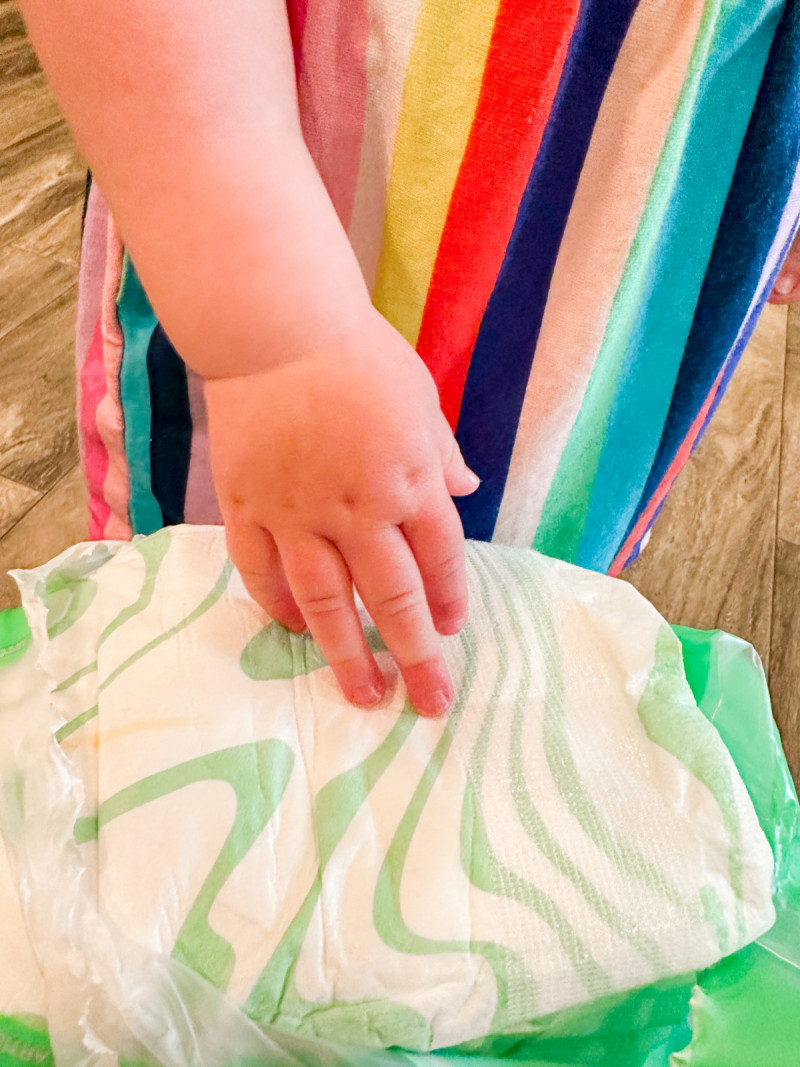 Comparison: Freestyle Versus Abby & Finn
I wanted to give you a comparison on like minded diapers so I'll share a bit about the differences between Freestyle and Abby & Finn. Freestyle Diapers are premium sustainable diapers that won't break the bank and Abby & Finn also offer an eco-friendly option.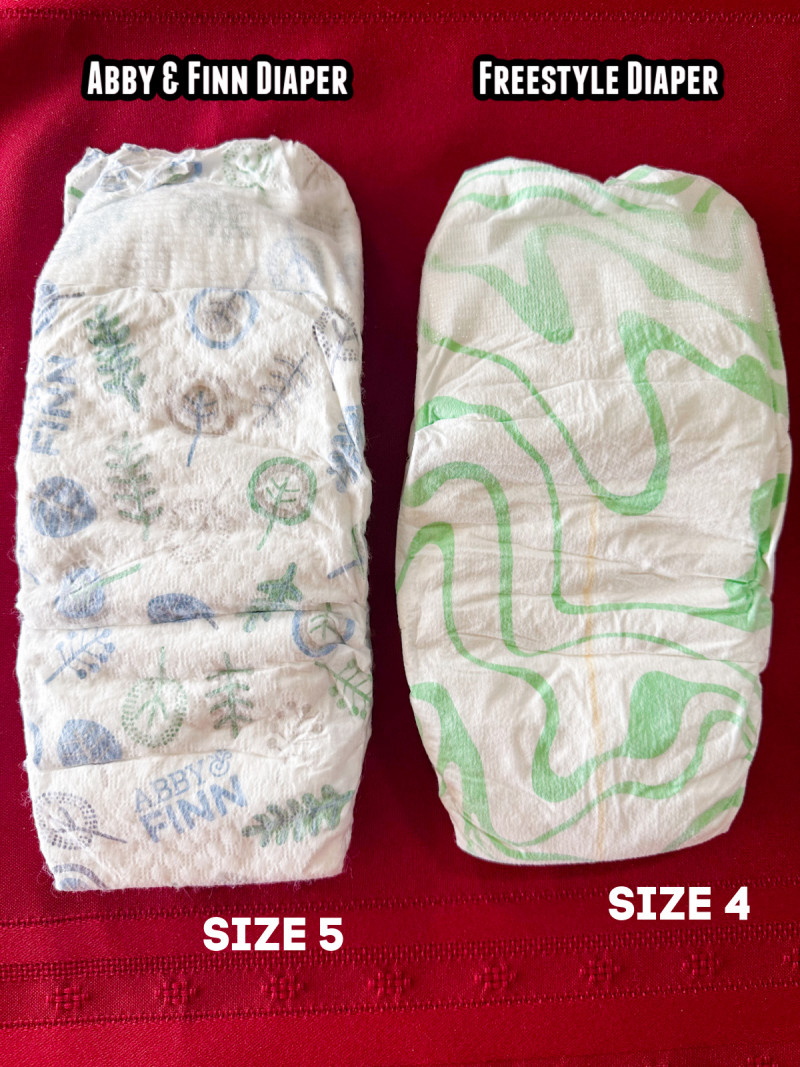 Sizing
Freestyle Diapers are spot on with sizing. Our daughter weighs just about 21 pounds now so she'd technically fall into the size 3 or just about into the size 4 Freestyle Diapers category. I always tend to jump to the next size a pound or two before the 'starting weight' on a diaper so that's why I went with the 4s. She's been pretty steady in the size four diapers for about a month now. With the Abby and Finn diapers, you can see how much slimmer they are so she's actually already in a size 5 with that brand. The slimmer design of Abby & Finn diapers also may cause issues with chubbier babies and leaking if you don't have a good fit.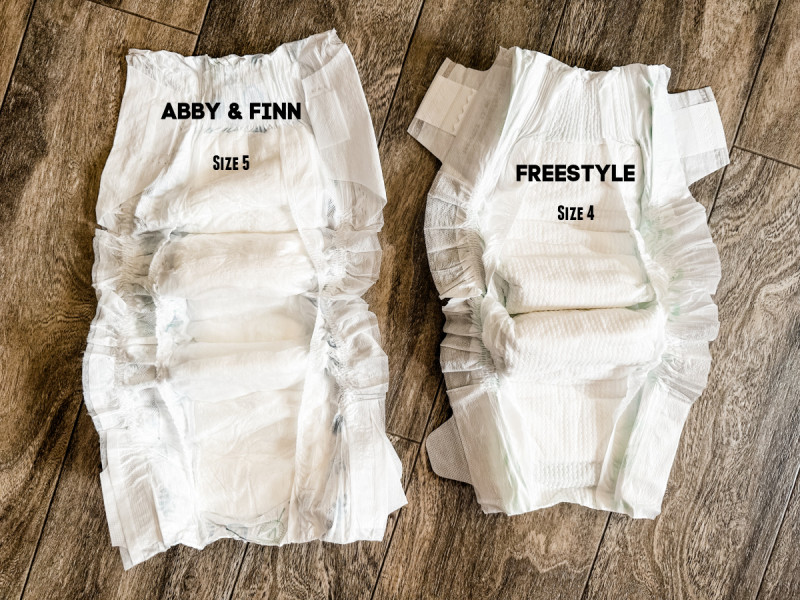 Tabs
Both brands feature a velcro style tab, which I LOVE. (Anyone remember the 'old' days where they were pure 'tape' and sometimes the tape wasn't sticky any more or would just completely rip off when you pulled it open to use it!? Thankfully, this type of closure doesn't get old or lose its ability to secure. I will say that the Freestyle Diapers do feature a combination of velcro and a small area that is slightly 'sticky' like tape and this duo closure secures quite easily and holds well.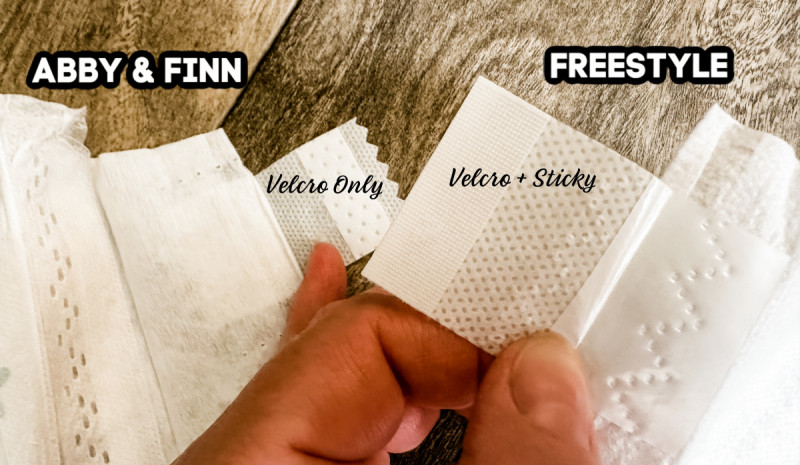 Absorbency
One of the biggest reasons I choose to continue using a specific brand or not is because of their absorbency. NOBODY likes a diaper that leaks! Probably the best thing that the 'top branded' diapers have going for them is their good absorbency. I've tried some store brands over the years that just didn't cut it. The last few weeks, my Abby & Finn Diapers have been leaking on us often too. So I'm thrilled to report that our Freestyle Diapers seem to do the trick as they haven't leaked at all on us yet! I would definitely rate them at the top of the list right up there with Huggies, Pampers, and Luvs when it comes to absorbency.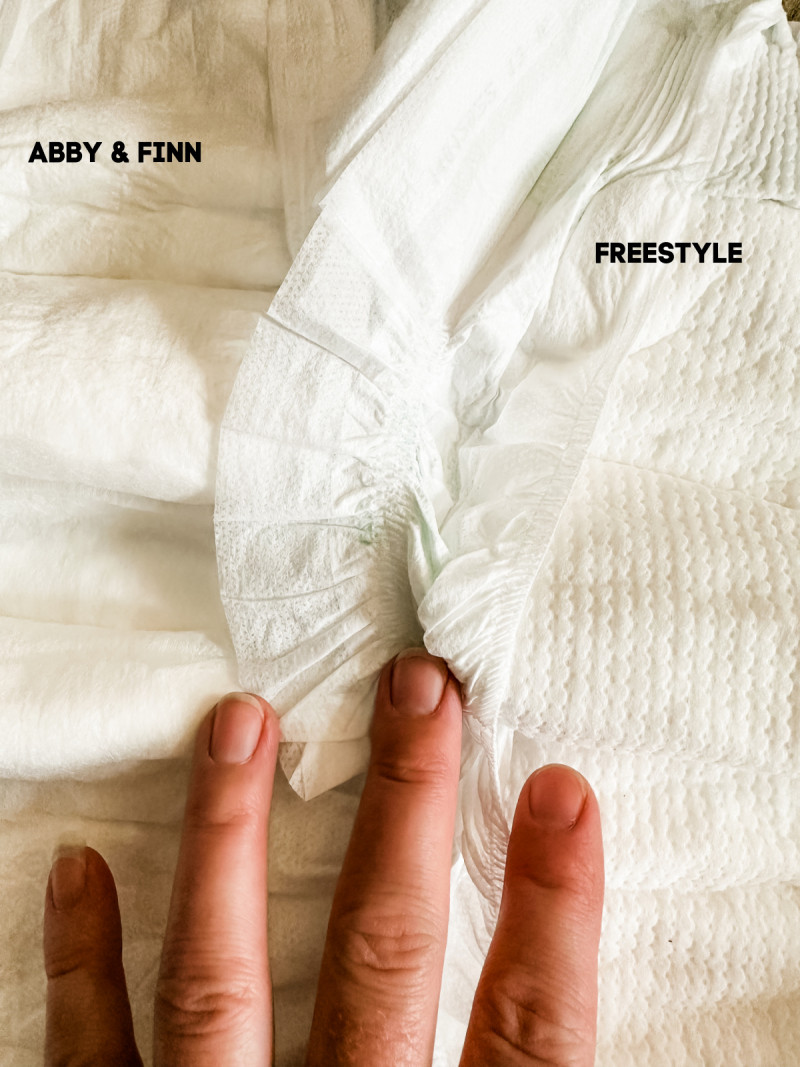 I also appreciate how Freestyle Diapers have the color changing line so you can quickly see at a glance if the baby needs changing.
Cost Of Diapers
The difference between Freestyle and Abby & Finn when it comes to cost isn't much. Freestyle Diapers are just slightly more, which is to be expected when receiving a higher quality product.
When purchasing Freestyle Diapers, you have two options:
One Box At A Time (1 Month Supply) = $98 per box
Subscribe And Save (Shipped monthly, easily pause, modify, or cancel at any time) = $78 per box
For Abby & Finn Diapers, you can purchase one pack at a time or bundle. Individual packs run $23, with each size having a different number of diapers inside. For example, size 4 diapers come with 52 to a pack while size 5 come with 46.
For the current size that our little one requires, that breaks down to 54 cents per Freestyle Diaper and 50 cents per Abby & Finn Diaper.
If you look at another Bamboo branded diaper like Dyper, their same size 4 box will run you $89, so about $11 more than Freestyle.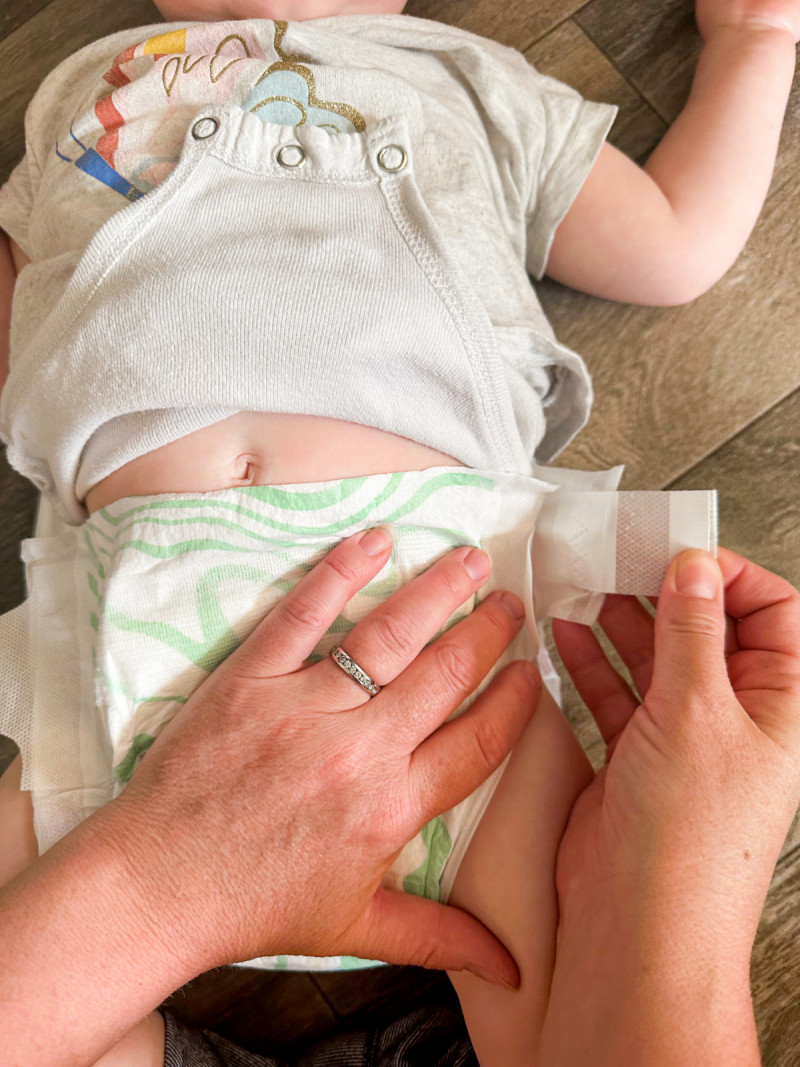 Final Thoughts On Freestyle Diapers
Overall, I'm really happy with our experience with Freestyle Diapers. They are definitely a great choice when looking for a more sustainable, eco-friendly, and non chemical disposable diaper option. While cloth diapering is always available as well, I've done that in the past and that's no walk in the park either. Plus, there's a large up front investment cost when it comes to cloth along with added laundry expense.
Freestyle Diapers allows you to get diapers you can feel great about using, delivered right to your front door each month at a cost that isn't too high for most. If you're looking for a better, safer diaper, definitely give Freestyle a try!
Connect With Freestyle Diapers
Website / Facebook / Instagram
Freestyle Diapers Discount Code
Be sure to use the discount code 'SLEEPTIGHT25' to save 25% on your order!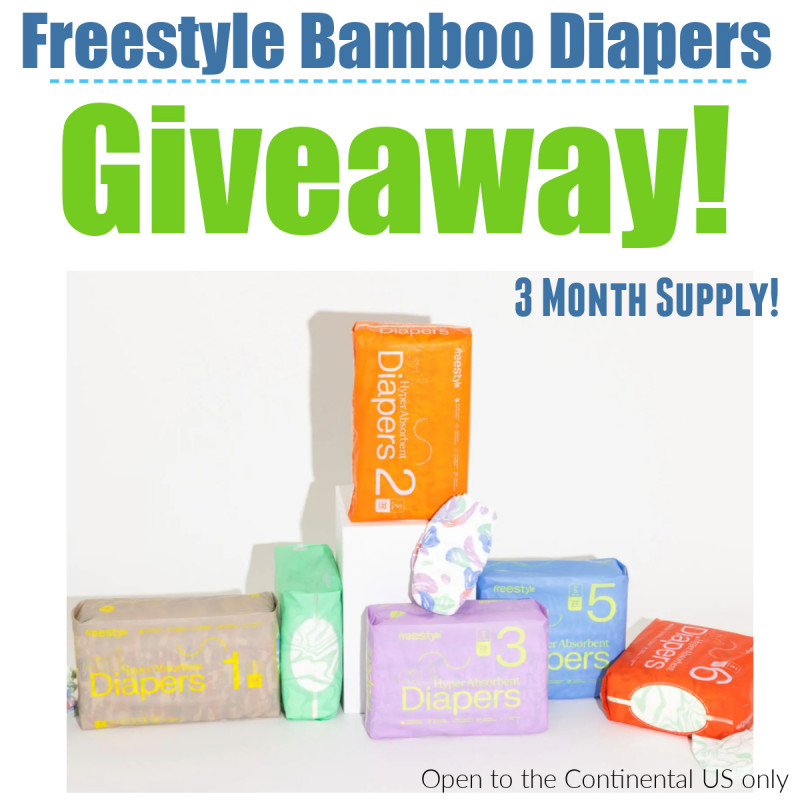 Enter To Win A 3 Month Supply Of Freestyle Diapers!
One lucky Emily Reviews reader will win a 3 months supply of Freestyle Diapers in the size of their choice, based on availability. Open to the Continental US only, just enter the widget below. Good luck!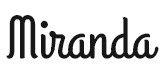 I'm a city girl turned country by my awesome husband and we have three busy boys and two darling daughters. I love spending time with my family, reading Karen Kingsbury novels, and catching up with friends while our kiddos have play dates. I'm blessed beyond measure and can't wait to see what God has in store.
Follow Miranda on Pinterest | Twitter| Blog | Instagram
This post currently has 42 responses.