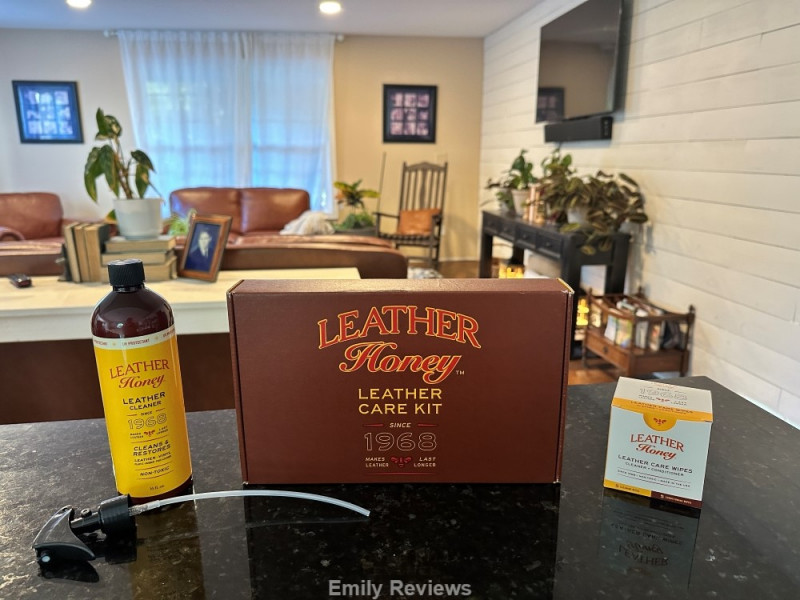 Thank you to Leather Honey for providing me with products to facilitate my blog review. All opinions are 100% my own.
Leather Honey offers its customers a collection of products that help you clean, condition, and protect your leather. They use a gentle non-toxic formula that removes dirt, oil, and grime while refreshing the appearance and feel of your leather. Leather Honey products can be used on any leather; from shoes and apparel to couches, car seats, bags, and wallets. It is also safe for use on vinyl, plastic, rubber, and faux leather. Leather Honey products provide up to six months of protection.
We have a leather living room set. We also have two vehicles with leather interiors. My husband is typically the one who takes care of cleaning all of the leather. I discovered Leather Honey a few years ago. Since then, it's the only thing he uses. I thought it would be nice to replenish his stock for Christmas. I got him Leather Honey's Leather Care Kit, Leather Cleaner Spray with UV Protectant, and Leather Care Wipes.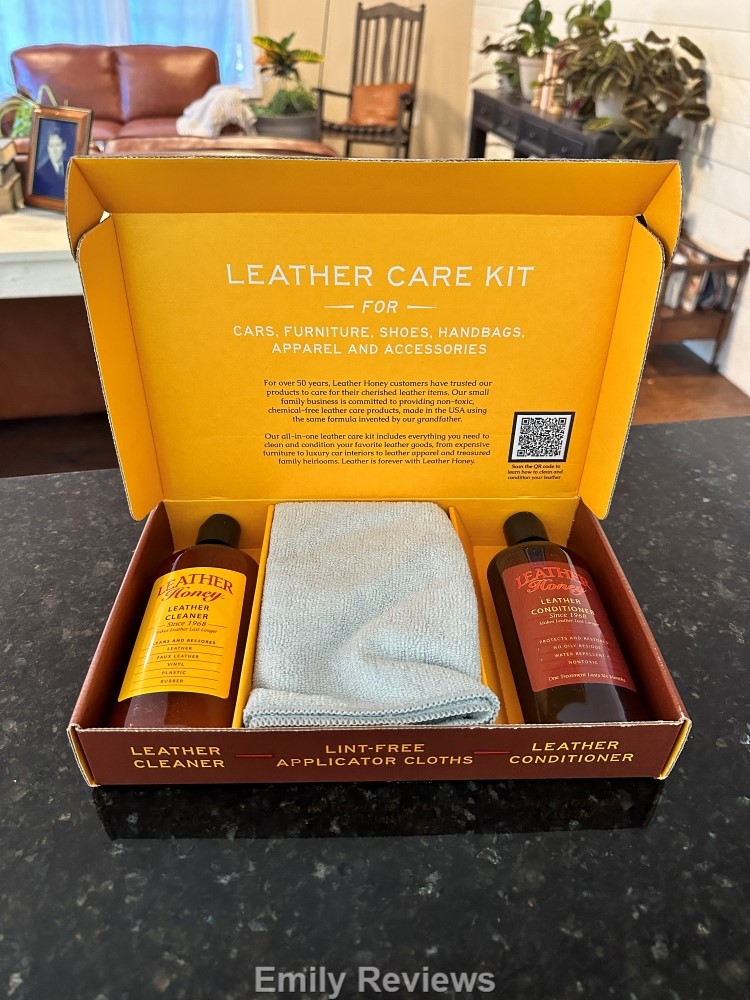 The Leather Care Kit is the perfect starter set. It includes 8 oz. Leather Conditioner, 8 oz. Leather Cleaner, and two lint-free application cloths. For best results, clean the leather's surface by gently wiping it down with a lint-free cloth, concentrating on the soiled areas. Allow the leather to dry completely. Then apply a quarter-size drop of Leather Conditioner to a clean, dry lint-free cloth. Completely coat the leather in a thin and even layer. Allow it to dry for a minimum of two hours. Once dry, gently buff the leather with another lint-free cloth. Repeat if needed.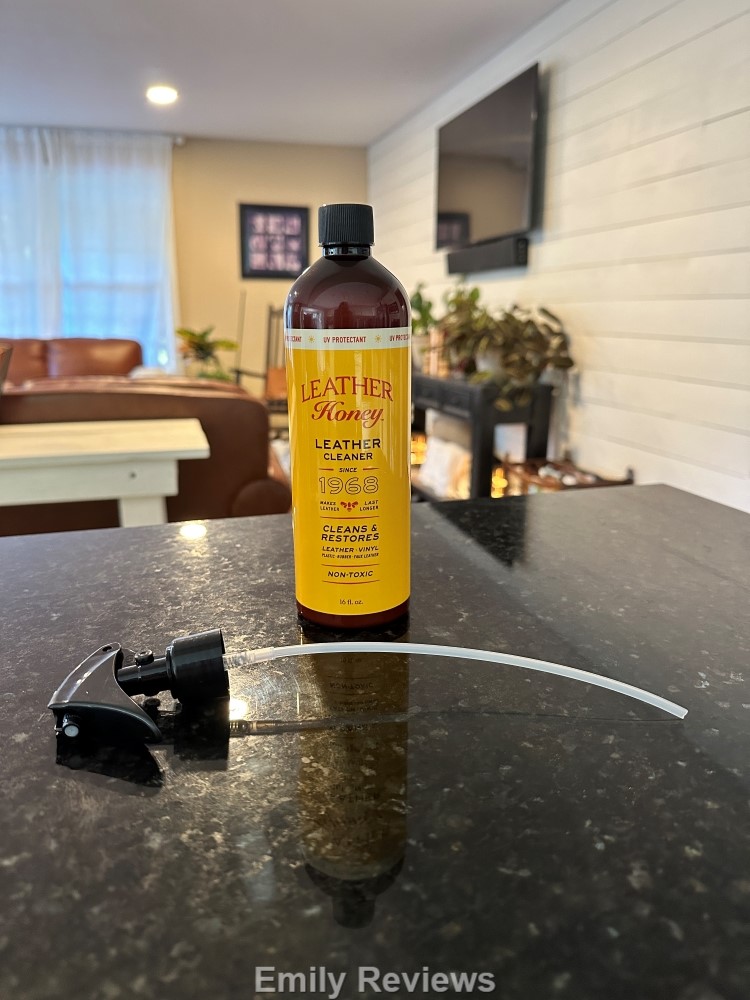 Leather Cleaner Spray with UV Protectant is the same deep-cleaning formula as the original concentrate. Leather Honey suggests when you clean leather, you should spray a small amount of cleaner on the leather, or apply the leather cleaner with a lint-free cloth. Then gently massage the cleaner over the leather, concentrating on heavily soiled or stained areas. Once you have completely removed the dirt, let the area dry completely.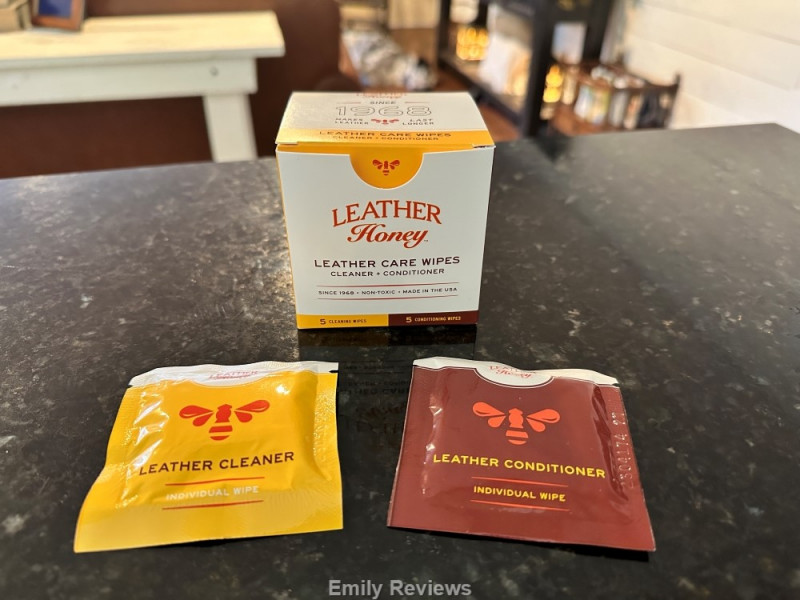 If you need portable leather cleaner and conditioner or just have a small project, perhaps Leather Care Wipes would work for you. A box of Leather Care Wipes includes five conditioning wipes and five textured cleaning wipes. Leather Care Wipes are made with thick, two-sided durable towelettes that have been infused with non-toxic leather conditioner or leather cleaner. They have texture to enhance performance and quickly lift away dirt. Leather Care Wipes are individually packaged so they won't dry out.
Leather Honey products are safe for use on white and colored leathers. With that said, it is always suggested you spot-test first in a discrete area.
I strongly suggest Leather Honey to care for all of your leather products!
Buy It: Please visit the Leather Honey website to see their great selection of products and convenient shopping locations.
Connect: Don't forget to follow Leather Honey on Facebook and Instagram for the latest product announcements and special offers.
WIN IT: TWO winners will receive a box of Leather Care Wipes from Leather Honey. This giveaway is open to US residents. The giveaway is scheduled to end on 11/25/2023. Good luck!


Hello, my name is Laurie. My family and I live near the Oregon coast. When we aren't at work, in school, or on the volleyball court, we enjoy traveling, cheering for our favorite sports teams, playing outdoors, and checking off items on our bucket list. We are lucky in that both sets of our parents, as well as our siblings and their families, live within an hour of us. We get together often to help one another out, celebrate milestones, and go on adventures together.
This post currently has 35 responses.